GROWING AND SAVING THE SEED OF MORNING GLORY
---
Latin name Ipomea sp. is an annual flower vine that is quick growing and frost sensitive. The blooms are trumpet shaped and come in an incredible range of colors, patterns and sizes. A perfect flower to grow up a trellis. Southern growers should note that this plant has the potential to become weedy in frost-free/low-frost areas.
---
HISTORY
Native to Central America. The morning glory was highly regarded in the ancient Mayan, Aztec, and other native Mexican cultures for its spiritual significance.

USES
Ornamental

Vining plant great to cover a fence, wall, trellis, or any vertical structure!

Beds, borders, containers, cottage garden

Visited by bees, butterflies, and hummingbirds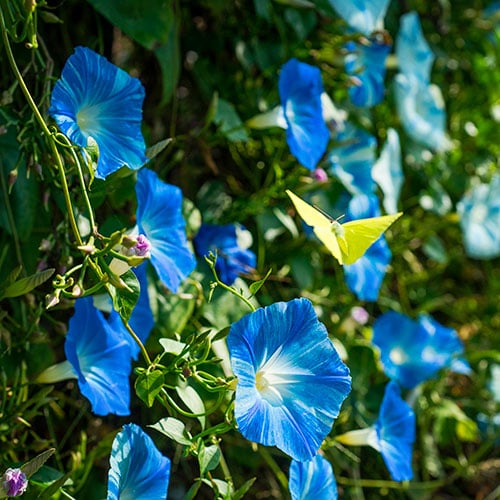 Nick seed coat and soak seeds in warm water overnight to speed germination.

Seeds germinate in 4-7 days.

Start indoors 4-6 weeks before last frost or direct seed outdoors after all chance of frost has passed.

Ideal germination temperature is 65-85 F.
Plants require full sun.

Tolerant of a wide range of soil, they prefer well- drained loamy to sandy soil.

Space plants 6 inches apart.

Plant in a protected area, away from heavy winds.
PESTS/SPECIAL CONSIDERATIONS
Morning glory is rarely bothered by pests and disease.

Avoid wet foliage and overhead watering to prevent rust and fungal/rot issues.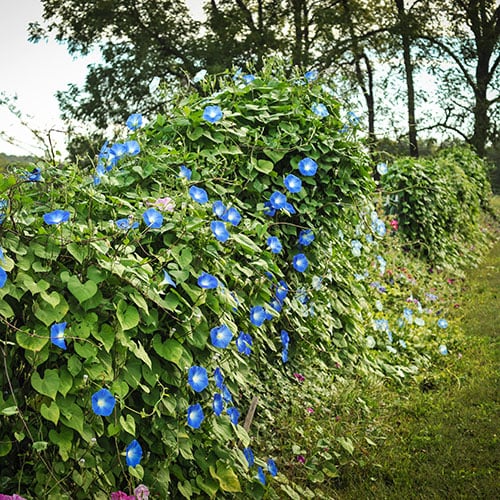 Seed saving is quite easy.
When the flowers fade, they leave behind large seed capsules containing the large, black seeds.

Allow seeds to dry in a warm area out of direct sunlight for 7 days. Store seeds in a cool, dark, dry place over the winter.

Remember to nick and soak your seeds the night before planting in the spring!