GROWING AND SAVING SEED OF NASTURTIUM
---
Latin name Tropaeolum majus is an annual flowering herb. It is a popular flower to plant in the vegetable garden. With its spicy foliage and flowers, which give a nice kick to salad and recipes, it may be the best-known edible flower!
---
HISTORY
Native to Peru, nasturtium was used by the ancient Inca as a leafy green and medicinal herb. Brought to Europe by Spanish conquistadors in the 15th-16th centuries.

USES
Popular edible flower with delicious spicy flavor. You can eat the leaves and blooms, and the young green seed pods can be pickled into mock capers.

Great for beds, borders, containers, window boxes, cottage garden, kitchen garden or interplanted in vegetable gardens.

Visited by hummingbirds, bees and other pollinating insects.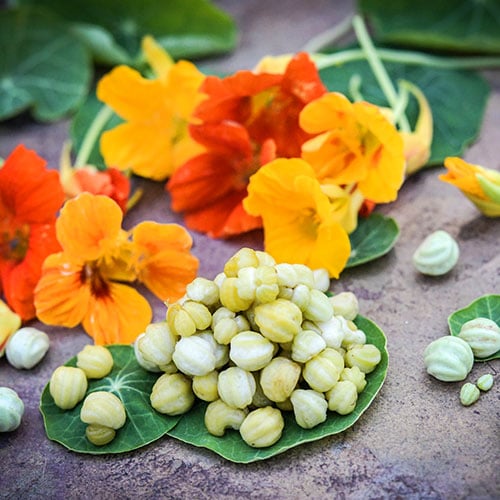 Soak seeds overnight in warm water before planting.

Seeds germinate in 7-10 days.

Start seeds indoors 4 weeks before last frost date or direct seed after last chance of frost has passed.

Sow seeds 1/2 inch deep.

Ideal germination temperature is 55-65 F.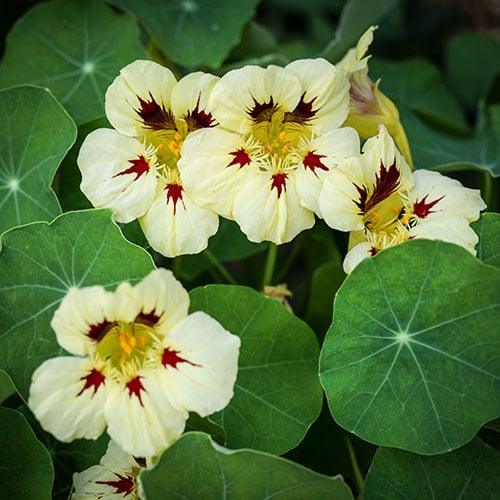 Plants prefer full sun but will tolerate some light shade.

Provide well-drained soil and do not fertilize or plant in overly rich soil.

Plants are fairly drought tolerant will grow in a range of soil, including low- fertility soil, provided that it is well drained.

Space plants 8-12 inches apart.
PESTS/SPECIAL CONSIDERATIONS
Aphids can be a pest for nasturtiums. Treat with organic approved insecticidal soap.

To prevent wilt and bacterial leaf spot, provide adequate air circulation and do not water the foliage.

.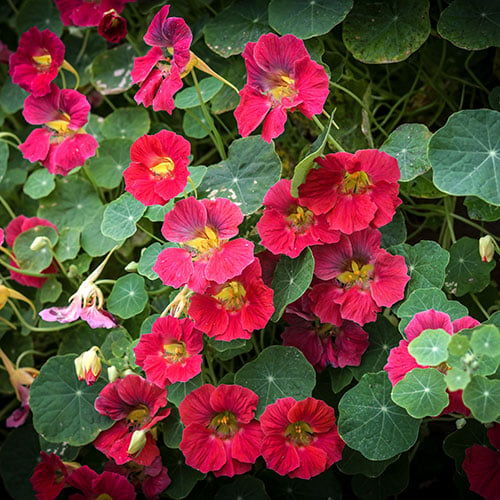 Nasturtiums will often reseed, but to save seeds, allow them to mature and fall to the ground.

Collect them and store in a cool, dark, dry place over the winter.