GROWING AND SAVING SEEDS OF NICOTIANA
---
Latin name Nicotiana alata is a fragrant annual flower that is a member of the tobacco family. Plants are frost sensitive. The tall plants produce long trumpet flowers, which emit a heavenly fragrance.
---
HISTORY
Native to the Americas, tobacco has been used ceremonially by ancient cultures of the Americas. The showy flowers are especially attractive to butterflies and other pollinators.

USES
Ornamental.

Beds, borders, containers, cottage garden.

Visited by a few pollinators, including the hawk moth and the occasional hummingbird.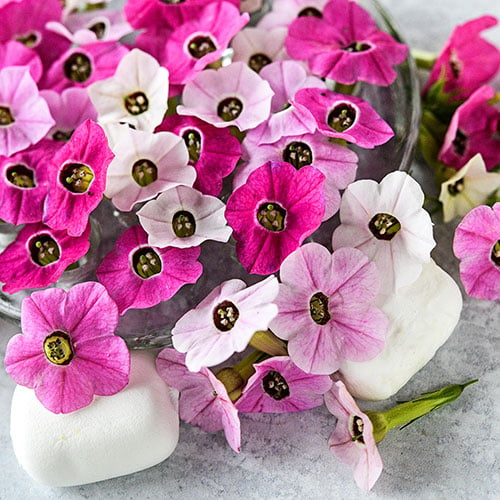 Seeds germinate in 7-21 days.

Start indoors 6-8 weeks before last frost and transplant 2 weeks after last frost has passed.

Gardeners in long- season areas can direct sow 2 weeks after last frost.

Surface sow seeds and gently press into soil, as light aids germination.

Ideal germination temperature is 70-75 F.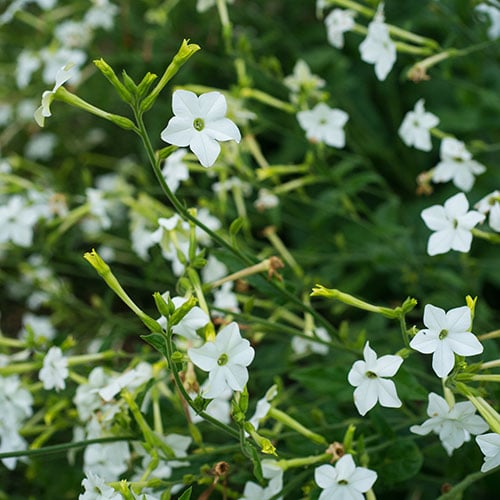 Plants prefer full sun, though in southern locales a bit of afternoon shade is ideal.

Provide well-drained soil that is rich in organic matter.

Keep plants well fed; they like highly fertile soil and regular watering.

Space plants 12 inches apart.

Deadhead to encourage continued blooming.

Most varieties are on the taller side, and should ideally be located in the middle and back of the landscape design.
PESTS/SPECIAL CONSIDERATIONS
A disease- and pest-free flower.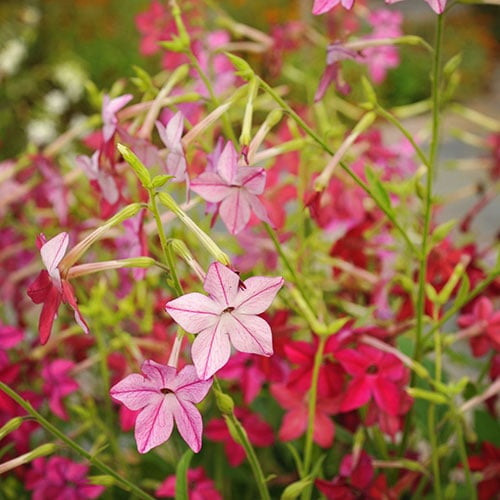 Saving sunflower seeds is very easy!
Plants will readily self sow but will often bloom late and are better saved and started indoors the following spring.

Hand pick dried seed capsules before they shatter and scatter all over the garden.

Save seeds in a cool, dark, dry place over winter.