Growing and Saving the Seed Of Snail Vine
---
Latin name Cochliasanthus caracalla, snail vine is a cold-sensitive perennial member of the bean family, and it is one of the most intriguing plants we've ever grown! The uniquely shaped flowers of snail vine, or caracalla, actually resemble small snails! The fragrance of these distinct blooms is thought to be reminiscent of hyacinths, and Thomas Jefferson called this plant "the most beautiful bean in the world."
---
HISTORY
Perennial in its native region of Central and South America, snail vine is typically grown as an annual in areas that experience frost and only hardy in USDA zones 9-10.

USES
Ornamental.

Vining plant to cover trellis or fence

Plant in the back row of beds or in medium/large container.

Cottage garden, fine garden design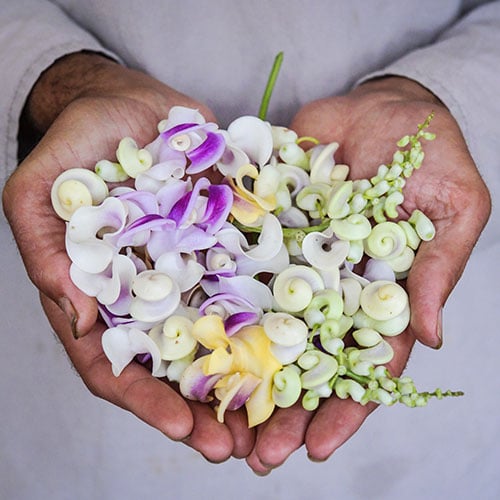 Nick and soak seeds in warm water for 24 hours.

Ideal germination in 68-77 F.

Seeds germinate in 7-21 days.

Sow indoors 6 to 8 weeks before last frost.

Sow seeds twice as deep as the seed is big.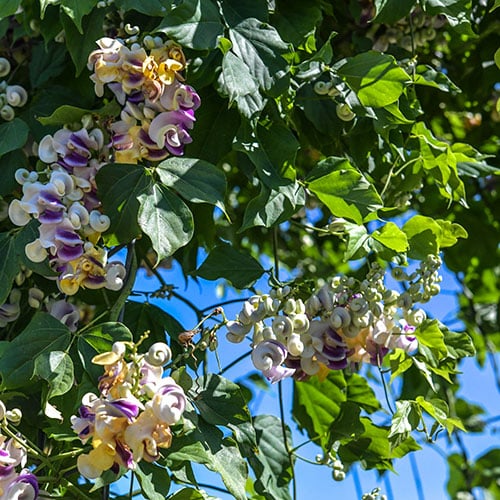 Set transplants out after frost.

Plant in full sun/filtered shade.

Snail vine thrives in late spring or cool-summer conditions.

Deadhead regularly.

Vines can reach over 10 feet long in a single summer, so be sure to grow up a trellis, arbor, arch or fence.
PESTS/SPECIAL CONSIDERATIONS
Snail vine is not particularly susceptible to pests or diseases.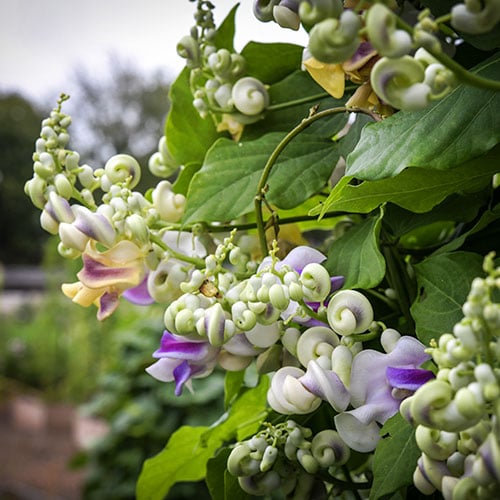 Pollinated by ants.

After flowering, pods will form. Allow them to fully mature on vine (like a bean or pea) and then if weather permits, let them dry or finish drying on vine, or pick and bring them indoors if there is lots of rain or frost in the forecast.

Shell the seed from the pods.

Store in a cool, dry, dark place where rodents cannot access the seeds.