How To Grow and Save Seed Of Strawflower
---
Latin name Bracteantha bracteatum is a perennial member of the aster family. The papery flowers make this colorful plant a perfect everlasting for dried arrangements.
---
HISTORY
Native to Australia, where it is adapted to a wide range of habitats, from sub-alpine areas to rainforest margins and deserts. After its introduction to Germany in the 1800s, it was found to be widely adaptable there as well.

USES
Ornamental

Beds, borders, containers, cottage garden, cutting garden, everlasting dried flower, flower crowns, pollinator garden

Visited by butterflies, bees, and a range of other pollinating insects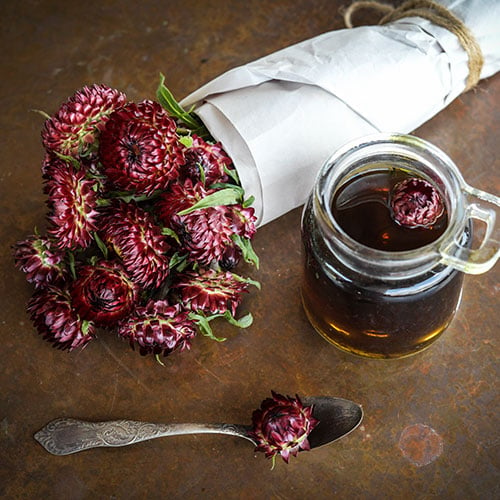 Seeds germinate in 7-14 days.

Sow seeds indoors 4-6 weeks before last frost and transplant outdoors after last frost, or direct seed after last frost has passed.

Surface sow seeds and gently press into soil, as seeds require light for germination.

Ideal germination temperature 70-75 F.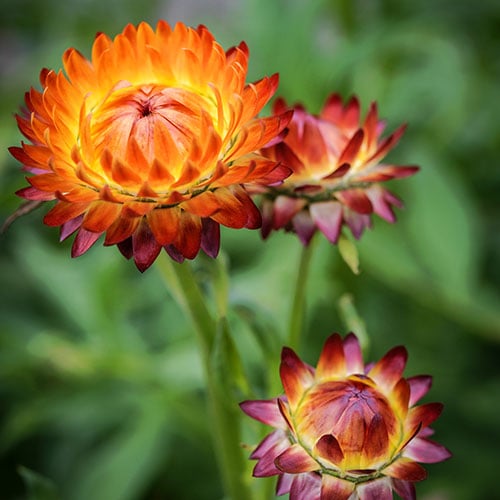 Prefers full sun.

Plants are indifferent to soil fertility, but they require it to be well drained.

Space plants 10-12 inches apart.

Pinch young plants at growing point to encourge branching.

Keep deadheaded to encourage continued blooming.
PESTS/SPECIAL CONSIDERATIONS
Susceptible to downy mildew. Keep foliage dry and promote good air circulation to prevent this issue.
Seeds are very light, and the wind will easily take them from dried seedheads.

To save seeds, allow the flowerhead containing the seeds to completely mature and dry on the plant, then clip it off and place in a container.

Working over the top of another clean, opened container, rub the flowerheads to separate the seeds.

Store over winter in a cool, dark, dry place.