Jeff & Linda's Kitchen of Diversity
Ailazan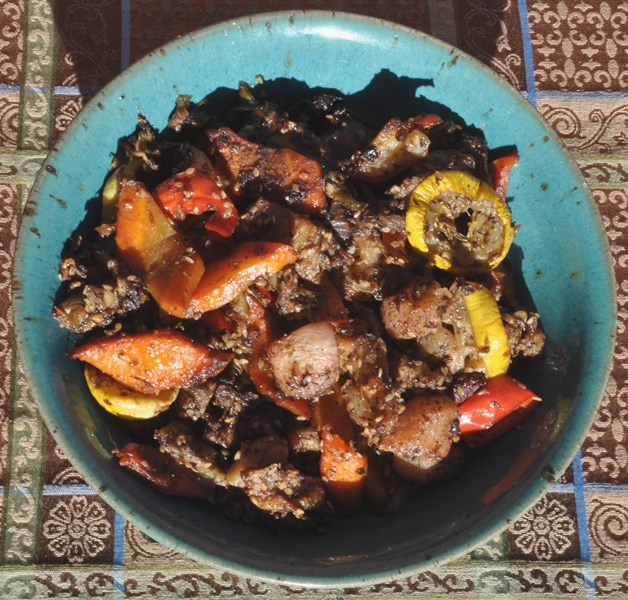 While we looked west to the Maghreb for our iftar soup, we now look east for the following roasted vegetable dish which originated in the Caucasus. The cuisines of the Caucasus peoples – in particular the Armenians and Georgians – represent a unique combination of both savory and sweet flavors. In the case of this recipe its eastern origins are suggested by the use of sweet flavorings like spearmint, cinnamon, and cardamom in combination with more savory ingredients like cumin and olive oil, the nuttiness of sesame seeds, and the sweet/sour/peppery contribution of sumac. While you'll want to keep the spice mix the same, you should not feel obliged to use the exact vegetables listed below, as they simply represent what was fresh and available in Albuquerque when we trailed the recipe in mid-June. So, head out to your garden or local farmer's market and choose a nice mélange of roasting vegetables. As long as they are fresh and harvested at their peak of flavor you can't go wrong. Serves 4-6:
2 medium eggplants cut into ½ inch slices, and then into 2 inch wide planks
4 carrots cut into ¼ inch thick diamond shapes
1 summer squash cut into ½ inch thick rounds
12 cipollini onions, skinned but left whole
½ each of a red, yellow and green pepper, cut into ½ inch wide strips
6-8 small turnips, peeled and quartered
1/3 cup olive oil
1 tablespoon dried spearmint
1 tablespoon dried sumac
½ teaspoon ground cinnamon
1 teaspoon ground cardamom
1 teaspoon ground cumin
¼ cup sesame seeds
salt and ground pepper to taste
Preheat oven to 450° F. Toss prepared vegetables with spice mix, sesame and olive oil. Place in a single layer on a large oiled pan. Roast for 10 minutes, stir vegetables and seasonings and cover pan. Return to oven and reduce heat to 350° F. Bake for another hour, allowing vegetables to steam. Uncover pan, stir vegetables and seasonings, and continue roasting uncovered until the vegetables are well browned, about 30 minutes.
The vegetables may be served either hot or cooled to room temperature. While they are wonderful eaten on their own, they are especially nice when stuffed into a split khoubz loaf and topped with laban sauce.
You'll need to find a Middle Eastern market for ground sumac, which is related to but different tasting than the various types of wild sumac found throughout North America. This spice is also available from on-line vendors. Just be sure you are using freshly ground sumac as its vibrant flavor will fade within a few years. Also be sure to use spearmint which is much sweeter than toothpaste-flavored peppermint.

This dish should be made from fresh vegetables picked from your garden. For the vegetables used in the above version of the recipe, we recommend Ashtrakom, Aswad, Kazakhstan, Syrian Stuffing or Tadifi eggplant, Chantenay or Kuroda Long 8 carrot, Lebanese White Marrow or Odessa summer squash, Blanca di Maggio or Flat of Italy cipollini onions, Bullnose, Quadrato D'Asti Giallo and Quadrato D'Asti Rosso bell peppers, and Golden Globe turnip. You can also grow your own cumin and sesame seeds.