Jeff & Linda's Kitchen of Diversity
Fattoush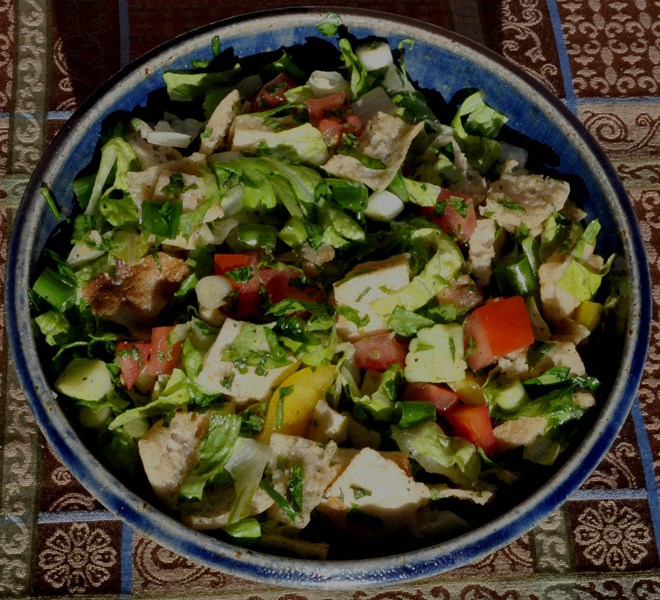 Bread has a long and sacred presence among the peoples of the Mediterranean, where it is just as much the staff of life as rice is to the peoples of southeast Asia or maize is to the peoples of central America. Made in the traditional way with nothing but flour, water, salt, wild-yeast leavening, and sometimes oil, bread has a rather short shelf life, particularly in Mediterranean climates where it will start to dry out within a day or two of baking. Thus, a considerable cooking focus has been placed on creative uses of day-old bread.
Among these recipes are bread salads, in which dry bread is soaked and softened in some type of dressing and then mixed with various fresh vegetables and leafy greens. Some of the most famous bread salads come from Italy – for instance Tuscany's panzanella in which stale bread cubes are tossed with tomatoes and onions and dressed with a basil-garlic vinaigrette.
Fattoush is the bread salad of the Levant, whereby old, dry loaves of khoubz are turned into a tasty dish and nutritious dish. As you'll see it differs from its more famous Tuscan cousin by the addition of cucumber, bell peppers, and mint, and is tossed instead with an olive oil and lemon juice dressing.
Be forewarned, however, that fattoush - like all bread salads - keeps rather poorly as after 12 hours or so the bread becomes mushy and looses its chewiness. Thus, if you want to eat this salad a few days in a row but don't want to make it from scratch each time, it is best to prepare all the vegetables and the dressing ahead, and then toss together just the amount you'll need for that meal about 10-15 minutes before serving. Serves 4-6.
2 dry khoubz
8 leaves of romaine lettuce
1 small Armenian cucumber
2 medium tomatoes
5 or 6 green onions
½ cup chopped parsley
¼ chopped fresh spearmint
1/3 cup chopped green bell pepper
1/3 cup red bell pepper
1/3 cup yellow bell pepper


Toast the khoubz until golden brown and then break into pieces. Shred the lettuce and dice the cucumber, tomato and peppers. Finely chop green onion, parsley and mint
Dressing
½ cup lemon juice
½ cup olive oil
1 clove of pressed garlic
1 teaspoon of salt
freshly ground black pepper to taste


Place all ingredients into a mason jar, cap it, and shake vigorously until well integrated.
Toss salad ingredients with dressing. Let sit 10-15 minutes and serve.

You can grow much of this salad in your own garden and mid summer is a great time to fresh harvest the ingredients for fattoush. We recommend a mix of various romaine lettuce types, such as Cimmaron, de Marges Braun, Flashy Butter Gem, Parris Island Cos or Rouge d'hiver; Armenian Cucumber; Abu Rawan Tomato; Ho Shi Ko Onion; Giant of Italy Parsley; and a selection of various-colored bell peppers such as Albino Bullnose, Bullnose, Orange Bell, Purple Beauty, Quadrato d'Asti Giallo, Syrian Three Sided or Yellow Monster. As before, track down a pungent, nutty Middle Eastern garlic like Himalayan Red or Palestine. Be sure to use a mild sweet spearmint in your salad rather than an aggressive menthol-laden peppermint which will make your salad taste like toothpaste! One of our favorite spearmints is Kentucky Colonel. This can be grown only from cuttings or divisions as seeds will not breed true.