Jeff & Linda's Kitchen of Diversity
Vegetarian Harira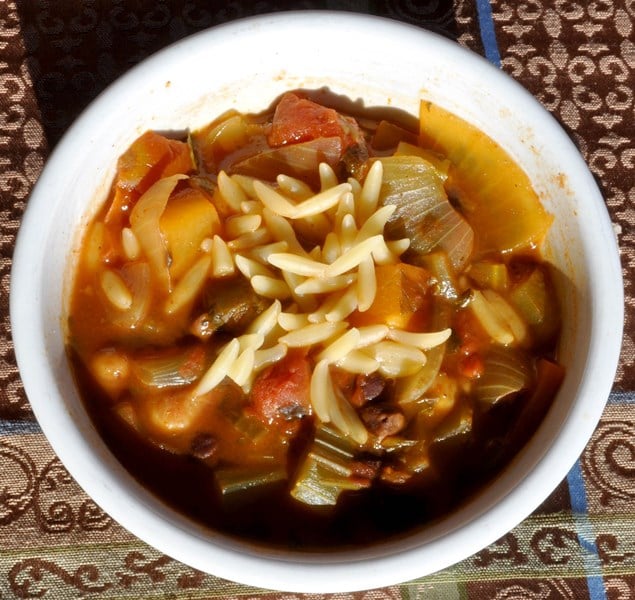 Until now all of the recipes we've shared for this feast have originated in the Levant – the region of the eastern Mediterranean coast between Egypt and Turkey. We'll now break this pattern for Harira, one of our favorite soups. This stew is the traditional way in which the peoples of the Maghreb, the region along southern Mediterranean coast from Lybia to Morocco, break the daily Ramadan fast. True harira is made with not only a variety of pulses and vegetables but also meat. In this version, we have replaced the traditional lamb with small, dark-brown desi chickpeas, which have a meatier flavor than typical kabuli chickpeas. Both types of chickpeas occur in this recipe.
There is also one rather exotic ingredient that we're using: ras el hanout. This Arabic name translates to "head of the shop", referring to the fact that the spice merchant is making it from a mixture of all the best and most expensive spices in the store. There are probably as many ras el hanout recipes as there are spice merchants in Morocco. The number of ingredients often tops two dozen and may contain such exotic fare as saffron, rose petals, alligator pepper, grains of paradise, cubeb, long pepper, and orris root. Because ras el hanout recipes tend to be closely guarded secrets, Paula Wolfert in her classic 'Couscous and Other Good Food from Morocco' had to assemble hers through a chemical analysis of some she purchased in a Fez souq. We combined her recipe with various others to make our own version, and a colleague of Linda's who lived for a while in Morocco proclaimed it authentic. However, we'll not share directions here, as it means tracking down all sorts of obscure spices and we doubt there are more than a few of you out there who would be that committed. Rather, until someone contracts us to write our own cookbook, we'll suggest you buy yours from a reputable dealer like the Spanish Table. You can also substitute a mild curry powder. Even though these two spice mixes are really not that interchangeable, no one other than a Moroccan or someone who has lived there will likely know the difference. This recipe makes at least 8 servings:
1 cup small brown (desi) chickpeas soaked overnight
1 cup yellow (kabuli) chickpeas soaked overnight
2 tablespoons olive oil
2 large onions, chopped
1 cup of chopped celery
1 cup of chopped parsley
2 cups diced carrots
2 tablespoons minced garlic
½ teaspoon freshly ground black pepper
1 teaspoon of turmeric
1 teaspoon of cinnamon
¼ teaspoon ground ginger
1 tablespoon of ras el hanout
2 pound can of tomatoes or 4 cups of chopped and peeled tomatoes
¼ cup dry orzo pasta
¼ cup chopped fresh cilantro
¼ cup lemon juice or more, to taste
Salt and pepper, to taste


Cook the two chickpeas until tender and drain; for convenience we simmer both together in the same pot.
Heat olive oil in a soup kettle and sauté the onion, celery, parsley, and carrot until the onions are translucent. Add in the spices. Sauté another 15 minutes until the vegetables begin to brown. Add the cooked chickpeas, tomatoes and 8 cups of water. Bring to a simmer and cook for an hour and a half until all the vegetables are tender. Add in the orzo and cook until tender, another 15-20 minutes. Add in the chopped cilantro and lemon juice, and correct seasoning with salt and pepper.
If you leave out the orzo pasta, the harira will freeze and reheat beautifully. In this case, you'll want to cook the orzo separately and then add it in as a topping when serving the reheated soup.
Good choices for ingredients include Small Tan Kala garbanzo, Alisa Craig onion, Utah Tall celery, Giant of Italy Parsley, Chantenay carrot, Moroccan Creole garlic, Jersey Giant tomato, and Slo-Bolt Cilantro.