Colcannon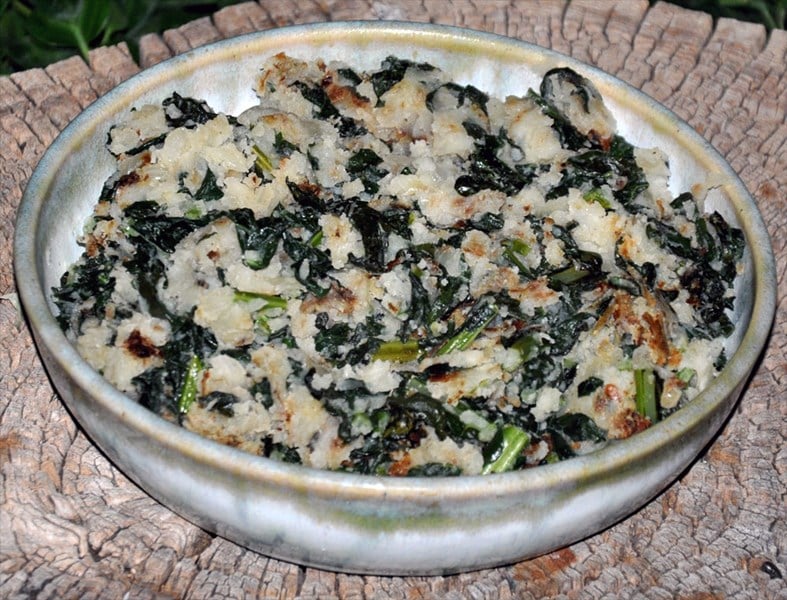 Did you ever eat Colcannon, made from lovely pickled cream?
With the greens and scallions mingled like a picture in a dream.
Did you ever make a hole on top to hold the melting flake
Of the creamy, flavoured butter that your mother used to make?
"The Skillet Pot" -- Trad. Irish Song
One of the emblematic dishes of Irish cuisine, colcannon is especially linked with Celtic New Year – or Samhain – celebrations. When served on this night (October 31), it was common for various charms to be hidden inside. If you found a button in your colcannon, it meant you would remain a bachelor for the next year. If you found a thimble, you would remain a spinster. A ring meant you would get married, while finding a coin meant you would come into wealth. An even odder tradition was for young women to fill their socks with colcannon and hang them from the front door handle in belief that the first man through the door would become their future husband. What a waste of one of the very best potato dishes you'll ever eat!
1 pound of russet potatoes, peeled, boiled, and mashed
1 pound of kale, coarsely chopped and parboiled
Milk
2 tablespoons butter
1 large onion, finely chopped
Salt and freshly ground black pepper to taste
Mix together the mashed potatoes and cooked kale, adding in milk as necessary to make a not too stiff paste.
Melt 1 tablespoon butter in a heavy pan over medium heat. Add in onion and sauté until softened. Add cooked onion to the potato/kale mixture, season with salt and pepper, and mix well.
Melt the remaining butter in the hot pan. Turn in the potato/kale mixture and spread into an even layer. Fry until brown on the bottom, and turn over to fry the top side. Repeat until there is a goodly amount of crisp, brown crust mixed throughout. Serve warm.





Tuscan Kale Soup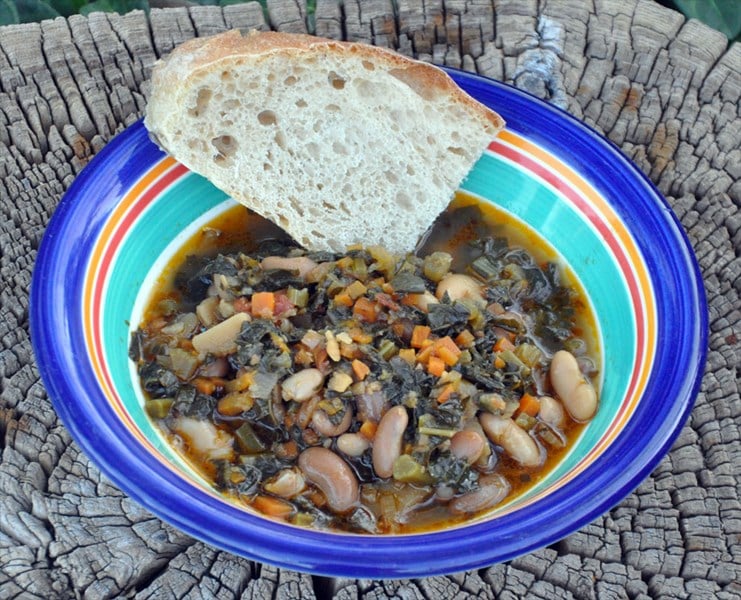 There are many versions of this wonderful and satisfying soup, with many including a bit of sausage. The following, adapted from a recipe presented by Clifford Wrightin his 2012 Mediterranean Vegetables, does not. In fact it is a vegan delight, redolent with many flavors of the late season garden. Be sure to use boiling potatoes as you don't want the potato chunks to fall apart during cooking. To make the color of the soup even darker, we opted to use a purple basil.
1/3 cup extra virgin olive oil, in all
½ cup finely chopped celery
½ cup finely chopped onion
½ cup finely chopped carrot
¼ cup finely chopped fresh basil leaf
1 pound ripe tomatoes, peeled, seeded and finely chopped
1 tablespoon fresh thyme leaf
1 pound waxy boiling potatoes, peeled and cut into ½" dice
1 pound lacinato kale, washed and cut into ¼" wide strips
½ cup dry cannellini beans, cooked until tender
2 quarts stock
salt to taste
Heat olive oil in a heavy soup pot over medium-high heat and sauté the celery, onion, carrot, and basil until almost soft, about 8-10 minutes. Add tomatoes and continue cooking until their liquid has almost cooked out, about 20 minutes more. Now add in the thyme and potatoes, sautéing them for another 5 minutes.
Add kale and reduce heat to low and cook until wilted, about 10 minutes. Add the stock and cooked beans, return heat to high, and bring to a boil. Reduce heat to low and simmer for at least a hour.
Serve with toasted slices of bread.