Kashmiri Kohlrabi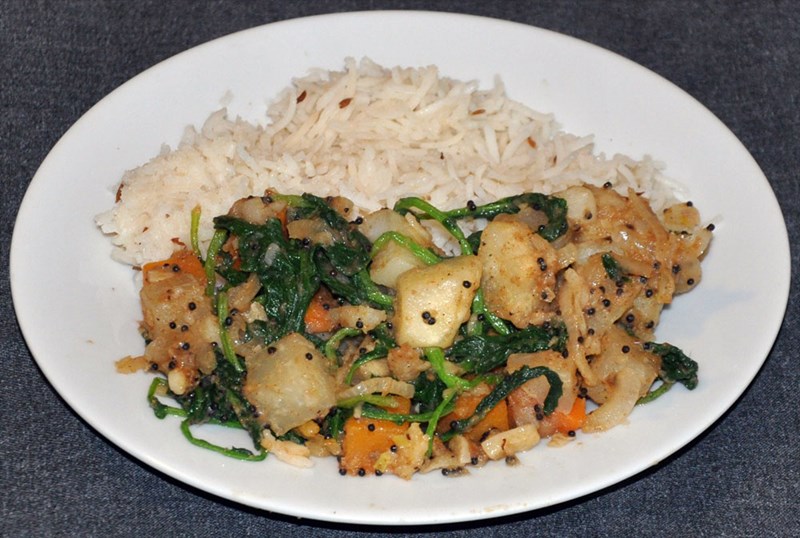 This is not your grandmother's recipe for kohlrabi, unless of course your grandmother is Kashmiri. What we particularly like about this recipe is that nothing goes to waste as not only the swollen stems but the leaves are also used. Adapted from a recipe presented by our good friend Pat Chapman in his 2010 India Food & Cooking, he first encountered this dish in Srinigar, Kashmir on the Indian/Pakistani frontier. In the original dish kohlrabi was pared with lotus root. Because fresh lotus root is not readily available, we've swapped out potatoes and have also added in carrot for added flavor and color. We're very pleased with the result.
1 pound kohlrabi, peeled and cut into 1" dice
1 pound waxy boiling potatoes, peeled and cut in half and then into ½" wide half-moons
1 pound carrots, peeled and cut into ½" dice
½ pound (or more) of the leaves removed from the kohlrabi, destemmed, and coarsely chopped
2 tablespoons vegetable oil
½ teaspoon asafoetida
2 tablespoons black mustard seed
4 garlic cloves, cut into 1/8" slices
½ pound onion, cut in half and then into ¼" strips
2" piece of ginger root, peeled and grated into a paste
¼ teaspoon cayenne pepper
½ cup water
salt to taste
1 tablespoon garam masala (optional)
Parboil the prepared kohlrabi, potato, and carrot until just tender. Remove from the hot water and drain. Add in the prepared kohlrabi leaf and cook until tender, about 5 minutes. Drain.
Warm the oil in a large pan over medium-high heat. When the oil is quite hot, add in the asafoetida and mustard seeds. Stir briskly. When the mustard seeds begin to sputter and pop, place a lid on top of the pan and shake the pan in a horizontal motion until the seeds quit sputtering, about 1-2 minutes. Remove lid and add in garlic, onion, ginger and cayenne. Sauté until the onion becomes translucent, about 5 minutes. Add the water, stir to make a sauce, and then toss in the precooked vegetables. Toss to equally distribute the sauce. Sauté until the vegetables are fully tender, about 3-5 minutes more. Adjust seasoning with salt. If you wish to use the garam masala, toss this in as well at this time.





Kohlrabi Gnocchi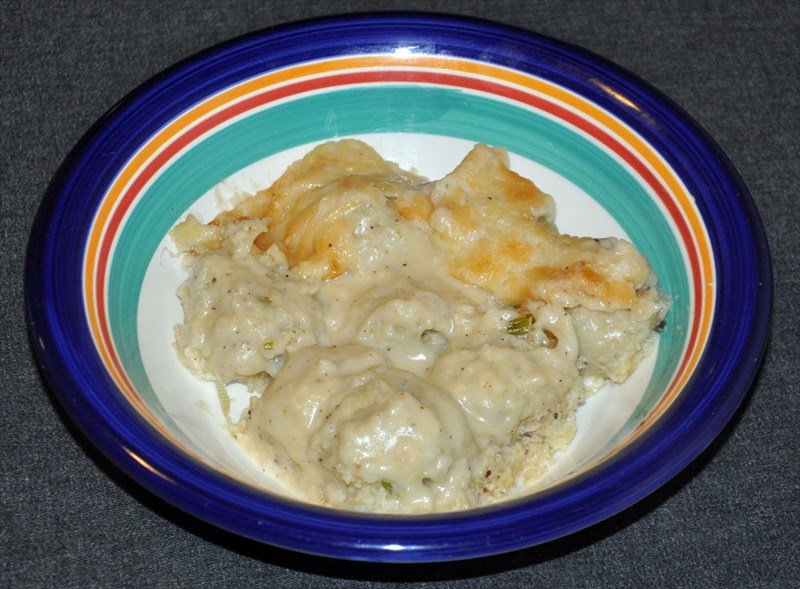 Gnocchi are the dumplings of Italy. While perhaps the most common are made with potatoes, this version cannot be more than about 500 years old as the potato was not part of the European larder until after the discovery of the New World. What did people use before that time? It seems likely that other starchy tubers, such as turnips or taro. Kohlrabi is another option. Although not a tuber – but rather a swollen stem – this cabbage relative makes for a wonderful gnocchi which has a mild but sweet cabbage flavor but maintains the pale color of potato gnocchi. We were inspired to create these from a recipe in Marian Morash's 1982 Victory Garden Cookbook(ISBN 978-0394707808). But her recipe is for something closer to a spaetzle. So we went digging into our cookbook library and found a few recipes for Gnocchi Verdi, made from spinach. We extensively adapted these to allow mashed kohlrabi to be the main vegetable ingredient, and are quite pleased with the result.
Note that here we boil the gnocchi to make for an exceedingly tender dumpling. You'll want to be very careful removing these from the boiling water and from the finished casserole to make sure they do not fall apart. If you'd like something a bit more hardy, we'd suggest you try placing the raw gnocchi balls in a single layer in a buttered casserole and baking them at 400° F oven for 20-25 minutes or until they have browned. You can then sauce them as detailed below. You could also consider deep frying the raw balls which ought to make a small fritter much like a round, cabbagey Glamorgan Sausage.
1 pound kohlrabi, peeled, diced, and cooked until tender
1 cup chevre
1 cup fine dry bread crumbs
2 beaten eggs
¼ cup green onion, finely chopped
¼ cup pecorino romano cheese
½ teaspoon salt
¼ teaspoon freshly ground black pepper
1 teaspoon nutmeg
flour for dredging
Sauce:
2 tablespoons butter
2 tablespoons flour
¼ teaspoon salt
¼ teaspoon freshly ground black pepper
¼ teaspoon nutmeg
2 cups milk
2 cloves of garlic, crushed
1¼ cups shredded parmesan cheese, in all
Mash the cooked kohlrabi into a fine paste. To this add in the chevre, bread crumbs, eggs, green onion, romano cheese, salt, pepper and nutmeg. Mix very well, cover and let rest in the refrigerator for 2 hours.
Using a 1" ice cream scoop, make balls of the chilled mixture and dredge with flour. Place on a tray. When all of the mixture has been used, place the tray back in the refrigerator for another 30 minutes.
Preheat oven to 400° F.
Make the sauce by melting the butter in a heavy pan over medium-high heat. When the butter becomes foamy, whisk in the flour, salt, pepper and nutmeg. Continue whisking for 3 minutes. Add in the milk and garlic and continue whisking until the mixture thickens, about 5 minutes. Add in 2 cups of shredded parmesan, and continue stirring until the cheese is melted, about 5 more minutes.
Bring a large pot of salted water to a simmer. Gently drop the chilled balls into the water, making sure to put only enough into the pot to just cover the bottom. Simmer for approximately 5 minutes until the balls rise to the top. Gently lift the cooked gnocchi out of the pot and place in single layer in a well buttered cooking dish. Pour the sauce over the arranged gnocchi and top with the remaining parmesan. Bake until the top is nicely browned, about 20 minutes. Remove from oven and let cool for 20 minutes before serving.