Glamorgan Sausages (Selsig Morgannwg)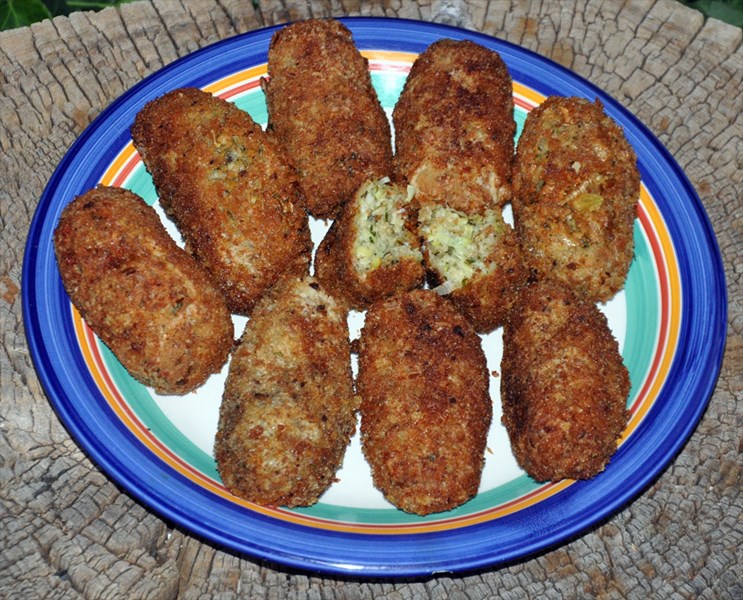 This is an incredible Welsh recipe featuring leeks combined with cheese, breadcrumbs and seasonings to make a vegetarian 'sausage'. While probably best considered a savory fritter, they are not only wonderful hot from the fryer but also at room temperature. No one will complain (or probably even notice) the lack of meat. We have not tried it, but suspect that they would be excellent if served with a Welsh rarebit sauce with a fresh green salad on the side.
3 cups fresh breadcrumbs
1 cup aged cheddar, shredded
1 leek, cleaned and thinly sliced
1 tablespoon freshly chopped flat leaf parsley
1 teaspoon dry thyme leaf
1 teaspoon rubbed dry sage
1 teaspoon dry mustard powder
Salt and freshly ground black pepper to taste
2 eggs, separated
Milk (as needed)
Flour for dredging
Fine dry breadcrumbs, for dredging
Vegetable oil for frying
Mix together the breadcrumbs, cheese, leek, parsley, thyme, sage, mustard, salt and pepper, egg yolks, and just enough milk to make a firm and somewhat sticky dough. Divide into 8 equal pieces and form into sausage shapes. Cover and refrigerate for an hour.
Remove the sausages from the refrigerator. Whisk the reserved egg white. Lightly dredge the sausages in the flour, then lightly coat each with egg white and finally with the dry bread crumbs. Return to the refigerator.
Heat 1" of oil in a large skillet to 350° F. Lower the coated sausages into the hot oil, and cook until golden-brown on the bottom. Turn the sausages over and continue cooking the other side until they are also golden, another 5 minutes. Remove from oil and allow to drain on paper towels before serving.




Leek and Hazelnut Tart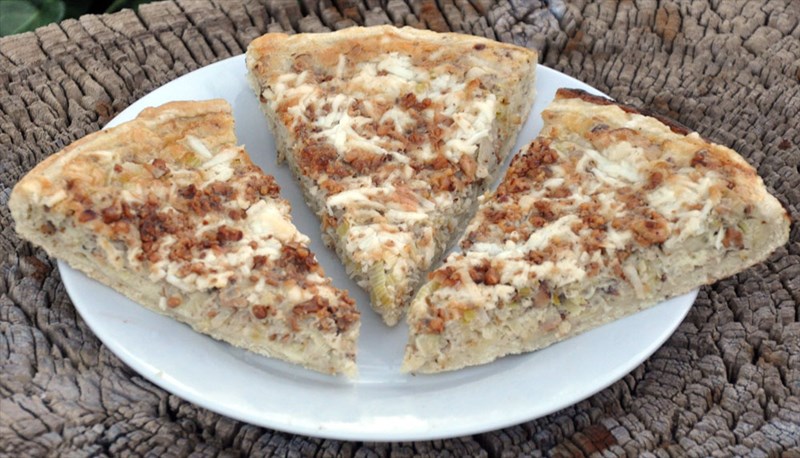 The leek is such an important part of Welsh culture that it is their national emblem. The following is an absolutely stunning Welsh vegetarian dish that prominently features this vegetable. It is rich and savory and we'll bet than any meat eaters in your life will swear that there is bacon in it. But there isn't. Rather its savory goodness comes from the intermixing of sautéed leeks, roasted hazelnuts, and the use of a good hard goat cheese. We found goat gouda to work wonderfully, but suspect that a sharp goat cheddar would work as well. The following is adapted from a version presented in the 2010 Illustrated Encyclopedia of British Cooking (ISBN 978-0754819127).
1½ cups flour
salt and freshly ground black pepper to taste
½ cup butter, cut into small cubes
3 tablespoons cold water
1 tablespoon olive oil
3 cups leeks, thinly sliced
4 eggs, lightly beaten, in all
1 cup goat milk
½ cup chevre
2 tablespoons wholegrain mustard, such as Djion
2 cups shredded hard goat cheese, such as cheddar or gouda
¾ cup hazelnuts, roasted, skinned, and chopped
salt and freshly ground black pepper to taste
Rub the butter cubes into the seasoned flour and add just enough water to make a dough. Gather into a ball. Roll the pastry out to line a 10" diameter pan, making sure that you have a rim at least 2" tall. Place in the refrigerator to chill for 30 minutes.
Preheat your oven to 400° F.
Prick the base of the pastry shell with a fork at 2" intervals. Place into hot oven and bake for 10-15 minutes until the pastry begins to barely brown. Remove from the oven and brush with beaten egg. Return to oven and continue baking for another 5 minutes. Remove from oven.
Warm olive oil in a pan over medium heat. Add in the leeks and sauté until soft.
Mix together the goat milk and chevre to make a thick cream. To this add in the remaining egg, cooked leeks, mustard, 1 cup of the shredded cheese and ½ of the chopped hazelnuts. Season with salt and pepper and pour the mixture into the prebaked pastry shell. Top with the remaining cheese and hazelnuts. Place into the hot oven and bake for 30 minutes until the filling has set and has developed a golden crust.
Remove from oven and let cool for at least 20 minutes before serving.




Leek Potato Gratin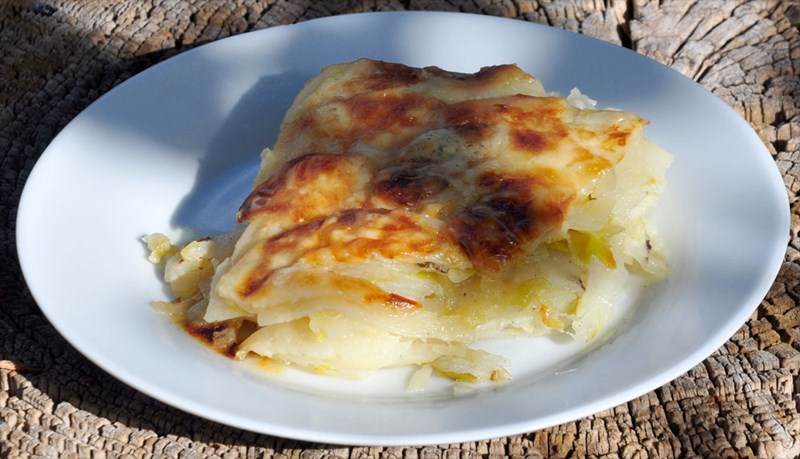 Leeks feature prominently in French cuisine, where they are often pared with potatoes. Here these two are thinly sliced and layered into a casserole to make a gratin which is common throughout Normandy. There may be nothing better to eat on a chilly fall evening. We've adapted the following from the excellent 1993Normandy Gastronomique by Jane Sigal.
½ pound leeks, cleaned and thinly sliced
2 tablespoons butter
1½ pound waxy boiling potatoes, thinly sliced
½ teaspoon salt
¼ teaspoon freshly grated nutmeg
1¼ cups stock
¼ cup chevre pureed into ½ cup goat milk
¾ cup grated Gruyere cheese
Preheat oven to 375° F. and butter a 1½ quart casserole.
Melt remaining butter in a pan over medium heat until foamy. Add in the leeks and sauté until translucent, about 5 minutes. Remove from heat and mix with salt, nutmeg, and ½ of the sliced potatoes.
Place a single layer of potatoes on the bottom of the casserole, letting them overlap slightly. Place the potato/leek mixture over these, and then top with another layer of overlapping potato slices. Add in the stock and place in the oven. Bake until most of the stock has been absorbed or has evaporated, about 1 hour. Remove from oven and top the potatoes with the chevre/goat milk puree and then with the shredded cheese. Return to oven and continue baking until the top is golden brown, about 20 minutes more.




Leek and Potato Soup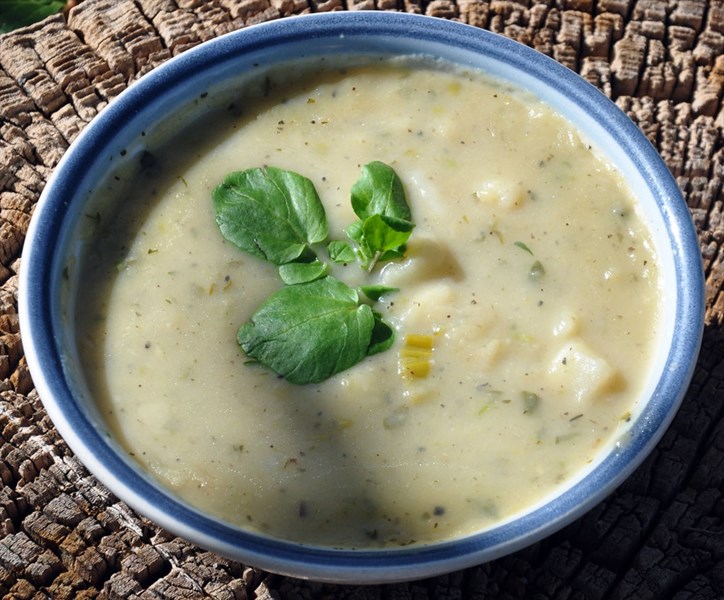 This is another of our cherished recipes. Linda used to feed her family this soup after a long morning at the Sturgeon Bay Farmer's Market because it not only used leftover produce, but could also be easily put together and let simmer while everyone took a long nap to recover from the morning's activities. Jeff suggested that it could be made even more texturally interesting by using two types of potatoes: mealy russets to be pureed with the leeks to make a smooth base and waxy boiling potato cubes that would remain intact after cooking. While watercress was the typical garnish, this was because of how common it was along the springs and brooks of Linda's home. If you can't find it where you live, you should consider using Arugula in its place.
Here are Linda's instructions:
Take 4 large potatoes, we used 2 baking type and 2 boiling type, and cut them into slices or cubes – keeping the two types separate if you're using different kinds. Put the sliced potatoes into salted water and refrigerate until needed. Slice about four leeks, white and light green parts, cross-ways – about ¼ inch slices. Toss the leek slices in cool water until the sand falls out then place in a colander and rinse just to make sure all of the grit is washed from the leeks. You should have something approaching 8 to 10 cups of sliced and washed leeks. Place about two tablespoons of butter into a dutch-oven style pot and melt the butter. Put the leeks into the melted butter and sweat them down – that means put the cover on the pot and let the leeks become limp and start releasing their water. Add more butter as needed (or desired) to keep the leeks loose and not sticking to the pan. Do this for about 15 minutes but check every now and then to make sure nothing is scorching. When the leeks are all limp and starting to cook, remove the cover and let the water cook away and the leeks brown just slightly. Add the stock and the baking potatoes and also some herbs like thyme (about a tsp) and marjoram (about ½ tsp). I also like some parsley at this time and some good quality black pepper, ground and added to the mix. Add about 2 to 4 cups of water and let everything cook until the potatoes fall apart. When the potatoes start to fall apart mash everything up with a potato masher, or better yet blend it with a stick blender. Part of the cress can be added at this time. Add the other potatoes and some salt and water. Cook until the potatoes are tender, adjust the salt and pepper, add the rest of the cress for garnish and then serve with fresh bread and salad.
You will never go hungry as long as you have the means to make leek and potato soup. If fills you up and feeds your soul.