Lettuce and Asparagus Bake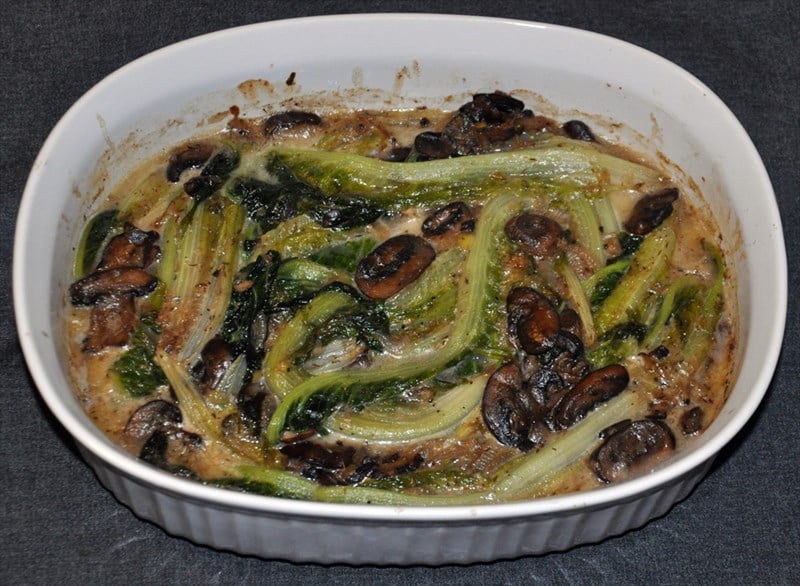 What does one do with end of the season lettuce that has become a bit bitter and are no longer optimal for fresh salads? You cook them, of course. Like other bitter greens that we've already covered (endive, radicchio) cooking tames the bitterness. Cooked lettuce dishes have been one of the revelations of our A-Z cooking project as we've never tried it before but have found them to be among our new favorite recipes. Here we've adapted a classic northern Italian cooked lettuce dish to make it vegetarian. The original recipe in Clifford Wright's Mediterranean Vegetables used ham; we've swapped this out for sliced Crimini mushrooms. There is no better way to introduce yourself to cooked lettuce from the European tradition.
1 pound asparagus, trimmed of their tough bases
3 tablespoons butter
1 small onion, thinly sliced
12 ounces sliced Crimini mushrooms
2 pound head of Romaine Lettuce, stems, heart, and outer leaves removed
¼ cup stock
1/3 cup chevre
½ cup goat milk
1/8 teaspoon freshly ground nutmeg
salt and freshly ground black pepper to taste
Preheat oven to 400° F.
Blanch the asparagus in boiling water until crisp-tender, about 5 minutes. Drain.
Melt butter in a large pan over medium-high heat. Sauté onion until translucent, about 5 minutes. Add in the mushrooms and sauté until they have released all their water, about 10 minutes. Add in the lettuce leaves, cover the pan, and cook until the lettuce is wilted, about 4 minutes. Add in the stock and cook until the liquid is almost completely evaporated, about 10 minutes. Towards the end you will need to stir the pan constantly to ensure that the vegetables do not scorch.
Remove skillet from heat. Puree the chevre and goat milk to make a thick cream. Add to the sautéed vegetables and season with nutmeg, salt, and pepper.
Arrange the asparagus spears in a baking dish with the tops all pointing in the same direction. Pour the lettuce-mushroom sauce over the asparagus. Place in oven and bake until the bubbling, about 20 minutes.
Raw Spring Rolls (Nime Chow)
This wonderful salad in a rice paper wrapper is a standard feature in many southeast Asian cuisines. Often these have shrimp as well as vegetables. We thought that it should be possible to make a great vegan version. What we've done is to swap out the seafood with kimchi. This is actually not too great a cultural stretch, given that various spicy fermented cabbage dishes are found throughout the region – not just Korea. Don't be concerned if your first few Nime Chow are not picture perfect; you'll get the hang of rolling them after your first 4 or 5. And, they taste just as good, even if looking a bit unkempt.
1 ounce uncooked bean thread noodles
12 8-inch diameter sheets of rice paper
2 cups thinly sliced leaf lettuce
1 cup bean sprouts
1 cup kimchi
24 Thai basil leaves
2 tablespoons lime juice
2 tablespoons rice vinegar
2 tablespoons soy sauce
¼ cup sugar
1 tablespoon chile-garlic sauce
2 tablespoons chopped roasted peanuts
Soak bean thread noodles in 2 cups of hot water for 10 minutes. Drain and cut into 2-inch lengths.
Place cold water into a large shallow pan to a depth of 1 inch. Cut 4 of the rice paper sheets in half, leaving the remaining 8 whole. Place one whole and one half sheet in the pan of water and let soak until they have become flexible, no more than a minute. Remove sheets from water. Place the while sheet on a flat surface and lay the half sheet over the side nearest to you., lining up the edges. Place ¼ cup lettuce over the half sheet, levaing a ½ inch border around the outer edge. Arrange 1 tablespoon bean thread noodles, 2 tablespoons bean sprouts, 2 tablespoons kimchi and 3 Thai basil leaves over the lettuce. Roll up by first folding both sides over to make a straight side, and then rolling up from the bottom like a jelly roll. Be sure to roll as tight as possible without tearing the rice sheets to keep the fillings firm within the roll. Gently press together the final bit of bare rice paper to the outside of the rest of the roll. Lay seam side down on a serving plate and cover to keep from drying out. Repeat for the remaining 7 full sheets for a total of 8 rolls. Cut the rolls in half just before serving.
Make the dipping sauce by heating the lime juice, rice vinegar, soy sauce, and sugar until the sugar is fully dissolved. Whisk in the chile-garlic sauce and chopped peanuts. Place in shallow bowls and serve with the rolls.



Lettuce Rolls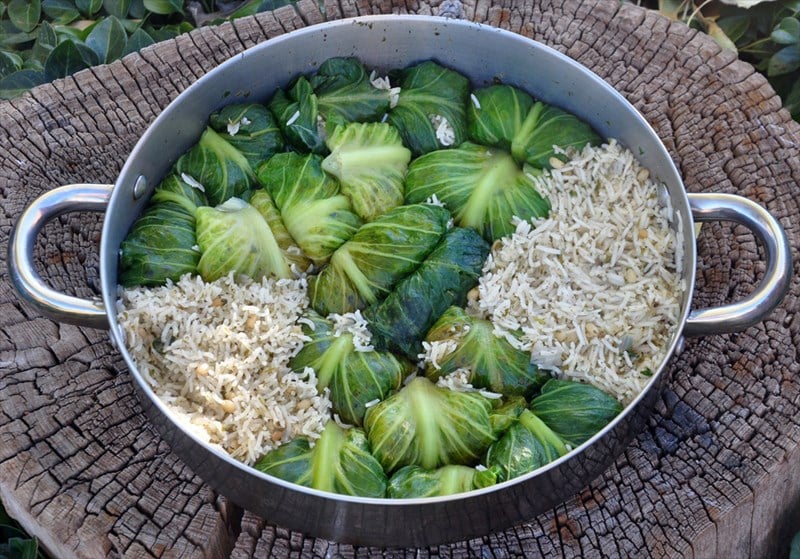 Stuffed vegetable dishes are common throughout Eastern Europe and Asia Minor. In this wonderful recipe adapted from one presented in Marian Morash's The Victory Garden Cookbook (ISBN 978-0394707808), blanched lettuce leaves are used to wrap a lemony herbed rice filling. Getting the hang of rolling these lettuce-rice packets will take you a few attempts, so don't dismay when your first few look a bit tatty. You're fingers will figure out what to do an all of them will taste great, no matter their appearance.
12 large lettuce leaves, coarse central veins removed
1 cup onion, finely chopped
3 tablespoons butter
1 tablespoon sugar
1 teaspoon salt
½ teaspoon freshly ground black pepper
1½ cups basmati or other long-grain rice
¼ cup flat leaf Italian parsley, finely chopped
1 tablespoon dry dill leaf
¼ cup lemon juice
¼ cup pine nuts
2 cups stock
Blanch lettuce leaves in boiling water for one minute. Remove and drain. Let cool and pat dry.
Sauté onions in butter with sugar, salt and pepper until translucent, about 5 minutes. Set aside.
Bring 6 cups of water to a boil. Stir in rice and let cook for 5 minutes. Remove from heat and drain.
Mix together the partially cooked rice, onion sauté, herbs, lemon juice and pine nuts. Taste and adjust seasoning.
Place 1-2 tablespoons of the rice mixture on top of a blanched lettuce leaf, depending upon leaf size. Roll up by first folding over the sides to make a straight margin, and then roll tightly from the bottom up. Place lettuce-rice roll seam side down in a large pan. Repeat until all the lettice leaves have been used. If there is leftover rice, place it between the rolls in the pan. Gently pour stock into the pan, making sure to not break apart any of the rolls. Bring to a simmer, cover, and cook for 30-40 minutes until the rice is tender and all the stock has been absorbed. Let cool and garnish with olive oil.
Salad Dressings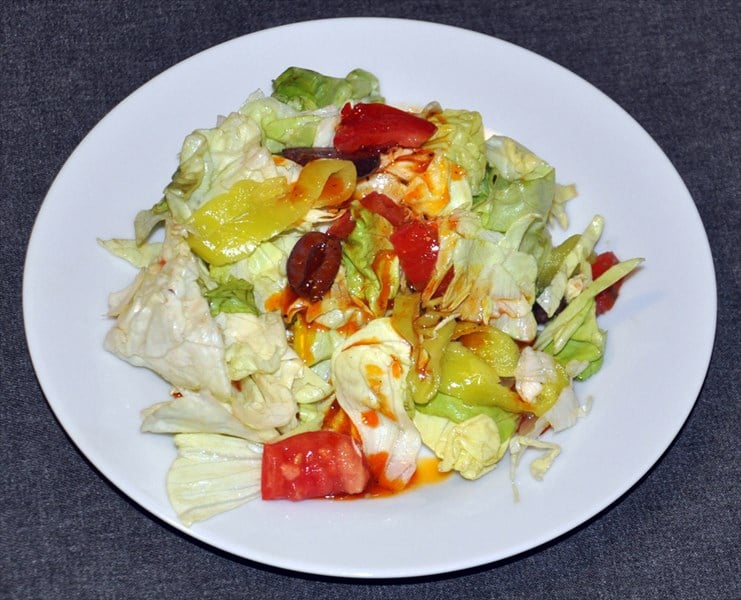 It is amazing how much we have allowed the industrial-corporate food complex to convince us that some simple foods are beyond our ability to make. Take salad dressings: they need be no more complicated than 2 parts oil to one part vinegar, shaken. The dubious 'convenience' of commercial salad dressings also comes with any number of chemical stabilizers and preservatives, allowing them to sit for months on the grocery store shelf. Take back your kitchen! If you grow your own lettuce, why not make your own salad dressings to put on them? The first four take no more than a minute or two to assemble; the last takes all of 15 minutes. You'll never buy salad dressing again.
Balsamic Vinaigrette
Don't use really good balsamic vinegar here; rather go for a cheap version as the good stuff would be wasted. Any high quality, strongly flavored red wine vinegar would work as well
¼ cup smooth Dijon mustard
¼ cup cheap balsamic vinegar
1/3 cup olive oil
salt & pepper to taste
Place mustard in bowl. Slowly whisk in vinegar until smooth & creamy. Slowly whisk in olive oil. Season with salt and pepper. Refrigerate.
Ranch
1 cup buttermilk
1 cup cottage cheese
1 tablespoon garlic, minced
1½ teaspoon white wine vinegar
½ teaspoon salt
1 teaspoon black pepper
2 tablespoon chives, minced
Puree first three ingredients in a food processor or blender until smooth & creamy. Whisk in remaining ingredients. Refrigerate.
Chinese
Hoisin sauce and Chile Sauce with Garlic are available at any oriental market.
½ cup red wine vinegar
2 tablespoon soy sauce
2 tablespoons sesame oil
¼ cup preserved ginger in syrup, mashed in to a paste
1 tablespoon hoisin sauce
1 tablespoon chile sauce with garlic
1 teaspoon salt
One green onion, minced
Combine all ingredients in a jar and shake well. Refrigerate
Lemon-Tahini Dressing
1 cup tahini
1 tablespoon minced garlic
½ cup water
½ cup lemon juice
salt to taste
Place tahini, and garlic into a blender or food processor. Puree, slowly adding in water. Continue blending, while slowly adding in lemon juice, and salt to taste. Refrigerate.
Tomato Vinaigrette
A great way to use some of the late summer bounty of fresh tomatoes. Fresh or dried herbs work equally well; if using fresh, double the amounts.
½ lb fresh tomatoes, blanched, peeled, seeded and chopped
2 tablespoons olive oil
2 tablespoons shallots, minced
3 tablespoons garlic, minced
1 tablespoon tomato paste
2 tablespoons parsley, minced
1 teaspoon oregano
1 teaspoon tarragon
½ teaspoon marjoram
½ teaspoon basil
2 tablespoon white wine
1 teaspoon salt
1 teaspoon pepper
1 cup vegetable oil
1/3 cup white wine vinegar
1½ teaspoon lemon juice
Heat olive oil in small pan. Sauté garlic and shallots until soft. Add tomatoes, tomato paste, herbs, wine, salt, and pepper. Cook about 5 minutes, stirring occasionally until thickened. Puree in food processor or blender. Whisk in remaining ingredients. Refrigerate.
Tunisian
3 tablespoons extra virgin olive oil
2 tablespoons white wine vinegar
1 teaspoon harissa
Salt and freshly ground black pepper to taste




Lettuce and Mushroom Stir Fry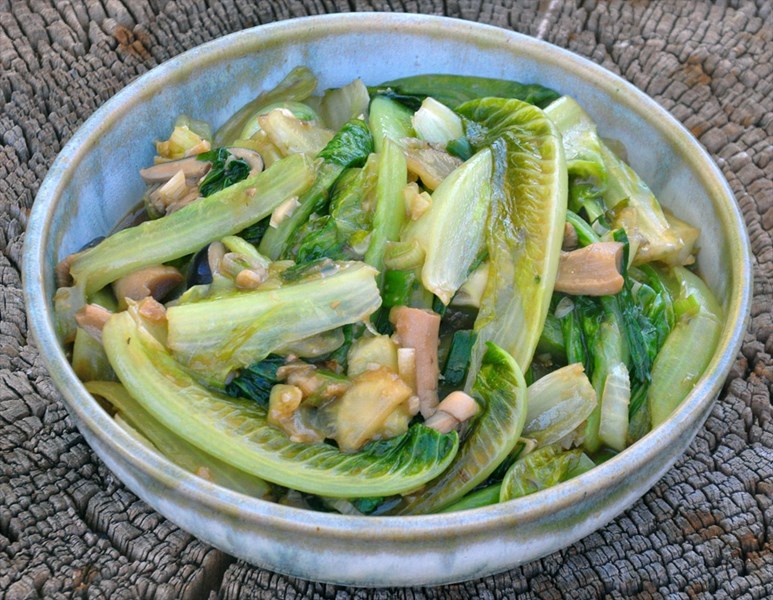 Growing up in an Asian family in Chicago, chef Ken Hom rarely if ever ate raw lettuce, as it was almost always used as stir fry ingredient. While this may seem strange to western palettes, lettuce makes a wonderful addition to many Chinese dishes. Here we present a stir-fry centered around lettuce to illustrate how Asian cuisines approach this vegetable. We've cobbled the following together from a number of sources, including Ken Hom's 1988 Asian Vegetarian Feast (ISBN 978-0688077532) and Ruth Law's 1985 Dim Sum (ISBN 978-0961425098).
1 pound Romaine lettuce
15 oz can straw mushrooms
2 cloves garlic, crushed
1 tablespoon canola oil
1 tablespoon ginger paste
3 tablespoons stock
1 tablespoon soy sauce
1 tablespoon miso
¼ teaspoon salt
1 teaspoon sugar
½ teaspoon corn starch dissolved into 1 teaspoon water
½ teaspoon sesame oil
Separate the lettuce leaves. Thinly slice the remaining heart and cut the largest leaves in half along their long axis. Cut the straw mushrooms in half.
Heat oil in a wok until just smoking. Add in garlic and ginger and stir fry for 30 seconds. Add in the lettuce and stir fry for a minute. Add in the stock, soy sauce, miso, salt and sugar. Stir fry until the lettuce is wilted, about 2 minutes. Add in the cornstarch-water paste, stir well, and bring to a boil. When the sauce has thickened, toss in the sesame oil and remove to a serving platter. Serve at once.