Banana Bread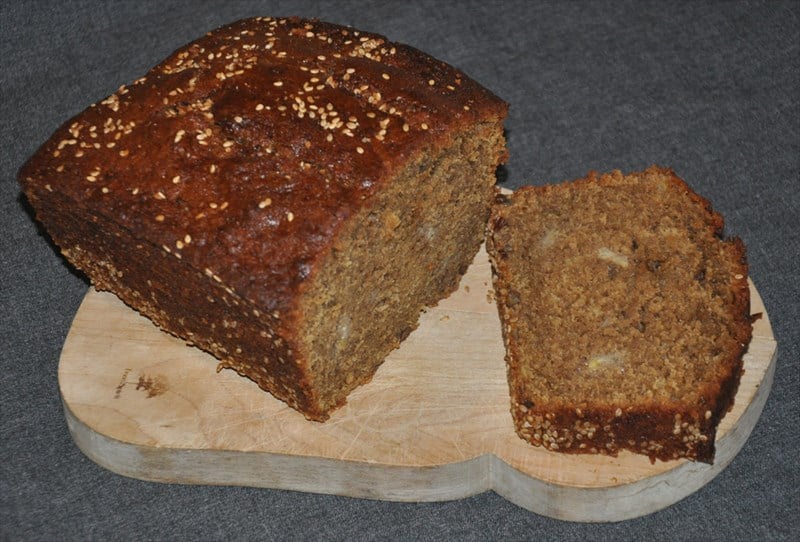 There are many banana bread recipes out there. But we've found none better than the one suggested by Mollie Katzen in her classic 1977 Moosewood Cookbook. Yes, that's the original cookbook with the staggering amounts of butter, cream and cheese laced throughout. While we know that this type of cooking is now largely abandoned, we'd like to defend some of these supposed excesses as being actually necessary to make outstanding food. This recipe is a good case in point. Yes, it has a full cup and a half of butter, but when spread over two loaves and then into at least a dozen slices per loaf, the butter load is not so bad, and certainly no more than what folks normally spread over their bread. As long as you don't do this (and why would you need to given how good it tastes?) you very well may be eating less butter in the long run than you would with a less luscious loaf.
2 cups ripe banana
1 cup strong black coffee
1½ cups butter, melted
1¾ cups brown sugar
4 eggs
2½ teaspoons vanilla extract
½ teaspoon almond extract
½ teaspoon lemon extract
2 cups whole wheat flour
2 cups white flour
1 teaspoon salt
½ teaspoon baking soda
1 tablespoon baking powder
½ teaspoon ground nutmeg
2 teaspoons ground cinnamon
sesame seeds
Mash banana with coffee. Set aside.
Beat butter and sugar until creamy. Beat in the eggs one at a time. Add in the vanilla, almond, and lemon extracts and beat until light.
Sift together the flours, salt, baking soda and powder, nutmeg and cinnamon. Mix about 1/3 of this mixture into the liquid ingredients, until the dry ingredients are just incorporated. Repeat until all the dry ingredients are used up. Mix in the banana-coffee mixture, and beat until all are well incorporated.
Generously butter 2 two-pound loaf pans and sprinkle with sesame seeds. Pour in the batter. Bake in a 350° F oven for 45-50 minutes, or until the loaves are set. Remove from oven and cool for 15 minutes. Remove loaves from pan and let cool to room temperature.



Cranberry Chutney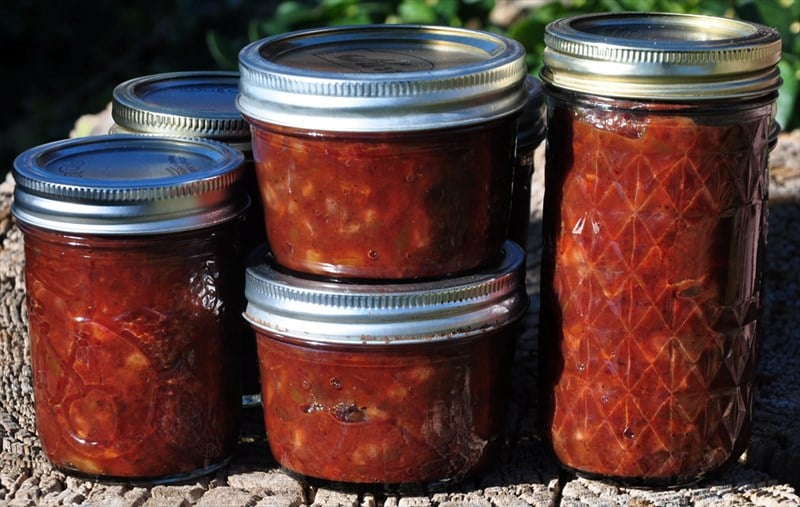 Please don't buy a can of cranberry jelly to serve with your holiday meal. It will taste like a can, and you'll not be able to enjoy the wonderful cranberry flavor like you would if you made your own cranberry relish from fresh ingredients. So, why not make your own? This is one of our favorite cranberry recipes, adapted from one presented by M. Dalton King in Perfect Preserves (ISBN 978-0831711023) and makes use of Balti Garam Masala from our second month of blog writing in January, 2014.
½ cup dried apricots
1 cup boiling water
6 cups whole cranberries
4 cups water
1 cup orange juice
¼ cup lemon juice
1 cup apple, peeled, cored, and cut into small dice
1½ cups brown sugar, packed
½ cup apple cider vinegar
¼ cup honey
1 tablespoon Balti Garam Masala
2 teaspoons salt
1 teaspoon turmeric
½ teaspoon ground allspice
½ teaspoon ground cinnamon
1½ cups walnuts, roasted and chopped
Cover the apricots with boiling water and let sit for an hour. Drain, reserving soaking liquid, and coarsely chop.
Place the cranberries, reserved apricot soaking liquid, and water in a large pot and bring to a boil. Simmer until the cranberries pop, approximately 10-15 minutes. Add remaining ingredients (except for walnuts), and cook over medium heat until the chutney thickens and gels on the back of a spoon. This should take between 30-60 minutes. Stir in the walnuts, and cook for 2 minutes until hot. Ladle hot chutney into canning jars, leaving ½" headspace. Seal and process for 30 minutes in a boiling water bath. Remove, let cool, and check the lid seals.



Cranberry Apple Pie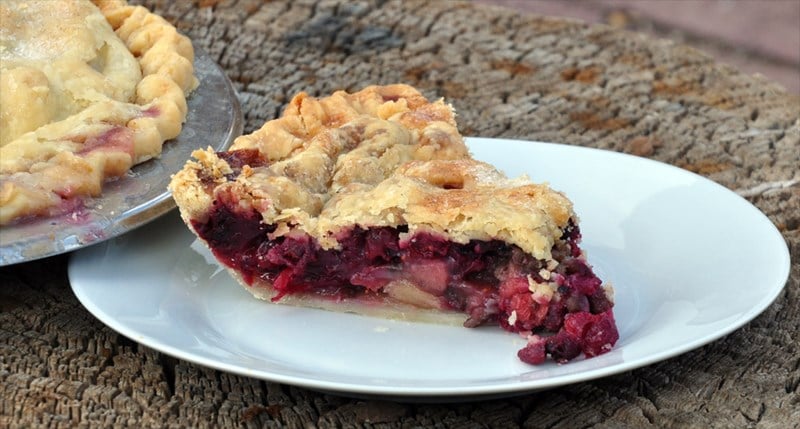 This stunning pie originated from one of the most famous Midwest roadside diners of the 1990s: the Norske Nook in Osseo, Wisconsin. Discovered by Jane and Michael Stern early in their Roadfood days, this mainstreet diner soon had block-long lines of people waiting for a piece of pie. Helen Myhre, founder of the Nook, co-wrote with Mona Vold "Farm Recipes and Food Secrets from the Norske Nook" in 1993 and in it she presented some of their most famous pies. Among these is the following cranberry-apple pie that she made at the request of the Wisconsin governor during a 1980s visit to Osseo. While the use of cranberries in a Wisconsin pie may see odd to outsiders, it is not surprising to those living in the state which leads the nation in cranberry production, concentrated in the basin of former glacial Lake Wisconsin upon which Osseo sits on the northern shore. If there is a better apple pie out there we don't know of it.
1 cup flour
½ cup butter
1/8 teaspoon salt
2-4 tablespoons cold water
3 heaping cups apples, peeled and sliced
2 heaping cups cranberries, cut in half
2 cups sugar
¼ cup flour
½ cup chopped pecans
½ teaspoon cinnamon
2 tablespoons butter
1 tablespoon dark rum
Preheat oven to 350° F.
To make the crust, rub together the flour, salt and butter until it looks like oatmeal. Add in just enough cold water to make a dough. The less water you use, the more flaky your crust will be. Gather up the dough and cut into two equal pieces. Roll each out to 11" in diameter.
Mix together the apples, cranberries, sugar, flour, pecans, and cinnamon.
Place one of the crusts into a 10" pie plate. Fill with the apple-cranberry mixture. Dot the top of the pie with butter and add in the rum. Cover with the remaining crust. Fold the edges together and crimp. Cut some holes in the top crust to let steam escape. Sprinkle with a little sugar and bake for 1 hour or until the juices run clear. Be sure to place a pan under the pie to catch any juice which escapes (and they will!).



Black Gingerbread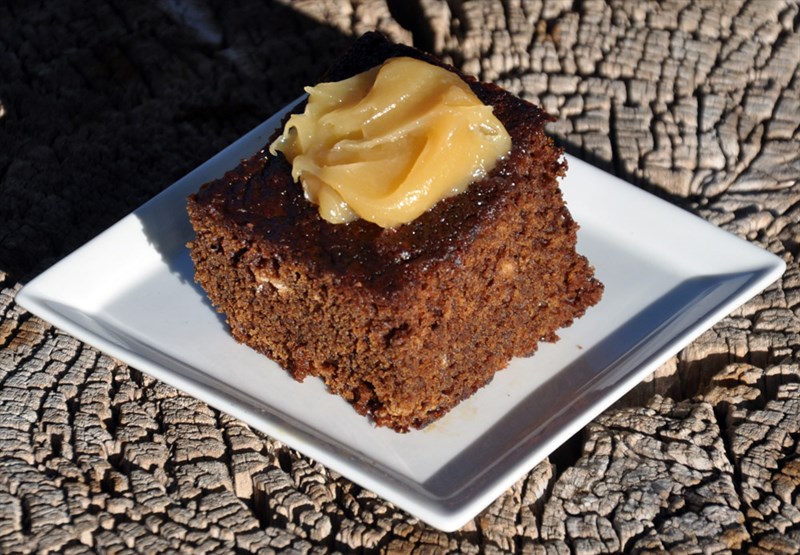 This simply marvelous gingerbread recipe comes from Regan Daley's 2001 In the Sweet Kitchen. It is dark, rich and sweet, and its flavor develops over a few days out of the oven. Be sure you use freshly ground ginger paste and a high-quality powdered ginger. You probably should try tracking down the latter from a reputable spice merchant like Penzeys or Mountain Rose rather than what is available in your local grocery which will be of unknown age and questionable quality. We like serving slices with a toping of lemon curd.
1 cup butter
½ cup water
¾ cup molasses
¾ cup honey
1 cup dark brown sugar, packed
1 tablespoon fresh ginger paste
3 cups flour
1½ teaspoons baking soda
½ teaspoon salt
2 teaspoons ground ginger
2 teaspoons ground cinnamon
½ teaspoon ground allspice
¼ teaspoon ground cloves
3 eggs
½ cup milk
Preheat oven to 325° F. Butter a 9x13x2" cake pan and line the bottom with parchment paper that has been cut to hang over the opposing edges by two inches.
Combine butter, water, molasses, honey, brown sugar and ginger paste in a non-reactive saucepan. Place over low heat, stirring frequently, until the butter melts. Remove from heat and let cool to luke warm.
Sift together the flour, soda, salt, and spices.
Beat eggs, one at a time, into the cooled sugar liquid. Stir in the milk. Fold in the dry ingredients in four equal parts using long strokes of your spatula. Don't worry if there are a few lumps. Pour immediately into the prepared pan and bake for 75-90 minutes until a knife inserted into the center comes out clean. Remove from oven and let sit for 15-20 minutes. Remove from pan and serve warm or at room temperature.



Passionfruit Curd Tarts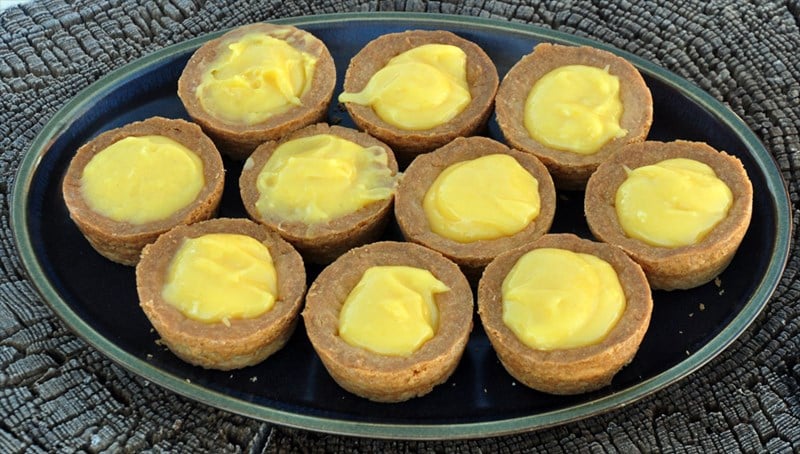 If you have prviously run into fruit curds, almost certainly they were made with either lemon, orange, or lime juice. However, many other acidic fruits will also make excellent curds. Here we use tart-sour juice from passionfruit to make a unique and excellent curd, and then use these to fill little shortcake cups for an excellent small desert or teatime treat.
1/3 cup strained passionfruit pulp
½ cup sugar
2 eggs, slightly beaten
8 tablespoon (1 stick) butter, cut into small pieces
Combine all ingredients in the top of a double boiler and place over the bottom of the double boiler filled with 4 cups of water and heated to boiling. Stir/whisk ingredients constantly until the mixture thickens and coats the back of a spoon. Remove from heat and place curd into a sealed container. Refrigerate overnight.
Shortbread Cups
16 tablespoons (2 sticks) butter, warmed to room temperature
½ cup powdered sugar
1 teaspoon vanilla extract
2 cups all purpose flour
Preheat oven to 350° F.
Lightly butter and flour the wells of a 12-count ½ cup cupcake pan. Tap out any remaining extra flour.
Using a bench mixer with a paddle attachment, beat the butter at medium speed until creamy. Add in the powdered sugar and vanilla and continue beating for 2 minutes until the mixture is light. Reduce the mixer speed to low and add in the flour. Continue processing until the flour is incorporated and forms a ball.
Place 2 tablespoons of dough into each cupcake well, and press out evenly. Smooth down the top rims. Any extra dough may be patted into a ½" thick circle and placed on a bit of parchment paper on a small pan. Place pan(s) in oven and bake for 20-25 minutes until the crusts have turned a golden brown and are baked through. Remove from oven and gently remove the shortbread cups from the pan when they are cooled but still warm. Let cool completely on a baking rack.
Just before serving place just enough curd into each well to just fill (no more than 2 tablespoons).