Medgreens Chickpeas Greens Pasta
Jeff & Linda's Kitchen of Diversity
Chickpeas with Greens and Pasta -- Greece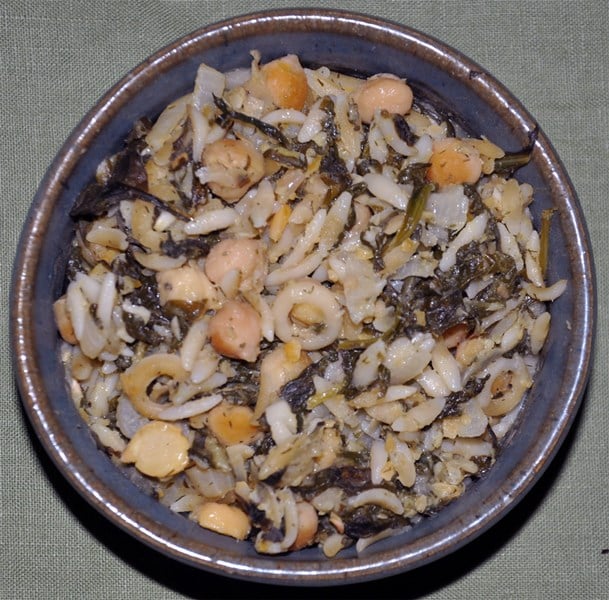 This is another recipe inspired by Susie Jacobs' cookbook, "Recipes from a Greek Island." It is very simple to make, and has a quintessentially Greek taste from its use of olive oil, lemon juice, garlic and dill, and has been a real hit every time we've made it. The flavors develop over the course of a few days, so can -- and should -- be made in advance. Serves 4
2 cups dry chickpeas
1 lb onion
¼ cup olive oil
4 garlic cloves
¼ cup lemon juice
1 lb mixed greens, preferably both sweet (spinach) and sour (chard)
2 tablespoons dry dill
½ pound orzo pasta
salt and pepper to taste
Soak chickpeas overnight in water. Drain, place in a cooking pot, and cover with water. Bring to a boil and simmer for 2-3 hours until tender. Drain and let cool.
Thinly slice onions, and coarsely chop the greens. Cook the orzo in salted, boiling water until al dente and drain.
Heat olive oil in a deep pan, and sauté the onions until golden. Add the garlic and cooked chickpeas and cook over medium heat for 5 minutes. Add the greens and continue cooking another 5-10 minutes until tender. Add cooked orzo, lemon juice, and dill ad mix well. Correct seasoning with salt and pepper, and serve hot or cold.
Use an assertive onion, like Stuttgarter, in this dish. An artichoke garlic like Acropolis will also work well. While any home-grown spinach will work fine, consider using Giant Noble to give the longest shreds of cooked greens in the salad. Vierling Dill is also recommended.