Jeff & Linda's Kitchen of Diversity
Farro, potato, and greens soup -- The Marches, Italy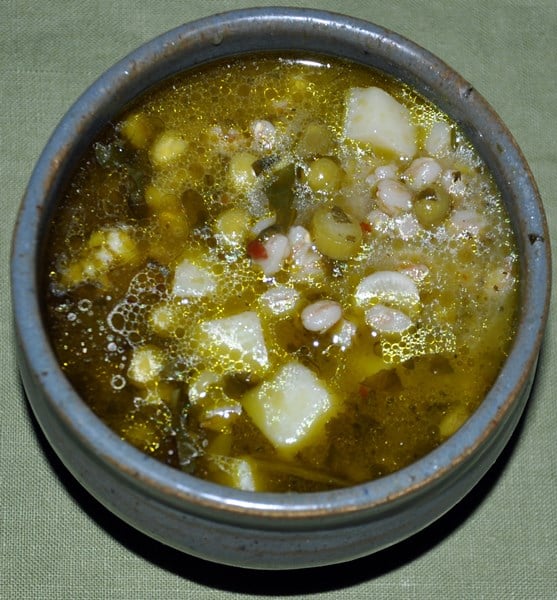 This soup was inspired by Felice Orazi of Le Copertelle in Serra San Quirico in the Italian Marches along the Adriatic Coast. Chef Orazi is a consummate wild-forager, as Paula Wolfert discovered when visiting the region. In the original recipe Bladder Campion greens were used. To capture their sweet-pea like flavor, Ms. Wolfert substituted asparagus and fresh garden peas. We recommend that you leave the peas out of the soup base and add them in just before serving to preserve their bright green color and flavor. Otherwise, they tend to overcook (especially upon reheating), turning bitter and a khaki color reminiscent of bad school lunches. Please don't go there. The soup is too wonderful to ruin in this way. Serves 4.
¼ cup dry farro kernels
3 tablespoons olive oil
½ cup flat leaved parsley, chopped
½ teaspoon red pepper flakes or more to taste
6 garlic cloves, finely sliced
½ pound waxy boiling potatoes, cut into 1" dice
¼ pound wild mustard greens or arugula, coarsely chopped
3 asparagus stalks, thinly sliced into rounds
4 cups stock
1 cup shelled peas
salt and freshly ground black pepper to taste
grated Pecorino Romano cheese (optional)
Pick through farro to make sure that there is no foreign material present; cover with water and let soak overnight. Drain and cover with fresh water and bring to a simmer. Cook, covered until the grains are al dente, about 45 minutes.
Pour olive oil into a soup pot, heat to medium-hot, and add in parsley, red pepper flakes, garlic and potatoes. Sauté about 15 minutes, allowing some sides of the potato cubes to brown. Add greens and asparagus and allow to fry for a few minutes in the oil until the greens wilt. Add in the cooked farro and stock, and bring to a simmer. Cook for 30 minutes to cook the vegetables and blend the flavors. At this stage the soup base can be held until serving.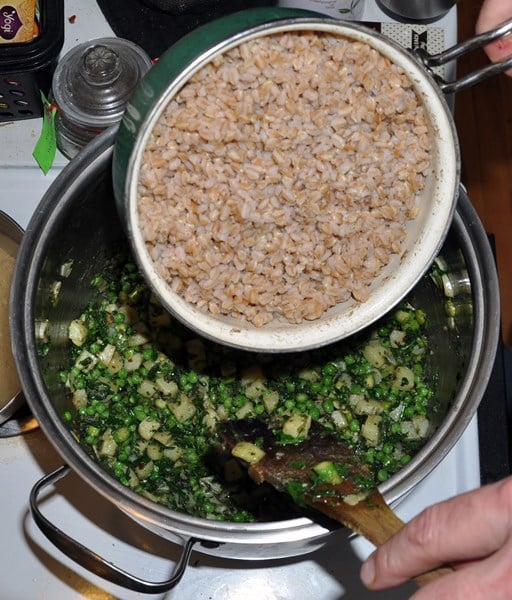 When ready to serve, add in ¼ cup peas per portion and let blanch in the soup for about 5 minutes. Adjust seasoning with salt and pepper. Remove from heat and let stand for 5 minutes. Pour into bowls and top each with a drizzle of good olive oil and a tablespoon of grated cheese (if you're not vegan).
This soup's quality is based on using the freshest produce possible. Please consider growing your own asparagus, parsley, peas, and spicy greens. Any artichoke garlic will work perfectly in this dish.