Medgreens Potatoes Grelos
Jeff & Linda's Kitchen of Diversity
Potatoes with Grelos -- Galicia, Spain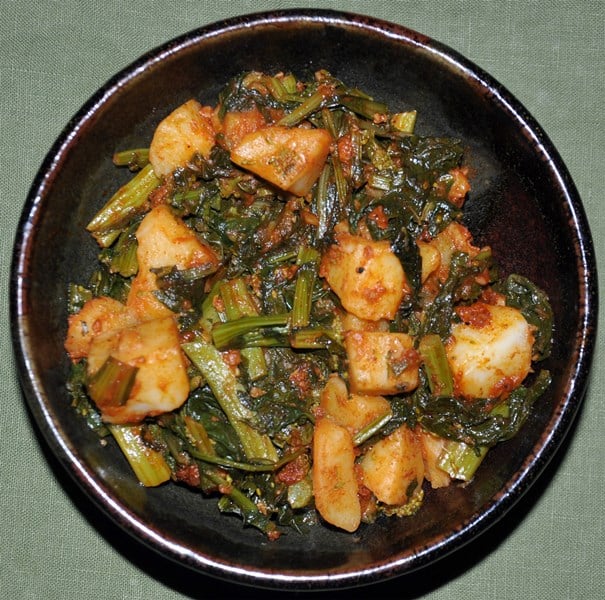 This dish, inspired by one described in Paula Wolfert's Mediterranean Grains and Greens, is a hallmark of Galician soul food: a tossed hot salad of steamed potatoes and mustard greens with a garlic-paprika-olive oil-wine vinegar dressing. It is easy to make and so very, very tasty.
The essential ingredient for this dish is grelos, or turnip greens. The turnip (known scientifically as Brassica rapa) is closely related to cabbage and was domesticated in Europe around 4000 years ago. From there is rapidly spread east into India, China, and Japan. Given varieties of this plant were variously selected for traits including oil rich seeds (rape / canola), numerous fleshy leaves (the eastern 'cabbages' and 'mustards' which include mizuna, bok choy, and napa cabbage), thick tuberous roots (turnips), and fleshy leaves and flower stalks (broccoli rabe). The slightly more bitter and less sweet flavor of turnip greens is essential for the flavor of this dish, so please don't substitute cabbage or kale. We prefer using broccoli rabe as it also produces succulent large stems which make a wonderful textural contrast with the potatoes and steamed greens. Serves 4
2 pounds broccoli rabe, turnip greens or any other bitter green
2 pounds of waxy boiling potatoes
salt
Wash greens, cut away any tough stems, and coarsely chop. Peel potatoes and cut into 1½" dice. Bring a large quantity of water to boil in a steamer pot. Layer potatoes and then greens into the steamer basket, place on top of the boiling water, and steam until the potatoes are tender, about 20-30 minutes.
Ajada Sauce
¼ cup good extra-virgin olive oil
4 cloves garlic, crushed
1 tablespoon sweet paprika
1 tablespoon red wine vinegar
1 teaspoon salt
Salt and freshly ground black pepper to taste
While the potatoes and greens are steaming, make the Ajada sauce. Over low heat warm the olive oil in a small skillet, and gently cook the crushed garlic until golden. Whisk in the paprika, and let simmer in the warm oil for no more than a minute. Take off heat and whisk in the salt and vinegar.
Transfer the steamed potatoes and greens to a serving bowl and pour in half of the Ajada sauce. Mix well to distribute greens, potatoes, and sauce. Let sit 10 minutes, and then repeat with the remaining sauce. Serve at once.
You will get the tastiest dish when you make it using freshly harvested greens. The best options are Rapini Broccoli, any turnip greens, or any oriental green representing the turnip lineage, such as Gailan Kale. Use a nutty Creole garlic like Morado de Pedronera.