Jeff & Linda's Kitchen of Diversity
Homemade Stuffed Bread (

σπιτικό

γεμιστό

ψωμί) --

Greece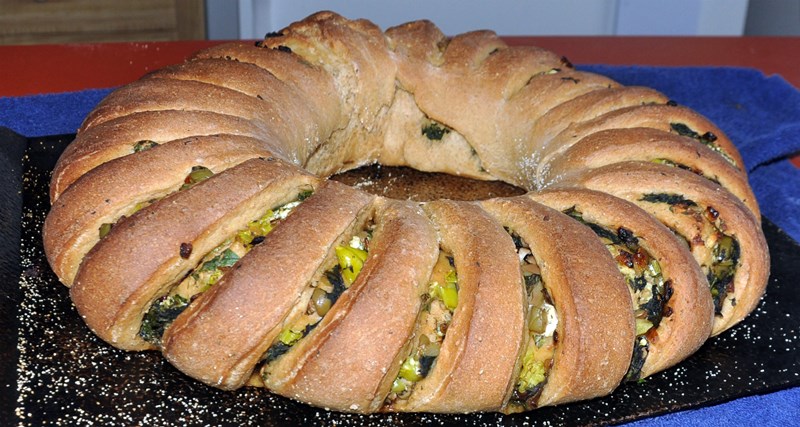 A traditional way for people in Greece to enjoy greens is to stuff them into a pita -- or pie. Perhaps the best known pita in North America is spankopita -- or spinach pie -- in which spinach is cooked with various flavorings, mixed with feta cheese, and then baked inside of a filo crust. But, there are many ways to make a pita, and one common way is to use a yeast dough.
In this recipe, loosely inspired from one presented in Susie Jacobs' "Recipes from a Greek Island" we are making a savory jelly-roll using a variety of fresh and preserved greens. It really is not that difficult to make, looks absolutely stunning, and tastes even better. We recommend you serving it with Jajik with Greens (the next recipe we'll present) or Tzatziki. Serves 8 as an appetizer
Bread Dough:
4 tablespoons dry yeast
½ tsp sugar
½ cup warm water
2 cups semolina flour
2 cups unbleached white bread flour
1¼ cups whole wheat flour
1¼ cups multi-grain flour (ground multi-grain flakes)
2 tsp salt
¼ cup honey
¼ cup olive oil
2- 2½ cups water
Dissolve yeast in ½ cup warm water; when yeast becomes a paste, add in the sugar. Let sit until foamy.
Mix all four flours and salt together in a mixing bowl. Make well in the center and add in the foamy yeast, honey, olive oil, and 1½ cups water. Beginning in the center, mix the liquids into the flours by stirring with a sturdy spoon. Add as much water as necessary to hydrate all the flour and to make a cohesive, soft dough. Knead for 15-20 minutes until the dough is silky and elastic. You should have about 3¼ pounds of dough when finished. Place into an oiled bowl, cover with a damp cloth, and let raise until doubled – 1 to 2 hours.
Filling:
1 lb onions, chopped
3 tablespoons olive oil
1 tsp sugar
1¼ pounds mixed greens, preferably a mix of bitter (endive, dandelion), pungent (mustard, kale), sweet (spinach), and sour (chard).
1 cup pepperoncini peppers
½ lb mix of green and black Greek olives, pitted and chopped
6 oz feta cheese
3-4 garlic cloves, minced
¼ cup flat leaf parsley, chopped
1 tablespoon dry dill leaf
1 tablsepoon dry oregano
While dough is rising, make the filling. Sauté onion in olive oil until golden. Add in the sugar, and continue stirring and cooking until they turn a caramel brown. Place into a small bowl. Steam the greens until tender, about 5-10 minutes. Squeeze dry, and then roughly chop. Place in a another small bowl and set aside. Pit the olives, coarsely chop, and place in another small bowl. Remove stems from the pepperoncini peppers, coarsely chop and place in another small bowl and set aside. In a final small bowl, crumble the feta and mix with the garlic, chopped parsley, and dried herbs. Let all the filling components cool to room temperature.
Assembling the bread:
When dough has risen, punch down and transfer to a floured board or countertop. Roll into a 14"x21" rectangle. Spread cooked onions in a layer across the dough, leaving a 2" border along all four sides. Repeat with the cooked greens, then the pepperoncini pepper, olives, and finally the herbed feta. Roll up the dough and toppings along the long side of the rectangle to make a jelly-roll; finish by drawing the uncovered dough border over the outside of the roll, and sealing the seam by pinching the dough together. Now bring the two ends of the roll together to make a wheel, and pinch these together as well.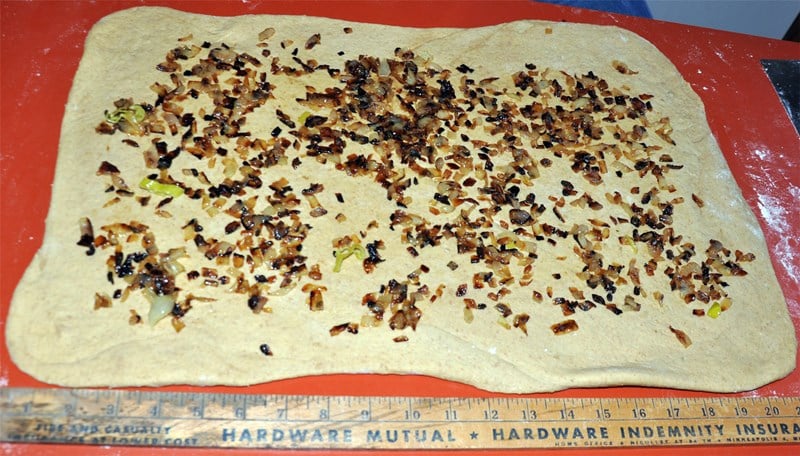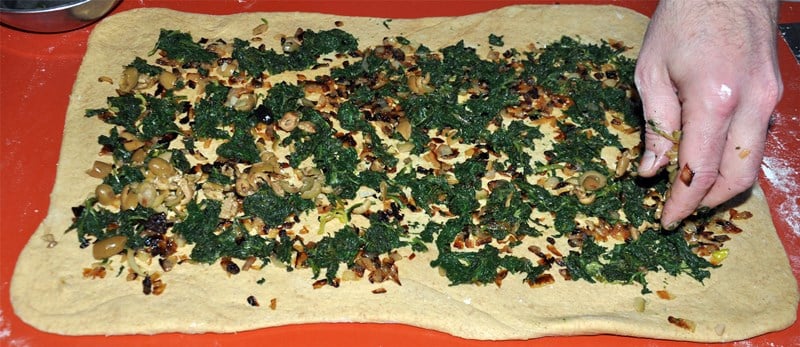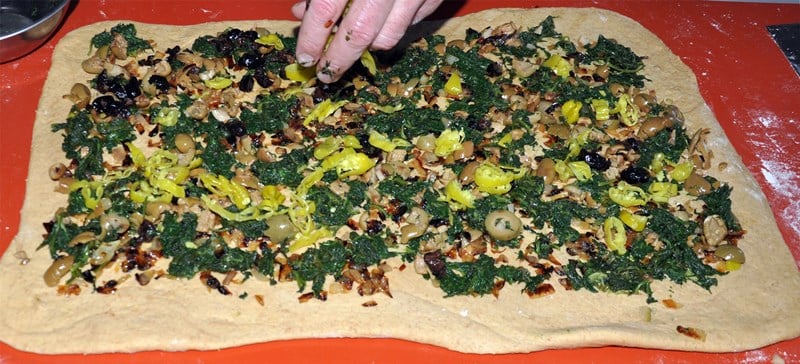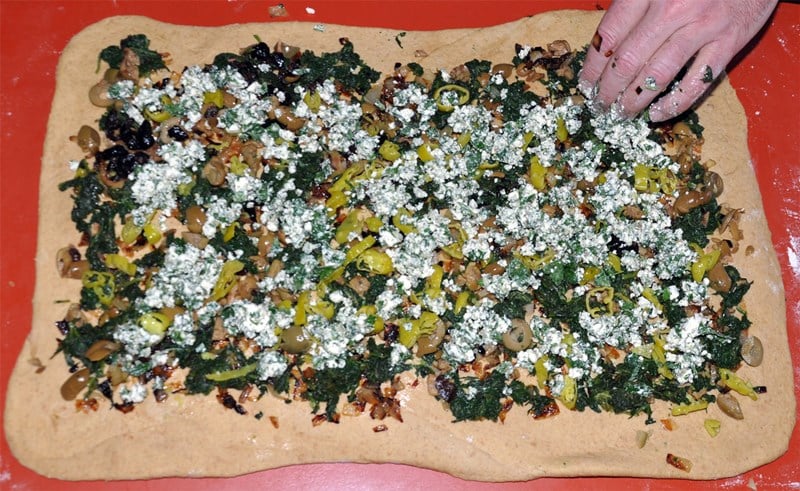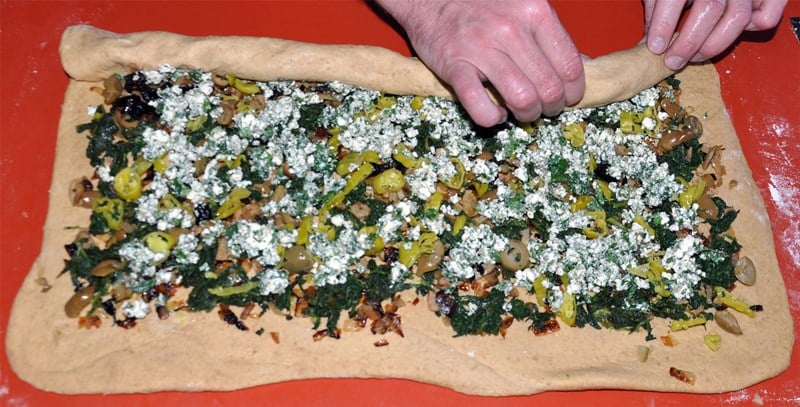 Transfer the dough circle onto a baking sheet lightly covered with coarse semolina or corn meal. With a sharp knife, cut through the upper ¾ of the roll at 2" intervals around the entire circle, leaving the bottom uncut and still connected. Cover with a damp towel and let raise until almost doubled, about 45-60 minutes.
While the rolls are proofing, preheat oven to 400º F. Place proofed ring in oven and bake for 20 minutes. Rotate the baking pan, and continue baking another 10 minutes or so until the dough is brown and crusty, and the bottom sounds hollow when tapped. Remove from over and let cool.
Slice into wedges along the scored cuts and serve.
The best onion for this bread is a mild, sweet type like Alisa Craig. Use a variety of greens in the stuffing for a more complex flavor. Besides using flat Italian parsley, you can also use fresh dill and oregano. Just triple the amount as compared to the dried.