Jeff & Linda's Kitchen of Diversity
Chard, Raisin, and Apple Tart (Tourte aux Blettes) -- Nice, France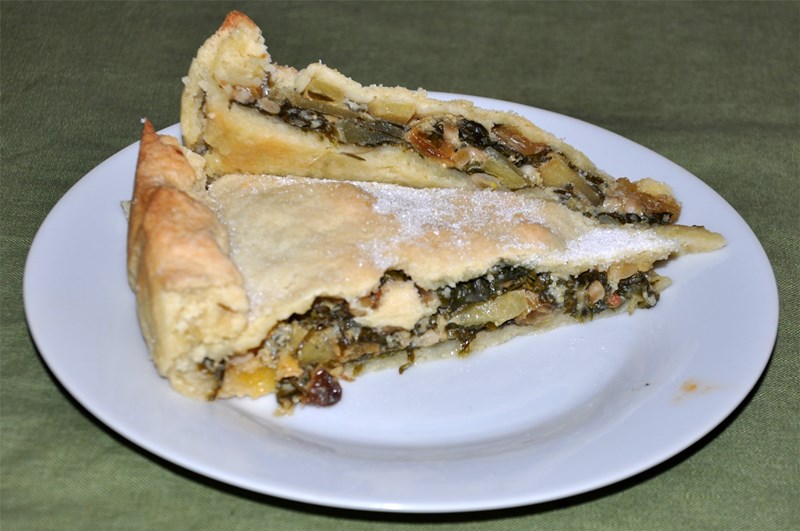 We close out our April feast with, yes, a dessert featuring spring greens. The people around Nice in southeastern France are crazy about Swiss Chard, so much so that according to Paula Wolfert they often refer to themselves as "Tête de Blettes" -- or chard heads. Swiss Chard figures prominently in the Niçoise cuisine, with one of the most iconic dishes being a swiss chard and apple tart. In fact, it is one of 15 regional specalities (including ratatoullie and raviolis à la daube, or raviolis in beef stew) that the Cercle de la Capelina d'Or uses to certify that a given restaurant is offering authentic Nissarde food.
The following recipe is adapted from one passed onto Paula Wolfert in Mediterranean Grains and Greens via a circuitous path, but originating with Catherine-Hélène Barale of the iconic La Barale restaurant, one of the most influential proponents of the Niçoise cuisine. Coleman Andrews wrote a wonderful piece on this chef and her restaurant for Saveur Magazine.
Be forewarned that this makes a very large tarte of a foot in diameter! You may want to consider cutting the recipe in half or by two-thirds to make it fit into a normal pie tin.
Pastry
2 2/3 cup all purpose flour (14 oz)
1/3 cup cake flour (2 oz)
½ teaspoon salt
heaping ½ cup sugar
1 scant cup butter
2 large eggs, beaten
2 tablespoons cold water
Sift flours, salt, and sugar together in a mixing bowl. Cut in the butter with your fingers until it has the consistency of a coarse meal. Blend in the beaten eggs, and then the cold water. Form dough into a ball, and knead on a lightly floured surface for 30 seconds or so. Divide into two pieces, one representing 2/3 of the dough and the other 1/3. Wrap both pieces in plastic wrap, and chill for at least 1 hour in the refrigerator.
Filling
2 bunches Swiss Chard
½ teaspoon salt
½ cup golden raisins, soaked for an hour or so in 2 tablespoons of dark rum
2 large eggs, beaten
2/3 cup brown sugar
1 teaspoon lemon extract
4 ounces aged gouda cheese, grated
½ cup shelled pine nuts
2 tart baking apples, like Granny Smith
freshly ground black pepper
Wash chard and remove ribs. Roll up the leaves into a cigar and thinly slice. Toss with salt and let stand in a colander for 15 minutes, or until wilted. Rinse in several changes of cool water, drain, and squeeze dry. Coarsely chop.
In a large mixing bowl whisk the eggs and brown sugar until well blended and then mix in the raisins and rum. Add the chopped greens and lemon extract, grated gouda, pine nuts, and black pepper. Let mixture sit in the bowl and the ingredients to meld for at least 30 minutes.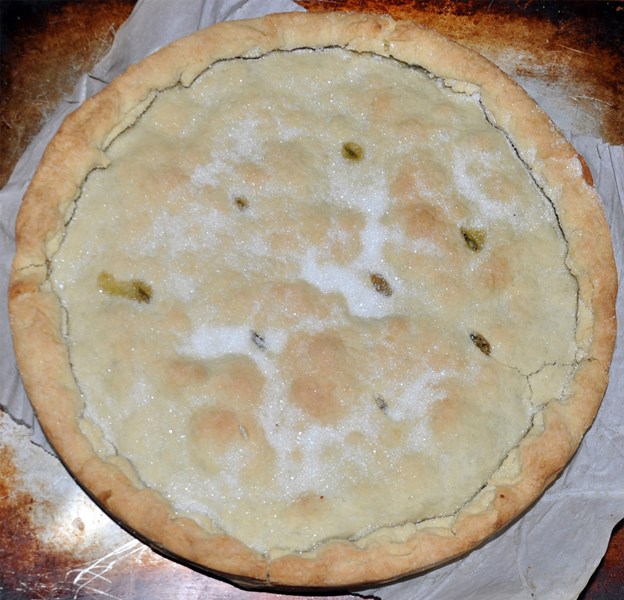 Core, peel, and cut the apples in half and then into thin slices, and gently mix into the filling.
Preheat the oven to 375° F.
Roll out the larger piece of dough to line a 12" diameter pie or deep-dish pizza pan. Stir the filling to mix in all the juices, and then pour onto the pastry. Roll the smaller piece of dough to make the upper crust, lay over the filling. Roll the upper and bottom crust edges together, and crimp to seal. Make 5-6 cuts on the upper crust to allow steam to escape.
Bake for 45 minutes or until the crust is golden.
Remove from oven and sprinkle top with sugar. Let cool before serving.
Please do not use any other green for this tart, as the slightly sour flavor of swiss chard is essential for its proper taste. A good chard to use is Verde de Taglio, which has small stems but large leaves.