Apricot Dill Mustard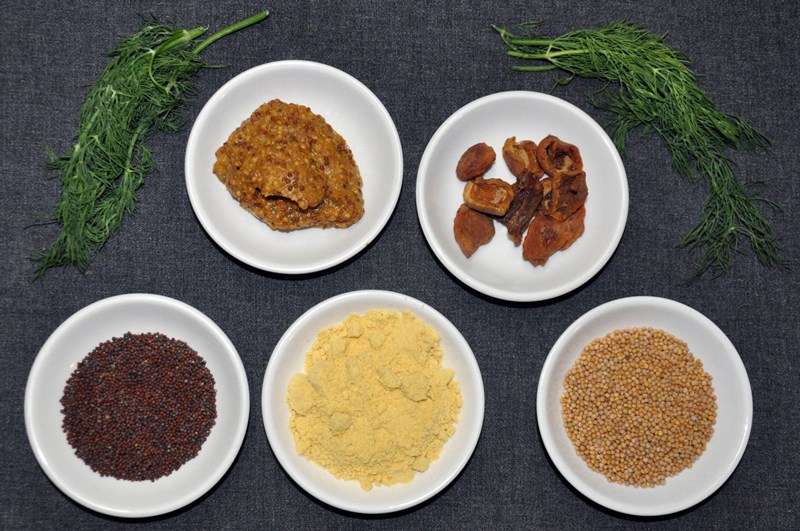 Continuing with the idea of fruit mustards, we here present a recipe adapted from Jerry Traunfeld's The Herbfarm Cookbook, published by Scribner in 2000. The Herbfarm is located about a half-hour east of Seattle, and began as a backyard herb nursery. It eventually grew into one of the most acclaimed restaurants in the Pacific Northwest.
This mustard is a diversion from the previous ones in that both mustard powder and whole mustard seeds are used. Because of this, you'll need to let the seeds and powder soak in water for at least three hours to allow the seeds to soften. Overnight works even better. With the sweetness of the dried apricots and the astringency of dill, this mustard is a great accompaniment to any number of roasted root vegetables.


1/3 cup yellow mustard seeds
¼ cup brown mustard seeds
2 tablespoons mustard powder
¾ cup warm water
1/3 cup coarsely chopped dry apricots
¾ cup apple cider vinegar
1 teaspoon salt
1-2 tablespoons fresh dill
Mix mustard seeds and powder with water and apricots. Cover bowl and let stand for at least 3 hours, or preferably overnight.
Add mixture to blender with vinegar, salt, and dill. Puree until mostly smooth; you may need to add more water to make a portable mixture. You'll want to be a bit careful regarding the amount of dill you are using as some types are stronger than others, and too much dill will overpower the rest of the mustard. As a result, you may want to start with 1 tablespoon and add in more as desired.
Transfer to a double boiler and gently steam until mixture reaches desired consistency, as illustrated in the in the Dijon Mustard recipe. Remove from heat and cool. Place in refigerator and allow to ripen 5 days before using.
Please grow your own dill; we recommend Vierling because of its prolific leaf growth. Also, remember that you can grow your own brown mustard seed, by letting Southern Giant Curled mustard greens seed out. We also used our own home grown, dried apricots.