Ballpark Yellow Mustard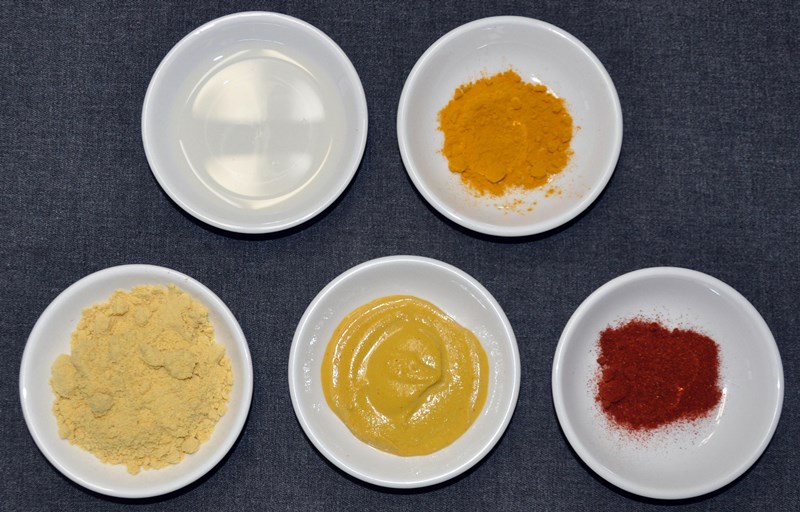 Mustard came to the USA in the 1700s with European immigrants, and in the 1800s was typically brown and spicy. Among the principle national brands, Gulden's originated in New York City in 1862 followed by Plochman's about 20 years later in Chicago. These types of mustard are still widely used.
In 1885 the French brothers started a flour mill and spice business in Rochester, New York. Among their products was mustard; however, it was initially the same strong brown mustard found elsewhere. Francis French eventually decided to develop a mild mustard that would be used in greater quantities – thereby increasing sales. Initially called French's Cream Salad Brand Mustard, it was introduced to the public at the 1904 St. Louis World Exposition. This new style of mustard exploded in popularity and became THE condiment to serve with a hot dog at the ballpark. French's even incorporated the red pennants from Wrigley Field into their logo design.
By the 1920's French's outsold all other mustards by 5 to 1. If you grew up in the 1960s or 1970s, likely this bright yellow, creamy, and mild mustard is what you think of first when you hear the word 'mustard'. And, it remains to this day one of the very most popular types across the country.
Ballpark mustards are ofen made in a way that we approve – for instance the little packet in Jeff's office, left over from some long forgotten box lunch, includes only vinegar, water, mustard powder, salt, turmeric, paprika, garlic and mustard oil. However, it is also very easy to make at home. The resulting product will taste just like store bought – though perhaps a bit fresher as it will not have been shipped across the country and then parked on a shelf for months.
If for no other reason than curiosity and gaining the experience of knowing where your food comes from, you really should try making this at least once in your own kitchen.
½ cup mustard powder
½ cup water
1/3 cup rice wine vinegar
2/3 teaspoons salt
¼ teaspoon turmeric
1/8 teaspoon garlic powder
1/8 teaspoon paprika
Whisk together all ingredients and place mixture into a double boiler. Simmer, stirring constantly over steam until mixture reaches desired consistency (see Dijon recipe). Remove from heat, cool, and pack into a 1-cup glass jar. Seal and let mature for 4-5 days. Keep refrigerated.