Horseradish and Door County Cherry Mustard
Today we describe two final smooth mustards. First up is a very spicy German-style horseradish mustard. As we stated in our first entry, we're not actually vegetarian, and this is the exact type of mustard that we enjoy most with a grilled bratwurst on a crusty roll with sauerkraut and diced onion – a taste sensation that brings back memories of autumn weekends in Wisconsin standing outside a charity brat stand. But, this mustard has many more potential uses, especially on a roll containing an assortment of roasted vegetables, such as eggplant, parsnip, carrot, cauliflower, bell pepper, onion, and garlic.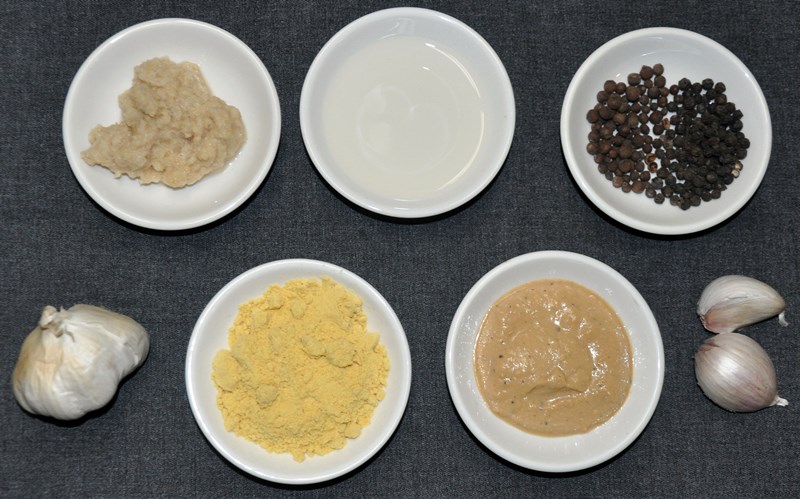 Horseradish Mustard
2/3 cup mustard powder
½ cup hot water
½ cup white wine vinegar
1 teaspoon salt
1 tablespoon prepared horseradish
1 clove garlic, crushed
1 teaspoon sugar
12 whole black peppercorns, crushed
5 allspice berries, crushed
Whisk together mustards powder and water. Let stand uncovered for 20 minutes.
Mix together vinegar, salt, horseradish, garlic, sugar, garlic, sugar, black pepper and allspice in a small saucepan. Barely bring to a boil and remove from heat. Combine with the mustard paste, and place in a double boiler. Gently cook over steam, stirring constantly, until the mixture reaches the desired consistency, as described in the Dijon Mustard recipe. Remove from heat and cool. Taste to adjust seasonings, adding in more horseradish if desired. Place into a glass jar, cap, and let mature for 4-5 days in the refrigerator.
You can grow your own horseradish and make your own prepared horseradish, and your mustard will be much more exciting and flavorful as a result.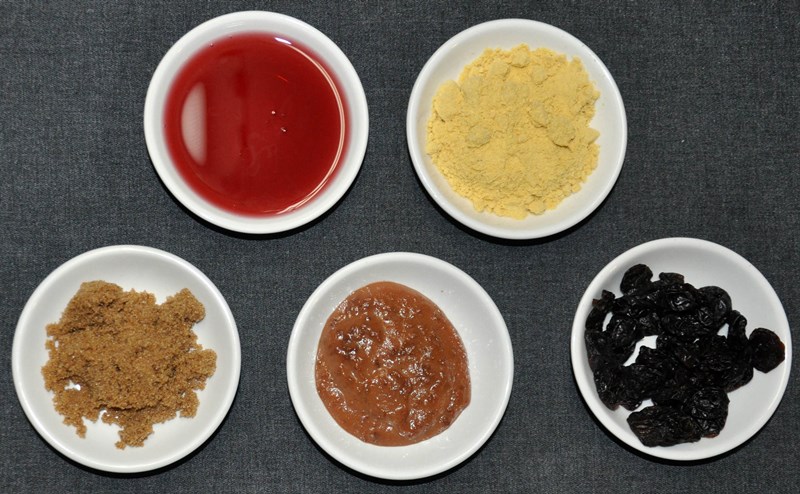 The last smooth mustard that we'll share is also inspired by Linda's birthplace in Door County, Wisconsin, the little thumb of land that sticks out into the west side of Lake Michigan. The proximity to the cool lake water has ensured that this region is spared the worst of both summer heat and winter cold, and as a result has one of the best climates in North America for production of pie cherries. A half-century ago the cherry industry was the principle agricultural activity of the county. If you'd like to read more about this industry, we should mention that Linda's mother has written a novel about cherry growing in Door County, called The Good Year, and it's available via Amazon. It also features Linda's daughter, Bragi, on the cover.
The cherry industry fell on hard times as the local economy switched over to tourism, with thousands of acres of cherry orchard being lost by the turn of the millennium to condominiums, big-box stores, strip malls, and gas stations. One of the principle reasons that this industry survived was due in no small part to the efforts of Mike and Kathy Johnson of Forestville, Wisconsin who opened Country Ovens in 1987, with its principle mission being to provide a market for locally grown cherries and to help stem the tide of orchard removal. Thanks in part to this business, the market for Door County cherries stabilized. And, as gas prices have increased and tourist visits and tourism dollars have decreased, the cherry industry has been making a small resurgence of late, with orchard acreage (slowly) growing again.
One of the typical mustards sold throughout Door County contains both dry cherries and cherry juice. When the dry, rocky hills and unyielding bright sun of New Mexico becomes a bit much for Linda, we like to make something from her childhood home, and here we've recreated a typical Door County cherry mustard, using dried Montmorency Cherries from Country Ovens, of course. This mustard is best enjoyed in a sandwich or even better on a soft pretzel fresh from the oven.
Door County Cherry Mustard
¼ cup unsweetened cherry juice
¼ cup mustard powder
2 tablespoons white wine vinegar
1 tablespoon packed brown sugar
½ teaspoon salt
¼ teaspoon Henderson's Relish
2 tablespoons chopped dry cherries
Whisk together all ingredients except for dried cherries. Place in double boiler and gently steam until mixture reaches desired consistency, as described in the Dijon Mustard recipe. Remove from heat and add in dried cherries. Let cool. Place in a glass jar and cap. Let mature for 4-5 days in the refrigerator.
Remember that Henderson's Relish is a vegan alternative to Worcestershire Sauce. We wrote about it before at the bottom of the Thai Yellow Potato Curry recipe.