Dijon Mustard


The Dijon area of Burgundy, in eastern France, had established itself as an area for mustard production by the 13th century. These recipes were largely based on the original Roman formulae in which mustard seeds were ground with wine, vinegar, and/or unfermented sour grape juice. The quality of the product was held in high esteem, with a 14th century French proverb stating that 'there's no mustard except in Dijon'. When Pope John XXII of Avignon (1249-1334) assumed his post, he wanted to ensure a constant supply of Dijon mustard for his meals. In a moment of inspired nepotism – and to try and avert potential future political embarrassment (remember Billy Carter?) – he created the post of "Grand Moutardier du Pape" (Grand Mustard-Maker to the Pope) and gave position to an idle nephew who lived near Dijon. This term is now used in France to describe a pretentious, self-important person.
The most famous modern Dijon mustard brand was founded in 1777, when Maurice Grey (who had developed a recipe for a strong mustard made with white wine) formed a partnership with Antione Poupon (who supplied the financial backing to manufacture the product). They revolutionized mustard making by introducing the first machines to automate its production. Their original store still stands at 32 Rue de la Liberte in the heart of Dijon.
In 1946 the Heublein Company (who had earlier purchased distribution rights to Smirnoff vodka and would eventually also own the rights to Jose Cuervo tequila, Guinness stout, Hamm's beer, Inglenook wine, and Kentucky Fried Chicken) bought the American distribution rights. R. J. Reynolds Tobacco Company acquired Heublein Inc. in 1982, and in corporate reorganizations that followed the merger of R.J. Reynolds with Nabisco, the resulting corporation – RJR Nabisco – began selling off many of Heublein's assets. The Grey Poupon brand was subsequently purchased by Kraft Foods in 1999.
Needless to say, much of the 'Dijon' mustard sold in the USA is not imported. Our Grey Poupon mustard is made in a Kraft Foods factory in upstate New York.
Thus, the term 'Dijon Mustard' has become virtually meaningless. It is a textbook example of what can happen when a traditional food does not gain protected status – such as Protected Designation of Origin (PDO) or Protected Geographical Indication (PGI) of the European Union. These designations indicate that the name can only be used for food products made in their traditional areas using traditional ingredients. 'Dijon Mustard' is not so designated. And in any case, outside of the EU these designations have no legal standing, explaining why American or Argentinian producers can market 'Parmesan' cheese. As a result, anyone can make and sell 'Dijon Mustard' using whatever ingredients they choose. Many so-called Dijon mustards now use distilled vinegar and citric acid, not the traditional white wine and white wine vinegar, let alone other adjuncts like dextrose and high-fructose corn syrup.
Perhaps it is time for us to take back Dijon mustard, and make it for ourselves using the time-honored traditions of that region. Here we present two recipes: one for a smooth mustard and the other for a wholegrain. In the process we'll show you the general steps required to make any home-made mustard. While the smooth is made according to traditional methods and produces a product indistinguishable from those still made in Dijon (we compared ours to the one sold at our local Trader Joe's), we have to be honest and point out that we did tweak the wholegrain version. While a 15th Century edict stated that fermented apple juice could not be used to make Dijon mustard, we have opted here to make ours from our own home-made dry cider. We were quite happy with the result. If you want to make a completely authentic version, simply swap out the cider for a nice dry white Burgundy wine.
Smooth Dijon
1 cup Burgundy white wine
1/3 cup white wine vinegar
¼ cup chopped shallots
¾ cup mustard powder
1 tsp salt
Place wine, vinegar and shallots in a small saucepan. Bring to a boil over high heat, reduce to simmer and cook for 5 minutes. Remove from heat and allow to steep for 15 minutes.
Strain wine-vinegar mixture, pressing the shallots to release all liquid. Add salt. Whisk in the mustard powder to the strained liquid.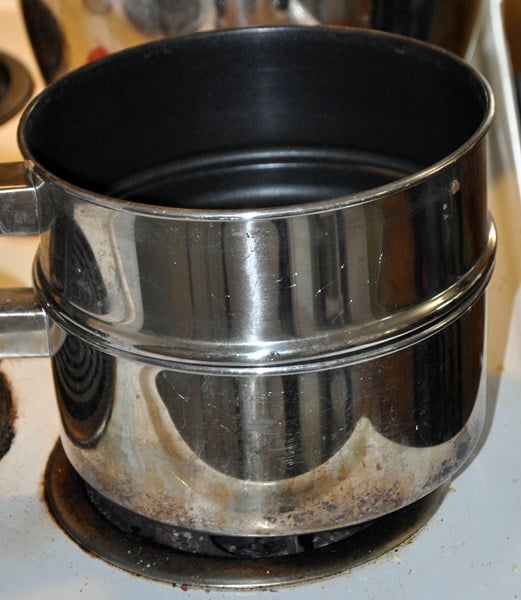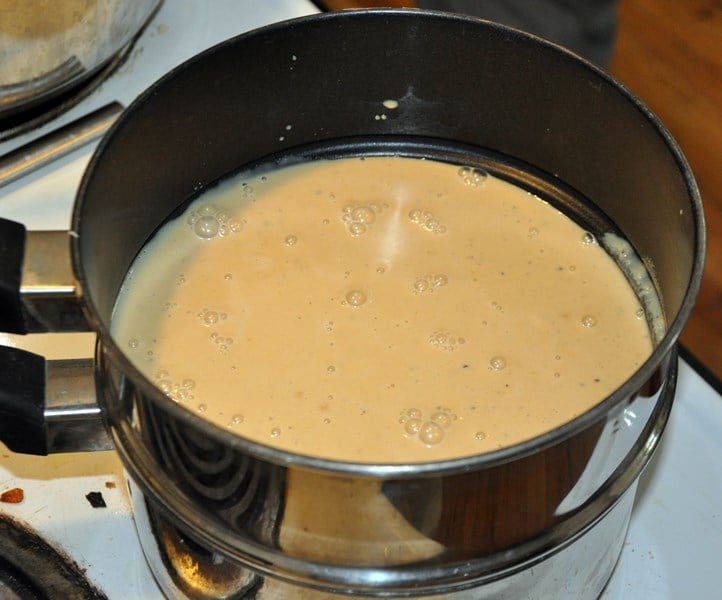 Place mustard paste into a double boiler and gently simmer over steam until thickened, stirring constantly. You'll know that the mustard has reached its desired consistency when the mustard is thick enough to expose the double boiler pan when a spatula is run across the pan bottom.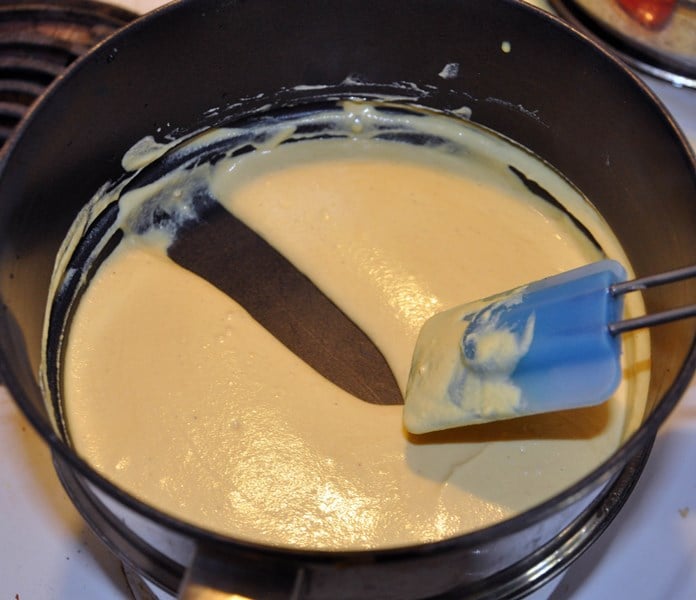 Remove from heat, bottle, and let cool. The mustard flavor will improve over a 4-5 day aging period in the refrigerator (if you like it a bit hot) or at room temperature (if you like it milder).
Wholegrain Dijon
½ cup dry cider
½ cup white wine vinegar
1/3 cup brown mustard seeds
1/3 cup yellow mustard seeds
1 teaspoon salt
Place all ingredients into a sealable, non-reactive container. Put on cover, and shake vigorously. Let sit at room temperature for 2-3 days.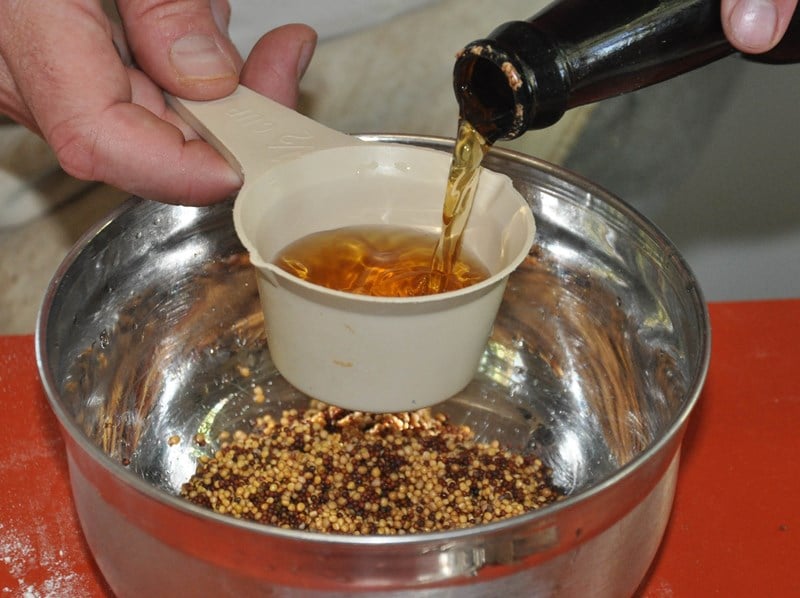 Transfer mixture to a blender, and process at high speed. You'll get a coarse mustard in about 30 seconds and a smoother mixture the longer you process it after that.
Place puree into a double boiler and cook until thickened to desired consistency.
Again, remember that a traditional wholegrain Dijon mustard must use only a Burgundy white wine. While we like the flavor of the above cider version, it is not authentic. If you want to make an authentic version, simply swap out the cider for a Burgundian white.
We don't recommend that you grind your own mustard powder, as the appearance, taste and consistency of the final product will be marred by the presence of the brown mustard seed coats. You'll be much happier if you buy a high quality, preferably imported, product. You can grown your own brown or black mustard seeds used in the wholegrain version, however.