Maple-Horseradish Mustard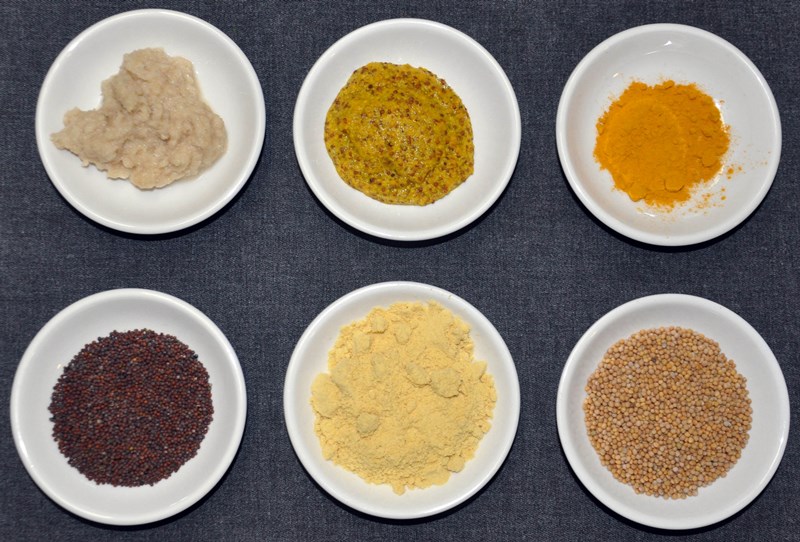 Our final entry for the month is a wholegrain mustard we adapted from a recipe presented by Frederic Morin in his 2011 cookbook: The Art of Living According to Joe Beef. Joe Beef refers to the legendary steak and seafood restaurant specializing in classic Old Montreal cuisine, located in a working class neighborhood and named after 19th century Montreal innkeeper Charles "Joe-Beef" McKiernan. The base for this excellent mustard is essentially identical to classic whole-grain Dijon, but has been elaborated on by adding in cayenne, horseradish, maple syrup and turmeric. The cayenne and horseradish adds piquancy to the mustard; the maple syrup a touch of sweetness and depth, and the turmeric a touch of yellow. It can be enjoyed across a wide range of sandwiches and roasted vegetables.
¼ cup yellow mustard seeds
¼ cup brown mustard seeds
½ cup dry white wine
2 tablespoons maple syrup
½ teaspoon turmeric
½ teaspoon salt
1/8 teaspoon cayenne
3 tablespoons prepared horseradish
Combine all ingredients – except horseradish – in a lidded container. Seal lid and shake vigorously. Let stand at room temperature for 3 days.
Place into blender and puree at high speed until the mustard is as smooth as possible.
Pour into double boiler and gently simmer over steam until mixture reaches desired consistency, as shown in the Dijon Mustard recipe.
Take off heat, let cool. Whisk in horseradish. Seal in a glass jar, and let mature for at least five days in the refrigerator before using.
Remember that you can grow your own brown mustard seed by letting your Southern Giant Curled mustard greens seed out.