Green Peppercorn Mustard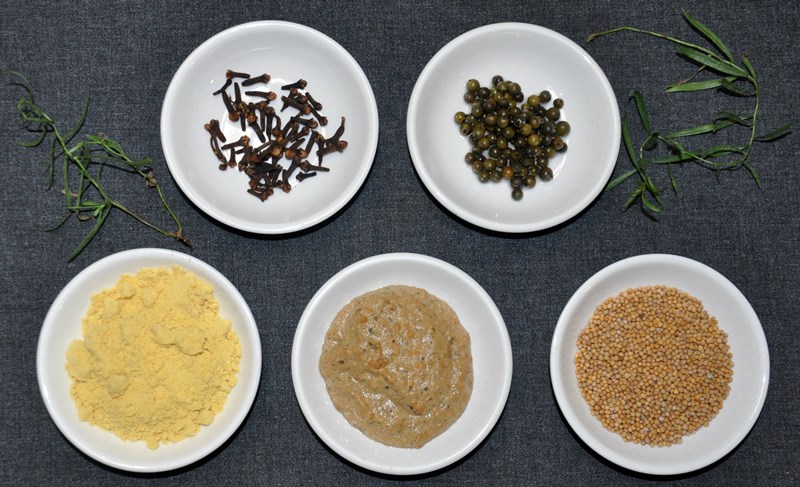 This is another recipe inspired by one presented in Helen Witty and Elizabeth Schneider Colchie's 1979 wonderful cookbook, Better Than Store Bought. Like the previous mustards from the last few weeks, this one also uses a mix of mustard seeds and mustard powder to make a coarse but spreadable product that is enlivened with cinnamon, cloves, dill and tarragon. The difference here is that green peppercorns are also added into the mix just before the mixture is pureed, adding in a wonderful fresh, brisk flavor. This mustard is not only an excellent sandwich garnish, but is also excellent in salad dressing vinaigrettes.
Green peppercorns are the unripe berries from the same plant that produces white and black peppercorns. Because they were picked before fully ripening, they tend to be less hot while having a fresher and more complex flavor. Dried green peppercorns will not work for this recipe. Rather, you need to find green peppercorns immersed in brine. These are usually available at in small jars at most groceries. Look for them in the same area where capers are sold. But don't use capers, as they will have a much more sour flavor without any of the intriguing peppercorn heat and flavor.
2 tablespoons yellow mustard seeds
2 tablespoons brown mustard seeds
1/3 cup mustard powder
½ cup hot water
½ cup white wine vinegar
½ cup dry white wine
1/8 teaspoon ground cinnamon
1/8 teaspoon ground cloves
½ teaspoon dry tarragon leaves, crumbled
½ teaspoon dill seed
1 teaspoon salt
1 teaspoon honey
1 tablespoon green peppercorns
Combine mustard seeds, mustard powder, water, and vinegar in a bowl and let stand for at least 3 hours.
Bring the wine, cinnamon, cloves, tarragon, dill and salt to a simmer and cook for 10 minutes. Strain into the mustard mixture, pressing the solids to release all the liquid.
Add in honey and green peppercorns and place mixture into a blender. Process on high until a uniform, slightly chunky puree is formed.
Place puree into a double boiler and gently steam until the mixture reaches the desired consistency, as illustrated in the Dijon Mustard recipe. Remove from heat, cool, and pack into glass jars. Seal and let mature for 4-5 days in the refrigerator before use.
You can grow your own brown mustard by letting your Southern Giant Curled mustard greens go to seed. You can also grown your own dill seed; we recommend Bouquet. You should also consider growing your own fresh tarragon, but remember that real French tarragon (the only type which should be used for culinary purposes) is self-sterile and thus produces no seed. As a result, it can only be propagated by division.