Pickled Okra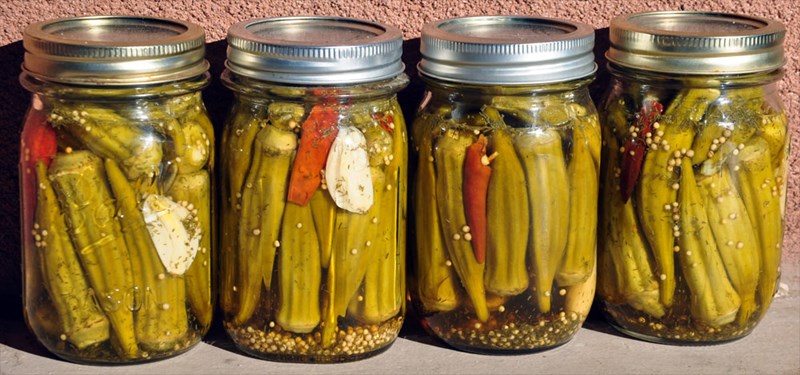 Pickled okra is an iconic southern preserve. There is no reason to not make your own from home-grown okra. The following foolproof recipe is adapted from one presented in Helen Witty and Elizabeth Schneider Colchie's 1979 Better Than Store Bought (ISBN 978-0060146931). Be sure to use young okra pods no more than a few days old, as they become stringy rather quickly and the pickles will not be nearly as good as a result.
2 pounds young okra pods
4 small dry hot pepper pods
4 garlic cloves, each cut in half
4 sprigs fresh dill, or 2 teaspoons dry dill leaf
4 teaspoons yellow mustard seed
2 cups cider vinegar
2 cups rice vinegar
2 cups water
a scant 1/3 cup of kosher or pickling salt
Wash okra and remove any darkened tips. Cut off most, but not all, of the bottom stem, being sure to not cut into the pod. Tightly pack the okra pods upright into 4 pint jars. Insert a chili pod, 2 garlic halves and a dill sprig along the sides of each packed pint. Measure 1 teaspoon of mustard seed into each.
Bring the vinegars and salt to a full boil. Fill the jars with the hot brine to within ½" of the rims. Wipe the rims and seal with prepared lids and bands. Cover filled pints with 2" of water in a large stock pot, using extra metal rims or something else to keep the jars from touching the pot bottom. Bring to a boil and process for 5 minutes. Remove from hot water bath. Allow the pickles to mellow in a cool, dark place for a month before serving.
Okra Beignets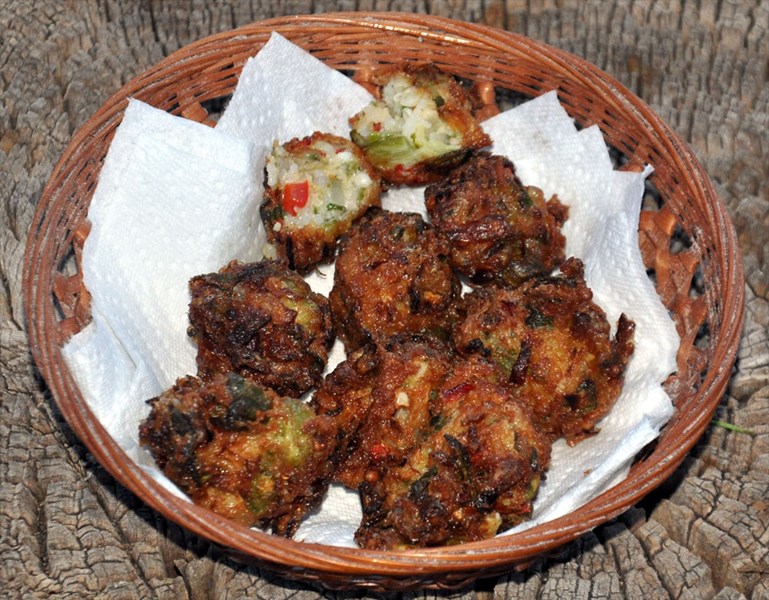 Although most people think of beignets as the light doughnut-like pastry of the New Orleans French Quarter (they are in fact Louisiana's official state doughnut) , there are also savory beignets made from deep fried balls of various vegetables. Here we share a recipe for okra beignets adapted from one presented in the 1985 Bill Neal'sSouthern Cooking (ISBN 978-0807842553). If you are not terribly fond of fried okra, you may want to give these a try, as the other ingredients tend to hide okra's gooiness.
2 cups okra, coarsely chopped
2/3 cup onion, minced
1/3 cup red bell pepper, minced
3 tablespoons flour
½ teaspoon salt
½ cup cooked rice
1 egg
½ teaspoon hot pepper sauce
1 tablespoon chevré
Oil for cooking
Toss okra with the onion, bell pepper, flour and salt. Stir in rice. Beat the egg with the hot pepper sauce and chevré until smooth. Pour over the vegetable mixture and gently toss until will mixed. Let sit at room temperature for 20 minutes.
While the batter is sitting, heat oil to 375° F. Drop 1 tablespoon balls of the batter into the hot oil. Let cook until golden brown on one side, about 5 minutes. Turn and continue cooking the other side. Remove from oil and drain on paper toweling. Serve immediately.



Curried Okra (Derosh Chachuri)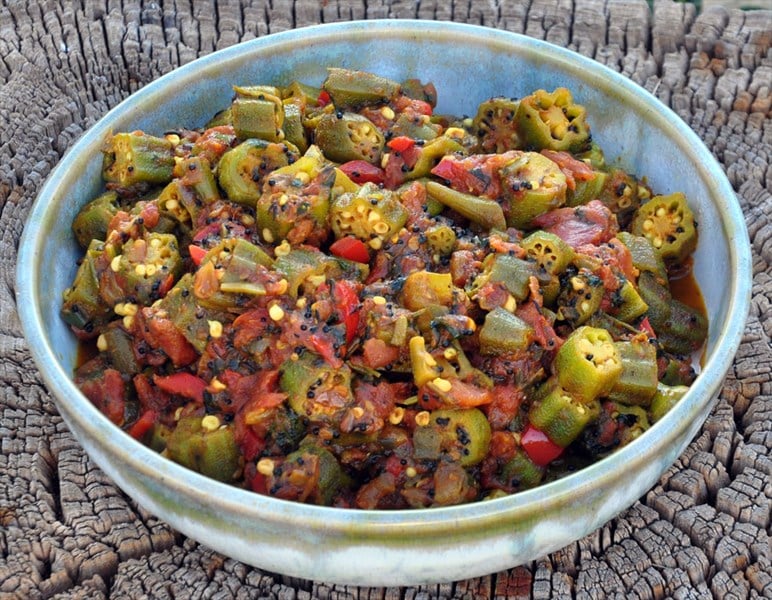 In 1996 Pat Chapman of Curry Club fame published Bangladeshi Restaurant Curriesto honor the fact that the great majority of UK Curry Houses are run by Bangladeshi immigrants. In this collection he presents the following excellent traditional okra curry.
1/3 cup canola oil
2 teaspoons black mustard seed
½ teaspoon black cumin (kala jeera) seed
¼ cup onion, chopped
2 cups tomatoes, peeled, seeded, and chopped
¼ cup red bell pepper, finely chopped
2-3 green chilies, seeded, and minced
1 tablespoon brown sugar
1 pound okra, washed and cut into 1" pieces
3 tablespoons lemon juice
2 tablespoons cilantro, minced
½ teaspoon turmeric
1 teaspoon cumin, ground
1 teaspoon coriander, ground
½ teaspoon cayenne
1 teaspoon cinnamon, ground
½ teaspoon cardamom seed, ground
Warm oil over high heat in a heavy pan until almost smoking. Add in the mustard and black cumin seed, cover the pan, and shake back and forth over the hot burner. The seeds will pop and sputter. After 30-60 seconds the sputtering will die down; at that time remove the lid and add the onion. Reduce heat to medium and sauté for 5 minutes. Next add in the tomatoes, bell pepper, green chilies, and brown sugar. Continue stir-frying for another 5 minutes. Now add in the okra and gently stir mixture for another 5 minutes. Add in the lemon juice, cilantro, and spices, and cook for a final 5 minutes. Adjust seasoning with salt, remove from heat and serve immediately with rice.


Okra and Tomato Etouffée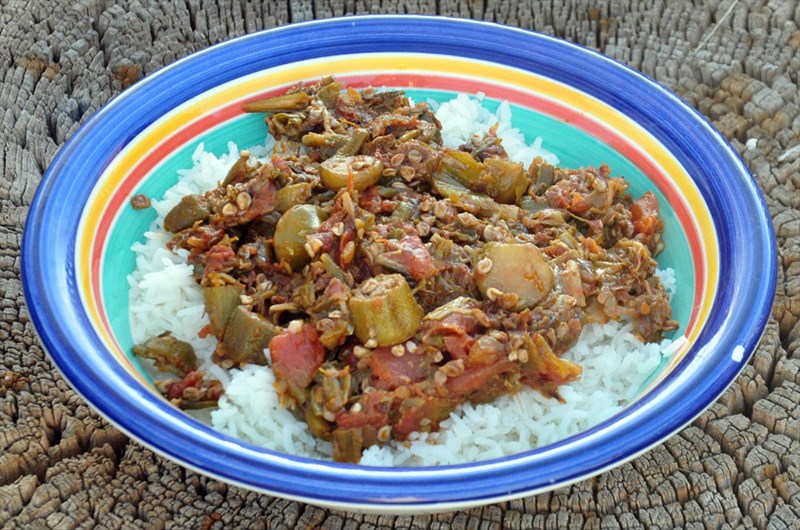 In Louisiana Cajun 'etouffée' refers to dishes that are 'smothered' in a rich sauce and often served over rice. While the most well known etouffée dishes are made with shellfish like shrimp or crayfish, there are any number of other versions. Following is a vegan etouffée featuring okra smothered in a rich tomato sauce. This is a perfect dish to make during late summer when your garden bounty is at its fullest. The recipe was adapted from one presented in the 1987 Prudhomme Family Cookbook(ISBN 978-0688075491) in which chef Paul Prudhomme and his 12 brothers and sisters share their favorite foods from their childhood. It is really an excellent collection of heirloom Cajun recipes and you should check it out if you have the chance.
¼ cup olive oil
1½ pounds okra, sliced 1" thick
1 cup onion, finely chopped
½ cup green bell pepper, finely chopped
¼ cup celery, finely chopped
1 teaspoon salt
½ teaspoon cayenne pepper
1 large clove garlic, minced
4 cups tomatoes, peeled, seeded, and chopped
½ cup water
In a heavy cast iron skillet over high heat, warm the oil until almost smoking. Add in the okra, onion, bell pepper, celery, salt, cayenne and garlic. Cover pan and cook for 5 minutes, stirring every minute or so. Remove cover and continue cooking another 5 minutes, stirring almost constantly and scraping any brown sediment off the pan bottom. Add in 1 cup of the tomatoes and the water. Continue cooking and stirring until the mixture begins to excessively stick to the pan bottom, about 10 minutes. Add in another cup of tomatoes, and cook as before for another 10 minutes. Add in the remaining 2 cups of tomatoes and cook again as before for a final 10 minutes. If you see that the browned sediment at the pan bottom is sticking in the same spot, rotate the pan to help it stick elsewhere. Remove from heat and transfer 3 cups of the mixture to a bowl and set aside.
As the pan cools the bottom crust will loosen. Stir well to dissolve it into the remaining mixture. Now place the pan over medium heat and cook, stirring frequently, until the okra is mushy and brown, about 25-30 minutes. Remove pan from heat, let cool slightly, and scrape the pan bottom to dissolve any browned sediment. Return the reserved okra-tomato mixture and place pan over high heat. Stir constantly until all is heated through. Serve immediately over rice.