Sourdough Onion Rolls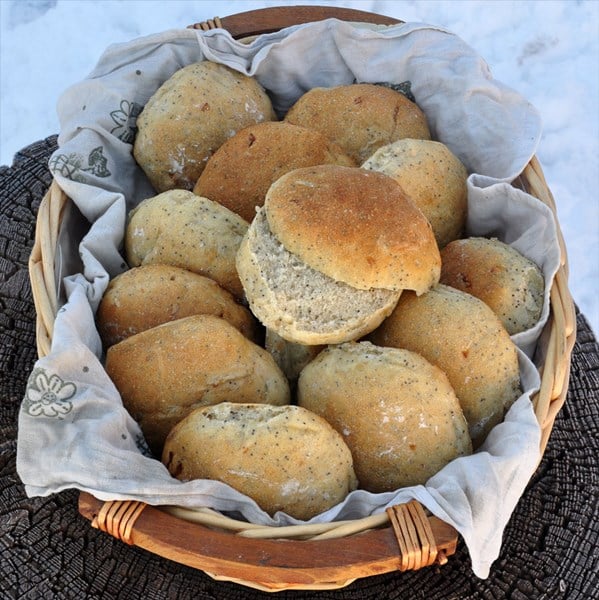 Here is our version of one of our favorite savory rolls. We often use these with vegetarian burgers, especially Lentil – Mushroom and Carrot – Walnut. Note that the recipe below is written using a bench-top mixer. But you can just as readily do this by hand. Just read the basic instructions for making vegetarian burger buns in the 2014 entries on vegetarian burgers.
2 tablespoons fruity, extra virgin olive oil
2 cups onion, peeled, quartered, and sliced into ½" strips
2 teaspoons salt, in all
½ teaspoon freshly ground black pepper
1 cup activated sourdough starter
1 cup water
1 tablespoon cake yeast or instant dry yeast dissolved into 2 tablespoons water
4½ cups bread flour
¼ cup wheat germ
2 tablespoons poppy seed
Warm olive oil over medium heat. When hot add in onion, 1 teaspoon salt, and pepper. Sauté for 10 minutes until the onions are translucent. Remove from heat and let cool.
Using a bench-top mixer with a dough hook, mix the sourdough starter, water, yeast, bread flour, and what germ until they are all incorporated into a dough. Add more water or flour as necessary to make a pliable dough. Add remaining teaspoon salt, and mix on medium speed for 7 minutes until the dough is satiny. Reduce speed to low and add in the poppy seed and onion sauté with cooking oil. Mix until well incorporated, about 2 minutes. The final dough should be soft and somewhat sticky. Turn into an oiled bowl, cover, and let rest in a warm place until doubled. Punch down dough, recover the bowl, and let double again.
Preheat oven to 500° F. with one of the baking racks in the middle.
Turn out risen dough onto a floured surface. Cut into 12 equal pieces: they should weigh about 4 oz each. Shape each into a round ball, and place on a large baking sheet dusted with coarse semolina or cornmeal. When all balls have been formed, cover and let rest for 15 minutes. Remove cover and flatten each ball into a 4-5" circle using your flour-dusted palms. Cover the pan again, and let the rolls rise to almost doubled.
When ready to be baked, open oven and spritz liberally with water. Place pan on the middle rack, and close door. Spritz with water twice more over the next 5 minutes. After the last time, turn down the oven temperature to 400° F. Bake for 10 minutes, rotate pan, and continue baking another 10 minutes. When the rolls are nicely browned and sound hollow when tapped on the bottom remove from oven and let cool on baking racks.

Onion & Potato Filled Pastries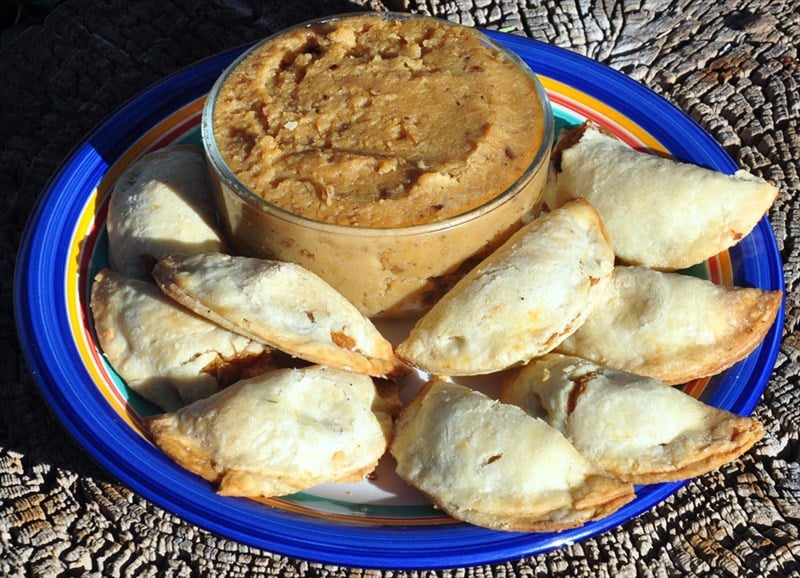 What do you do if you have extra pie dough on hand as well as onion-potato varenikifilling? Well, we came up with something like a samosa, something like a vareniki, and something like a Cornish pasty. We really liked them, and if you have leftover filling, these are some of the best mashed potatoes you'll ever eat.
6 tablespoons butter
1 medium onion, finely chopped
3 large russet potatoes, peeled, boiled, and mashed
1 cup dry ricotta, crumbled
1 cup sharp cheddar, grated
Salt and freshly ground black pepper, to taste
1 batch of pie crust dough
Melt butter in a skillet over medium heat. Add onion and saute, stirring occasionally, until browned, about 15 minutes. Remove from heat and cool slightly. In a large bowl combine mashed potato, cheeses, and onion saute. Adjust seasoning with salt and pepper.
Preheat oven to 350° F.
Divide pie crust dough in two, and roll one half to a little over a foot in diameter. Using a 4" diameter round cookie cutter - or empty can - cut out individual rounds of dough. Gather up unused dough, form into a ball, and re-roll to the same thickness. Cut out more 4" diameter circles, gathering up and rerolling the unused dough until none is left. Repeat with the other half of the dough.
Onto the lower half of each round place a heaping tablespoon of the onion-potato mixture, being sure to leave at least ½" of clear border. Paint this border with water, and fold over the other half of the round, making a filled half-circle. Press down the edges to seal.
Place filled half-circles onto baking pans. Place pans into the hot oven. Bake for 15 minutes, and rotate pans. Continue baking for another 10-15 minutes until the crusts have turned light brown. Remove from heat and let cool before serving.



Onion Bhaji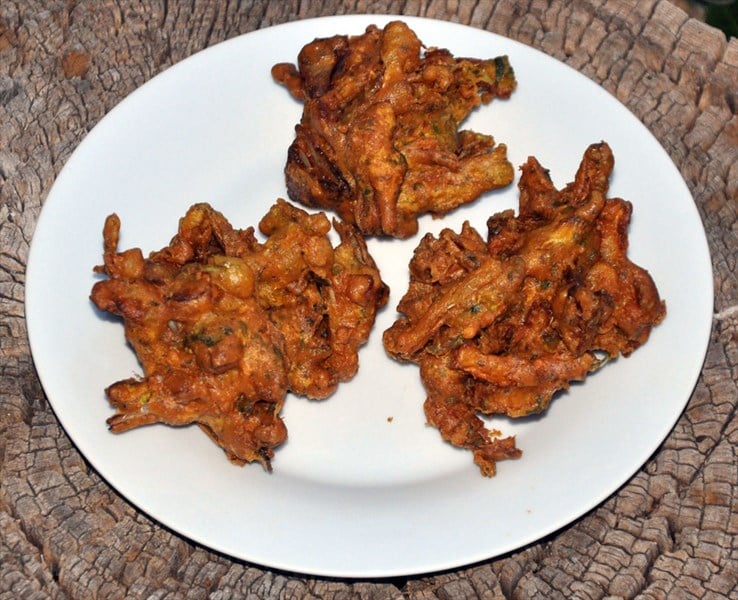 One of the iconic appetizers of the British Curry House are onion bhaji. These are closely related to pakoras, in which the vegetables are merely sliced and cooked much like in Japanese tempura. In bhaji, however, the vegetables are chopped and mixed into the spiced chickpea batter, making for an addictive savory fritter. Here we share our adaptation of an onion pakora recipe presented in Pat Chapman's 2007 India Food & Cooking which we have adapted into a vegan bhaji.
1 cup besan (chickpea or gram) flour
1 teaspoon garam masala
1 teasponn coriander, ground
½ teaspoon cumin, ground
½ teaspoon cumin, whole seed
½ teaspoon turmeric
¼ teaspoon ajowan, whole seed
2 tablespoons cilantro, finely minced
2 teaspoons dry fenugreek leaf, crumbled
½ teaspoon dry mint leaf, crumbled
2 green chillies, seeded and finely minced
1 teaspoon salt
1 teaspoon lemon juice
Water
One large onion, peeled, quartered and cut into 1/2" wide strips
Canola oil for deep frying
Heat oil to 375° F in a deep frier or cast iron skillet.
Mix all the batter ingredients together, adding just enough water to make a thick but somewhat pourable paste. Toss with the onion strips.
Drop 2 tablespoons of batter and onion mixture at a time into the hot oil until the fryer is filled. Cook for 5 minutes until the bottom side is well browned. Turn over and cook another 4-5 minutes until the other side is cooked. Remove from oil and drain on paper toweling. Serve warm.