Indian Peas & Green Beans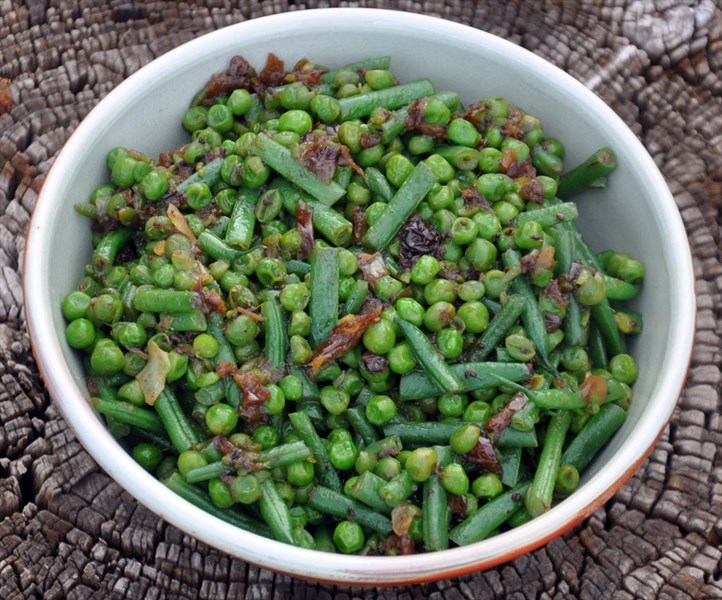 Even though there are not many ingredients here – especially for an Indian dish – the flavors are incredible. We've adapted this recipe to vegan standards based on one presented in our friend Pat Chapman's 2007 India: Food & Cooking. The most important ingredient here – besides the fresh peas and green beans – is the ajowan seed. This looks a bit like tiny cumin seed, but the flavor is more like thyme. You really can't substitute it for anything else. Thankfully, it is something that you can find at any Indian grocery, or can order on-line at any number of places.
1 pound fresh peas, blanched and drained
1 pound green beans, cut into 1" lengths, and blanched
¼ cup canola oil
1 teaspoon ajowan seed
1 medium onion, cut into ½" dice
2 tablespoons mango chutney, finely chopped
salt to taste
Blanch the peas and beans in boiling water until just tender. Drain.
Heat oil in a heavy pan over medium heat. When hot, add in the ajowan seed and briskly stir-fry for 30 seconds. Add in the diced onion and saute for 10-15 minutes until the onion is caramelized. Stir in the chutney, blanched peas and beans. Season with salt, and heat until warmed through.
Straw & Hay with Peas (Paglia e Fieno coi Piselli)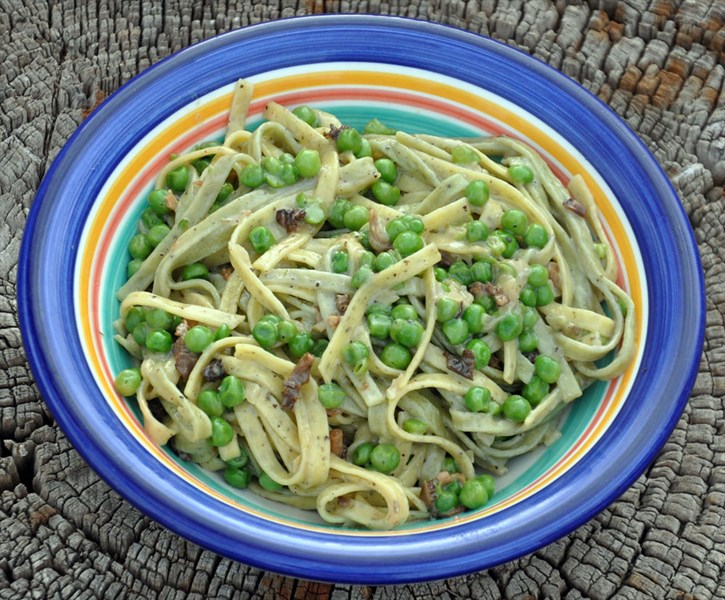 This is one of the more classic spring-time pastas. Made with fresh garden peas, it is often tossed with yellow and green pasta, referred to in Italian as "straw and hay" (paglia e pierno). Any wide, long pasta – such as fettuccine or pappardelle – will work fine, however. The following recipe is adapted to vegetarian form from one presented in Guiliano Hazan's 1993 The Classic Pasta Cookbook.
¾ pound fresh shelled peas
¼ cup butter
¼ cup yellow onion, finely chopped
½ pound crimini mushrooms, cut into ½" dice
½ cup goat milk
½ cup chevre
½ cup pecorino romano cheese, grated
salt & freshly ground black pepper to taste
1 pound dry straw & hay (yellow & green) pasta
Blanch the peas in boiling water until just tender, about 3-4 minutes. Drain and set aside.
Melt butter in a large skillet over medium heat. Add onion and sauté for 10 minutes until it has softened and turned golden in color. Add the mushrooms and continue cooking, stirring frequently, until all the released water has evaporated, another 10 minutes.
Puree the goat milk and chevre into a thick cream. Pour into the onion-mushroom sauté. Cook until the sauce is reduced by half. Add in the blanched peas and heat until warmed through. Adjust seasoning to taste.
While the sauce is reducing, bring four quarts of salted water to a boil. Add in the pasta and cook until al dente. Drain. Toss with the pea sauce and grated romano cheese. Serve immediately.
Pease Pudding Tarka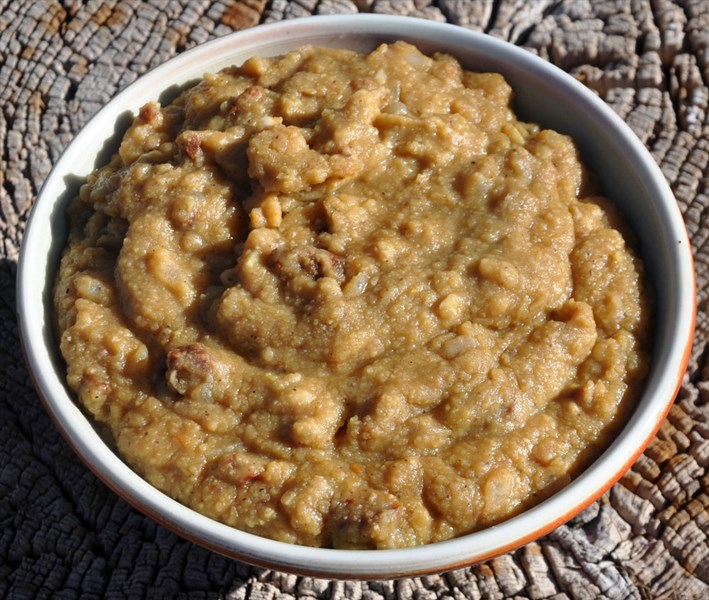 Even though 'fusion' cuisine is considered hip and trendy, it is really nothing new. Any time cultures have come in contact in human history, one of the first outcomes is a blending of their foods. A classic example of this phenomenon happened when the English colonized India, with any number of classic British dishes being altered by the Indian cooks working for the Raj. At the same time, any number of Indian dishes were brought back to England where they became an essential part of the British cuisine. The absolute best cookbook to deal with this fascinating cultural cross-fertilization is the 1997 Taste of the Raj by Curry Club founder Pat Chapman. What makes this cookbook especially interesting is that Pat's love of curries is directly traced to his grandparents, who were stationed in India and served for the Raj for most of their lives. Thus, this is as much of a family cookbook as anything else. The following is a prime example of Raj fusion cuisine, with the humble Pease Pudding of the British Isles being adapted and modified with various Indian spices. We've made this vegan by replacing the original ham with sun-dried tomatoes, and think the end dish is actually much better as a result.
2 cups split dry yellow peas
¼ cup canola oil
4 garlic cloves, minced
1 large onion, finely chopped
4 hot green chiles, finely sliced
2 tablespoons garam masala
2 teaspoons yellow mustard powder
2/3 cup sun dried tomatoes, cut into ½" dice
salt to taste
Pick over the split peas to make sure there are no impurities. Place in a pot with 4 cups water and bring to a boil. Cover the pot and reduce heat to a simmer. Cook for at least 45 minutes or until the peas have completely softened. Puree to make a smooth paste.
While the peas are cooking, place oil in a pan over medium heat. When the oil is hot, add garlic, onion, and jalapenos. Sauté for 15 minutes, stirring frequently.
Add the sauté, garam masala, yellow mustard powder, and dried tomato to the pea paste. Heat through, stirring frequently. Adjust salt to taste. Serve warm.
Snow Pea and Cloud Ear Stirfry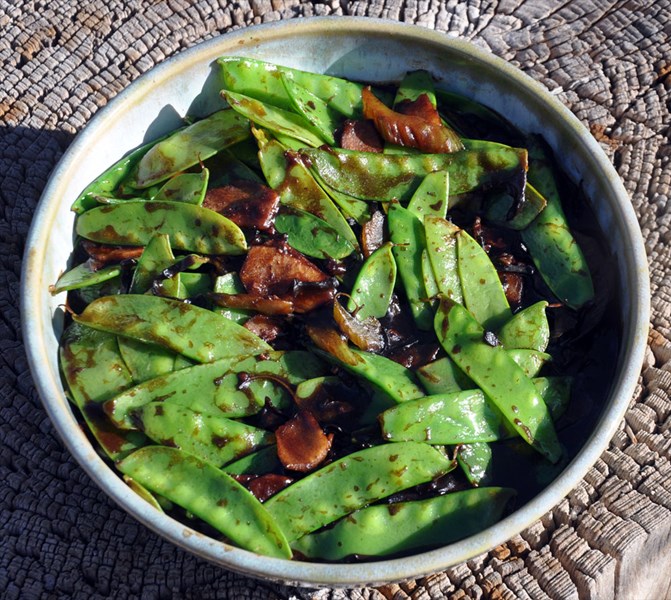 Here's a tasty, vegan stirfry using pea pods. Adapted from a non-vegan version presented in Ken Hom's 1988 Asian Vegetarian Feast (ISBN 978-0688077532), we've swapped out oyster sauce for a yellow barely miso, preferably homemade. If you can't find tree ear mushrooms, consider using shitake or even crimini. If you use fresh mushrooms, however, make sure to put them in the wok first as they will need more time to cook. Also, we can't abide canned water chestnuts so if you can't find fresh we'd recommend you either leave them out or substitute slivered jicama instead.
1 ounce (about ½ cup) dry cloud ear mushroom
1 tablespoon canola oil
4 cloves garlic, minced
½ pound celery, tough veins pulled out and then thinly sliced
½ pound fresh water chestnuts, peeled and thiny sliced
1 pound snow peas, trimmed
2 tablespoons barley miso
1 tablespoon light soy sauce
2 tablespoons dark soy sauce
1 tablespoon sugar
2 tablespoons Chinese rice wine or sherry
2 tablespoons sesame oil
1 cup stock
1 tablespoon cornstarch mixed into a paste with 1 tablespoon water
Soak the cloud ear mushrooms in hot water for 20 minutes. When soft, cut into ½" wide strips.
Heat wok over high heat. Add in the oil. When hot, add in garlic and stir fry for 30 seconds. Then add in the cloud ear mushrooms and celery. Stir fry for another 2 minutes. Then add the water chestnuts and pea pods. Stir fry another minute. Add in all the remaining ingredients except for the cornstarch paste. Mix well and bring to a boil. Add in the cornstarch paste and bring back to a boil so that the sauce becomes clear and thick. Remove from heat and serve immediately.