Carrot & Daikon Salad and Pickled Ginger
Bentō usually contains various vinegared foods or sunomono (酢の物) in which raw or cooked vegetables and fruits (or other foods) are dressed in a thin rice vinegar-based sauce. It is important to use rice vinegar for these dishes as it has a mild taste that will not overwhelm the main ingredients, yet has more flavor than distilled white vinegar. We'll make a total of three sunomono for our spring bentō: two based on crops that have been held for the winter in the root cellar, and one based on fresh spring greens. Today we'll focus on the root crop sunomono.
A major goal of any Japanese meal (and bentō in particular) is that it be as beautiful to look at as it is to eat. Thus, there should be an array of colors and textures present in the various nibbles. The carrot and daikon salad is stunning in with its deep orange and white matchsticks, interspersed with bits of dried apricot, and is wonderfully crunchy. It tastes great, too.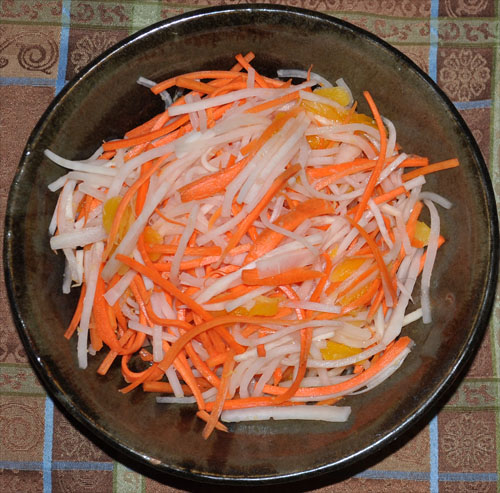 Carrot and Daikon Salad (なますor Namasu)
1 medium carrot, peeled and cut into matchsticks
½ pound daikon radish, peeled and cut into matchsticks
¼ cup slivered dried apricots
3 tablespoons rice vinegar
1½ tablespoons sugar
1 tablespoon mirin
½ teaspoon grated lemon peel
½ teaspoon salt
Place prepared carrot, daikon, and apricots into a bowl. In a small jar mix together the remaining ingredients and when everything is dissolved pour over the carrot/daikon/apricot mixture. Toss well and refrigerate at least 30 minutes. Before placing into your bentō box, let portions drain to remove excess dressing.
While cutting the carrot and daikon into matchsticks can be done by hand, it is an excellent job for a mandolin using the julienne plate. If you don't own one, you should consider getting one for your kitchen: we bought ours for only a dollar at a second-hand store.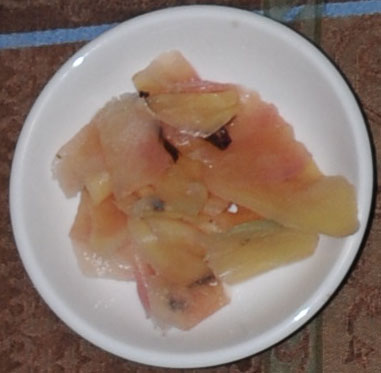 Next, we'll make pickled ginger, the ubiquitous condiment served in sushi restaurants. It is a wonderful palate-cleanser, making it possible to switch between various foods and be able to fully appreciate the flavors of each. While most have probably only tried pickled ginger from the store, it is easy to make at home, and wow -- does the home made pack a much stronger ginger punch! You probably will never buy this again.
Pickled Ginger (ガリor Gari)
1/3 pound ginger root
1/3 cup rice vinegar
¼ cup sugar
1/3 teaspoon salt
3-4 dark red shiso leaves
Scrape the brown skin off the ginger roots using a spoon. Shave into paper-thin slices using a mandolin or a sharp knife. Blanch in boiling water for 30 seconds; drain.
Mix together the vinegar, sugar and salt until everything is dissolved. Shred the shiso leaves. Put the blanched ginger, shredded shiso, and vinegar dressing into a ½ pint canning jar. Cap and shake vigorously. Refrigerate. The ginger slices can be eaten after 24 hours, but will improve and turn a deeper pink over the next week or three.
Shaving the ginger into thin sheets really can't be done by hand -- although you can try. You are better off using a mandoline if you have one.
Radish Dip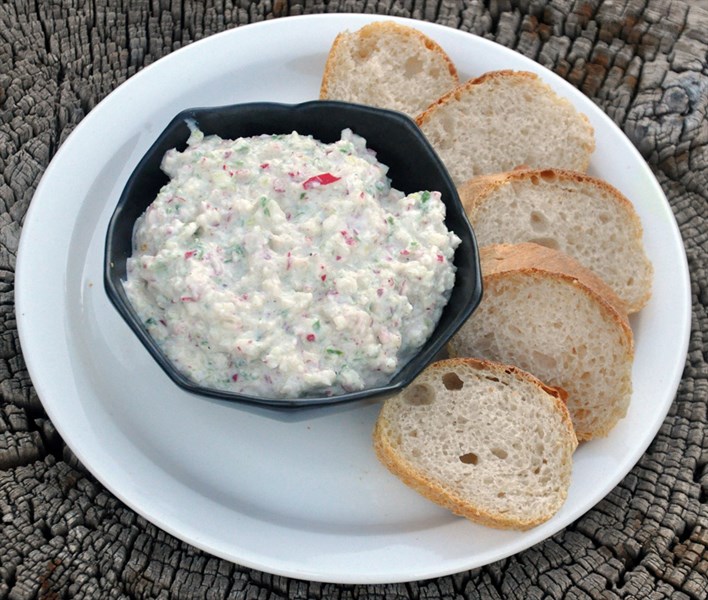 Here's a very simple – and tasty – way to use fresh radish and green onion just pulled from your garden. It is adapted from a recipe found in Marion Morash's 1982Victory Garden Cookbook (ISBN 978-0394707808). This dip is excellent as a bruschetta topping, and we've also cooked it down to a thick paste and then used it as an enchilada filling. Makes about 1 quart.
3 cups stemmed & washed radishes, thoroughly dried and coarsely chopped.
2 cups green onions, washed, dried, trimmed & coarsely chopped
1 cup chevré
3/4 cup sour cream
Salt and freshly ground black pepper to taste
Place radish and green onions in a food processor and process until finely chopped. Beat together the chevré and sour cream and combine with the radish/onion mixture. Season with salt and pepper.
Radish and Potato Curry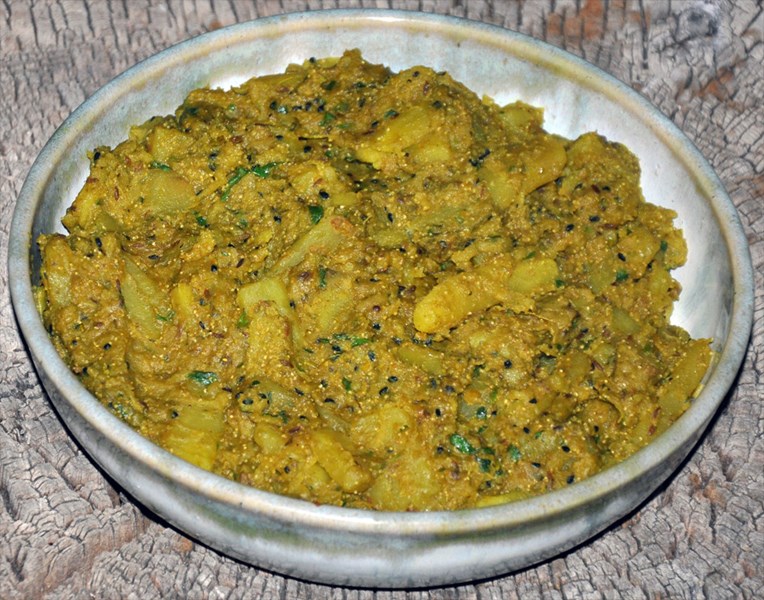 Large daikon radish (called mooli in India) frequently appears in curries across south Asia. In the following, inspired by a recipe presented in Yamuna Devi's 1987 Lord Krishna's Cuisine (ISBN 978-0525245643), the daikon is shredded and then cooked with potato cubes in a korma-like sauce. Don't substitute breadseed poppies if you can't find white poppy seed, as the flavor will be much too bitter. Rather use almond meal or flour, which is perfectly acceptable and a traditional seed-based thickener in north Indian curries.
2 tablespoons white poppy seed or almond meal
1" piece of fresh ginger root, skin scraped off and remaining root ground into a paste
2-3 hot green chiles, seeded and chopped
3 tablespoons cilantro, washed and chopped, in all
1/8 teaspoon ground cinnamon
1/8 teaspoon ground cloves
1/8 teaspoon ground nutmeg
1/3 cup water
¼ cup canola oil
½ teaspoon charnuska seed
1 teaspoon cumin seed
¼ teaspoon asafeotida resin, crushed to a powder
1 pound potato, peeled and cut into ¼ inch dice
½ pound daikon, peeled and shredded
1 teaspoon ground turmeric
2 teaspoons ground coriander
1 teaspoon salt
2 teaspoons lemon juice
Combine the poppy seed / almond meal, ginger paste, green chile, 1 tablespoon cilantro, cinnamon, cloves, and nutmeg with the water. Puree in a blender until it becomes a smooth paste.
Heat canola oil in a heavy pan over high heat until almost smoking. Add in the charnuska and cumin seed and stir fry, stirring constantly, until they begin to brown, about 20 seconds. Add in the asafoetida resin, stir fry for a few seconds, and then add in diced potatoes. Sir fry for 2-3 minutes. Add in the shredded radish and the herb paste. Stir fry for another 3-4 minutes. Reduce heat to medium-high and add in the ground turmeric and coriander. Continue stir-frying until the potatoes are tender. Add in a few tablespoons of water at a time when the spices begin to stick to the bottom of the pan. Remove from heat and mix in the remaining chopped cilantro and lemon juice.
Radish Salad - Rettichsalat


When you needed a whole pail of radishes to make a salad, you planted a lot of radishes!


Elizabeth Schoenfelder of Amana, as quoted in Seasons of Plenty

The first fresh vegetables of the year were eagerly anticipated by not only the Küchebaas, but the communal kitchen patrons as well to break the winter monotony of canned, pickled, and fermented foods and stored root crops. Along with fresh lettuce, the arrival of new radishes in May from the kitchen garden marked an important turning point of the year, as meals would now feature more and more fresh food.

This following salad was a common way to make use of this first bounty from the kitchen garden. The dressing of sour cream, vinegar, onion tops and a bit of freshly ground black pepper is an Amana and German classic. If you have access to fresh chives, please use them as they provide a cleaner onion flavor. One change we've made from the traditional Amana recipe is in terms of vinegar: the communal kitchens universally used distilled white vinegar. Frankly, because of its lack of flavor other than sour and industrial origin, we see this product as more of a household cleanser than a food item. So, we've modified the recipe by using white wine vinegar which is an easily made product in the home, and imparts a bit of fruitiness along with the sour. Rice vinegar would also work, but is a little more removed from the European culinary experience. But, don't use strongly flavored or colored vinegars like red wine, apple, malt, balsamic, etc. as they will distract from the simple radish flavor and muddy the salad color. Serves 4.

2 dozen radishes
½ teaspoon salt
½ cup sour cream
1 tablespoon white wine vinegar
2 tablespoons chopped chives or green onion tops
black pepper to taste

Shave or thinly slice radishes using a mandolin or food processor. Sprinkle with salt and let set for 45 minutes. Drain radish slices, squeeze dry, and mix with sour cream, vinegar, and chives or onion tops. Season to taste with freshly ground black pepper. Serve cold.
Radish Root and Leaf Curry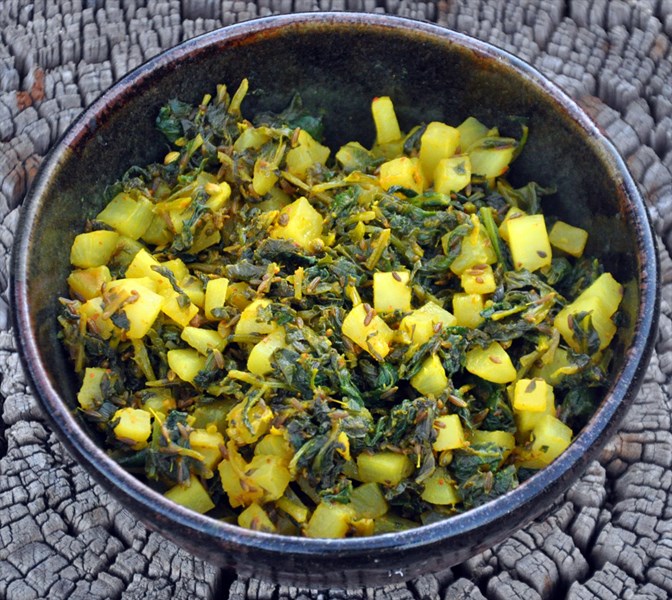 Don't through away those radish tops! They are excellent to eat, too, having a spicy flavor similar to arugula. Here is an excellent example of one way to use them – in a curry that also uses the radish roots. The original recipe was presented in the comparable 1987 Lord Krishna's Cuisine by Yamuna Devi (ISBN 978-0525245643). We've altered it to make it vegan.
½ pound radish greens, washed, trimmed, and chopped
½ pound radish (preferably daikon), peeled and cut into 1/4" dice
3 tablespoons canola oil
1 teaspoon cumin seed
½ teaspoon coriander seed
¼ teaspoon ajwan seed
½ teaspoon ground turmeric
¼ teaspoon cayenne pepper
2 teaspoons jaggery or brown sugar
1 teaspoon salt
2 teaspoons lemon juice
Heat a pot of water to boiling. Place chopped radish leaf into a steamer basket, and place over the boiling water. Cover the pot and let steam until tender, about 10 minutes.
In a heavy skillet heat the canola oil until almost smoking. Add in the cumin, coriander and ajwan seed. Fry in the oil, shaking constantly, until they have browned (about 20 seconds). Add the chopped radish root and the steamed chopped radish leaves. Stir in the turmeric, cayenne and sugar. Reduce heat to medium and stir fry for 5-8 minutes or until the radish root cubes have softened. Remove from heat and add in salt and lemon juice. Toss and serve immediately.