Rhubarb – Blueberry Jam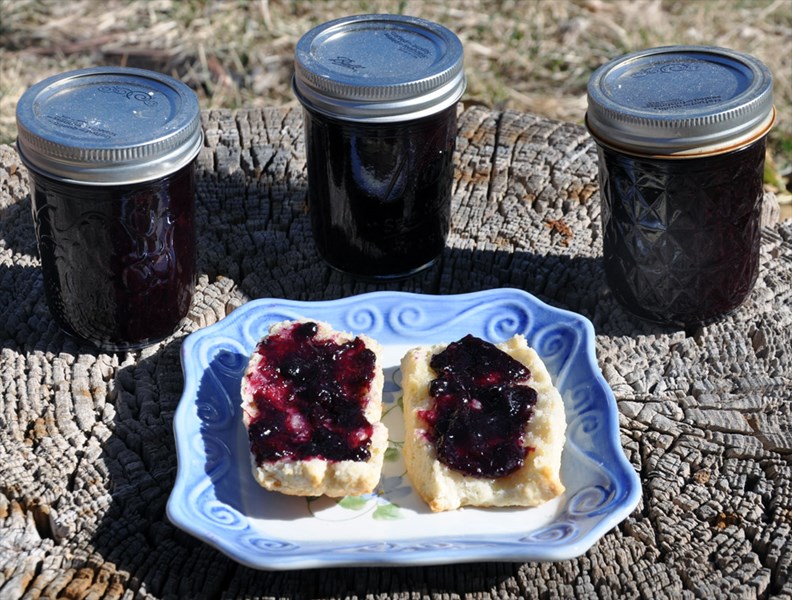 Strawberry-Rhubarb jam is a classic, but you can – and should – try combining your rhubarb with other fruits as well. In the following, adapted from an inspired recipe presented in Madelaine Bullwinkle's 1985 Gourmet Preserves Chez Madelaine, rhubarb is paired with blueberries to make an exquisite jam quite unlike anything you've ever tasted before. While you could use domestic cultivated blueberries, we think you'll be much happier of you can track down wild blueberries which have a much stronger flavor that will stand up to the assertiveness of the rhubarb better. If you live outside of the range of wild blueberries, you should be able to find them frozen (often from Maine or Quebec) in your grocery. Also, don't worry about the lack of pectin in this recipe. If you follow the directions your jam will set beautifully from the pectin present in the fruit.
1 pound fresh blueberries
1 pound rhubarb, cut into ½" dice
¼ cup water
2½ cups sugar
½ teaspoon lemon juice
Combine blueberries and rhubarb with water in a non-reactive 1 gallon heavy pot. Cook uncovered over medium-low heat for 20 minutes, stirring regularly. Add in the sugar ½ cup at a time, bringing the fruit mixture back to a simmer before adding in more. When all the sugar has been added, mix in the lemon juice.
Raise heat to medium and cook, stirring frequently, for 15 minutes. By the end of the cooking time the fruit mixture should slide off a spoon in a thick sheet.
Place into hot, sterilized canning jars, filling to within ½ inch of the rim. Wipe rims clean, place on lids and rings, and process in a boiling water bath for 10 minutes. Make 4½ cups.
Rhubarb Kuchen - Piestengelkuchen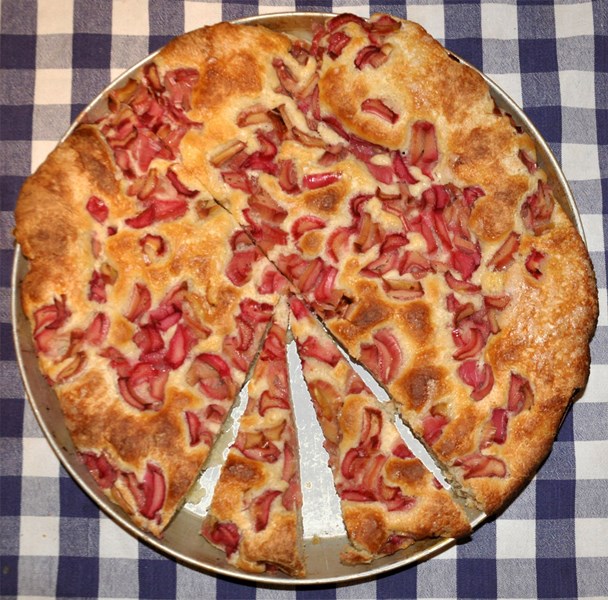 We'll end Mitagessen (Lunch) with kuchen, a typical Amana dessert. Kuchen are basically a cake made with sweetened yeast dough onto which chopped fruit have been added. They are the German equivalent of English 'fruit buckles', although most 'buckle' doughs are quick breads leavened with chemicals (usually baking powder, baking soda) rather than yeast.
Our spring kuchen is made with rhubarb - or pie plant (Piestengel in German). Because the succulent mid-rib of early-emerging leaves are used rather than actual fruits, rhubarb is ready for harvest and use as early in the spring as the leaves emerge from the ground -- at least a month to six weeks earlier than the earliest true fruits, like strawberries. The presence of rhubarb in the kitchen garden allowed for a dessert with fresh (rather than stored) ingredients to be made for the first time in months, and was a sure sign of winter's end.
The various recipes that we found for fruit kuchen in Amana cookbooks were not inspiring to us. But, since kuchen dough is rather wet and baked in a relatively thin layer in a large pan, we realized that in essence this dessert is simply a sweet foccacia topped with prepared fruit. So, we headed over to Nancy Silverton's classic 'Breads from the La Brea Bakery' for a good basic foccacia recipe, and modified it by switching out butter for the olive oil, and by adding sugar into the dough. We were very happy with the result and hope that you will be too. The following recipe will make a 12" diameter round kuchen, or a slightly thicker 8"x12" rectangle.
1½ cups warm water
1 tablespoon instant yeast
4 cups flour
1 cup sugar, in all, plus extra for dusting
1 teaspoon salt
2 tablespoons milk
2 tablespoons melted butter
4 cups chopped rhubarb
Preheat oven to 500° F
Place yeast into water, let it dissolve and become foamy. Mix in flour, ½ cup sugar, and salt with a with a sturdy spoon until incorporated. Let dough stand 20 minutes.
Continue mixing/kneading with a spoon, or with floured hands until the dough is silky -- approximately 10 minutes.
Add in the milk and melted butter, and beat / knead until both have been completely absorbed into the dough. At this point the dough will behave like a very stiff batter and may not be able to be kneaded. Allow dough to double in volume, approximately 2 hours.
Mix together the chopped rhubarb and remaining ½ cup sugar in a bowl, cover, and let stand at least 30 minutes.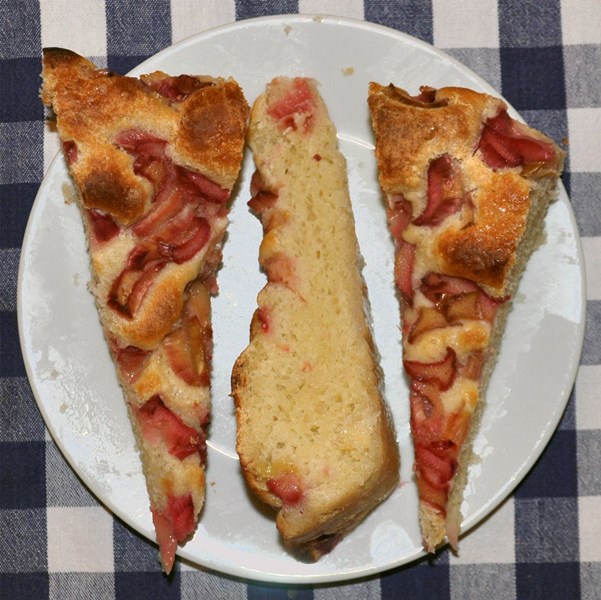 Cover bottom of a 12" diameter round -- or 8" x 12" rectangular -- pan with baking parchment or well butter. Punch down dough and place / pour into the prepared pan, and spread it out into a uniform layer. Let the dough rest in the pan for 10 minutes. Evenly spread rhubarb over the top, and press individual pieces into the dough. Dust top with a little more sugar.
Place kuchen in oven and reduce temperature to 450° F. Bake for 15 minutes. Check the kuchen and rotate if it is browning unevenly. Continue baking for another 10-15 minutes.
Remove from oven and let set 10-15 minutes.
If you used parchment, be sure to remove it from the bottom of the kuchen before you cut it into slices.
Rhubarb-Spinach Curry (Sabzi Rawash)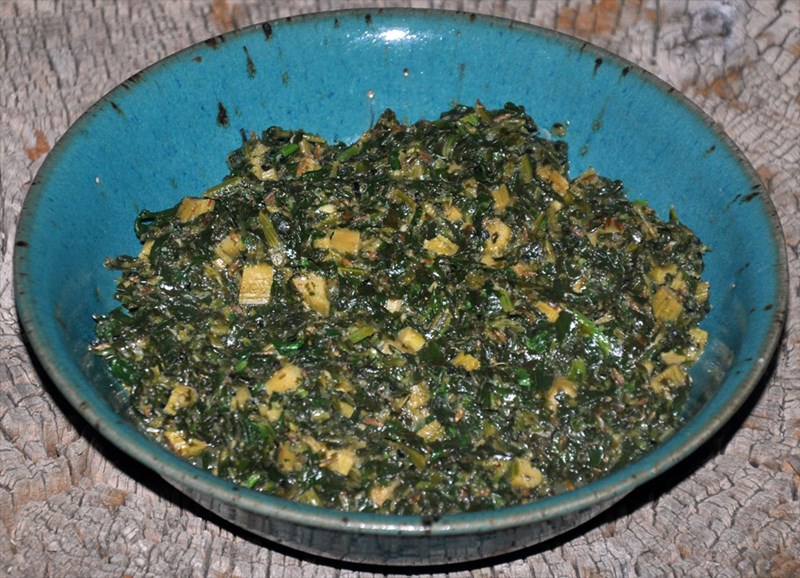 In the west we almost always use rhubarb in various sweet dishes and desserts. But in its central Asian center of origin it is also used in various sweet/sour savory foods as well. The following Afghani recipe, adapted from one presented in the 1990Indian Vegetarian Cookbook by Pat Chapman is an excellent example. While the thought of using rhubarb in a spinach curry may sound a bit odd, please give it a try. It is really wonderful and will open your horizons for use of rhubarb in the kitchen forever.
¼ cups canola oil
1 tablespoon crushed garlic
1 tablespoon onion paste
4 teaspoons cumin seed, in all
½ teaspoon charnuska seed
1½ cups rhubarb, washed and cut into ½" slices
1½ pounds spinach, washed and chopped
1 tablespoon jaggery or brown sugar
2 tablespoons cilantro, washed and chopped
1/8 teaspoon cayenne pepper
salt to taste
Heat oil over medium-high heat until almost smoking. Add in the garlic and onion and stir-fry for 3 minutes. Add in the cumin and charnuska seed and continue stir frying for another 2 minutes.
Add in ½ cup water and when it begins to simmer add in the rhubarb. Cook for 10 minutes, adding more water as necessary to keep the onion, garlic, and spices from sticking to the pan bottom. Add in the chopped spinach and continue cooking until tender, about 10 minutes. Add in the sugar, cilantro, cayenne and salt and continue cooking for a final 2-3 minutes. Remove from heat and serve immediately.