Mulled Roselle Juice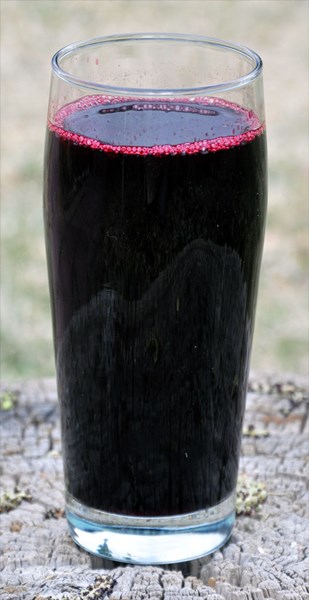 Most people know of roselle as the major tart component of a number of red herbal teas. But it is much more versatile than that. Here's an excellent way to make spiced roselle juice that can be consumed much like spiced cider. It is excellent hot or cold. The recipe was adapted from one presented in Marian Van Atta's 1991 Growing and Using Exotic Foods (ISBN 0910923833). Note that the product is pretty stout and might be best considered a drink concentrate. You can water it down as much as you like.
4 cups roselle calyces
6 cups water
1 cup sugar
1 tablespoon whole cloves
1 tablespoon whole allspice
3" piece of cinnamon
1 cup orange juice
2 tablespoons lemon juice
Cover roselle calyces with water and bring to a boil. Lower heat to a simmer and cook for 15 minutes. Strain juice through a jelly cloth. Combine recovered juice with sugar and spices and simmer for another 15 minutes. Strain out solids, and combine with orange and lemon juice. Serve hot as a winter drink or cold in the summer. Depending upon your tastes you may prefer to mix with additional water to thin it out, especially if you are using as a cold summer drink.
Roselle Stuffing
Here the tart red calyces of roselle are used as a substitute for cranberries in this vegan stuffing inspired by an ingenious recipe presented in Marian Van Atta's 1991Growing and Using Exotic Foods (ISBN 0910923833). She notes that a common name for this plant is the "Florida Cranberry" and they indeed do taste very similar.
2 cups roselle calyces, seed pods removed and coarsely chopped
1 cup pecans, chopped
½ cup honey
½ cup olive oil
1 cup onion, finely chopped
1 cup celery, finely chopped
1 teaspoon salt
1 teaspoon thyme
1 teaspoon sage
1 teaspoon freshly ground black pepper
¾ cup stock
2 quarts soft bread crumbs
Preheat oven to 350° F.
Combine roselle, pecans, and honey. Set aside.
Heat olive oil in a heavy skillet over medium heat. When oil is hot, add in onion and celery and sauté until the onions are translucent, about 5-10 minutes. Add in the salt and herbs, and then the stock. Bring to a simmer and then add in the bread crumbs and roselle-pecan-honey mixture. Place in an oiled baking dish and bake covered for 30 minutes. Remove cover and continue baking for another 20-30 minutes, or until the top becomes browned and crusty. Serve hot.
Roselle Tart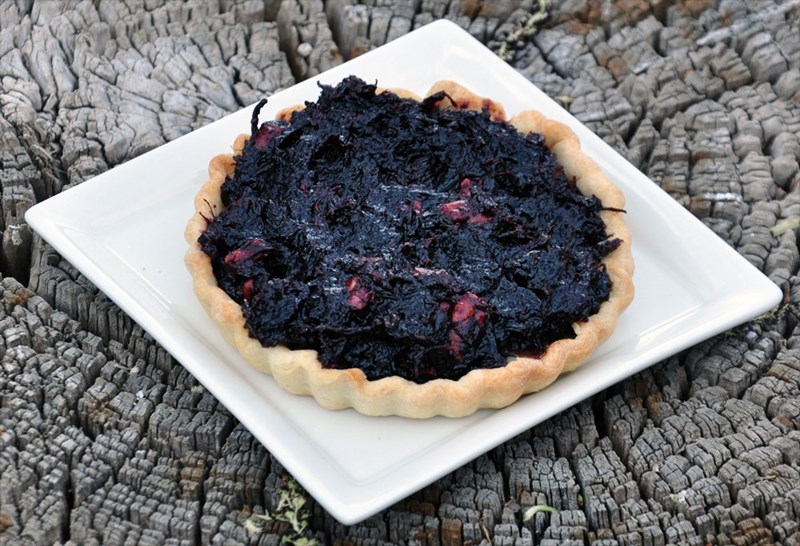 Much like rhubarb stems, roselle's fleshy tart red flower calyces make an excellent substitute for sour fruits. In this recipe loosely inspired by a recipe presented in Marian Van Atta's 1991 Growing and Using Exotic Foods (ISBN 0910923833), the calyces are poached in sugar and spices to make an excellent tart filling. We use the tart crust recipe presented in the chard tart recipe from our earlier Mess of Mediterranean Greens entries from April of 2014, and have linked to these instructions below. Don't worry about the filling not setting up, as roselle – like its close relative okra and marshmallow – has lots of gooey polysaccharides that will hold the ingredients together.
1½ cups sugar
1 tablespoon flour
½ teaspoon cinnamon
1/3 cup water
4 cups roselle calyces, seed pods removed and coarsely chopped
½ teaspoon lemon extract
2 tablespoons butter
½ cup pecans, toasted and coarsely chopped
½ batch tart crust
Mix together the sugar, flour, and cinnamon in a saucepan and add whisk in the water. Place over medium-heat and bring to a simmer, stirring occasionally. Add in the roselle, cover, and cook until tender, anywhere between 20-40 minutes. Remove from heat and whisk in the lemon extract and butter. Stir in the pecan pieces and set aside.
Preheat oven to 375° F.
Make the tart crust according to directions in the Chard Tart recipe, and divide into 6 equal pieces. Roll each out into a 6½" round and place in a 4½" tart pan. Crimp the edges. Prebake the crusts for about 10 minutes until they just begin to brown. Remove from oven and let them cool.
Divide the filling into six equal portions and place each into a tart crust. Return to oven and bake for another 30 minutes. Serve cool.