Spinach Enchiladas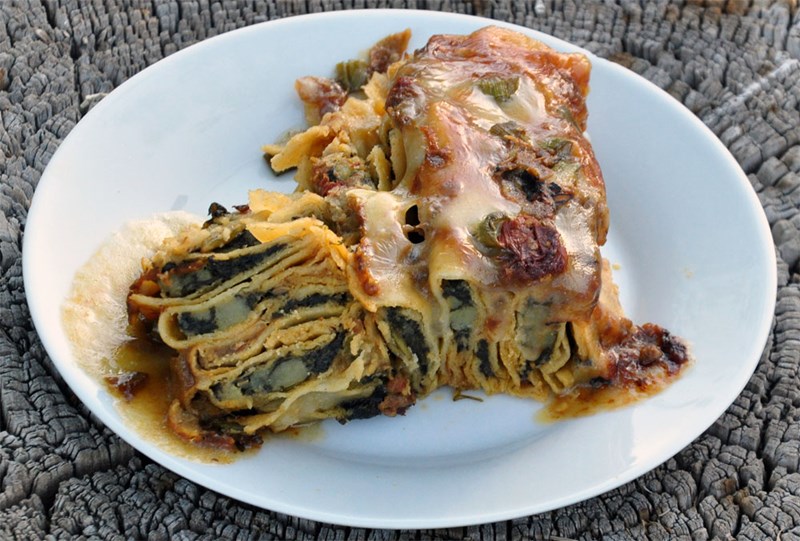 We have occasionally encountered vegetarian spinach enchiladas in Albuquerque and enjoyed them. We were amazed, however, to find not a single recipe for them in any of our over 400 cookbooks. So we rolled up our sleeves and invented our own version. In the end we actually liked it much better than anything we've ever had at a restaurant. We hope you enjoy it well.
2 tablespoons canola oil
1 medium yellow onion, finely chopped
3 garlic cloves, minced
¾ pound waxy potatoes, peeled and cut into ¼" dice
1½ pounds fresh spinach, washed and coarsely chopped
10 oz. chevre
1 teaspoon dry Mexican oregano
1 teaspoon dry epazote leaf
1/3 cup pepitos (dry hulled squash seeds)
salt and freshly ground black pepper, to taste
Canola oil for frying tortillas
3 cups green chile sauce
1 pound fresh corn tortillas
½ – ¾ pound munster cheese, sliced
½ cup green onion tops, cut into ½" pieces
Heat canola oil over medium in a heavy pan. Add in onion and garlic and sauté until the onion is soft, about 10 minutes. Add in the potatoes, and sauté, stirring frequently, for another 10 minutes until just barely soft. Add in the spinach, cover the pan, and allow to wilt, about 3-4 minutes. Uncover and stir in the chevre, oregano, epazote and pepitos. Adjust seasoning with salt and pepper and cook for 5 more minutes, stirring frequently. Remove from heat.
Preheat oven to 400° F. Pour oil into a heavy cooking pan to about ½" depth and heat over medium-high. Place the green chile sauce into another sauce-pan and bring to a simmer on the burner to the right of the oil. Lightly oil a 9 x 13" casserole, and place to the right of the simmering chile sauce. When the oil has come to temperature, lower the tortillas, one at a time into the oil. Fry on one side only until softened, about 30 seconds. Lift out of the oil, turn over so that the dry side is facing down, and dip into the chile sauce. Lift out of the pan and place, chile-coated side up, into the casserole. Place 2 tablespoons filling into the tortilla and roll up and stack into the casserole. Continue until all of the tortillas and filling have been used up. This assembly process is really only possible with two people helping out – one frying and dipping the tortillas and the other filling them and packing them into the pan.
When the pan is filled, top the rolled and filled tortillas with the remaining green chile sauce and top with the munster slices and green onion. Pace in oven and bake for 20-30 minutes until the cheese is melted and browned. Remove from oven and let cool 10-15 minutes before serving.
Chickpeas with Greens and Pasta -- Greece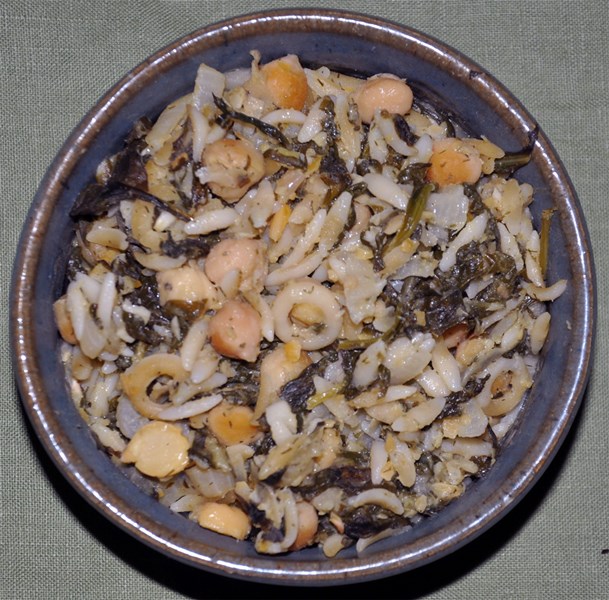 This is another recipe inspired by Susie Jacobs' cookbook, "Recipes from a Greek Island." It is very simple to make, and has a quintessentially Greek taste from its use of olive oil, lemon juice, garlic and dill, and has been a real hit every time we've made it. The flavors develop over the course of a few days, so can -- and should -- be made in advance. Serves 4
2 cups dry chickpeas
1 lb onion
¼ cup olive oil
4 garlic cloves
¼ cup lemon juice
1 lb mixed greens, preferably both sweet (spinach) and sour (chard)
2 tablespoons dry dill
½ pound orzo pasta
salt and pepper to taste
Soak chickpeas overnight in water. Drain, place in a cooking pot, and cover with water. Bring to a boil and simmer for 2-3 hours until tender. Drain and let cool.
Thinly slice onions, and coarsely chop the greens. Cook the orzo in salted, boiling water until al dente and drain.
Heat olive oil in a deep pan, and sauté the onions until golden. Add the garlic and cooked chickpeas and cook over medium heat for 5 minutes. Add the greens and continue cooking another 5-10 minutes until tender. Add cooked orzo, lemon juice, and dill ad mix well. Correct seasoning with salt and pepper, and serve hot or cold.
Use an assertive storage onion and an artichoke garlic like Acropolis.
Homemade Stuffed Bread (σπιτικό γεμιστό ψωμί) -- Greece
A traditional way for people in Greece to enjoy greens is to stuff them into a pita -- or pie. Perhaps the best known pita in North America is spankopita -- or spinach pie -- in which spinach is cooked with various flavorings, mixed with feta cheese, and then baked inside of a filo crust. But, there are many ways to make a pita, and one common way is to use a yeast dough.
In this recipe, loosely inspired from one presented in Susie Jacobs' "Recipes from a Greek Island" we are making a savory jelly-roll using a variety of fresh and preserved greens. It really is not that difficult to make, looks absolutely stunning, and tastes even better. We recommend you serving it with Jajik with Greens (the next recipe we'll present) or Tzatziki. Serves 8 as an appetizer
Bread Dough:
4 tablespoons dry yeast
½ tsp sugar
½ cup warm water
2 cups semolina flour
2 cups unbleached white bread flour
1¼ cups whole wheat flour
1¼ cups multi-grain flour (ground multi-grain flakes)
2 tsp salt
¼ cup honey
¼ cup olive oil
2- 2½ cups water
Dissolve yeast in ½ cup warm water; when yeast becomes a paste, add in the sugar. Let sit until foamy.
Mix all four flours and salt together in a mixing bowl. Make well in the center and add in the foamy yeast, honey, olive oil, and 1½ cups water. Beginning in the center, mix the liquids into the flours by stirring with a sturdy spoon. Add as much water as necessary to hydrate all the flour and to make a cohesive, soft dough. Knead for 15-20 minutes until the dough is silky and elastic. You should have about 3¼ pounds of dough when finished. Place into an oiled bowl, cover with a damp cloth, and let raise until doubled – 1 to 2 hours.
Filling:
1 lb onions, chopped
3 tablespoons olive oil
1 tsp sugar
1¼ pounds mixed greens, preferably a mix of bitter (endive, dandelion), pungent (mustard, kale), sweet (spinach), and sour (chard).
1 cup pepperoncini peppers
½ lb mix of green and black Greek olives, pitted and chopped
6 oz feta cheese
3-4 garlic cloves, minced
¼ cup flat leaf parsley, chopped
1 tablespoon dry dill leaf
1 tablsepoon dry oregano
While dough is rising, make the filling. Sauté onion in olive oil until golden. Add in the sugar, and continue stirring and cooking until they turn a caramel brown. Place into a small bowl. Steam the greens until tender, about 5-10 minutes. Squeeze dry, and then roughly chop. Place in a another small bowl and set aside. Pit the olives, coarsely chop, and place in another small bowl. Remove stems from the pepperoncini peppers, coarsely chop and place in another small bowl and set aside. In a final small bowl, crumble the feta and mix with the garlic, chopped parsley, and dried herbs. Let all the filling components cool to room temperature.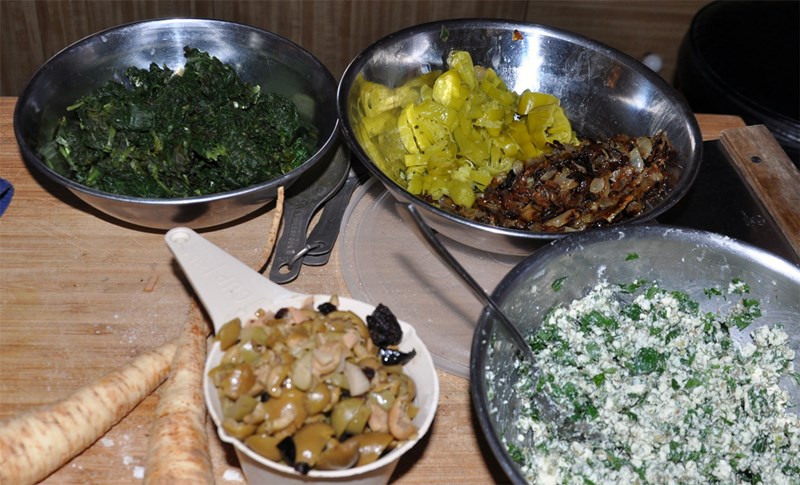 Assembling the bread:
When dough has risen, punch down and transfer to a floured board or countertop. Roll into a 14"x21" rectangle. Spread cooked onions in a layer across the dough, leaving a 2" border along all four sides. Repeat with the cooked greens, then the pepperoncini pepper, olives, and finally the herbed feta. Roll up the dough and toppings along the long side of the rectangle to make a jelly-roll; finish by drawing the uncovered dough border over the outside of the roll, and sealing the seam by pinching the dough together. Now bring the two ends of the roll together to make a wheel, and pinch these together as well.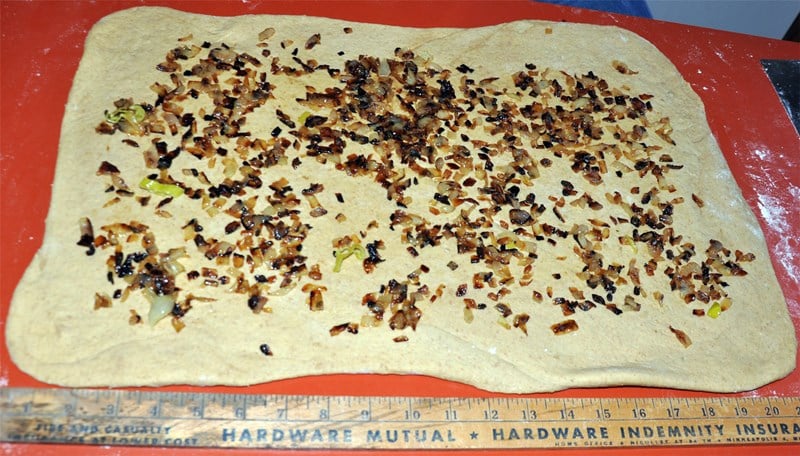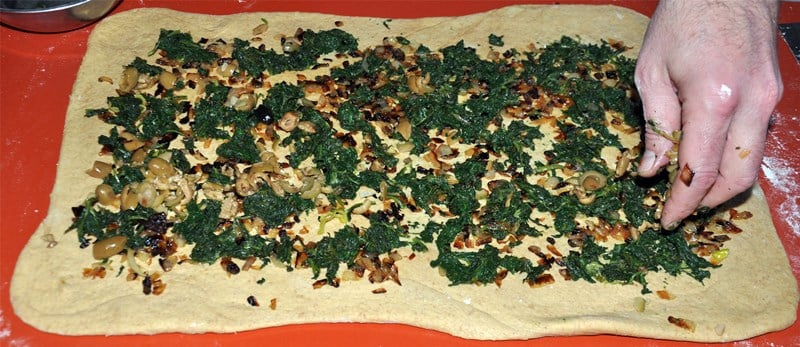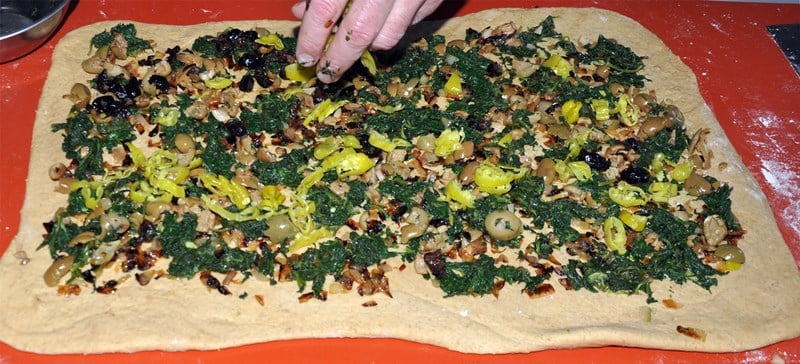 Transfer the dough circle onto a baking sheet lightly covered with coarse semolina or corn meal. With a sharp knife, cut through the upper ¾ of the roll at 2" intervals around the entire circle, leaving the bottom uncut and still connected. Cover with a damp towel and let raise until almost doubled, about 45-60 minutes.
While the rolls are proofing, preheat oven to 400º F. Place proofed ring in oven and bake for 20 minutes. Rotate the baking pan, and continue baking another 10 minutes or so until the dough is brown and crusty, and the bottom sounds hollow when tapped. Remove from over and let cool.
Slice into wedges along the scored cuts and serve.
The best onion for this bread is a mild, sweet type. Use a variety of greens in the stuffing for a more complex flavor. Besides using flat Italian parsley, you can also use fresh dill and oregano. Just triple the amount as compared to the dried.
Marinated Spinach
Our last sunomono differs in that it is cooked and is based on a leafy green. Spinach is one of the earliest greens to be harvested from the spring garden in most places, and makes a wonderful addition to our bentō.
This dish also uses Allium fistulosum, known variously as Japanese Leeks, Japanese Bunching Onions, Spring Onions, or Welsh Onions. The last common name is a misnomer, as this type of onion has no connection with the Celtic countries, it having rather been domesticated in Siberia and northeastern Asia where it grows wild. In this case "welsh" is derived from the Old English "wræclíc", meaning "strange," which these Asian onions would have been to the Europeans. Although it is possible to use thinnings from the common onion (Allium cepa), their flavor is not the same.
Marinated Spinach (ほうれん草酢の物 or Hōrensō Sunomono)
1 lb fresh spinach
2 garlic cloves, minced
2 Japanese Leeks, minced
½ teaspoon ground cayenne or other hot pepper
¼ cup rice vinegar
1 tablespoon soy sauce
1 teaspoon sesame oil
1/3 teaspoon salt
1 tablespoon toasted sesame seeds
Cook the spinach in boiling water for one minute or so until it has wilted and turned bright green. Drain in a colander. Rinse with cool water and squeeze dry. Form into a roll and cut into ½" strips.
Mix together the garlic, leeks, cayenne, vinegar, soy sauce, sesame oil, and salt in a small bowl. Toss into the cooked spinach. Place in bowl and top with sesame seeds. Cover and chill until served.
Potato and Spinach Casserole
This is an easy and very tasty dish and is an excellent way to use your fresh spinach. It was adapted from one presented in Maryana Vollstedt's 2000 wonderfiul The Big Book of Casseroles.
3 pounds waxy potatoes, unpeeled and thinly sliced
1 yellow bell pepper, seeded and cut into ½" dice
3 cups grated Swiss cheese
Salt and freshly ground black pepper, to taste
1 pound spinach, washed and drained
1 tablespoon butter, cut into small pieces
1 cup rich stock
Preheat oven to 350° F. Lightly coat a 9 x 13" baking pan with oil or butter. Place half of the potatoes into the pan, topping with half of the bell pepper and cheese. Season with salt and pepper. Place spinach on top, and then repeat with another layer of potato slices, bell pepper, and cheese. Season again with salt and pepper. Dot the top with butter and pour stock evenly over the mixture.
Bake uncovered until the potatoes are tender and the top is golden, about 1 hour.
Spinach and Rice (Spanakorizo)
This dish radiates the classic flavors of Greek cooking in its marriage of rice, spinach, and lemon juice. Please make sure to use a starchy short grain rice like arborio or the texture will come out wrong. If you are not vegan we recommend topping individual servings with a little crumbled feta cheese – preferably one made from sheep's milk. This recipe was adapted from one presented in Clifford Wright's2001 Mediterranean Vegetables.
¼ cup olive oil
1 medium onion, finely chopped
1 cup uncooked arborio or other short-grain rice
1½ cups stock
1 teaspoon salt
½ teaspoon freshly ground black pepper, or to taste
1/8 teaspoon ground mace
1 tablespoon dried spearmint leaves
1 tablespoon dried oregano leaves
¼ cup lemon juice
2 pounds spinach washed well and trimmed of large stems
½ cup feta cheese, crumbled (optional)
Heat olive oil over medium in a large, heavy pan. Sauté onion until golden, 10-15 minutes. Add rice and sauté until it is well coated in oil and has turned chalky – about 2 minutes. Add water and salt and bring to a simmer. Lower heat, cover, and simmer until the water is almost absorbed – about 20 minutes. Add in the black pepper, mace, spearmint, oregano and lemon juice. Cover with half of the spinach, cover, and cook until wilted. Stir in the cooked spinach and top with the remaining uncooked spinach. Cover and cook for 15 minutes. Mix into the rice mixture, recover the pan, and continue cooking, stirring frequently, until the water has been absorbed – about another 30-45 minutes. Correct seasoning and serve with optional crumbled feta.
Spinach with Pine Nuts and Raisins
This is one of our favorite spinach dishes, having the Moorish-inspired combination of both savory and sweet ingredients. Jeff enjoyed this on his first and only trip to Spain in the days before Christmas in 1993, which he took to celebrate successfully completing his doctoral studies at the University of North Carolina. He bought puff-pastry tartlets filled with this type of sautéed spinach from a Barcelona bakery. While they were wonderful, he made a critical error in converting pesetas to dollars (it was 10 to a dollar, not 100 to a dollar as he thought) and spent much more money that day than he intended. The rest of the trip was a much more frugal affair to say the least!
½ cup yellow raisins
¼ cup sherry
2 tablespoons olive oil
½ cup toasted pine nuts
3 garlic cloves, peeled and thinly sliced
1 tablespoon minced rosemary
¼ teaspoon smoked Spanish paprika
1 pound spinach
salt and freshly ground black pepper to taste
Soak the raisins in sherry for 30 minutes.
Heat olive oil in a skillet. Sauté pine nuts and garlic for 1 minute. Add in the rosemary, smoked paprika and the sherry from the raisins, and boil for another minute. Add in the spinach and sauté another 5 minutes or so until cooked. Toss in the raisins and adjust seasonings. May be served hot or at room temperature.
Spinach Breadcrumb Torte (Scarpassa)
This exquisite spinach recipe comes from Piacenza in the Po Valley of the Emilia-Romagna region of northern Italy. With its combination of mushrooms, garlic, and cheese incased in a toasted bread crumb crust it is one of the best spinach dishes we've ever made. The squeezing dry of the steamed spinach maintains its bright green color and eliminates some of the muddiness that cooked spinach often harbors. We adapted our version from one presented in Clifford Wright's 2001 Mediterranean Vegetables; in this book it is recommended to make a double batch as you'll never be able to enjoy leftovers. We agree wholeheartedly.
2 pounds fresh spinach, well washed and trimmed of heavy stems
3 tablespoons butter, in all
2 tablespoons flat leaf parsley, minced
3 garlic cloves, minced
8 oz crimini mushrooms, coarsley chopped
salt and freshly ground black pepper, to taste
scant 1/8 teaspoon mace
½ cup goat milk
2 cups fresh breadcrumbs, in all
2 large eggs, lighly beaten
2 tablespoons Parmesan cheese, grated
3 tablespoons olive oil
Place fresh spinach still wet from its last washing into large pan over medium-high heat. Cover and cook until wilted, about 3-5 minutes. Remove spinach from pan, place in a colander and drain, squeezing out as much water as possible. Form into a 3" wide log and cut into 1/4" slices. Set aside.
Melt 2 tablespoons butter in a heavy pan and sauté the garlic and parsley over medium heat for a few minutes. Add in the chopped mushrooms and sauté, stirring frequently, until the mushrooms have released their water and this has evaporated, about 10-12 minutes. Add in the cooked and chopped spinach along with salt, pepper, and mace. Reduce heat to medium-low, add in the goat milk, and cook – stirring frequently – until the mixture is creamy, about 15 minutes. Remove from heat. Add in 3 tablespoons of bread crumbs, the beaten eggs, and cheese. Stir well and set aside.
Preheat oven to 350° F. Heat olive oil and remaining butter over high in a heavy skillet. Cook the remaining bread crumbs until golden, about 4-6 minutes, stirring constantly so that they do not scorch. Spread half of the browned crumbs over the bottom of a small casserole, top with the cooked spinach mixture, and top this with the remaining browned bread crumbs. Bake for 20-30 minutes until the egg has set. Serve hot.
Turnip – Sweet Potato Soup
This very satisfying autumn soup, filled with just-harvested root vegetables and fresh spinach was inspired by a recipe presented in Alice Waters' 1996 Chez Panisse Vegetables. It is easy to make, and reheats wonderfully. Please serve with a crusty baguette.
½ pound spinach, washed and shredded
1 tablespoon olive oil
2 leeks, trimmed, washed, and diced
1 medium onion, diced
4 tablespoons butter
Salt and freshly ground black pepper, to taste
2-3 pounds small turnips, trimmed and washed
2 russet potatoes, peeled and cut into 1" dice
1 small sweet potato, peeled and cut into 1" dice
2 quarts stock
Sauté shredded spinach in olive oil over medium heat until they have collapsed. Set aside.
Sauté leeks and onion in butter over medium heat until soft, 5-10 minutes. Season with salt and pepper. Add in the prepared turnips, russet and sweet potatoes, and sauté for 10 minutes, stirring occasionally. Add stock, bring to a boil, reduce heat, and simmer 20-30 minutes until the root vegetables are soft. Puree smooth. Mix in the cooked spinach and adjust seasoning with salt and pepper, and serve immediately.
Winter Squash and Greens Couscous -- Djerba, Tunisia
The peoples along the southern shore of the Mediterranian are also great devotees of spring greens, and in this recipe these greens are used in a wonderful couscous. We've adapted the version presented below from a meat-based recipe appearing inPaula Wolfert's Mediterranian Grains and Greens. In this case we've just left out the fish and replaced it with marinated potato chunks. This is a very frugal meal, as you steam the couscous and vegetables over the spiced tomato broth (served along side as a sauce), giving them a wonderful, subtle flavor of tomato, garlic and spices. Whatever broth is left over can be easily made into a wonderful salad dressing by adding 2 parts broth to 2 parts olive oil to 1 part wine vinegar.
You'll note that the recipe calls for harissa, a spiced chile paste characteristic of north Africa. While it is easy to make, showing you how to do this now is beyond the scope of this month's recipes. We promise to do this at some point in the future. If you'd like to make your own, track down the recipe from Elisabeth Luard'scookbook, Saffron & Sunshine. Or, you can buy harissa from most Middle Eastern groceries. One one-line source is at the Spanish Table. Serves 8
1/3 cup extra virgin olive oil
½ cup minced onion
1 tablespoon crushed garlic
1 tablespoon ground cumin
1 teaspoon salt
½ cup tomato paste
2-inch cinnamon stick
½ teaspoon dried mint
2 teaspoons harissa
1 green bell pepper, cored, seeded, and finely diced
8 cups stock
In the bottom of your steamer pot, sauté the onion in olive oil over low heat until light yellow. Add in garlic, cumin, salt and tomato paste and stir over heat for 1-2 minutes. Add cinnamon, mint, harissa, green pepper and 1 cup stock. Cook until the peppers are soft. Add the remaining stock and simmer over medium heat for 10 minutes.
1 pound medium or small couscous
1 tablespoon crushed garlic
2 tablespoons harissa
¼ cup tomato paste
1 cup sliced onion
2 tablespoons olive oil
2 pounds waxy boiling potatoes, peeled and cut into 2" cubes
1 pound carrots, peeled, and cut into 2" pieces
1 pound small turnips, peeled and quartered
1 pound of peeled and cored winter squash cut into 2" cubes
1 pound spinach, cut into thin shreds
2 bunches flat leaf parsley, finely chopped
Rinse couscous under running water, and let sit until grains swell, about 10 minutes.
Toss the cubed potatoes with garlic, harissa, tomato paste, onion, and olive oil and set aside.
Line a steamer basket with a tea towel, and pour in the soaked couscous. Break up any lumps with your fingers, and wrap with the edges of the tea towel. Place the basket over the simmering tomato broth, cover, and let steam for 20 minutes.
Move couscous into a wide bowl. Break up any lumps while mixing in 1 cup of tomato broth removed from the simmering pot plus 1 teaspoon salt.
Place carrots and turnips into the remaining simmering tomato broth and bring back to a boil. Place a steamer tray on top of the simmering broth, and add in the marinated potatoes and squash. Place a second tray on top of the first, lay a tea towel in the bottom, and fill with the couscous, Cover and steam for 10 minutes. Remove the couscous tray and place shredded spinach and chopped parsley over the potatoes and squash. Return the couscous tray and continue steaming for another 15 minutes or until the potatoes and squash are tender.
Move the couscous into a wide serving dish and fluff with a fork. Adjust the seasoning for the tomato broth with salt and pepper, and then gradually moisten the couscous with 2 cups of the tomato broth. Mix well, cover, and let stand 15 minutes. Remove carrot and turnip chunks from the tomato broth and place over the couscous. Remove the cinnamon stick and discard. Arrange potatoes, squash, and greens over the couscous as well. Pour remaining tomato broth into a tureen, and serve with the couscous.