---
May 8 and 9, 2022



Our most profound thanks to all who made Baker Creek's 2022 Spring Planting Festival such a wonderful experience on Sunday, May 8 and Monday, May 9, 2022!
---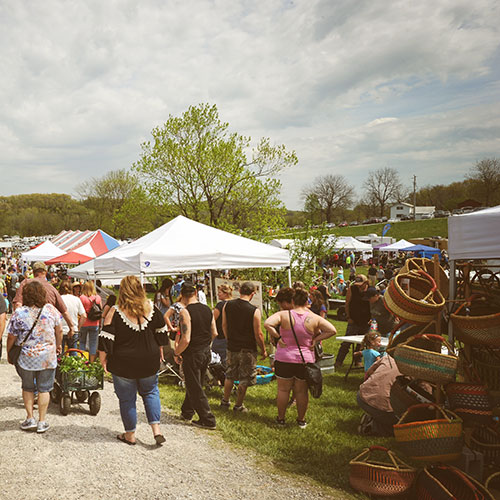 ---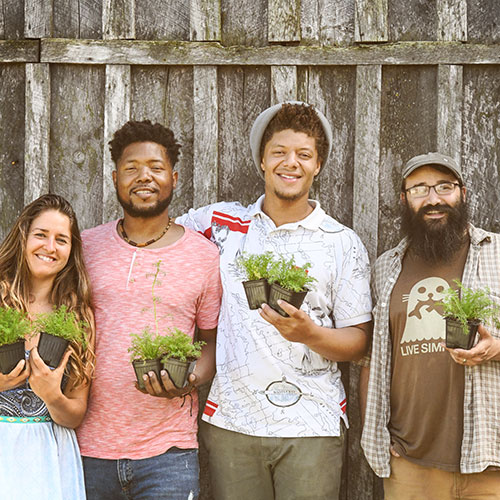 ---
THE FESTIVAL EXPERIENCE

Browse through thousands of varieties of plants and learn how to grow them with our acclaimed guest speakers.
Come and join us and thousands of gardeners at America's premier event of seeds, plants, music, culture, and the celebration of historic foods. Enjoy a sense of community with fascinating seed collectors, renowned musicians, national speakers, historic demonstrators, food activists, homeschoolers, western re-enactors, organic growers, gourmet chefs, free-thinkers, historic farm animals & poultry, Ozarkian crafters, trendy vendors, and herbal hippies...
SALES AT VENDOR BOOTHS WILL BE CASH ONLY! ATMS WILL BE AVAILABLE ONSITE.
---
JOIN US FOR A TOUR OF OUR GREENHOUSES!
Get a behind-the-scenes look at our operation. Tours begin every 15-30 minutes from 3:00 PM - 6:30 PM and are led by one of the Baker Creek managers. Meet at the tile garden in front of the seed store.
---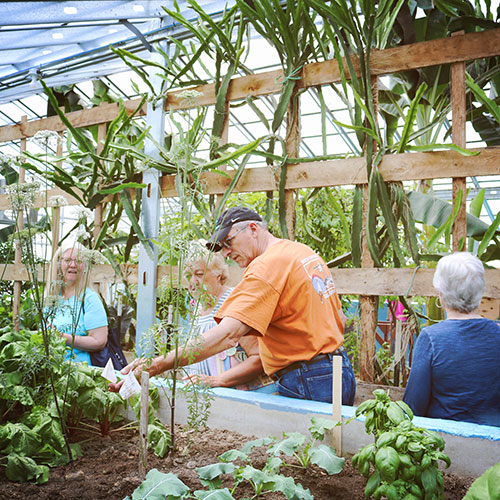 ---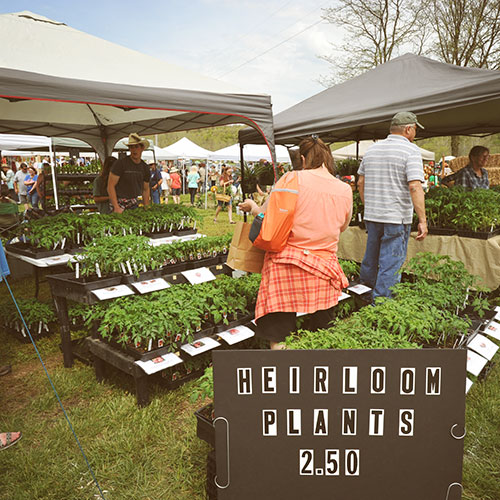 ---
DO YOU HAVE SOMETHING TO SELL?

If you are interested in being a vendor for the event, please email Kathy McFarland at [email protected], ATTN: Kathy.
---
SPEAKERS
BEVIN COHEN
"Seed Swaps and Seed Libraries:
Building Sustainable Communities With Seeds"
Sunday, May 8, 11 a.m.
Bevin Cohen is an author, herbalist, seed saver, and owner of Small House Farm in Michigan. He offers workshops and lectures nationwide on the benefits of living closer to the land through seeds, herbs, and locally grown food. Bevin is a freelance writer whose work has appeared in numerous publications, including Mother Earth News, Hobby Farms, Grit Magazine, and the Baker Creek catalog. He is the author of four books, including Saving Our Seeds, The Artisan Herbalist, and his highly anticipated new book, The Complete Guide to Seed & Nut Oils. You can learn more about Bevin's work at Small House Farm.
---
---
SONYA HARRIS
"The Importance of Community Gardens For Building Food Security"
Sunday, May 8, 12:05 p.m.
Sonya Harris is the founder and CEO of the Bullock Garden Project in New Jersey. A former special education teacher, Sonya now teaches gardening. Her organization focuses on knowledge and capacity building through gardening to promote health and community sustainability, particularly in marginalized communities.
---
---
JON JACKSON
"Finding Your Roots Through Heirloom Gardening"
Sunday, May 8, 3:20 p.m.
Jon Jackson is a retired Army Ranger, director of the nonprofit STAG (Strength To Achieve Greatness), and founder of Comfort Farms, near Milledgeville, Georgia. Since 2016, the farm has become a haven for veterans struggling to find their place, and their peace, back home. About 1.5 acres of the 35-acre farm is devoted to an intensive system of raised beds, which produce for market year-round. Jon has also been tracing his own story through genealogy and seeking out heirloom seeds connected to his familial story and cultural roots.
---
---
SARA AND SYMBRIA PATTERSON
"CSAs and Thriving Local Food Systems"
Sunday, May 8, 4:30 p.m.
Sara and Symbria Patterson are the duo behind Red Acre Farm, a biodynamic farm in the Cedar Valley of Utah, and the founders of Red Acre Center, a nonprofit organization that works to promote and protect farmers, small rural and urban farms and people's right to choose what they eat.
---
LUCY HUTCHINGS
We regret that Lucy Hutchings will not be able to attend the Spring Planting Festival. Please watch for her at future festivals!
Lucy Hutchings is a U.K.-based gardener and author whose wildly popular Instagram account, shegrowsveg, features gorgeous photographs of her garden bounty. Lucy spent a decade as a successful fashion and jewelry designer before turning her attention full-time to her true passion: gardening. She trials Baker Creek varieties in her garden and contributes photos to our catalog and website. Her book, titled Get Up and Grow, is filled with space-saving and aesthetically pleasing small space gardening projects.
---
---
RICHIE RAMSAY
"How To Grow Hot Peppers Without Breaking A Sweat"
Monday, May 9, 3:55 p.m.
Richie Ramsay is a member of Baker Creek's horticultural staff, based in his native Jamaica. He also produces Scotch Bonnet and West Indies Red hot pepper seeds for the company. He joined the Baker Creek staff in 2017. Richie will share techniques and tips for growing a great crop of hot peppers, even in a small space. He loves sharing his horticultural knowledge and affection for heirloom varieties with customers.
---
---
STEPHEN SILVERBEAR MCCOMBER
We regret that Stephen will not be at the festival in May, but he'll join us at a future event!
Stephen Silverbear McComber is a traditional Haudenosaunee elder from the Mohawk community of Kahnawake, in Quebec, Canada. He is a member of the Bear Clan and a faith keeper and manager of spiritual, traditional ceremonies at the Mohawk Trail Longhouse. Stephen is also a celebrated artist and has twice received The Canada Council for the Arts Award. As a traditional Haudenosaunee seed keeper, he has shared his knowledge with international audiences. Since 2007, he has worked as a native elder for Corrections Canada. He is also the proud grandfather of 12 grandchildren.
---
---
RAY TYLER
"How To Make $450,000 on 1 Acre Growing Vegetables 52 Weeks A Year"
Sunday, May 8, 2:15 p.m.
Ray Tyler is a husband, father to 6 young children, and a full-time learner, farmer, and educator. Before his farming career, Ray worked as a professional high-end trim carpenter, and then as a welder gaining real-life experience working in the field. With no university degrees to boast of, Ray has leveraged his work ethic and his ability to learn from mistakes. For more than a decade, he has made it his mission to find practical solutions that work for the everyday grower, and to share them with others. Ray is most notably known for his unique innovation systems in growing vegetables on a small-scale farm in hot and humid climates, making $450,000 a year on just one acre. Along with his wife, Ashley, he is the owner of Rose Creek Farms in Tennessee and the Small Farms Big Change initiative. He is also one of the founding members of AgLaunch.
---
---
STEVEN SALT
"Growing International Veggies in Midwestern Gardens"
Monday, May 9, 11:35 a.m.
Steve Salt is a life-long avid gardener who has been market gardening for the past 37 years, with particular emphasis on international and ethnic vegetables and herbs. He likes to say he "wears three hats" — gardening, teaching, and writing, having taught college for over 30 years at two community colleges and one university in horticulture, soil science, and a variety of science courses; authored one book (Around the World at Farmers' Market, 2007) and co-authored another (Ecology for Gardeners, Timber Press, 2014) and dozens of magazine articles on gardening and market farming. Since 1991, he has marketed his veggies through a CSA, to restaurants and grocery stores, and at several farmers' markets. He formerly served as a missionary in Japan, where he cultivated his love of Asian cuisine and vegetables.
---
---
RICHARD HERMAN
"Permaculture Design For Sustainable Living"
Monday, May 9, 2:50 p.m.
Richard has devoted his life's work to sustainable agriculture, animal husbandry, medical care, permaculture, and youth wilderness education and adventures. Using permaculture design on his land in the Missouri Ozarks, Richard has developed a forest garden, intensive grazing systems, and a sustainably harvested forest, where he grows shiitake mushrooms and has introduced tree grafting, creating a genetic library for scion woodland. Raised in the Ozarks, Richard has worked on three continents for nonprofit, humanitarian organizations including the Peace Corps and Heifer International.
---
---
JIM LONG
"My Favorite Home Remedies That Work"
Monday, May 9, 10:30 a.m.
Jim Long is the owner and founder of Long Creek Herbs in Blue Eye, Missouri. He is the author of more than 20 books on herbs, gardening, and related subjects. Jim will share his safer, cheaper herb and natural remedies for healthy living. These are folk remedies that Jim has collected over the years from various sources. Some are his own formulas that he has used himself; others were recommended by friends or reliable sources. Always use caution with any folk remedy and consult a physician or qualified health provider for any questionable or serious illness. His books and herb products, including his best-selling formula, Herbal Nail Fungus Soak™ are available at herb shops, health foods stores and from his website LongCreekHerbs.com.
---
---
LIGIA PARISI
"Growing Heirloom Seeds In Chile: Our Story"
Monday, May 9, 12:40 p.m.
A few years ago, Ligia Parisi and her husband, Raul, left their respective professions — she a lawyer and he a restaurateur — in Santiago, Chile, for the solitude of a 1,500 acre farm in the Andes, about 12 acres of which is in production. Ligia and Raul describe themselves "self-made agronomists," and are always in the process of learning. The farm is totally organic and based on principles of regenerative agriculture. Today they grow varieties including Etiuda and Albino bullnose sweet peppers, Crespo squash, Lemon Drop watermelon, and Dragon's Egg cucumber for Baker Creek.
---
---
GIBRON JONES
"Building Healthy Local Food Systems For All"
Sunday, May 8, 1:10 p.m.
Gibron Jones is the founder of HOSCO SHIFT and the North Sarah Food Hub (NSFH) in his home city of St. Louis. The nonprofit organization is focused on increasing access to healthy, local food and creating jobs and economic development in neighborhoods and communities that need it most. Since its launch two years ago, the NSFH has produced nearly 2 million meals and more than 2 million pounds of produce boxes. Their latest project: distributing more than 8,000 healthy meals to diabetic patients enrolled in a 36-week program at BJC Christian North East Hospital to lower patients' A1C blood sugar levels. The program also provides nutrition education, meals, and meal kits for the whole family to encourage healthier eating.
---
---
GREG GARBOS
"Service Through Innovation in Year-Round Market Farming"
Monday, 2:50 – 3:40 p.m.
Greg Garbos is the founder of a season extension ag lab and innovation studio in Kansas City, Missouri. He is both a mechanical engineer and a professional inventor, and his innovations have led to new systems for economically viable market food production in both urban and rural farm settings that address farm challenges brought by a changing climate. Greg's family also founded and runs City Bitty Farm, a year-round farm in Kansas City that has sold more than $1 million worth of microgreens to chefs across the U.S. Using his own story as illustration, Greg will talk about how we can leverage our skills and talents to make a difference in the world.
---
---
MUSICIANS WANTED!


Old-fashioned musicians, solo acts, or groups are wanted! Bring your instruments or voices for the chance to win big prizes! For more info, read here.
---
---
CHARITY AUCTION
When: Monday, May 9, 2022, 1:30 p.m.
Free parking is available on a first-come, first-served basis on Monday, May 9 beginning at 11 a.m. for Missouri residents.
A wide range of bulk and packed seeds, equipment for gardening, farming, electronics, kitchen supplies and more!
Proceeds go to STAG Vets and Comfort Farms, a nonprofit organization helping combat vets.
See the complete item list here.
---