Ailazan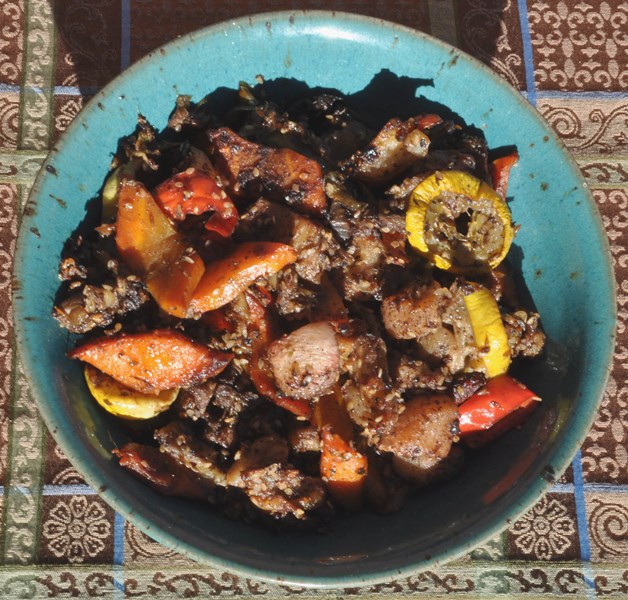 While we looked west to the Maghreb for our iftar soup, we now look east for the following roasted vegetable dish which originated in the Caucasus. The cuisines of the Caucasus peoples – in particular the Armenians and Georgians – represent a unique combination of both savory and sweet flavors. In the case of this recipe its eastern origins are suggested by the use of sweet flavorings like spearmint, cinnamon, and cardamom in combination with more savory ingredients like cumin and olive oil, the nuttiness of sesame seeds, and the sweet/sour/peppery contribution of sumac. While you'll want to keep the spice mix the same, you should not feel obliged to use the exact vegetables listed below, as they simply represent what was fresh and available in Albuquerque when we trailed the recipe in mid-June. So, head out to your garden or local farmer's market and choose a nice mélange of roasting vegetables. As long as they are fresh and harvested at their peak of flavor you can't go wrong. Serves 4-6:
2 medium eggplants cut into ½ inch slices, and then into 2 inch wide planks
4 carrots cut into ¼ inch thick diamond shapes
1 summer squash cut into ½ inch thick rounds
12 cipollini onions, skinned but left whole
½ each of a red, yellow and green pepper, cut into ½ inch wide strips
6-8 small turnips, peeled and quartered
1/3 cup olive oil
1 tablespoon dried spearmint
1 tablespoon dried sumac
½ teaspoon ground cinnamon
1 teaspoon ground cardamom
1 teaspoon ground cumin
¼ cup sesame seeds
salt and ground pepper to taste
Preheat oven to 450° F. Toss prepared vegetables with spice mix, sesame and olive oil. Place in a single layer on a large oiled pan. Roast for 10 minutes, stir vegetables and seasonings and cover pan. Return to oven and reduce heat to 350° F. Bake for another hour, allowing vegetables to steam. Uncover pan, stir vegetables and seasonings, and continue roasting uncovered until the vegetables are well browned, about 30 minutes.
The vegetables may be served either hot or cooled to room temperature. While they are wonderful eaten on their own, they are especially nice when stuffed into a splitkhoubz loaf and topped with laban sauce.
You'll need to find a Middle Eastern market for ground sumac, which is related to but different tasting than the various types of wild sumac found throughout North America. This spice is also available from on-line vendors. Just be sure you are using freshly ground sumac as its vibrant flavor will fade within a few years. Also be sure to use spearmint which is much sweeter than toothpaste-flavored peppermint.
Calabacitas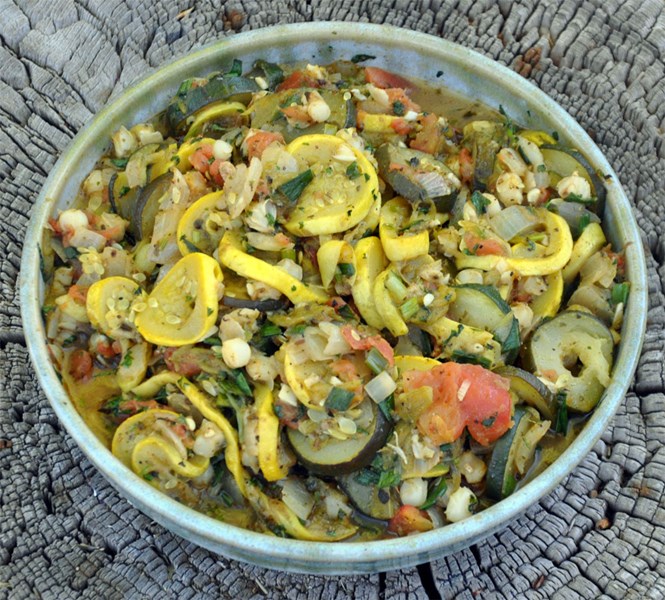 This is one of the most traditional New Mexican vegetable dishes. Its name is the same as that used in New World Spanish dialects for summer squash. Almost all the versions that we've encountered use (shudder) fresh corn. This is just not right. Rather one needs to use fresh cooked posole to achieve the proper flavor and mouth feel. Our version below is very loosely based on one presented in Cheryl Alters Jamison & Bill Jamison's incomparable 1995 The Border Cookbook. We've added quite a bit to their rather simple recipe, and really liked the result.
¼ cup canola oil
2 pounds mixed yellow and green summer squash, cut into ¼" slices
1 medium yellow onion, chopped
2 garlic cloves, minced
1 cup dry posole, cooked until tender and drained
½ cup roasted green chile, seeded and chopped
2 cups tomato, peeled, seeded and coarsely chopped
1 tablespoon dry Mexican oregano leaf
½ teaspoon salt, or more to taste
6 green onions, coarsely chopped
2 tablespoons cilantro, minced
Heat oil in a large, heavy pan over medium. When the oil comes to temperature add in the squash, onion, and garlic and sauté until the vegetables have softened, about 10 minutes. Add in the cooked posole, green chile, tomato, oregano and salt. Cook, covered, for another 10-15 minutes. Add in the green onion and cilantro and heat through. Serve immediately.
Coca Mallorquina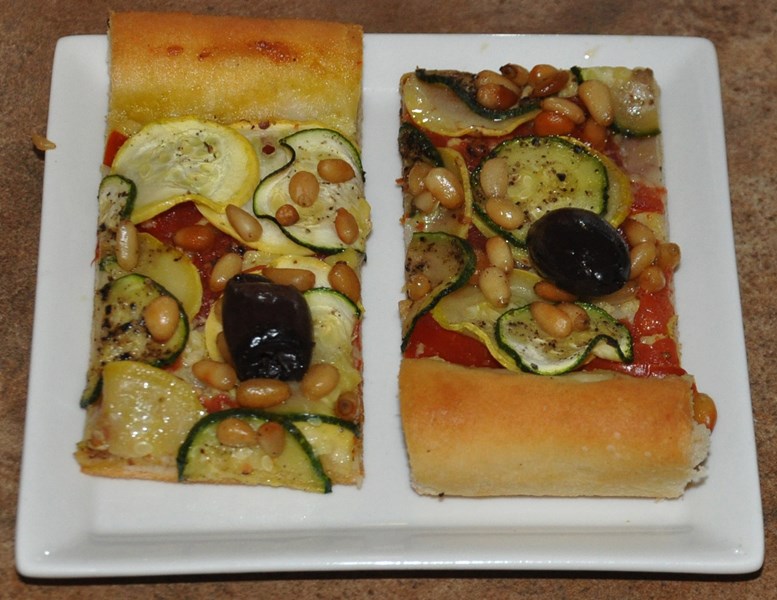 Coca are seasoned flatbreads served throughout Catalonia, the remaining Spanish Mediterranean coast, and Balearic Islands just offshore. Although the name for this dish may make one think of chocolates, it actually derives from "kaka" the Germanic / Scandinavian word for "cake." This term was introduced into Catalonia during the reign of Charlemagne, where it eventually evolved into 'coca.' As would be expected from this history, coca are just as likely to be sweet as savory, with typical toppings varying from vegetables to cheese, fish and other meats, nuts and fruit. Moorish-inspired coca may even combine both savory and sweet toppings, such as ground meat or cheese with dried fruit and nuts. No matter the topping, however, cocas typically resemble a tart made from a yeasted – rather than short – dough. Very similar flatbreads are found across the Mediterranean rim, in particular Italy's pizza and the Provençal pissaladière.
Coca are a common component of many tapas selections, especially in the south of Spain. The recipe we share is typical of Mallorca, the largest island in the Balearic Archipelago. These are characteristically made in late summer when an abundance of just-picked vegetables are available. While we used a mix of tomatoes and summer squash in the following version, any number of other types can be used, including eggplant, variously colored sweet peppers or sautéed leafy greens.
Crust
2½ cups bread flour
1 tablespoon dry yeast
1 teaspoon salt
1 tablespoon olive oil
1 tablespoon dry white wine
1 cup water
Place flour, yeast, and salt in a mixing bowl. Make a well in the center of the flour and pour in the water, olive oil, and wine. Mix the liquids into the flour from the well outwards. When all the flour has been incorporated in to the liquids, knead the dough for 5 minutes until smooth. Put into an oiled bowl, cover, and let rise in a warm place until doubled.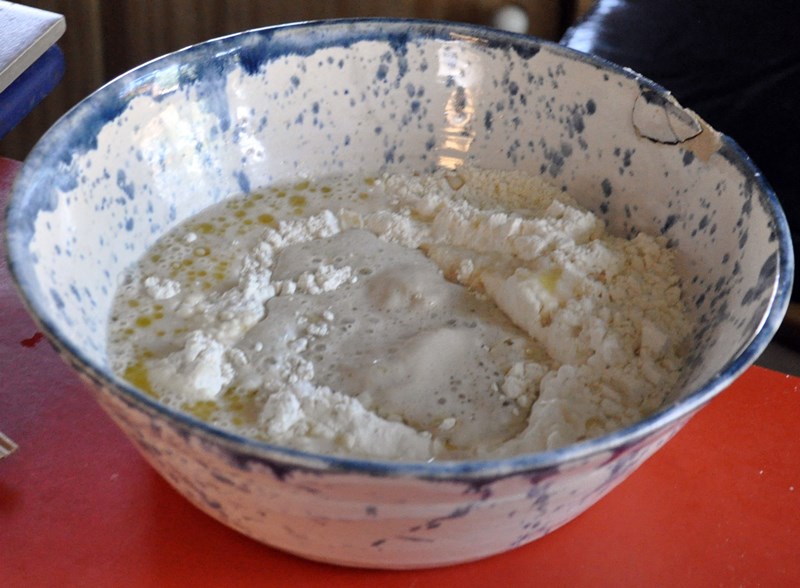 Topping
3 garlic cloves
¼ teaspoon salt
¼ cup olive oil
4 medium tomatoes, cored and thinly sliced
1 yellow crookneck squash, thinly sliced
1 zucchini, thinly sliced
¼ cup pine nuts
2 tablespoons olive oil
salt and freshly ground black pepper to taste
additional olive oil as a garnish
20 pitted black olives
Preheat oven to 425° F.
With a mortar and pestle crush together the garlic and salt, and then slowly add in the olive oil until a thick, smooth paste is formed.
Divide dough in half. Roll each into an 8x12" rectangle. Transfer to one side of an oiled 12x18" baking sheet. Fold all four edges to make a border. Repeat with the other half of the dough, placing this rectangle onto the other half of the baking sheet.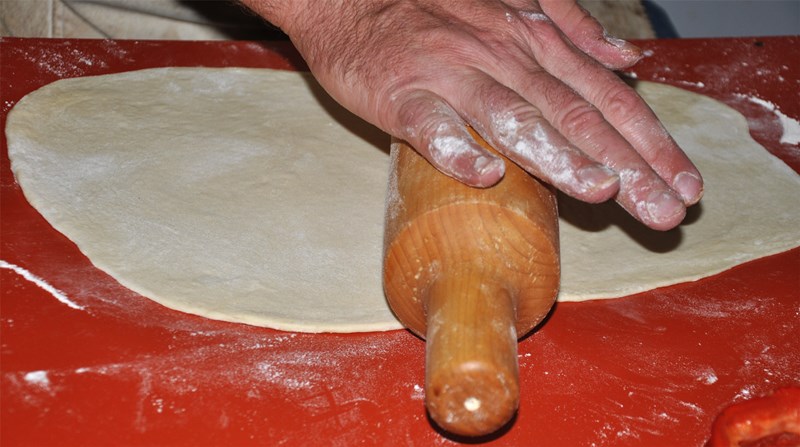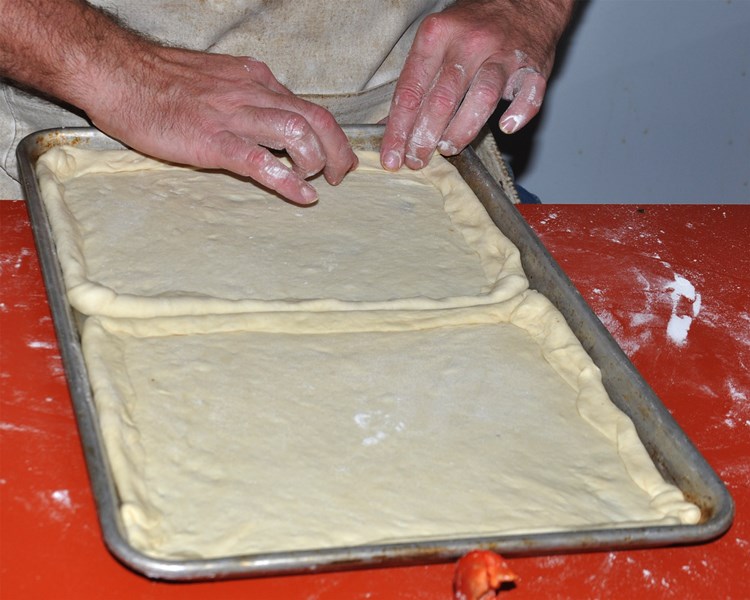 Smear half of the garlic paste onto each of the breads. Then arrange the tomato, yellow crookneck, and zucchini slices evenly over each. Sprinkle with pine nuts, salt, and pepper, and drizzle over with olive oil.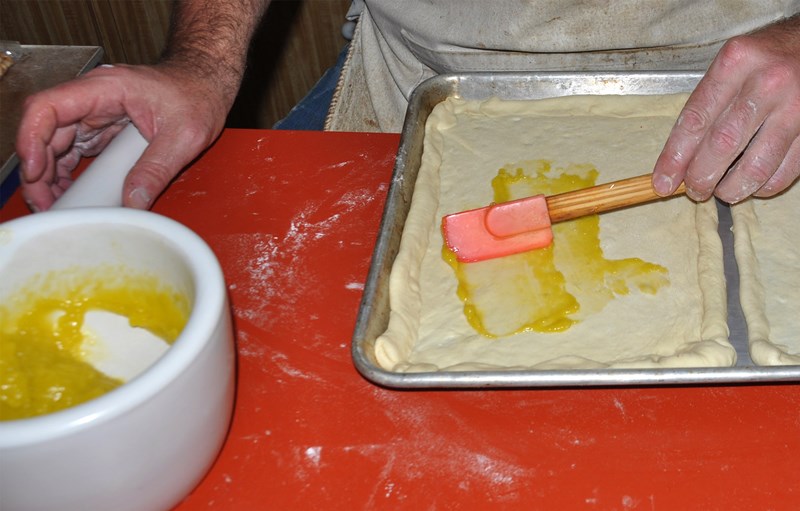 Let the breads rest for 5 minutes, and then bake for 10 minutes. Remove from oven and arrange the olives equally across both breads. Return to oven and continue baking until golden, another 5-8 minutes.
Remove from oven and cool. Serve at room temperature.
Modovan Vegetable Caviar (Givech)
A goldmine for vegetarian foods are the cuisines of Orthodox Christian countries, in which meat-free fast-days are frequent throughout the year. This has led to a number of ingenious dishes, including a wide variety of meat-free 'caviars' throughout eastern Europe and Russia. We suspect that these are called caviar because like their namesakes, they represent highly flavored pastes that are often spread over blinis or bread. The following is a ratatouille-like sweet-pepper forward vegetable caviar from Moldova. We've adapted our recipe from one presented in Anya von Bremzen& John Welchman's 1990 incomparable Please to the Table (ISBN 978-0894807534).
1½ pounds eggplant
¼ cup olive oil
2 carrots, peeled and cut into ¼" dice
1 large red bell pepper, cored, seeded and cut into ¼" dice
2 large green bell peppers, cored, seeded and cut into ¼" dice
2 small zucchini, cut into ½" dice
1 tart apple, peeled, cored, and cut into ½" dice
6 large garlic cloves, minced
1 cup tomato, peeled, seeded, and cut into 1" dice
¼ cup lemon juice or more to taste
½ teaspoon sugar
salt and freshly ground black pepper, to taste
Preheat oven to 400° F. Pierce eggplant in several places with a knife, place on a baking sheet, and place in oven. Roast for 30 minutes, and then turn the eggplant over. Continue baking until the eggplant has become soft and has collapsed. Remove from oven and cool.
Cut roasted eggplant in half and scoop out the pulp, discarding the skin. Coarsely chop and reserve the pulp.
Heat the olive oil in a large heavy pan. Add carrots and sauté for 5 minutes. Add in the remaining ingredients in order (red and green peppers, then zucchini, and finally the apple) at 3-4 minute intervals. Add in the reserved eggplant pulp and half the garlic. Cover and simmer over low heat for 40 minutes. Add the tomatoes and continue simmering for another hour, stirring occasionally.
Remove from heat. Add in the remaining garlic, lemon juice, and sugar. Adjust seasoning with salt and pepper. Transfer mixture to a covered bowl and refrigerate for several hours before serving.
Gujarati five-vegetable curry (Undhui)
This wonderful mixed-vegetable curry comes from the Indian province bordering Pakistan along the subcontinent's western coast. This is a rather mild curry, allowing the flavors of the individual vegetables to flow through. With its free use of milk and yogurt it is also reminiscent of the rich kormas found throughout northern India; however these are really quite different and should not be confused. While we have not tried it, we suspect that this can easily be made vegan by substituting almond milk for the animal milk and coconut cream for the yogurt. Our version was adapted from one presented in our friend Pat Chapman's 2007 India Food & Cooking.
4 oz plantain, cut into 1" dice
4 oz daikon radish, peeled and cut into 1" dice
4 oz eggplant, cut into 1" dice
4 oz winter squash, peeled and cut into 1" dice
4 oz mixed summer squash, cut into 1" dice
2 tablespoons freshly ground coriander seed
2 teaspoons freshly ground cumin seed
1 teaspoon ground turmeric
½ teaspoon asafoetida resin
¼ teaspoon cayenne pepper
3 tablespoons canola oil
½ teaspoon ajowan seed
4 garlic cloves, minced
1 large onion, finely chopped
1 hot green chile, seeded and minced
1/3 cup besan (gram) flour
milk, as needed
7 oz yogurt
¼ cup lime juice
salt, to taste
Separately steam each of the 5 vegetables until just tender. Reserve.
Mix together the ground coriander, cumin, turmeric, asafoetida, and cayenne. Add in enough water to just make a thick paste that sluggishly drops off a spoon. Reserve.
Heat the oil in a large, heavy pan. When the oil has come to temperature add in the ajowan seed and stir fry for 30 seconds. Add in the garlic and cook for another 30 seconds. Add in the chopped onion and sauté, stirring occasionally, until well browned – about 15 minutes. Add in the spice paste and stir fry for a further 2 minutes.
Mix the besan flour with enough mild to make a thick paste that sluggishly drops off a spoon. Add to the pan, briskly stirring and adding enough milk to keep the mixture loose and not sticking to the pan bottom. When the mixture stops thickening, add in the steamed vegetables and yogurt. Simmer, stirring frequently, until heated through. Add in the lime juice and adjust seasoning with salt.
Jicama-Zucchini Fritters with Tomato Coulis
When we think of Jicama recipes, it is usually in the form of some type of light summery salad that pairs the rather bland but crunchy tuber with various fruits, beans, vegetables or greens. We were glad to discover in Didi Emmons' wonderful Vegetarian Planet a different take on this vegetable, whereby it is used to make a crunchy and tasty fritter that is served with a tomato-caper sauce. Because this recipe reminds us of an Indian Pakora, we've modified her recipe by using chickpea (besan) flour as the binder, in the process producing a more savory and nutty fritter than was possible with the original wheat flour recipe.
1 small (1 pound) jicama
1 pound zucchini or other summer squash
½ red onion
1 teaspoon salt
2 tablespoons olive oil
½ cup chopped onion
6 garlic cloves, pressed
2 cups minced tomatoes
½ cup water
2 tablespoons capers, drained
salt & freshly ground back pepper to taste
2 eggs, beaten
½ cup besan flour
Peel and grate jicama. Grate summer squash. Thinly slice the red onion. Toss all three together with 1 teaspoon salt and let rest for at least a half hour.
While the vegetables are resting, make the tomato sauce. Heat 1 tablespoon olive oil in a small saucepan over medium-high heat. Sauté onion for 5 minutes, then add in a 2 cloves pressed garlic and continue cooking for another minute. Add tomato and water and bring to a simmer. Reduce heat to low and cook 10 minutes. Add capers and continue cooking another 5 minutes. Adjust seasonings with salt and pepper, remove from heat, and let cool.
Place grated, salted vegetables in a colander and squeeze out the accumulated water. Put grated vegetables into a bowl and toss with eggs, remaining garlic, besan flour, and freshly ground pepper.
Heat a large well-seasoned skillet over medium heat. Add in 1 tablespoon olive oil. Drop batter, ½ cup at a time, into oiled pan, and flatten into thick pancakes. Make sure that you do not put the cakes too close together so that they touch. Fry for 3-4 minutes until the fritters are golden on the bottom, then flip and repeat on the other side. Transfer to a paper-towel covered plate, and repeat until all the batter has been used up.
Serve warm fritters with tomato sauce.
If you'd like to add in a bit of southwestern zip into the fritters, consider mixing ¼ cup of thinly sliced roasted green chili into the batter just before cooking.
Moorish Summer Squash Salad
This is a simple and delicious summer squash salad from Spain that often appears intapas selections. Make sure to assemble this salad with ample time to rest before serving, and the flavors will become much brighter as a result. We adapted our version from one presented in Paragon Books' 2004 Traditional and Contemporary Tapas Dishes [ISBN 1405480122]
¼ cup olive oil
1 large garlic clove, minced
1 pound mixed summer squash, cut into ½" slices
3 tablespoons pine nuts
1/3 cup raisins
2 tablespoons fresh spearmint, finely chopped
2 tablespoons lemon juice, or more to taste
salt and freshly ground black pepper, to taste
Heat olive oil in a heavy skillet over medium. When the oil comes to temperature, add in the garlic and briskly stir fry for 1 minute. Add in the summer squash slices, and sauté until just tender. Transfer to a bowl, and toss with the pine nuts, raisins, spearmint, lemon juice, and salt and pepper. Cover and let rest in the refrigerator for at least 4 hours. Let come to room temperature before serving.
Pisto Manchego
Throughout the Mediterranean one can find vegetable stew recipes built upon the abundance of late-summer gardens. These inexpensive but satisfying dishes were initially simple peasant food, but eventually migrated into restaurants, courts, and the kitchens of the wealthy. While perhaps the most well known is the Provençalratatouille, similar dishes are found east into Italy (the related ciambotta is made with spring vegetables), central Europe, the Middle East, and Caucasus. One of our favorite versions, termed gvetch, comes from Moldova and also includes diced apple.
This dish is also found throughout Spain: the Catalans refer to it as samfaina while the Majorcans call it tombet and in southern Spain it is referred to as alboronia. Throughout the Spanish heartland, it is called pisto manchego (or simply pisto), referring to the La Mancha region made famous by the Cervantes stories about Don Quixote, Sancho Panza, and the lovely Dulcinea.
While pisto manchengo is generally thought to have originated in Spain with the Moors, tomatoes, peppers and summer squash were not available until after contact with the New World. Thus modern versions of pisto must trace back to no earlier than the 1500s – after the Moors had been expelled from Spain. The ancestral version of this dish must have been based on stewed eggplant, onions and garlic, augmented by other Old World vegetables like cabbage and carrots. Given that these ingredients are all indigenous to the original homeland of the Romany in northern Indian and Pakistan, to us it seems likely that this family of dishes was actually brought to Europe via Gypsy caravans over 1000 years ago, being embraced by the many and varied cultures that they came into contact with along the way.
Pisto machengo is often served as an accompaniment to other dishes. For tapas, it is often served on toasted bread slices, much like bruschetta. It can also be used as empanada filling. We used the leftovers to make our tapas lasagna, discussed in the roasted red pepper entry.
2/3 cup olive oil
2 large onions, cut into ½ inch dice
6 garlic cloves, minced
½ teaspoon cumin seed
2 medium eggplant, cut into ½ inch dice
6 tomatoes, peeled, seeded, and roughly chopped
¾ pound summer squash, cut into ½ inch dice
3 roasted bell peppers, cut into ½ inch dice
1 tablespoon oregano
1 tablespoon sherry vinegar
salt and freshly ground black pepper to taste
Heat half of the oil in a heavy skillet, add in the onion and garlic, and sauté over medium heat for 7-10 minutes until soft. Remove to a bowl.
Add remaining oil to the skillet and heat to medium-high. Add in the cumin, and sauté for 15-20 seconds until seeds have begun to brown. Now add the cubed eggplant and stir while they absorb the oil, cook a bit, and then begin to release oil. Add in chopped tomatoes and simmer for 10-15 minutes. Stir in summer squash, bell peppers and oregano and continue to gently simmer until all of the vegetables are cooked. Remove from heat and add vinegar, adjusting flavor with salt and pepper. May be served hot, cold, or at room temperature.
Use the above recipe as a suggestion only and base yours on whatever fresh produce is available in your garden.
Torta de Verduras
One of the more iconic tapas dishes is the tortilla. While we in the New World immediately think of the Mexican flatbread (either corn or wheat) when hear this name, it means a very different thing in the Iberian Peninsula. There, a 'tortilla' is a 'little pie' most often made from sliced potatoes and onion and held together with beaten eggs. It is likely that some form of this tortilla is served at most tapas assortments.
We decided to share with you something a little different – a torta, or pie. In the case of Torta de Verduras, it is a Vegetable Pie, made from a variety of summer vegetables held together with beaten eggs combined with a creamy béchamel sauce. It resembles a cheese and cream-free quiche filling without a crust, and is served just as the more familiar tortilla is – namely as cut slices. Serves 6
1 medium onion, finely chopped
3 cloves garlic, minced
¼ cup olive oil
½ cup diced potato
½ cup diced carrot
½ cup diced green beans
½ cup diced cauliflower
½ cup diced zucchini
½ cup peas
2 tablespoons minced parsley
1 tablespoon minced thyme
3 eggs, beaten
1 cup béchamel sauce (see below)
¼ teaspoon salt
¼ teaspoon freshly ground pepper
Blanch the diced vegetables until partially cooked, about 1 minute for the green beans and zucchini, 2 minutes for the cauliflower, and 3 minutes for the carrots and potatoes. Remove from water and drain.
Sauté onion and garlic in oil over medium heat until they begin to turn translucent. Add in the blanched vegetables and peas, and sauté for another 3 minutes.
Remove from heat. Stir in the parsley, thyme, béchamel (see recipe below), beaten eggs, salt and pepper. Pour into a buttered 9x12 inch pan, and bake in a preheated 375° F oven for 15-20 minutes until the tart has set in the center.
Cool and cut into squares. Serve at room temperature.
Salsa Béchamel
1 tablespoon butter
1 tablespoon flour
¾ cup milk
1/8 teaspoon freshly ground nutmeg
salt and freshly ground black pepper to taste
Melt butter in saucepan over medium heat. Whisk in flour and let bubble for about a minute. Stir in milk and whisk until smooth. Cook until thickened. Add in nutmeg, salt and pepper.
Zucchini & Garbanzos
Jeff was a bit worried about this Turkish recipe as it was so simple and had so few ingredients. Would it really be interesting to eat? The answer was a resounding 'YES' with this being the favorite of all the zucchini recipes we trialed. The important thing to remember in this simple of a recipe is to use the freshest and highest quality ingredients: be sure to used just harvested tiny zucchini and flat leaf parsley; be sure to cook your own dry garbanzos as the canned ones will taste like a can; be sure to only use the most flavorful extra-virgin olive oil. If you do this, success will be guaranteed. We adapted our version from one presented in Clifford Wright's 2001 Mediterranean Vegetables.
¾ cup dry garbanzos, cooked until tender and drained
4 tablespoons extra-virgin olive oil, in all
1 pound baby zucchini, trimmed and sliced ½" wide
3 large garlic cloves, minced
Salt and freshly ground black pepper, to taste
1 tablespoon dry Urfa pepper flakes
2 tablespoons flat leaf parsley, minced
Heat 2 tablespoons olive oil in a large heavy skillet over medium. When the oil has come to temperature ass in the zucchini, garlic, salt, pepper and cooked garbanzos. Sauté until the zucchini are slightly soft, about 20 minutes. Heat remaining olive oil in a small sauce pan over medium. When the oil comes to temperature add in the pepper flakes and cook, stirring constantly, for 45 seconds. Remove from heat. Toss seasoned oil and minced parsley with the garbanzos and zucchini. Serve hot or at room temperature.