Curry Squash Soup

Here's an excellent and easy curry-flavored squash soup. Be sure to use a non-stringy and sweet winter squash; any Curcurbita maxima or Curcurbita moschatavariety will do fine. Once you have roasted and mashed the squash, the soup itself will only take about 20 minutes to assemble. And, it tastes better upon reheating. Our recipe is adapted from one presented in Michael Congdon's 2004 S.O.U.P.S.(ISBN 978-1570614262).
¼ teaspoon cloves
1 tablespoon coriander seed
1 tablespoon cumin seed
½ teaspoon black peppercorns
2 teaspoons red chile powder
1 teaspoon ground cinnamon
¼ teaspoon ground mace
4 cups stock
1½ cups goat milk
4 cups cooked and pureed winter squash
2 cloves garlic, crushed
½ cup maple syrup
1 teaspoon sea salt, or more to taste
6 oz chevre
¼ cup cilantro, minced
¼ cup roasted pecans, chopped
Dry roast and grind the cloves, coriander, and cumin to a fine powder. Blend with chile powder, cinnamon, and mace. Set aside.
Bring stock and milk to a simmer in a soup pot over medium-high heat. Whisk in the garlic, maple syrup, salt and spice mix into the pumpkin puree. Gradually add this mixture to the stock, whisking to remove any lumps. Whisk in the chevre until smooth.
Cover and let simmer until soup thickens. Adjust seasoning and garnish with minced cilantro and pecans before serving.
Mayan Potato Salad (Iguashte)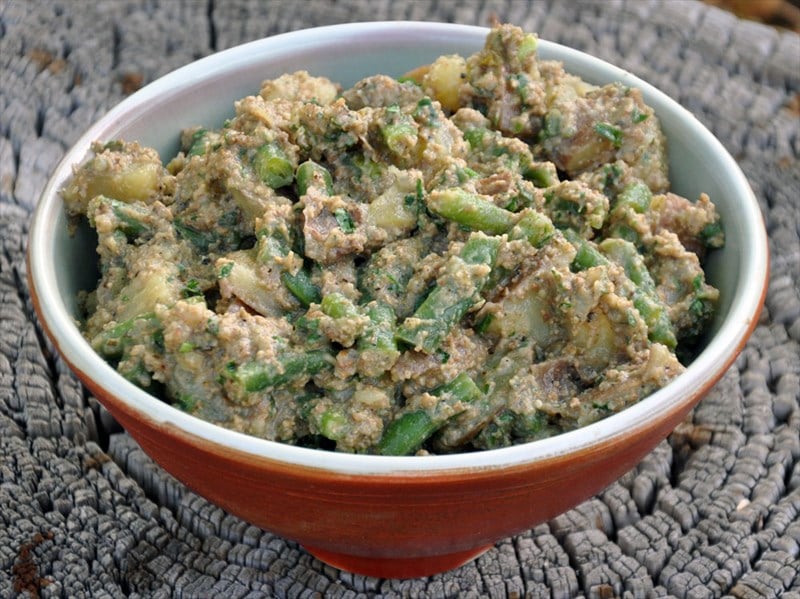 This incredibly tasty vegan potato salad is made completely from New World ingredients, and is likely very close to dishes enjoyed by the pre-Columbian Mayans. Our version is inspired by one collected by Copeland Marks in Antigua, Guatemala, for his 1985 False Tongues and Sunday Bread (ISBN 978-1590772768). The one non-authentic elaboration we've used is to toss in minced cilantro, which of course is of Middle Eastern origin. Feel free to leave it out if you'd like to eat like a Mayan. The easiest way to grow your own pepitos is to put in a few hills of a naked seeded pumpkin, like Lady Godiva.
1 cup pepitos (shelled squash seeds)
1 cup tomatillos, husked and washed
3 cloves garlic, roasted
1 cup stock
1 teaspoon salt
2 pounds waxy red potatoes, washed and cut into 1" dice
3 cups green beans, trimmed and cit into 1" segments
1/3 cup cilantro, minced (optional)
Toast pepitos in a 350º F. oven for 5-10 minutes until light brown. Let cool.
Place tomatillos on a baking sheet and broil for 10-15 minutes, turning occasionally, until they are soft with a charred surface. Or, roast on a grill. Let cool. Chop fine and place in a bowl.
Place roasted pepitos, roasted tomatillos, roasted garlic, stock and salt into a blender and puree.
Cover potatoes with salted water and bring to a boil. Reduce heat and simmer until just tender, about 15-20 minutes. Drain.
Blanch the green beans in boiling water until just tender, about 5 minutes. Drain.
Toss together the potatoes, green beans, sauce, and optional cilantro. Refrigerate an hour before serving.
Pumpkin Bars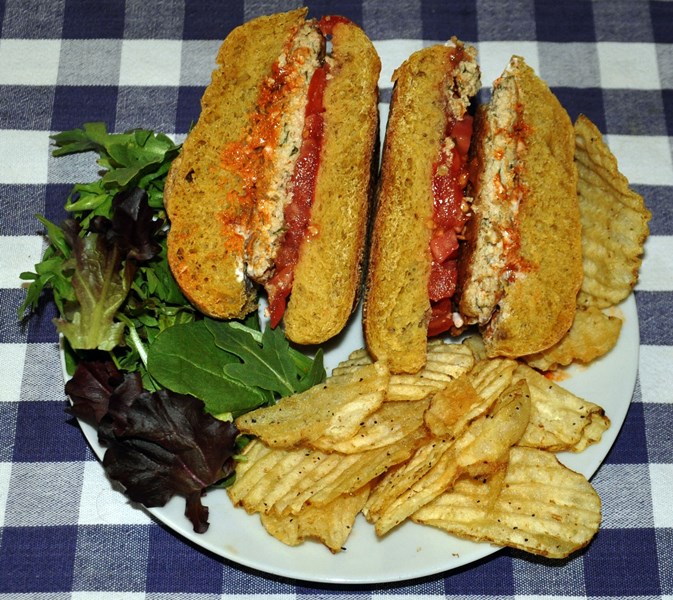 This easy pumpkin sheet cake tastes just like pumpkin pie. It is very quickly assembled once you have pumpkin puree. We often bake a large amount in the fall, scrape the flesh, puree it, and can it for use throughout the year. We adapted this from a recipe from one found in the 1993 Farm Recipes and Food Secrets from the Norske Nook by Helen Myhre and Mona Vold.
4 eggs
1 cup vegetable oil
2 cups sugar
2 cups pumpkin puree
2 cups flour
1½ teaspoons salt
2 teaspoons baking powder
½ teaspoon ground cloves
2 teaspoons ground cinnamon
½ teaspoon ground ginger
½ teaspoon freshly ground nutmeg
Pumpkin-Pecan Buns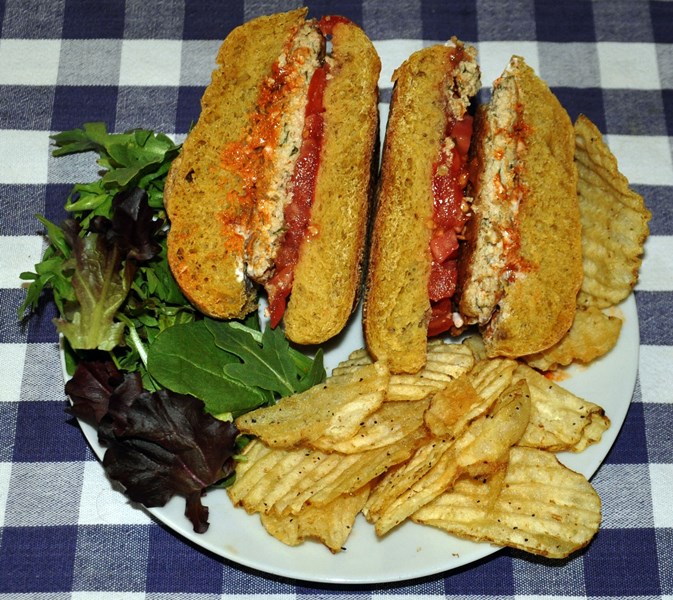 Our last roll and veggie burger combination is a modern recipe with no historical equivalents as it marries tofu with Middle Eastern seasonings.
We have chosen a pumpkin-pecan roll as its accompaniment. We find the earthy flavor of squash and sweet nutty accent of pecans to accentuate the sesame, garlic, and cumin in the burger.
2 pounds squash, cut open with the seeds removed
1½ cups raw pecan pieces
2 tablespoons dry yeast dissolved into 2 tablespoons warm water
2 cups water
½ cup what germ
1 teaspoon ground cumin
3¼ cups unbleached white bread flour
1¼ cups whole wheat flour
1 tablespoon sea salt
Bake the squash in a 400° F oven for about an hour, or until soft. Remove from oven and cool. Scoop the pulp from the skin and mash with a fork. Save 1½ cups of mashed squash, and use the rest for other cooking.
Reset the oven to 350° F. Place pecan pieces on a baking pan, and roast in the oven until fragrant and lightly browned, about 10 minutes. Remove from oven and cool.
Place dry yeast into warm water and let sit until foamy.
Place water into the bowl of a bench-top mixer along with the squash, cumin, wheat germ, and active yeast. At low speed mix in flours until a medium-soft dough is formed, about 2 minutes. If the dough is too stiff, add in more water. Sprinkle salt over the dough and continue mixing at medium speed for another 6 minutes. Lower the mixer speed to low, and mix in the roasted pecan pieces until all have been incorporated into the dough. (The dough can also be made by hand; in this case add in the salt with the flours, and knead until the dough is satiny, about 10-15 minutes. Knead in the pecan pieces at the very end.)
Cover bowl with a damp cloth or with a plastic bag, set in a warm place, and let raise until doubled.
Form and bake as per the general directions (click to follow link).
The best type of squash to used is one of the sweet, dense, non-stringy Cucurbita maxima or Cucurbita moschata varieties.
1 batch Chevre Frosting
Preheat oven to 350º F. Butter and flour an 8x12" cake pan.
Beat together the eggs, oil, sugar and pumpkin puree until creamy. It is easiest to do this with an electric mixer.
Sift together the flour, salt, baking powder, and ground spices. Mix 1/3 at a time into the wet ingredients, stirring well to eliminate all lumps.
Pour into the prepared 8x12" pan. Bake for 45 minutes or until a knife comes out clean.
Prepare the chevre frosting as detailed in the Carrot Cupcake recipe. Frost after the cake has completely cooled.
Spicy Pumpkin Stew (Yedubba Wat)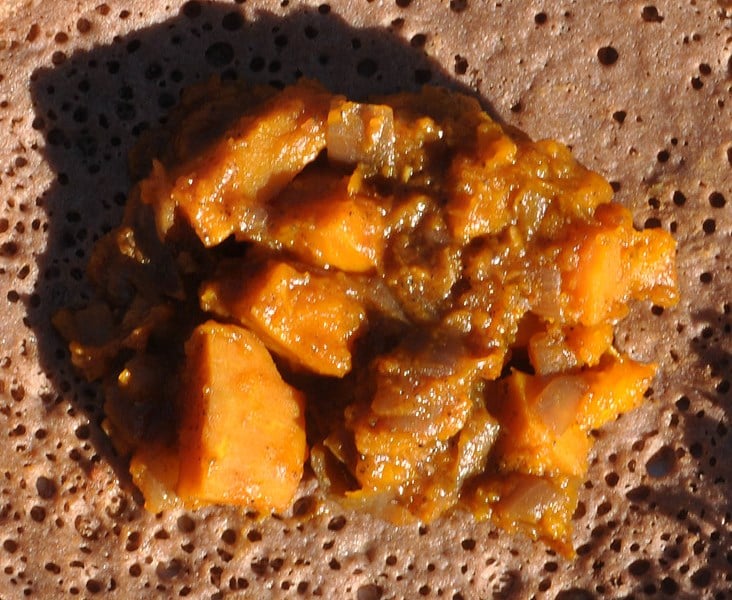 The classic Ethiopian flavorings of onion, garlic, ginger, cardamom, berbere, and spiced butter are a revelation when cooked with winter squash: while not tasting like any squah you've ever eaten before, it will also never have tasted as good. For this recipe it is important that you find a sweet, non-stringy winter squash, preferably aCucurbita maxima (some type of Hubbard) or a Cucurbita moschata (some type of Butternut). Acorn Squash (a Cucurbita pepo) is just too bland and stringy to be enjoyable; use these for baking with butter and brown sugar. Makes 8 cups
2 cups red onions, chopped
½ cup spiced butter, melted
1 tablespoon pressed garlic
1 tablespoon freshly grated ginger paste
1 tablespoon berbere paste
1 teaspoon whole cardamom seed, ground
1 teaspoon freshly ground black pepper
6 cups cubed winter squash
4 cups water
Salt to taste
Sauté onion in spiced butter until softened, about 10 minutes. Add in garlic, ginger, berbere, cardamom, and black pepper. Stir fly over medium heat for 3 more minutes. Add in the squash cubes, and stir to coat evenly. Add in water and bring to a boil. Reduce heat to low and simmer for 20-30 minutes until the squash is tender. Be sure to check the squash starting at 15 minutes of cooking, as you don't want the pieces to over cook, become mushy, and break apart. Serve hot.
Squash and Radish Curry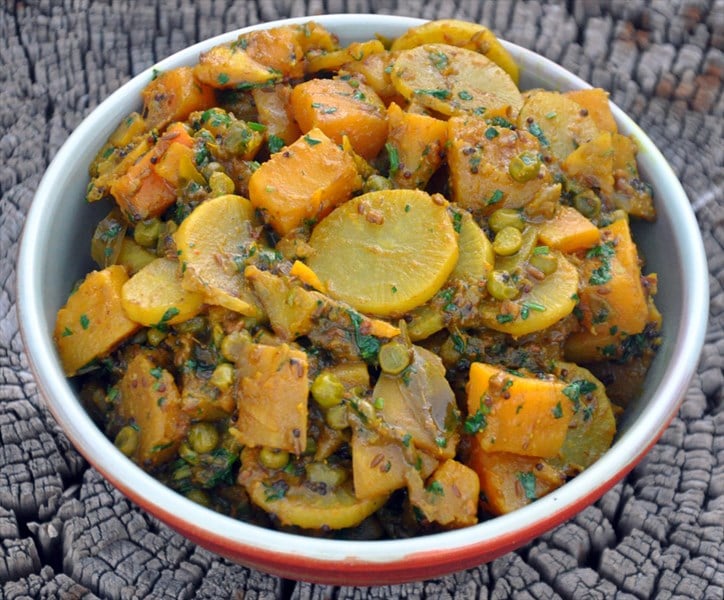 On the surface this may seem like an odd combination, but it is really tasty with the sweet/savory squash playing beautifully off the sharper radish. It also looks stunning with its orange squash cubes and white radish rounds. While you could make this with typical salad radishes, it really is best concocted with radish rounds cut from a large daikon (also known as mooli) root. We've adapted this recipe from one presented in Yamuna Devi's 1987 Lord Krishna's Cuisine (ISBN 978-0525245643) by making it vegan.
¼ cup canola oil
1 tablespoon fresh ginger root paste
1 teaspoon cumin seed
½ teaspoon black mustard seed
½ teaspoon fenugreek seed
8 curry leaves
¼ teaspoon asafoetida resin, crushed
¾ pounds daikon radish, peeled and cut into ½" slices
1½ pounds peeled and seeded squash, cut into 1" dice
¼ teaspoon cayenne pepper
1 teaspoon turmeric
2 teaspoons ground coriander
¼ cup water
½ cup peas
2 tablespoons lemon juice
1 teaspoon salt
¼ cup cilantro, washed and chopped
Heat oil in a heavy skillet over medium-high heat until almost smoking. Add in the ginger paste, cumin, mustard and fenugreek seed. Cover the pan and shake vigorously until the mustard seeds have quite popping. Remove cover. Add in the curry leaf and asafoetida and stir fry for 10 seconds. Add in the radish slices and sauté until they begin to brown, about 5-10 minutes. Add in the squash, cayenne, coriander, and water. Cover, reduce heat to low, and cook until the squash is fork tender, about 20-30 minutes. A few minutes before the squash is cooked, add in the fresh peas, lemon juice, salt, and cilantro. Remove from heat, toss, and serve.
Squash Baba Ghanoush
Seasoned, roasted vegetable pastes are a common mezze, or appetizer, across the Middle East, where they are typically eaten with flat bread. Classic baba ghanoush is made from roasted eggplant, a crop which has been grown in the Middle East for at least 4000 years. After European contact with the New World, a large number of new crops were introduced, including squash. Middle eastern peoples quickly realized that these new vegetables could also be used in their traditional dishes. 'Fusion' cuisine is thus nothing new, as this recipe shows. To make the best squash baba ghanoush, use a sweet, non-stringy Curcurbita maxima variety.
2 lbs hubbard squash or any C. maxima variety
2 tablespoons olive oil
1½ tablespoons garlic, minced
¼ cup lemon juice
2 tablespoons tahini
salt to taste
sumac and extra virgin olive oil to garnish
Cut squash in half, remove seeds, brush with olive oil and bake uncovered for 1½ hours at 325º F. until tender. Don't worry if the squash meat browns on the surface; it adds to the flavor. Remove from oven, cool.
Scoop pulp from skin and place in a mixing bowl. Add garlic, lemon, tahini, and salt. Mash and mix vigorously with a fork until all the ingredients are combined. It is ok for there to be some small lumps, but you don't want large chunks of squash remaining. Scoop into serving bowl, shake on ground sumac, and cover with a layer of olive oil. Serve with your favorite flat-bread.
Wild Rice Stuffed Squash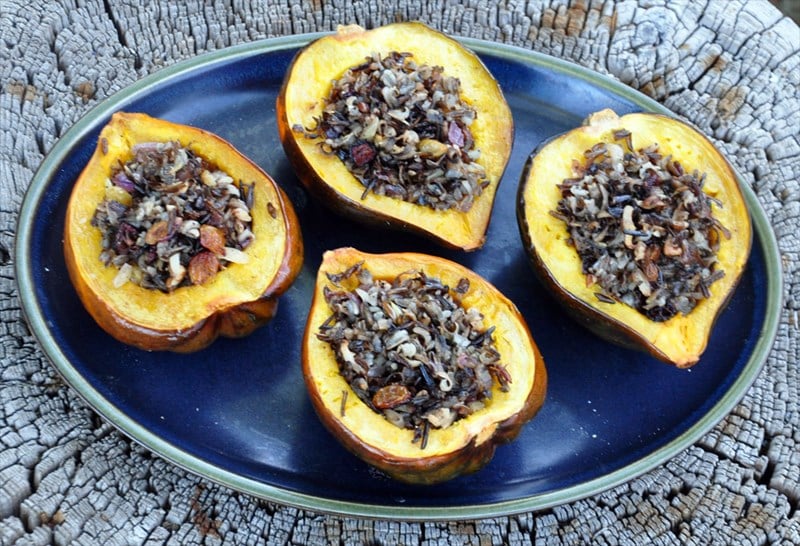 This incredible vegan dish tastes so rich that few will believe that is has no meat or dairy. We adapted our recipe from a version presented in Annie Somerville's 1993Fields of Greens cookbook by using the indigenous North American crops of cranberries and pecans. While we used small acorn squash any 1 pound winter squash will work just fine.
4 small winter squash, cut in half with seeds removed
Olive oil
½ cup wild rice
3 tablespoons golden raisins
3 tablespoons dried cranberries
½ cup hot water
1 tablespoon olive oil
½ cup red onion, finely diced
½ teaspoon sea salt
1 garlic clove, minced
½ cup fennel bulb, finely diced
¼ cup white wine
2 tablespoons toasted pecan pieces
½ teaspoon freshly ground black pepper
Preheat oven to 375º F. Lightly brush squash halves with olive oil and place cavity-side down on a baking sheet. Bake until just barely tender, at least 20 minutes. Remove from oven and turn cavity side up.
Cover wild rice with ample water and bring to a boil in a small pot. Cover, reduce to simmer, and cook until tender, about 45 minutes. Drain and reserve.
Cover raisins and cranberries with hot water and let sit for at least 30 minutes. Drain and reserve.
Heat olive oil in a heavy skillet over medium. Add onion and salt and sauté until onions have softened, about 5-8 minutes. Add in the garlic and fennel, and continue sautéing another 5 minutes. Add in the white wine and simmer until it has almost completely evaporated.
Place toss the cooked wild rice, plumped raisins and cranberries, sauté mixture, pecans and black pepper in a bowl. Divide evenly among the 8 squash halves, and place stuffing side up in a roaster pan filled with ¼" water. Cover and bake for another 35-45 minutes until the squash is well cooked.
Winter Squash and Greens Couscous -- Djerba, Tunisia
The peoples along the southern shore of the Mediterranian are also great devotees of spring greens, and in this recipe these greens are used in a wonderful couscous. We've adapted the version presented below from a meat-based recipe appearing inPaula Wolfert's Mediterranian Grains and Greens. In this case we've just left out the fish and replaced it with marinated potato chunks. This is a very frugal meal, as you steam the couscous and vegetables over the spiced tomato broth (served along side as a sauce), giving them a wonderful, subtle flavor of tomato, garlic and spices. Whatever broth is left over can be easily made into a wonderful salad dressing by adding 2 parts broth to 2 parts olive oil to 1 part wine vinegar.
You'll note that the recipe calls for harissa, a spiced chile paste characteristic of north Africa. While it is easy to make, showing you how to do this now is beyond the scope of this month's recipes. We promise to do this at some point in the future. If you'd like to make your own, track down the recipe from Elisabeth Luard's cookbook, Saffron & Sunshine. Or, you can buy harissa from most Middle Eastern groceries. One one-line source is at the Spanish Table. Serves 8
1/3 cup extra virgin olive oil
½ cup minced onion
1 tablespoon crushed garlic
1 tablespoon ground cumin
1 teaspoon salt
½ cup tomato paste
2-inch cinnamon stick
½ teaspoon dried mint
2 teaspoons harissa
1 green bell pepper, cored, seeded, and finely diced
8 cups stock
In the bottom of your steamer pot, sauté the onion in olive oil over low heat until light yellow. Add in garlic, cumin, salt and tomato paste and stir over heat for 1-2 minutes. Add cinnamon, mint, harissa, green pepper and 1 cup stock. Cook until the peppers are soft. Add the remaining stock and simmer over medium heat for 10 minutes.
1 pound medium or small couscous
1 tablespoon crushed garlic
2 tablespoons harissa
¼ cup tomato paste
1 cup sliced onion
2 tablespoons olive oil
2 pounds waxy boiling potatoes, peeled and cut into 2" cubes
1 pound carrots, peeled, and cut into 2" pieces
1 pound small turnips, peeled and quartered
1 pound of peeled and cored winter squash cut into 2" cubes
1 pound spinach, cut into thin shreds
2 bunches flat leaf parsley, finely chopped
Rinse couscous under running water, and let sit until grains swell, about 10 minutes.
Toss the cubed potatoes with garlic, harissa, tomato paste, onion, and olive oil and set aside.
Line a steamer basket with a tea towel, and pour in the soaked couscous. Break up any lumps with your fingers, and wrap with the edges of the tea towel. Place the basket over the simmering tomato broth, cover, and let steam for 20 minutes.
Move couscous into a wide bowl. Break up any lumps while mixing in 1 cup of tomato broth removed from the simmering pot plus 1 teaspoon salt.
Place carrots and turnips into the remaining simmering tomato broth and bring back to a boil. Place a steamer tray on top of the simmering broth, and add in the marinated potatoes and squash. Place a second tray on top of the first, lay a tea towel in the bottom, and fill with the couscous, Cover and steam for 10 minutes. Remove the couscous tray and place shredded spinach and chopped parsley over the potatoes and squash. Return the couscous tray and continue steaming for another 15 minutes or until the potatoes and squash are tender.
Move the couscous into a wide serving dish and fluff with a fork. Adjust the seasoning for the tomato broth with salt and pepper, and then gradually moisten the couscous with 2 cups of the tomato broth. Mix well, cover, and let stand 15 minutes. Remove carrot and turnip chunks from the tomato broth and place over the couscous. Remove the cinnamon stick and discard. Arrange potatoes, squash, and greens over the couscous as well. Pour remaining tomato broth into a tureen, and serve with the couscous.