Iroquois Strawberry Bread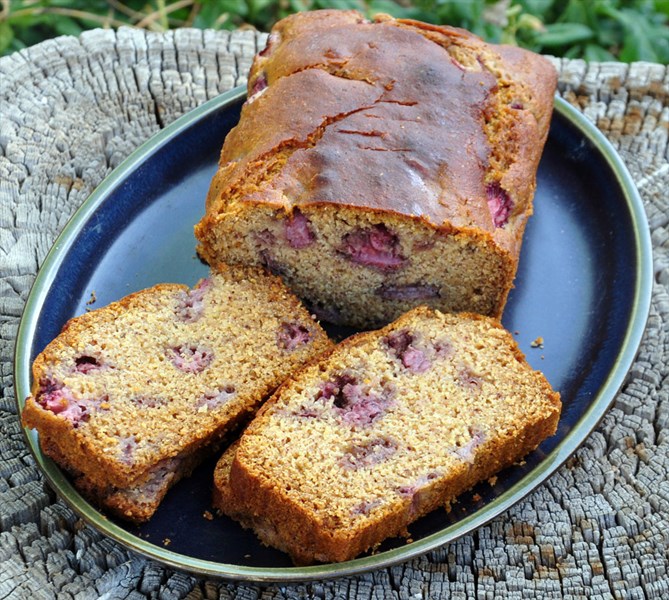 One of the most important spring festivals among the Seven Nations tribes is the Strawberry Festival (Ha-Nan-Da-Yo) that celebrates the return of strawberries, the first fresh fruits of the season. The following excellent vegan sweet bread is served during this festival. It highlights a wonderful strawberry flavor and comes from the Iroquois Confederacy of Upstate New York. The following is adapted from Beverly Cox and Martin Jacobs' 1991 Spirit of the Harvest (ISBN 978-1556701863)
1/3 cup hazelnut butter
1¾ cup water
½ cup honey
1 cup flour
1 cup cornmeal
1 teaspoon baking soda
1 teaspoon salt
1½ cups strawberries, trimmed, washed, and quartered
Preheat oven to 375º F.
In a pan, heat hazelnut butter and water over medium-high heat until it just comes to a boil. Watch carefully or it will boil over! Remove from heat, whisk in the honey, and allow to cool slightly.
In a large bowl sift together the flour, cornmeal, baking soda, and salt. Mix in the nut-honey mixture, making sure there are no lumps. Fold in the strawberries.
Bake in a greased 2-pound loaf pan for at least 35 minutes, until an inserted knife comes out clean.
Strawberry-Rhubarb Toaster Pastries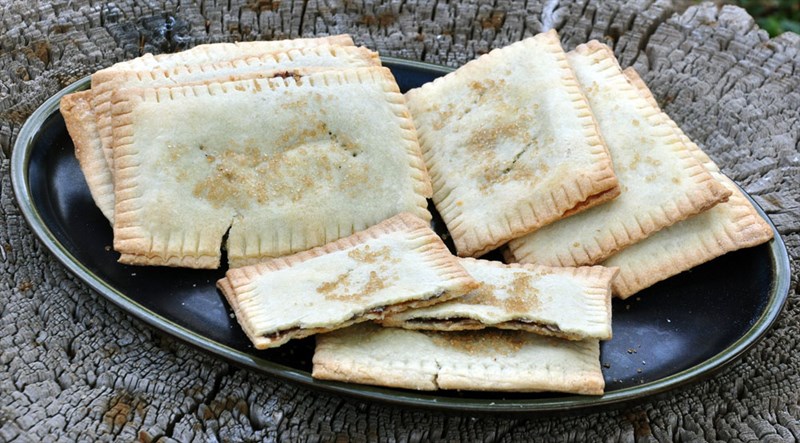 Why buy toaster pastries when your own home made are not only fresher but also can be made with any number of home-made jams? Here we show you how to make you own, using a wonderful strawberry rhubarb jam from Madelaine Bullwinkel's1985 Gourmet Preserves Chez Madelaine (ISBN 978-0809254828). We then follow with instructions about making your own toaster pastries based loosely on Daphne Metaxas Hartwig's 1983 More Make Your Own Groceries (ISBN 978-0672526718). Note that the Strawwberry-Rhubarb jam recipe makes 4 cups, and you'll need no more than 1½ cups of this for the pastries. So you'll have plenty of jam left over for other uses.
Strawberry Rhubarb Jam
1 pound rhubarb stems, trimmed, cleaned, and cut into ½" dice
2 pounds strawberries, trimmed, washed, and halved
¼ cup water
¼ teaspoon lemon extract
2 cups sugar
Combine all ingredients but sugar in a heavy, non-reactive 4 quart pot. Bring to a boil and cook for 15 minutes, stirring regularly. Add in the sugar ½ cup at a time, letting the mixture return to a simmer before adding more. When all the sugar has been added, cook for another 10-15 minutes, stirring constantly, until the jam thickens and begins trying to stick to the pan bottom. The temperature of the mixture should be around 210º F. Remove from heat, skim off any foam, and place in clean canning jars. Secure lids and process for 10 minutes in a hot water bath.
Toaster Pastries
½-¾ pint of Strawberry-Rhubarb Jam
One batch of pastry
Preheat oven to 350º F.
Make pastry using the directions found in the Swiss Chard, Raisin, and Apple Tart recipe. After chilling for an hour, cut the pastry into roughly ¼ cup slices. Run slices through a pasta machine, starting with the widest setting (#1) until you reach the #4 setting, or 1/16" thick. You'll probably want to lightly flour both sides of the pastry before each pass.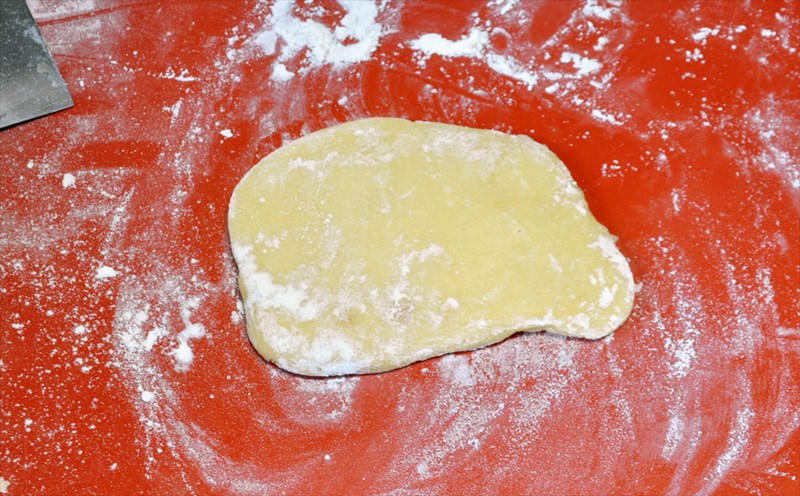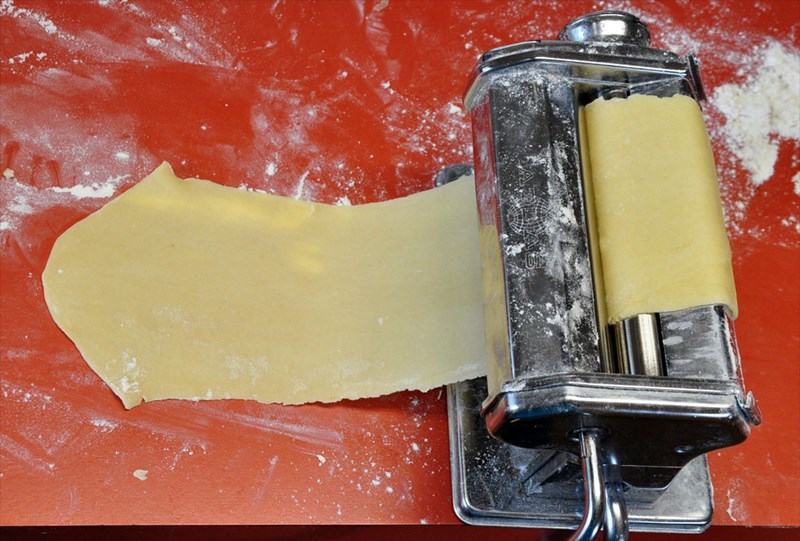 Trim the rough edges of each sheet. Cut into equal roughly 4x6" rectangles. Place a heaping tablespoon of jam into the center of a pastry square, and spread evenly out to within ½" of the edge. Place another sheet over the top. Seal the edges by using the tines of a fork, being sure to not miss any areas or the jam will escape. Place on a heavy baking sheet. Repeat until all of the pastry has been used; this should make about 16 pastries.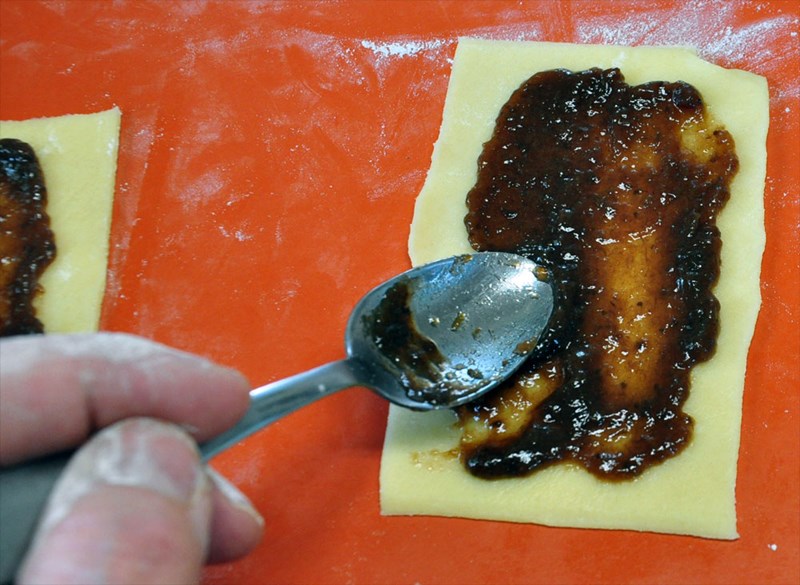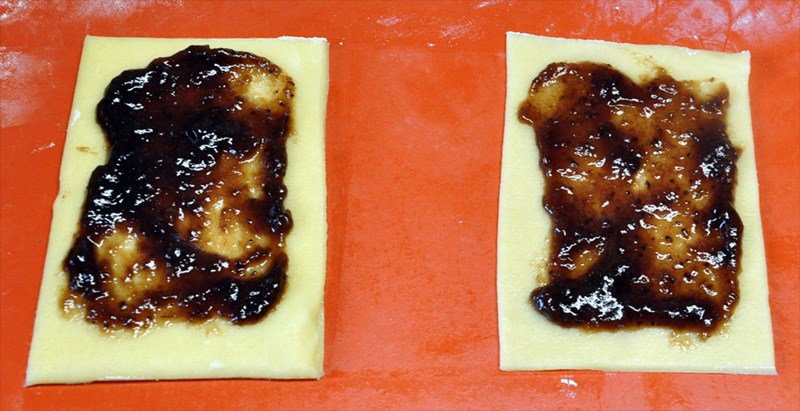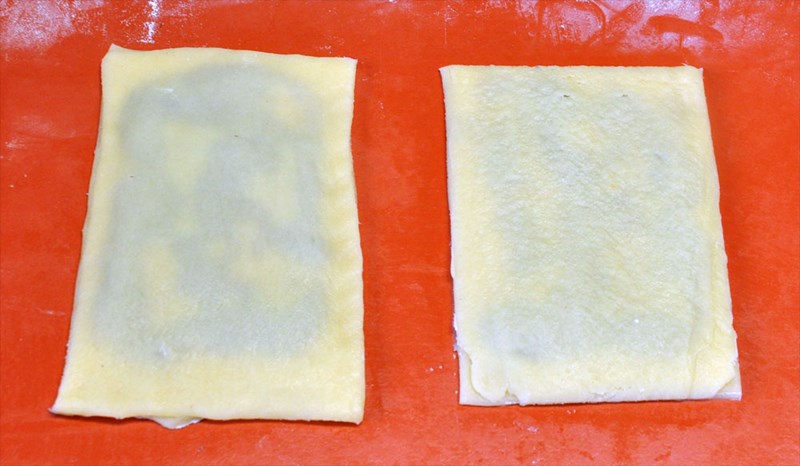 When all pastries have been assembled, prick each pastry top twice with your fork, being sure to not make any holes in the bottom crust. Tightly brush the top crust with a bit of milk, and then sprinkle with coarse sugar.
Bake for 10 minutes; remove from oven and re-prick the holes on each tart to keep them flat while baking. Return to oven and bake for another 15 minutes until the edges have begin to brown. When cool, wrap to keep from drying out.
To serve, place a pastry in the toaster and toast once at medium.