Ailazan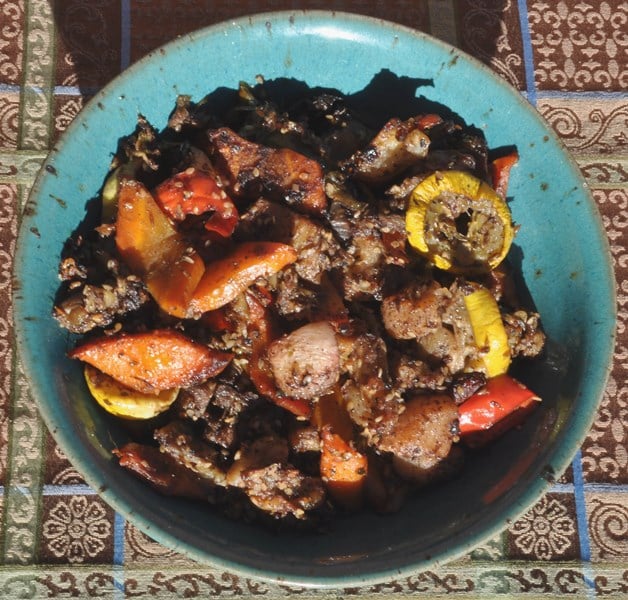 While we looked west to the Maghreb for our iftar soup, we now look east for the following roasted vegetable dish which originated in the Caucasus. The cuisines of the Caucasus peoples – in particular the Armenians and Georgians – represent a unique combination of both savory and sweet flavors. In the case of this recipe its eastern origins are suggested by the use of sweet flavorings like spearmint, cinnamon, and cardamom in combination with more savory ingredients like cumin and olive oil, the nuttiness of sesame seeds, and the sweet/sour/peppery contribution of sumac. While you'll want to keep the spice mix the same, you should not feel obliged to use the exact vegetables listed below, as they simply represent what was fresh and available in Albuquerque when we trailed the recipe in mid-June. So, head out to your garden or local farmer's market and choose a nice mélange of roasting vegetables. As long as they are fresh and harvested at their peak of flavor you can't go wrong. Serves 4-6:
2 medium eggplants cut into ½ inch slices, and then into 2 inch wide planks
4 carrots cut into ¼ inch thick diamond shapes
1 summer squash cut into ½ inch thick rounds
12 cipollini onions, skinned but left whole
½ each of a red, yellow and green pepper, cut into ½ inch wide strips
6-8 small turnips, peeled and quartered
1/3 cup olive oil
1 tablespoon dried spearmint
1 tablespoon dried sumac
½ teaspoon ground cinnamon
1 teaspoon ground cardamom
1 teaspoon ground cumin
¼ cup sesame seeds
salt and ground pepper to taste
Preheat oven to 450° F. Toss prepared vegetables with spice mix, sesame and olive oil. Place in a single layer on a large oiled pan. Roast for 10 minutes, stir vegetables and seasonings and cover pan. Return to oven and reduce heat to 350° F. Bake for another hour, allowing vegetables to steam. Uncover pan, stir vegetables and seasonings, and continue roasting uncovered until the vegetables are well browned, about 30 minutes.
The vegetables may be served either hot or cooled to room temperature. While they are wonderful eaten on their own, they are especially nice when stuffed into a split
khoubz loaf
and topped with
laban sauce
.
You'll need to find a Middle Eastern market for ground sumac, which is related to but different tasting than the various types of wild sumac found throughout North America. This spice is also available from on-line vendors. Just be sure you are using freshly ground sumac as its vibrant flavor will fade within a few years. Also be sure to use spearmint which is much sweeter than toothpaste-flavored peppermint.
Gazpacho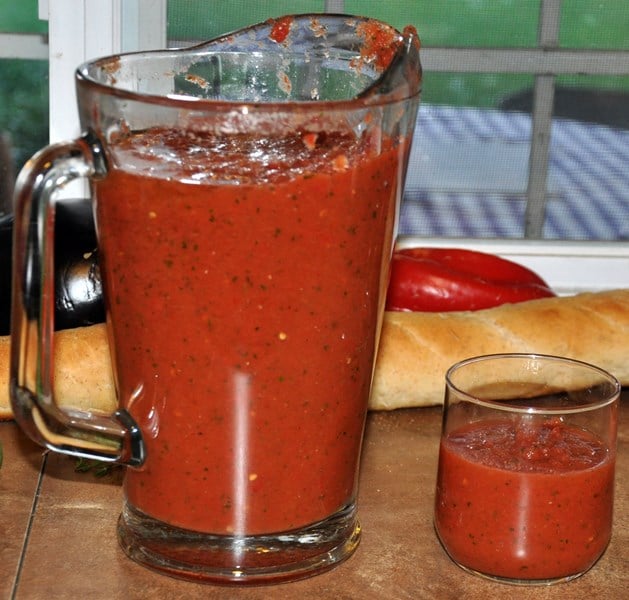 We tend to think of gazpacho as a cold soup made with fresh tomatoes, bell peppers, cucumber, garlic, sometimes bread crumbs, and seasoned with vinegar. But, the two main ingredients of this "liquid salad" – tomatoes and bell peppers – were unavailable in Spain until after contact with the New World. It turns out that this dish is not a recent invention. Rather it extends much farther back into history, with some more ancient progenitors (for instance Ajo Blanco Gazpacho from Malaga) being made from garlic, almonds, bread, olive oil, vinegar, and salt) lacking these new ingredients.
While some point to a Moorish origin for gazpacho, food historian Raymond Sokolov suggests that this dish may actually date back to the Roman Empire. He notes that Romans enjoyed eating bread soaked in vinegar, and suggests that an ancient version of this dish may be described in the Book of Ruth: ''Come thou hither, and eat of the bread, and dip thy morsel in the vinegar.'' It should not be surprising that the word 'gazpacho' itself appears quite complex, and is likely a Spanish transliteration of an Arabic transliteration of the Greek 'Γαζοφυλάκιον' which refers to offerings put into the alms box in a church – in other words a large mix of a small items.
Soon after contact with the New World, older versions of gazpacho were adapted to include new vegetables such as tomatoes and peppers and it soon evolved into the crushed cold tomato soup / salad that we now associate with this name. Yet, until relatively recently this dish was hardly known outside of Andalusia in the south of Spain. Spanish cookbook authors Alicia Rios and Lourdes March point to Eugenia de Montijo, the nineteenth century wife of the French Emperor Napoleon III, as one of the people who helped spread this dish into the larger Spanish culture. By the 1960s gazpacho had spread into the USA, where it briefly achieved fad status.
We have elected to forgo use of dry bread crumbs in the following gazpacho, as we are not convinced that it is necessary. Rather, we feel the essential components are dead-ripe vegetables just gathered from the garden which are pureed with a good quality sherry vinegar. Remember that the soup will taste much better once the individual flavors have melded – at least 4-6 hours. Serves 6
2 pounds ripe tomatoes, skinned, seeded, and quartered
1 ½ cups tomato juice
2 garlic cloves, crushed
1 large red bell pepper, seeded and coarsely chopped
3 green onions, coarsely chopped
1 small to medium cucumber, peeled and coarsely chopped
2 tablespoons parsley, minced
2 tablespoons sherry vinegar
salt and freshly ground black pepper to taste
Put tomatoes in food processor or blender and process until smooth. Add in remaining vegetables and process until smooth. Put vegetable puree into a pitcher or bowl and mix in the vinegar, salt and pepper. Adjust seasonings. Cover and let chill overnight in the refrigerator. Ladle into chilled bowls and serve cold. If your food processor or blender is not large enough for the full batch, divide the ingredients into two equal lots, and process separately.
Modovan Vegetable Caviar (Givech)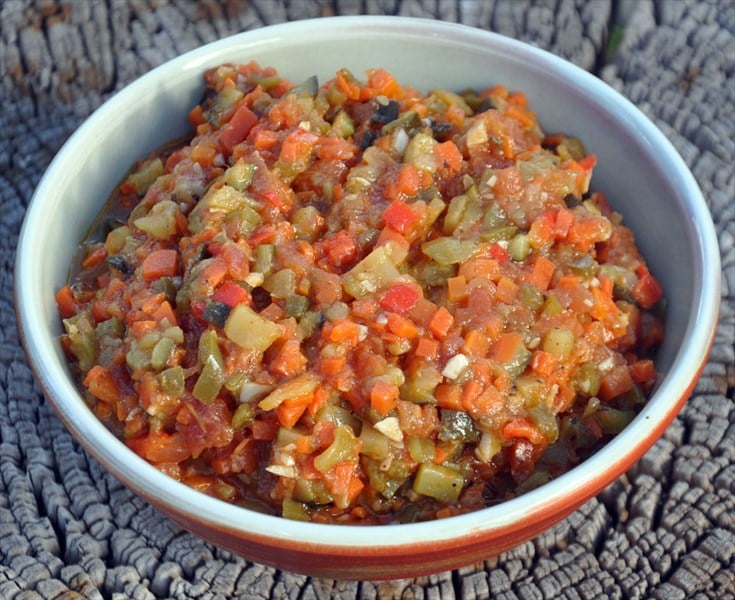 A goldmine for vegetarian foods are the cuisines of Orthodox Christian countries, in which meat-free fast-days are frequent throughout the year. This has led to a number of ingenious dishes, including a wide variety of meat-free 'caviars' throughout eastern Europe and Russia. We suspect that these are called caviar because like their namesakes, they represent highly flavored pastes that are often spread over blinis or bread. The following is a ratatouille-like sweet-pepper forward vegetable caviar from Moldova. We've adapted our recipe from one presented in Anya von Bremzen & John Welchman's 1990 incomparable Please to the Table (ISBN 978-0894807534).
1½ pounds eggplant
¼ cup olive oil
2 carrots, peeled and cut into ¼" dice
1 large red bell pepper, cored, seeded and cut into ¼" dice
2 large green bell peppers, cored, seeded and cut into ¼" dice
2 small zucchini, cut into ½" dice
1 tart apple, peeled, cored, and cut into ½" dice
6 large garlic cloves, minced
1 cup tomato, peeled, seeded, and cut into 1" dice
¼ cup lemon juice or more to taste
½ teaspoon sugar
salt and freshly ground black pepper, to taste
Preheat oven to 400° F. Pierce eggplant in several places with a knife, place on a baking sheet, and place in oven. Roast for 30 minutes, and then turn the eggplant over. Continue baking until the eggplant has become soft and has collapsed. Remove from oven and cool.
Cut roasted eggplant in half and scoop out the pulp, discarding the skin. Coarsely chop and reserve the pulp.
Heat the olive oil in a large heavy pan. Add carrots and sauté for 5 minutes. Add in the remaining ingredients in order (red and green peppers, then zucchini, and finally the apple) at 3-4 minute intervals. Add in the reserved eggplant pulp and half the garlic. Cover and simmer over low heat for 40 minutes. Add the tomatoes and continue simmering for another hour, stirring occasionally.
Remove from heat. Add in the remaining garlic, lemon juice, and sugar. Adjust seasoning with salt and pepper. Transfer mixture to a covered bowl and refrigerate for several hours before serving.
Marinated Roasted Red Peppers
This is our favorite way to put up bell peppers for use over the year. We wait until the main crop is coming in during the summer, and then roast up a large batch and make it in gallon-sized quantities (which is shown above). We give below directions for a quart-sized batch, adapted from one presented in James McNair's 1980 Adventures in Italian Cooking (ISBN 978-0917102899).
6-8 bell peppers
4 garlic cloves, peeled and sliced
1 tablespoon fresh oregano, minced – or 1 teaspoon dry oregano, crumbled
2 tablespoons capers (optional)
¼ cup white wine vinegar
1 teaspoon salt
Roast the peppers until the skins are charred all over. Place in a plastic bag and let steam for 15 minutes. Wash off skins. Cut each pepper into 4 slices, removing the seeds and stem.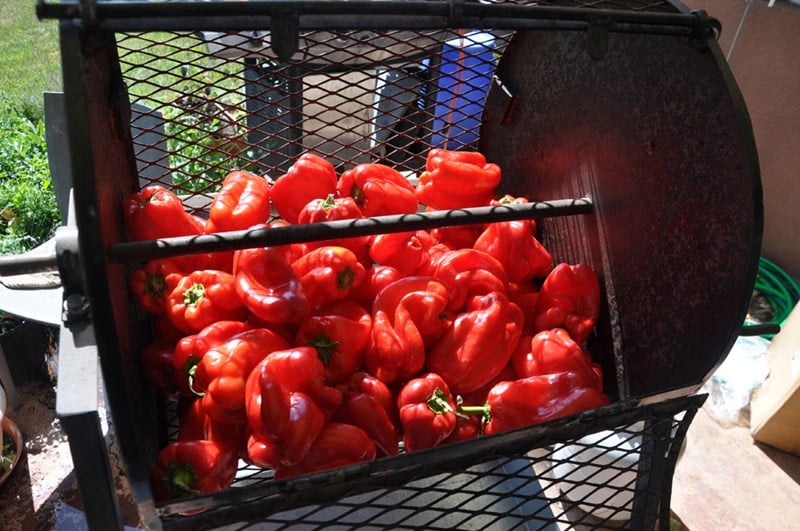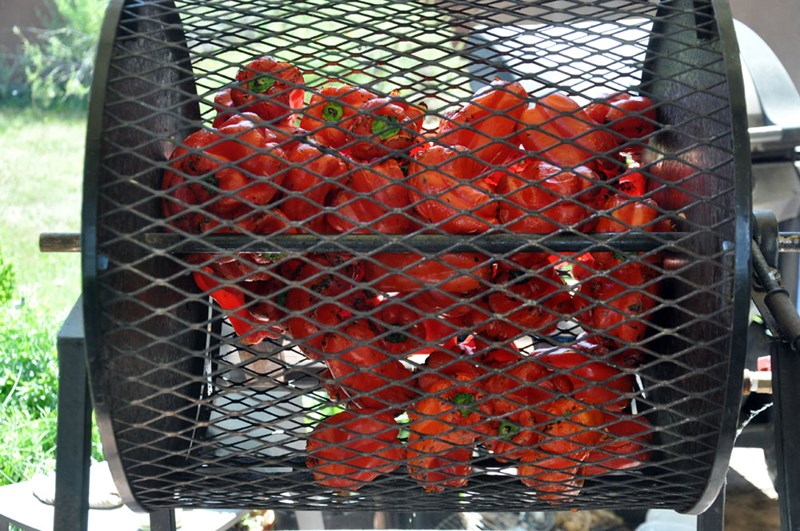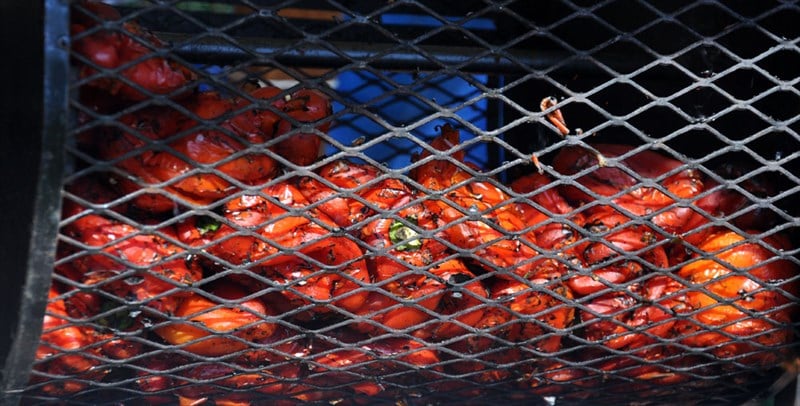 Mix together the vinegar and salt.
Place a layer of red pepper strips into the bottom of a clean quart jar. Place sliced garlic, oregano, and optional capers over this, and cover with another layer of pepper slices. Repeat layering pepper and seasoning until the jar is almost filled. Top off the jar with the olive oil and vinegar mixture. Cover jar and tap to disperse any air bubbles.
Place in the refrigerator. Let sit for at least a day. Serve at room temperature.
Pasta with Mushrooms & Peppers
Here is an excellent way to use fresh bell peppers from your garden. The original recipe was presented in Guiliano Hazan's 1993 The Classic Pasta Cookbook and based on a dish he enjoyed at Antonello Colonna in Labico outside of Rome. We've altered to make it vegetarian.
1/3 cup extra virgin olive oil
6 whole garlic cloves, crushed and peeled
1 teaspoon dry sage (or 1 tablespoon fresh)
1 teaspoon dry rosemary (or 1 tablespoon fresh)
1 pound crimini mushrooms, cut into ½" dice
1 large yellow and 1 large red bell pepper, cut into ½" dice.
2 tablespoons butter
salt and freshly ground black pepper, to taste
1/3 cup Parmesan cheese, grated
1 pound bow-tie pasta
Heat olive oil with garlic, sage, and rosemary over medium-high heat, stirring frequently, until the garlic has browned on all sides. Remove from heat and pour oil through a strainer to remove the garlic and herbs.
Place seasoned oil into a large pan over medium-high heat. When the oil is hot, add in the fresh mushrooms and sauté until their released water has evaporated. Add in the red and yellow bell peppers and continue sautéing until they are tender, about 5-10 minutes. Season to taste with salt and pepper.
Bring 4 quarts of salted water to a boil. Add the pasta and cook until al dente. Drain. Toss pasta with the sauce and grated cheese. Serve immediately.
Pisto Manchego
Throughout the Mediterranean one can find vegetable stew recipes built upon the abundance of late-summer gardens. These inexpensive but satisfying dishes were initially simple peasant food, but eventually migrated into restaurants, courts, and the kitchens of the wealthy. While perhaps the most well known is the Provençal ratatouille, similar dishes are found east into Italy (the related ciambotta is made with spring vegetables), central Europe, the Middle East, and Caucasus. One of our favorite versions, termed gvetch, comes from Moldova and also includes diced apple.
This dish is also found throughout Spain: the Catalans refer to it as samfaina while the Majorcans call it tombet and in southern Spain it is referred to as alboronia. Throughout the Spanish heartland, it is called pisto manchego (or simply pisto), referring to the La Mancha region made famous by the Cervantes stories about Don Quixote, Sancho Panza, and the lovely Dulcinea.
While pisto manchengo is generally thought to have originated in Spain with the Moors, tomatoes, peppers and summer squash were not available until after contact with the New World. Thus modern versions of pisto must trace back to no earlier than the 1500s – after the Moors had been expelled from Spain. The ancestral version of this dish must have been based on stewed eggplant, onions and garlic, augmented by other Old World vegetables like cabbage and carrots. Given that these ingredients are all indigenous to the original homeland of the Romany in northern Indian and Pakistan, to us it seems likely that this family of dishes was actually brought to Europe via Gypsy caravans over 1000 years ago, being embraced by the many and varied cultures that they came into contact with along the way.
Pisto machengo is often served as an accompaniment to other dishes. For tapas, it is often served on toasted bread slices, much like bruschetta. It can also be used as empanada filling. We used the leftovers to make our
tapas lasagna
, discussed in the roasted red pepper entry.
2/3 cup olive oil
2 large onions, cut into ½ inch dice
6 garlic cloves, minced
½ teaspoon cumin seed
2 medium eggplant, cut into ½ inch dice
6 tomatoes, peeled, seeded, and roughly chopped
¾ pound summer squash, cut into ½ inch dice
3 roasted bell peppers, cut into ½ inch dice
1 tablespoon oregano
1 tablespoon sherry vinegar
salt and freshly ground black pepper to taste
Heat half of the oil in a heavy skillet, add in the onion and garlic, and sauté over medium heat for 7-10 minutes until soft. Remove to a bowl.
Add remaining oil to the skillet and heat to medium-high. Add in the cumin, and sauté for 15-20 seconds until seeds have begun to brown. Now add the cubed eggplant and stir while they absorb the oil, cook a bit, and then begin to release oil. Add in chopped tomatoes and simmer for 10-15 minutes. Stir in summer squash, bell peppers and oregano and continue to gently simmer until all of the vegetables are cooked. Remove from heat and add vinegar, adjusting flavor with salt and pepper. May be served hot, cold, or at room temperature.
Use the above recipe as a suggestion only and base yours on whatever fresh produce is available in your garden.
Bread Salad with Roasted Peppers
One of our favorite summertime meals is centered around panzanella, the bread salad of Tuscany. In a typical panzanella fresh tomatoes take center stage. In the following recipe – inspired by one presented by Julia Della Croce in her 1996 The Classic Italian Cookbook – roasted sweet bell peppers take over this role. The resultant salad is intriguingly different but still excellent. Do make sure to roast and peel your peppers before using them in this salad, as raw peppers will just not have the correct taste and mouth-feel. If you would like to cut a corner and make this an even easier dish, consider using
marinated roasted bell peppers
that you've already made and have in your refrigerator.
2 large red or yellow bell peppers
½ cup extra virgin olive oil
¼ cup white wine vinegar
1 tablespoon fresh oregano, mined – or 1 teaspoon dry, crumbled
½ teaspoon salt
½ teaspoon freshly ground black pepper
1 small red onion, peeled, cut in half, and very thinly sliced
3 green onions, finely sliced
2 tablespoons green olives, pitted and sliced
1 pound rustic bread, cut into bite-sized pieces
Roast peppers until the skins are charred throughout. Place in a plastic bag and let steam for 10 minutes. Remove skins under running water. Remove seeds and slice the roasted peppers into ½" wide strips.
Combine the olive oil, vinegar, oregano, salt, pepper, red onion, green onion, and green olives. Let sit for 15 minutes to allow the flavors to meld.
Toss together the roasted pepper strips, bread, and dressing. Serve immediately.
Roasted Bell Peppers with Honey & Almonds
Here is another excellent example of early Renaissance fusion cooking in the Spanish tradition: sweet bell peppers (New World) roasted and marinated in a garlic-vinaigrette (Europe) garnished with almonds and honey (Middle East).
Because of the large number of tapas dishes that we made for this meal, and the fact that we're only a small family, there needless to say were a lot of leftovers. After a few days we made use of them by constructing a tapas lasagna, layering between noodles this dish along with Mushrooms in Garlic Sauce, Spinach with Pine Nuts and Raisins, and Pisto Manchego, and topping it all with Spanish Machengo Cheese. The experiment was a wild success, with the pepper's sweet-sour flavor and crunchy almond slivers being one of the highlights. In an odd way this casserole reminded us of Balti combination plates in which a number of separate dishes are mixed together to make something that was more than the sum of its parts. If you find yourself in a similar situation, do give this a try.
8 roasted and peeled red bell peppers, cut into 1 inch dice
¼ cup olive oil
3 garlic cloves, peeled and thinly sliced
½ cup shaved almonds
2 tablespoons honey
2 tablespoons sherry vinegar
2 tablespoons parsley, minced
salt and freshly ground black pepper to taste
Heat olive oil in a heavy skillet. Cook garlic slices over low heat for 4 minutes, stirring frequently. Stir in almonds, honey, and vinegar and remove from heat. Pour sauce over the roasted pepper pieces. Mix in parsley, and adjust seasoning with salt and pepper. Cool to room temperature.
Any flavorful, sweet bell pepper will work for this dish; choose the color that best fits your muse and/or available garden produce.