Swiss Chard Dip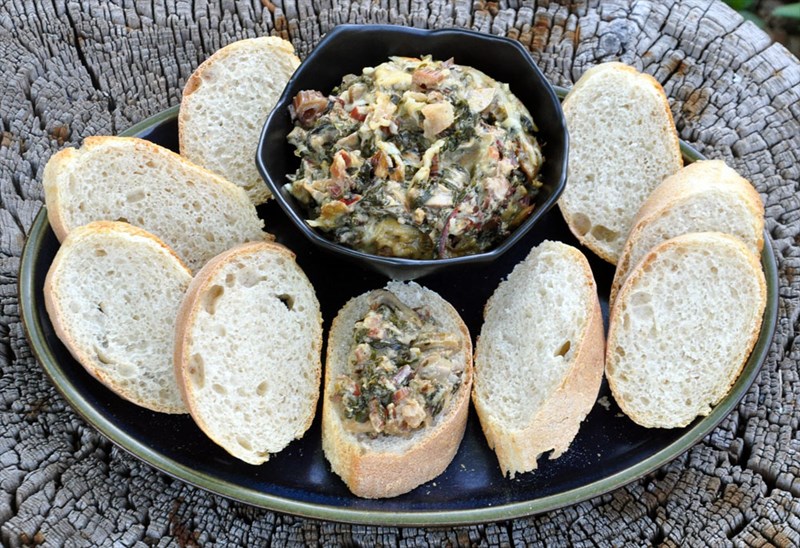 It is such a waste to simply discard the large stems of swiss chard as they also have a wonderful flavor and are quite nutritious. Here we share a recipe that we've created to use these stems, this time in the form of a savory, cheesy dip that along with a fresh baguette makes an excellent appetizer. This would be an excellent accompaniment to the Swiss Chard – Lentil soup.
1 tablespoon olive oil
¾ cup yellow onion, cut into small dice
4 large garlic cloves, minced
8 oz crimini mushrooms, cleaned and coarsely chopped
1 pound swiss chard stems, cleaned and coarsely chopped
¼ pound swiss chard leaves, cleaned and coarsely chopped
¼ cup dry sherry
2 tablespoons flour
½ cup milk
8-11 oz chevre, broken into 1 tablespoon pieces
½ teaspoon salt
½ teaspoon freshly ground black pepper
¼ cup grated parmesan cheese
Preheat oven to 450º F.
Heat oil in a heavy pan over medium. Add onion and sauté until translucent, about 5 minutes. Add garlic, and sauté for 15-20 seconds. Now add in the mushrooms, prepared swiss chard and sherry. Sauté another 10-15 minutes until the mushrooms are completely cooked, the chard stems are tender, and all the released liquid has evaporated. Add the flour, and cook for another 3 minutes, stirring constantly. Whisk in the milk and chevre and continue whisking until the sauce has thickened, 1 to 2 minutes more. Season with salt and pepper, and place mixture into a shallow, buttered, 1-quart baking dish. Top with the parmesan and bake until bubbling and golden on top, about 15 minutes. Serve hot with bread.
Swiss Chard – Lentil Soup (Adas Bis Silq)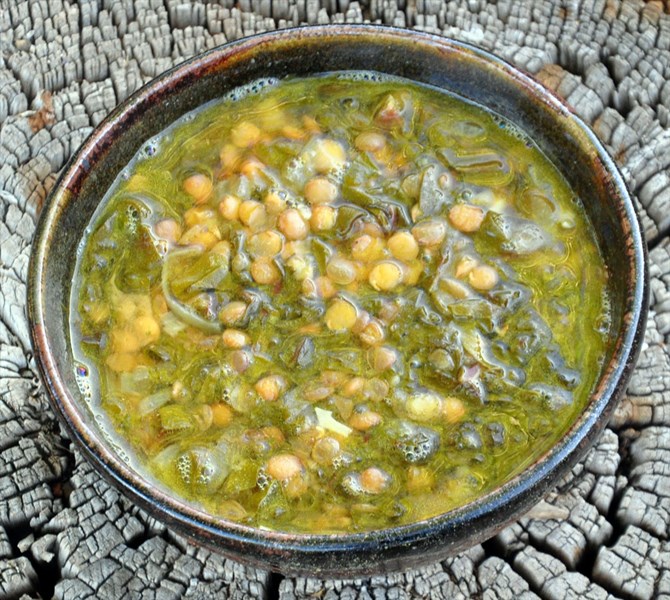 Probably our favorite way to enjoy Swiss Chard, this vegan Lebanese soup has a rich and meaty taste and begs to be accompanied by a fresh loaf of Khoubz, the Middle Eastern flatbread. Like most pulse-based soups, this one will taste even better upon reheating the next day. Consider using the discarded stems for Swiss Chard Dip. The version relayed below was adapted from one presented in Tess Mallos' 1990 The Complete Middle East Cookbook (ISBN 978-0804838764).
1½ cups brown lentils
6 cups cold water
¼ cup olive oil
1 large onion, finely chopped
4 garlic cloves, minced
8-10 swiss chard leaves, washed, destemmed and shredded
1/3 cup cilantro, chopped
1 teaspoon salt
½ teaspoon freshly ground black pepper
¼ cup lemon juice
Pick over lentils to remove any stones or other foreign matter. Place in a heavy pot with the water and bring to a boil. Reduce heat to simmer, cover, and cook until tender, about an hour.
Heat olive oil in a large pan over medium. Add in onion and sauté until transparent, about 8-10 minutes. Add in the garlic and cook another 15-20 seconds. Add in the prepared swiss chard and continue sautéing until the greens have wilted.
Add onion-chard sauté into the cooked lentils, adding cilantro, salt, pepper, and lemon juice. Adjust seasonings to taste. Cover and simmer gently for 15-20 minutes. Serve in deep bowls with plenty of fresh bread.
Chard, Raisin, and Apple Tart (Tourte aux Blettes) -- Nice, France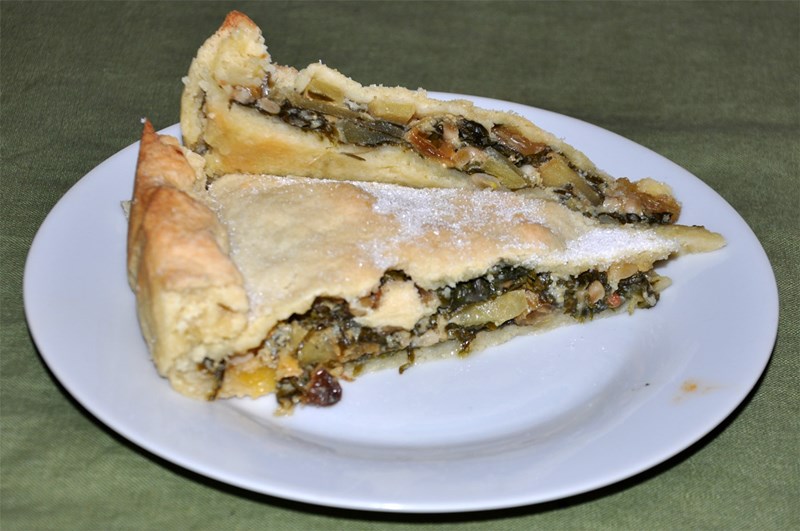 We close out our April feast with, yes, a dessert featuring spring greens. The people around Nice in southeastern France are crazy about Swiss Chard, so much so that according to Paula Wolfert they often refer to themselves as "Tête de Blettes" -- or chard heads. Swiss Chard figures prominently in the Niçoise cuisine, with one of the most iconic dishes being a swiss chard and apple tart. In fact, it is one of 15 regional specalities (including ratatoullie and raviolis à la daube, or raviolis in beef stew) that the Cercle de la Capelina d'Or uses to certify that a given restaurant is offering authentic Nissarde food.
The following recipe is adapted from one passed onto Paula Wolfert in Mediterranean Grains and Greens via a circuitous path, but originating with Catherine-Hélène Barale of the iconic La Barale restaurant, one of the most influential proponents of the Niçoise cuisine. Coleman Andrews wrote a wonderful piece on this chef and her restaurant for Saveur Magazine.
Be forewarned that this makes a very large tarte of a foot in diameter! You may want to consider cutting the recipe in half or by two-thirds to make it fit into a normal pie tin.
Pastry
2 2/3 cup all purpose flour (14 oz)
1/3 cup cake flour (2 oz)
½ teaspoon salt
heaping ½ cup sugar
1 scant cup butter
2 large eggs, beaten
2 tablespoons cold water
Sift flours, salt, and sugar together in a mixing bowl. Cut in the butter with your fingers until it has the consistency of a coarse meal. Blend in the beaten eggs, and then the cold water. Form dough into a ball, and knead on a lightly floured surface for 30 seconds or so. Divide into two pieces, one representing 2/3 of the dough and the other 1/3. Wrap both pieces in plastic wrap, and chill for at least 1 hour in the refrigerator.
Filling
2 bunches Swiss Chard
½ teaspoon salt
½ cup golden raisins, soaked for an hour or so in 2 tablespoons of dark rum
2 large eggs, beaten
2/3 cup brown sugar
1 teaspoon lemon extract
4 ounces aged gouda cheese, grated
½ cup shelled pine nuts
2 tart baking apples, like Granny Smith
freshly ground black pepper
Wash chard and remove ribs. Roll up the leaves into a cigar and thinly slice. Toss with salt and let stand in a colander for 15 minutes, or until wilted. Rinse in several changes of cool water, drain, and squeeze dry. Coarsely chop.
In a large mixing bowl whisk the eggs and brown sugar until well blended and then mix in the raisins and rum. Add the chopped greens and lemon extract, grated gouda, pine nuts, and black pepper. Let mixture sit in the bowl and the ingredients to meld for at least 30 minutes.
Core, peel, and cut the apples in half and then into thin slices, and gently mix into the filling.
Preheat the oven to 375° F.
Roll out the larger piece of dough to line a 12" diameter pie or deep-dish pizza pan. Stir the filling to mix in all the juices, and then pour onto the pastry. Roll the smaller piece of dough to make the upper crust, lay over the filling. Roll the upper and bottom crust edges together, and crimp to seal. Make 5-6 cuts on the upper crust to allow steam to escape.
Bake for 45 minutes or until the crust is golden.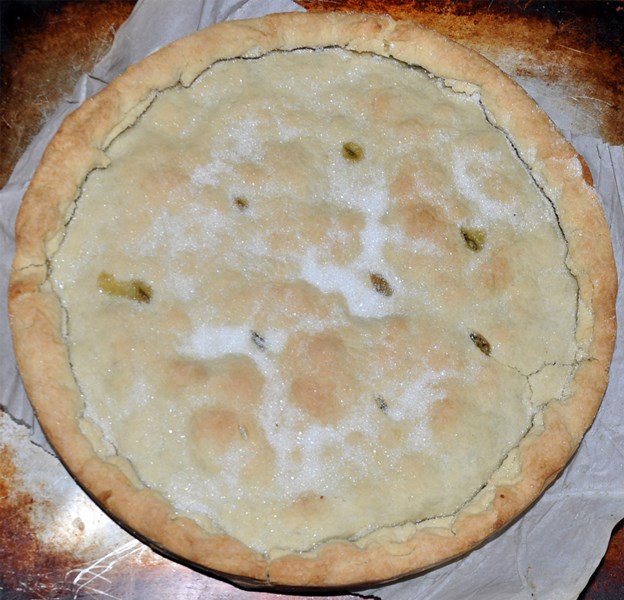 Remove from oven and sprinkle top with sugar. Let cool before serving.
Please do not use any other green for this tart, as the slightly sour flavor of swiss chard is essential for its proper taste.
Homemade Stuffed Bread (σπιτικό γεμιστό ψωμί) -- Greece
A traditional way for people in Greece to enjoy greens is to stuff them into a pita -- or pie. Perhaps the best known pita in North America is spankopita -- or spinach pie -- in which spinach is cooked with various flavorings, mixed with feta cheese, and then baked inside of a filo crust. But, there are many ways to make a pita, and one common way is to use a yeast dough.
In this recipe, loosely inspired from one presented in Susie Jacobs' "Recipes from a Greek Island" we are making a savory jelly-roll using a variety of fresh and preserved greens. It really is not that difficult to make, looks absolutely stunning, and tastes even better. We recommend you serving it with Jajik with Greens (the next recipe we'll present) or Tzatziki. Serves 8 as an appetizer
Bread Dough:
4 tablespoons dry yeast
½ tsp sugar
½ cup warm water
2 cups semolina flour
2 cups unbleached white bread flour
1¼ cups whole wheat flour
1¼ cups multi-grain flour (ground multi-grain flakes)
2 tsp salt
¼ cup honey
¼ cup olive oil
2- 2½ cups water
Dissolve yeast in ½ cup warm water; when yeast becomes a paste, add in the sugar. Let sit until foamy.
Mix all four flours and salt together in a mixing bowl. Make well in the center and add in the foamy yeast, honey, olive oil, and 1½ cups water. Beginning in the center, mix the liquids into the flours by stirring with a sturdy spoon. Add as much water as necessary to hydrate all the flour and to make a cohesive, soft dough. Knead for 15-20 minutes until the dough is silky and elastic. You should have about 3¼ pounds of dough when finished. Place into an oiled bowl, cover with a damp cloth, and let raise until doubled – 1 to 2 hours.
Filling:
1 lb onions, chopped
3 tablespoons olive oil
1 tsp sugar
1¼ pounds mixed greens, preferably a mix of bitter (endive, dandelion), pungent (mustard, kale), sweet (spinach), and sour (chard).
1 cup pepperoncini peppers
½ lb mix of green and black Greek olives, pitted and chopped
6 oz feta cheese
3-4 garlic cloves, minced
¼ cup flat leaf parsley, chopped
1 tablespoon dry dill leaf
1 tablsepoon dry oregano
While dough is rising, make the filling. Sauté onion in olive oil until golden. Add in the sugar, and continue stirring and cooking until they turn a caramel brown. Place into a small bowl. Steam the greens until tender, about 5-10 minutes. Squeeze dry, and then roughly chop. Place in a another small bowl and set aside. Pit the olives, coarsely chop, and place in another small bowl. Remove stems from the pepperoncini peppers, coarsely chop and place in another small bowl and set aside. In a final small bowl, crumble the feta and mix with the garlic, chopped parsley, and dried herbs. Let all the filling components cool to room temperature.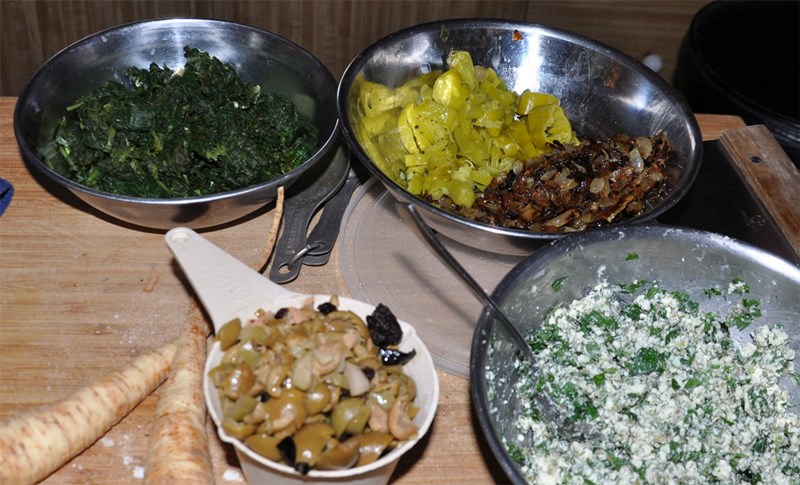 Assembling the bread:
When dough has risen, punch down and transfer to a floured board or countertop. Roll into a 14"x21" rectangle. Spread cooked onions in a layer across the dough, leaving a 2" border along all four sides. Repeat with the cooked greens, then the pepperoncini pepper, olives, and finally the herbed feta. Roll up the dough and toppings along the long side of the rectangle to make a jelly-roll; finish by drawing the uncovered dough border over the outside of the roll, and sealing the seam by pinching the dough together. Now bring the two ends of the roll together to make a wheel, and pinch these together as well.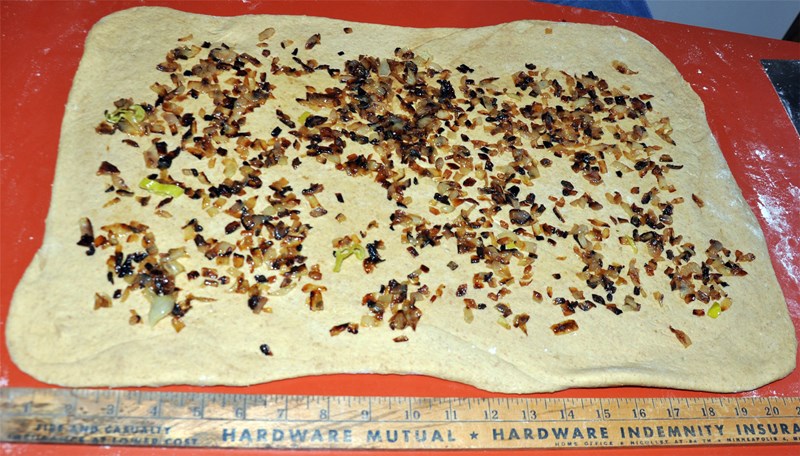 Transfer the dough circle onto a baking sheet lightly covered with coarse semolina or corn meal. With a sharp knife, cut through the upper ¾ of the roll at 2" intervals around the entire circle, leaving the bottom uncut and still connected. Cover with a damp towel and let raise until almost doubled, about 45-60 minutes.
While the rolls are proofing, preheat oven to 400º F. Place proofed ring in oven and bake for 20 minutes. Rotate the baking pan, and continue baking another 10 minutes or so until the dough is brown and crusty, and the bottom sounds hollow when tapped. Remove from over and let cool.
Slice into wedges along the scored cuts and serve.
The best onion for this bread is a mild, sweet type. Use a variety of greens in the stuffing for a more complex flavor. Besides using flat Italian parsley, you can also use fresh dill and oregano. Just triple the amount as compared to the dried.