Jeff & Linda's Kitchen of Diversity
Salted, Boiled Potatoes with three Dips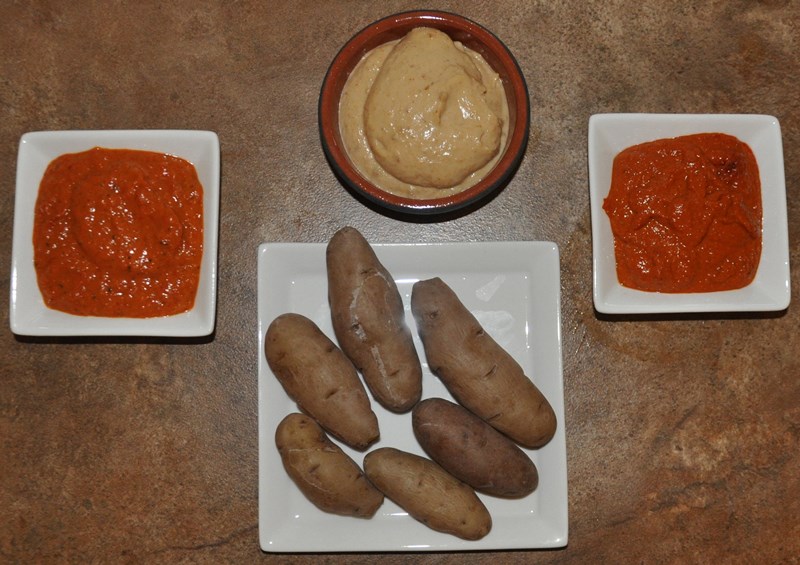 Perhaps the simplest – as well as one of the favorite – tapas selections is nothing more than salted, boiled new potatoes served with various dips. The potato was domesticated in southern Peru and northwestern Bolivia between 5000-8000 years ago where it became the principle food crop for the Incan Empire. It was unknown to European cultures until the late 1500s when they became a staple food for sailors manning the treasure ships returning from the west coast of South America. Potato stores remaining after these trips were brought onto the mainland, and it soon became a major food for the Spanish army who carried it across Europe. Peasants were quick to adopt this new crop, partially because it performed better than traditional small grains in the cold and wet summers characteristic of the Little Ice Age from 1350-1850. It was also less likely to be raided by marauding armies as its tubers were conveniently hidden underground – and out of sight – unlike grain crops.
The three dips we prepared for our tapas represent a dish of pre-Columbian origins (Roasted Garlic) and two which rely on Capsicum (bell and chili peppers) which is also indigenous to the Americas. While the Red Pepper Puree is likely based on older vegetable pastes of the Mediterranean Rim (note how similar this recipe is to the hummus recipe described last month), the Mojo Rojo stands out as a fascinating fusion of New World (chilies), Arabic (ground almonds), and Iberian (dried bread crumbs and olive oil) ingredients and techniques. It is the characteristic dipping sauce of the Canary Islands off the North African coast.

Salted Boiled Potatoes
Heat a kettle of water to boiling, and add in a large quantity of salt – roughly ½ cup per gallon of water. Let the salt dissolve, and add in scrubbed, new potatoes. Boil until fork tender. Drain but do not rinse the potatoes, letting them dry off from their stored heat. A white salt bloom will be left behind on the potato skins. Put into a serving bowl and serve hot. It is easiest to eat these with toothpicks; simply spear a potato with a toothpick, and then dunk into one of the following dips.
Roasted Garlic Dip
2 heads garlic, separated into cloves
1 tablespoon olive oil
1/3 cup sour cream
¼ cup mayonnaise
salt and paprika to taste
Preheat oven to 400° F. Place garlic cloves in a heat-proof dish, and coat with olive oil. Spread into a single layer and roast for 25-30 minutes until tender. Remove from oven and let cool.
Peel roasted garlic, and mash with a fork until smooth. Scrape into a bowl. Mix in sour cream and mayonnaise and adjust seasonings. Chill until ready to serve.
Red Pepper Puree
4 large red bell peppers, roasted, skinned, and roughly chopped
6 cloves garlic
¾ teaspoon salt
1 teaspoon ground cumin
½ teaspoon cayenne pepper
½ teaspoon freshly ground black pepper
¼ cup olive oil
Roast peppers and garlic in a 450° F. oven until the pepper skins are blackened but the flesh is still bright red, and the garlic cloves are soft to the touch. Put the peppers in a plastic bag and let them steam for about 10 minutes. Remove the blackened skins from the peppers and cut the flesh into strips. Squeeze the roasted garlic pulp from the clove wrappers.
Puree the roasted peppers and garlic pulp briefly in a food processor or blender. Add in the remaining ingredients and mix into a smooth paste.
Mojo Rojo
1 tablespoons olive oil
10 garlic cloves, coarsely chopped
¼ cup almond flour
¼ cup bread crumbs
¼ cup mild ground New Mexican chili
¼ cup water
1 tablespoon oregano
1 tablespoon sweet paprika
1 tablespoon ground cumin
1 tablespoon sherry vinegar
Sauté garlic, almond flour, and bread crumbs over medium heat for 1 minute until just browned. Remove from heat and place into a blender or food processor. Add in remaining ingredients and puree until smooth. If the mixture is too thick, add in additional water, about 2 tablespoons at a time until the desired consistency is achieved.
A sweet, nutty Creole garlic like Morado de Pedronera or Moroccan Creole are perfect for these dips. Use a thick-fleshed red bell pepper like Emerald Giant. You can also grow your own cayenne, cumin, and oregano.