Jeff & Linda's Kitchen of Diversity
Lentejas salteadas con setas (Sautéed lentils with mushrooms)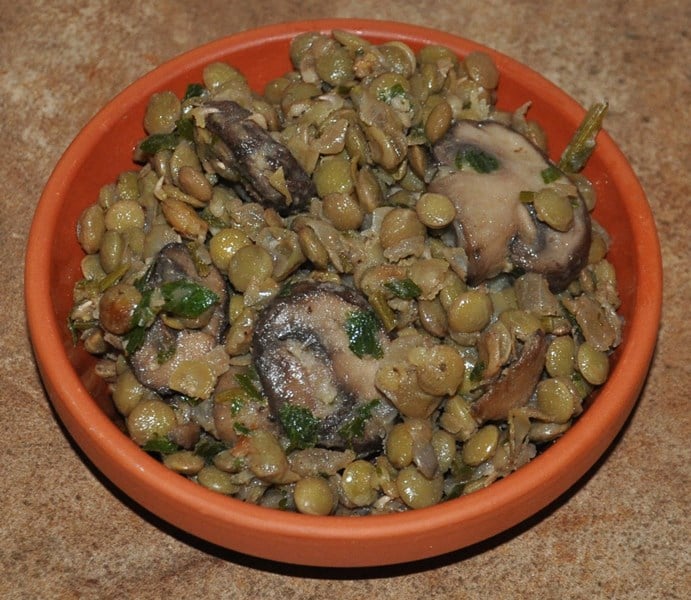 Lentils are one of our favorite pulses. They not only quickly cook (less than an hour from dry to done), but have a wonderful savory flavor that goes well with many other vegetables. In this case, the lentils are sautéed in olive oil and butter with onion, garlic, mushrooms, and parsley, and then dressed in lemon juice. To borrow from Powdermilk Biscuits, heavens they're tasty!
1½ cups brown lentils
3 tablespoons olive oil
1 large onion, finely chopped
2 garlic cloves, crushed
2 tablespoons butter
8 oz cremini or white button mushrooms, thickly sliced
¼ cup parsley, minced
1 teaspoon lemon juice
salt and freshly ground black pepper to taste
Pick over lentils to remove any stones, dirt or other foreign material. Place in saucepan, cover with 1 quart of water, and bring to a boil. Lower heat and simmer for 30-45 minutes until they are tender. Drain if all the water is not absorbed.
Heat olive oil in a skillet over medium heat and sauté onion and garlic for 10-15 minutes until soft and golden colored. Add in the butter and mushrooms and cook for another 5-10 minutes until they are cooked through. Add in the drained cooked lentils, parsley, lemon juice, salt and pepper and gently cook for 5 additional minutes until all ingredients are heated through.
Remove from heat and cool. Serve at room temperature. The dish will taste better if you allow the flavors to mingle overnight.
Do be sure to use unsplit brown lentils, as these will keep their shape after cooking. If you use split red lentils, you'll simply get a yellow paste with mushrooms.
A good pungent onion like Jaune Paille des Vertus is a good choice, as is some type of Creole garlic such as Rojo de Castro. Be sure to use flat leaf Italian parsley.