Jeff & Linda's Kitchen of Diversity
Mushrooms in Garlic Sauce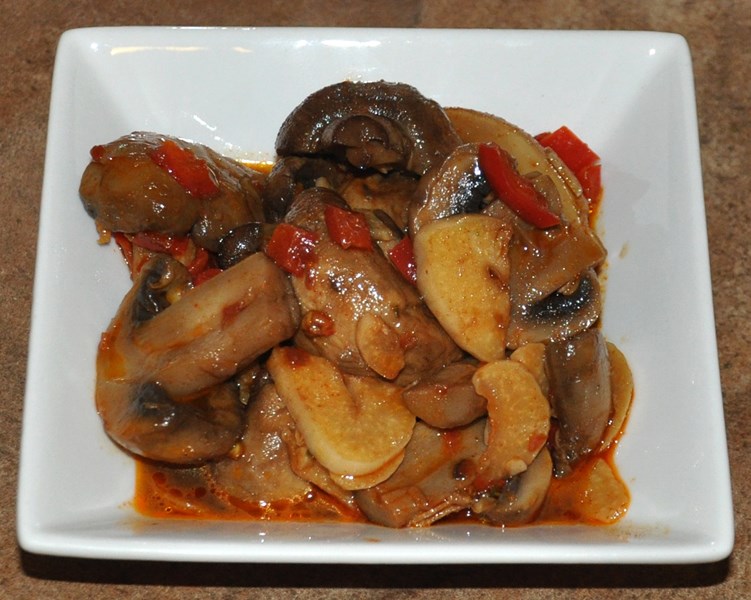 These mushrooms are cooked with the four quintessential flavorings of traditional Spanish cuisine: olive oil, garlic, sherry, and paprika. Paprika, referred to as 'pimentón' in Spain, was brought to the Iberian Peninsula in the early 1500s by monks returning from the New World. It rapidly spread rapidly east into the Maghreb, eastern Mediterranean and eventually into central Europe via the Ottoman Turks. By 1529 it was being grown in Budapest. Spanish paprika comes in three flavor profiles: sweet (dulce), moderately hot (agridulce), and hot (picante). While much Spanish pimentón is simply sun tried before grinding, especially in the region around La Vera in Extremadura the pepper pods are placed over smoldering oak fires and turned daily for about two weeks until completely dry. In the following recipe (and all others for this tapas meal) we used La Vera agridulce pimentón available from the Spanish Table in Santa Fe. There are many other vendors in the USA for this or similar products, and you may be able to find it at a local gourmet market.
1 pound white button or crimini mushrooms, halved or quartered
¼ cup olive oil
8 large garlic cloves, peeled and thinly sliced
½ roasted red bell pepper, diced
¼ teaspoon cayenne pepper
½ cup dry sherry
¼ teaspoon smoked Spanish paprika
salt and freshly ground black pepper to taste
Heat oil in a skillet and add in mushrooms, garlic, roasted bell pepper, and cayenne. Sauté for 3 minutes. Add in remaining ingredients and cook for another 5 minutes. Serve warm.
This recipe is so simple that the quality of your ingredients is essential for an extraordinary end product. Be sure to not only use smoked paprika, but also a high-quality olive oil, a nice oaky fino or amontillado sherry (Oloroso, Cream, or Pedro Ximénez sherries just won't do), a nutty Creole garlic like Morado de Pedronera, and high quality fresh mushrooms. If you can't find Spanish smoked paprika, you might try substituting chipotle chile powder, which is a similarly dry-smoked chile from Mexico. It is usually a bit more hot in flavor, so you may want to adjust the flavorings if you go this route.