Jeff & Linda's Kitchen of Diversity
Roasted Bell Peppers with Honey & Almonds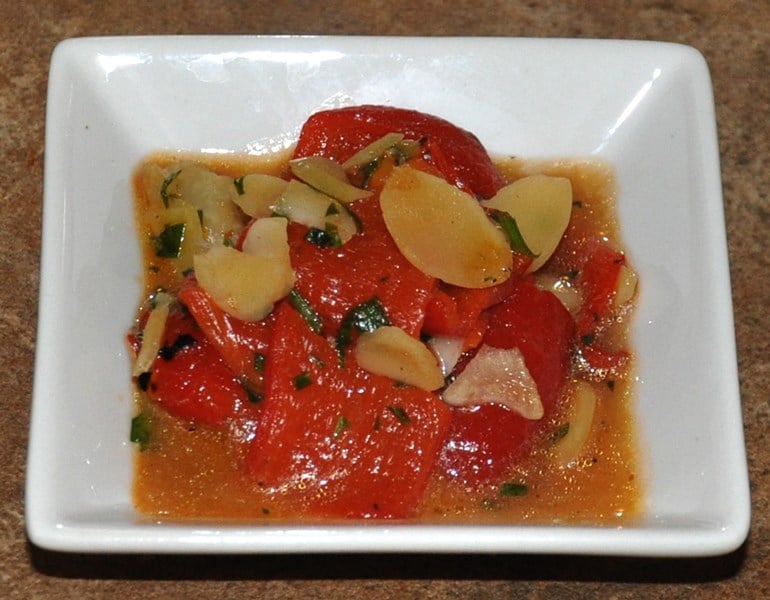 Here is another excellent example of early Renaissance fusion cooking in the Spanish tradition: sweet bell peppers (New World) roasted and marinated in a garlic-vinaigrette (Europe) garnished with almonds and honey (Middle East).
Because of the large number of tapas dishes that we made for this meal, and the fact that we're only a small family, there needless to say were a lot of leftovers. After a few days we made use of them by constructing a tapas lasagna, layering between noodles this dish along with Mushrooms in Garlic Sauce, Spinach with Pine Nuts and Raisins, and Pisto Manchego, and topping it all with Spanish Machengo Cheese. The experiment was a wild success, with the pepper's sweet-sour flavor and crunchy almond slivers being one of the highlights. In an odd way this casserole reminded us of Balti combination plates in which a number of separate dishes are mixed together to make something that was more than the sum of its parts. If you find yourself in a similar situation, do give this a try.
8 roasted and peeled red bell peppers, cut into 1 inch dice
¼ cup olive oil
3 garlic cloves, peeled and thinly sliced
½ cup shaved almonds
2 tablespoons honey
2 tablespoons sherry vinegar
2 tablespoons parsley, minced
salt and freshly ground black pepper to taste
Heat olive oil in a heavy skillet. Cook garlic slices over low heat for 4 minutes, stirring frequently. Stir in almonds, honey, and vinegar and remove from heat. Pour sauce over the roasted pepper pieces. Mix in parsley, and adjust seasoning with salt and pepper. Cool to room temperature.
Any flavorful, sweet bell pepper will work for this dish; choose the color that best fits your muse and/or available garden produce. Some good choices are Albino Bullnose, Bullnose, Chocolate Beauty, Doux d'Espagne, Orange Bell, Purple Beauty, and Quadrato d'Asti Giallo. You should also use Spanish Red or some other Creole garlic and of course Italian Flat-leaf Parsley.