Spinach with Pine Nuts and Raisins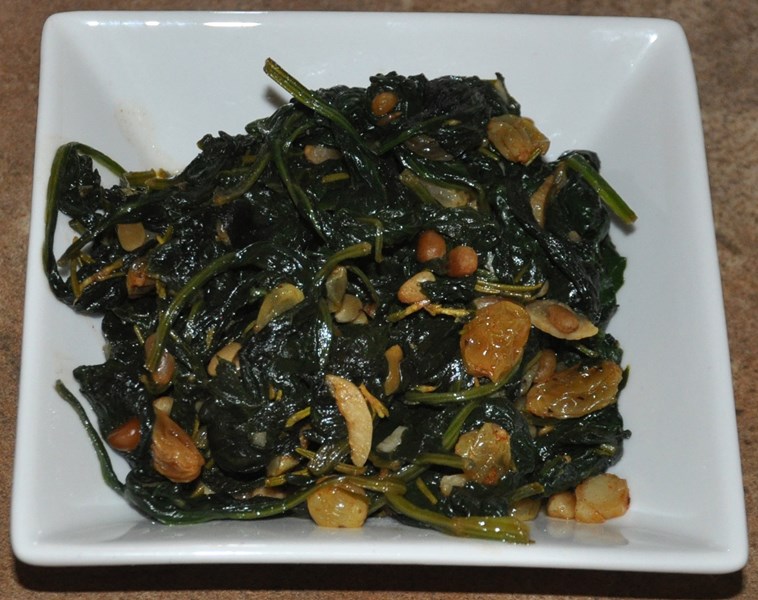 This is one of our favorite spinach dishes, having the Moorish-inspired combination of both savory and sweet ingredients. Jeff enjoyed this on his first and only trip to Spain in the days before Christmas in 1993, which he took to celebrate successfully completing his doctoral studies at the University of North Carolina. He bought puff-pastry tartlets filled with this type of sautéed spinach from a Barcelona bakery. While they were wonderful, he made a critical error in converting pesetas to dollars (it was 10 to a dollar, not 100 to a dollar as he thought) and spent much more money that day than he intended. The rest of the trip was a much more frugal affair to say the least!
½ cup yellow raisins
¼ cup sherry
2 tablespoons olive oil
½ cup toasted pine nuts
3 garlic cloves, peeled and thinly sliced
1 tablespoon minced rosemary
¼ teaspoon smoked Spanish paprika
1 pound spinach
salt and freshly ground black pepper to taste
Soak the raisins in sherry for 30 minutes.
Heat olive oil in a skillet. Sauté pine nuts and garlic for 1 minute. Add in the rosemary, smoked paprika and the sherry from the raisins, and boil for another minute. Add in the spinach and sauté another 5 minutes or so until cooked. Toss in the raisins and adjust seasonings. May be served hot or at room temperature.
Use any of the first fall harvest of spinach from your garden for this dish. Good choices include Bloomsdale Long Standing or Giant Noble. Be sure to use a nutty Creole-type garlic like Burgundy. If you have access to fresh rosemary, please use it. Otherwise, dry whole-leaf will work fine.