Rice Stuffed Tomatoes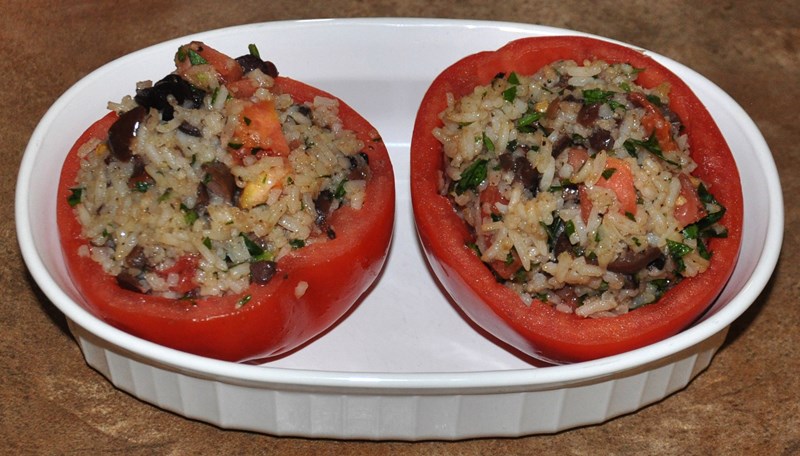 Stuffed vegetables likely came into Spain a millennium ago from the Middle East via the Moors. Such dishes remain an important part of the Middle Eastern diet, where any number of vegetables – including eggplant, squash, bell peppers, cabbage and grape leaves – are filled with any number of other vegetables, grains, and meat. As before, we find in the following recipe a fusion between the new and old worlds, with American tomatoes being filled with a savory old-world stuffing of rice, olives, and parsley. This dish is especially frugal as it uses the removed tomato cores.
It is important that you use the correct rice and cook it in the correct way for this dish to succeed. First, make sure that you use a long-grain rice (like Basmati) that cooks fluffy and dry. Second, you should slightly undercook the rice grains so they remain whole and remain toothsome when eaten. Remember that the rice will continue to absorb liquid and soften while it marinates for 4-6 hours with the chopped tomato cores, parsley, olives, and olive oil. Also, if you are using regular tomatoes, be sure to let them drain and dry for at least an hour to make sure that they are not too wet.
This recipe is an excellent way to try stuffing tomatoes, which have mostly hollow interiors and greatly resemble bell peppers in shape. If you use this type of tomato, you can stuff them immediately. However, because there will be little tomato core to chop and add into the rice stuffing, if you use them you should consider adding an extra chopped tomato (or two) to the rice.
2 cups water
¾ cup long-grain rice (Basmati works well)
5 medium tomatoes
¾ cup black olives, pitted and chopped
¼ cup parsley, minced
¼ cup olive oil
salt and freshly ground black pepper to taste
Bring salted water to a boil and add in rice. Cook for 10 minutes until just barely tender. Pour into a colander, rinse with cold water, and drain. Let sit in the colander for an hour to dry.
Slice tomatoes in half. Remove seeds. Remove cores and chop these into ½ inch dice. Season the inside of the halved and cored tomatoes with salt, turn them upside down, and let drain for an hour. Refrigerate.
Mix together the rice, chopped olives, tomato, minced parsley, and olive oil. Let rest in a covered bowl for 4-6 hours.
Pat the insides of the tomatoes dry and fill with the rice mixture. Serve at room temperature.
While you can use any garden-fresh tomato for this dish, you should really consider trying one of the many types of stuffing tomatoes as this will greatly simplify assembly. Possible varieties to try include the red Courson Roy's, Liberty Bell or Rosso Sicilian, Orange Stuffing, Yellow Stuffer, Brown Derby, Green and Yellow, and the red with orange-striped Schmmeig Striped Hollow or Striped Cavern. Please use an Italian flat-leaf Parsley.