Jeff & Linda's Kitchen of Diversity
Torta de Verduras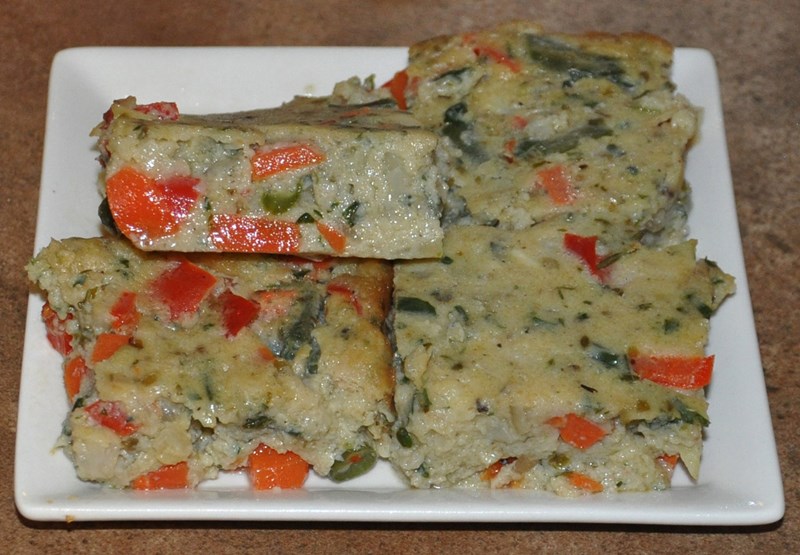 One of the more iconic tapas dishes is the tortilla. While we in the New World immediately think of the Mexican flatbread (either corn or wheat) when hear this name, it means a very different thing in the Iberian Peninsula. There, a 'tortilla' is a 'little pie' most often made from sliced potatoes and onion and held together with beaten eggs. It is likely that some form of this tortilla is served at most tapas assortments.
We decided to share with you something a little different – a torta, or pie. In the case of Torta de Verduras, it is a Vegetable Pie, made from a variety of summer vegetables held together with beaten eggs combined with a creamy béchamel sauce. It resembles a cheese and cream-free quiche filling without a crust, and is served just as the more familiar tortilla is – namely as cut slices. Serves 6
1 medium onion, finely chopped
3 cloves garlic, minced
¼ cup olive oil
½ cup diced potato
½ cup diced carrot
½ cup diced green beans
½ cup diced cauliflower
½ cup diced zucchini
½ cup peas
2 tablespoons minced parsley
1 tablespoon minced thyme
3 eggs, beaten
1 cup béchamel sauce (see below)
¼ teaspoon salt
¼ teaspoon freshly ground pepper
Blanch the diced vegetables until partially cooked, about 1 minute for the green beans and zucchini, 2 minutes for the cauliflower, and 3 minutes for the carrots and potatoes. Remove from water and drain.
Sauté onion and garlic in oil over medium heat until they begin to turn translucent. Add in the blanched vegetables and peas, and sauté for another 3 minutes.
Remove from heat. Stir in the parsley, thyme, béchamel (see recipe below), beaten eggs, salt and pepper. Pour into a buttered 9x12 inch pan, and bake in a preheated 375° F oven for 15-20 minutes until the tart has set in the center.
Cool and cut into squares. Serve at room temperature.
Salsa B

é

chamel
1 tablespoon butter
1 tablespoon flour
¾ cup milk
1/8 teaspoon freshly ground nutmeg
salt and freshly ground black pepper to taste
Melt butter in saucepan over medium heat. Whisk in flour and let bubble for about a minute. Stir in milk and whisk until smooth. Cook until thickened. Add in nutmeg, salt and pepper.
The best vegetable varieties for this dish include a sweet onion like Alisa Craig, a sweet, nutty Creole Garlic like Creole Red, a waxy boiling potato, a large, sweet cooking carrot like Chantenay, a wide-podded bean (we think that a yellow bean like Or Du Rhin make a nice color contrast), a white cauliflower like Giant of Naples, a tender green zucchini like Table Dainty, a late season garden pea like Wando, and flat leaf parsley.