Basque Celeriac Bake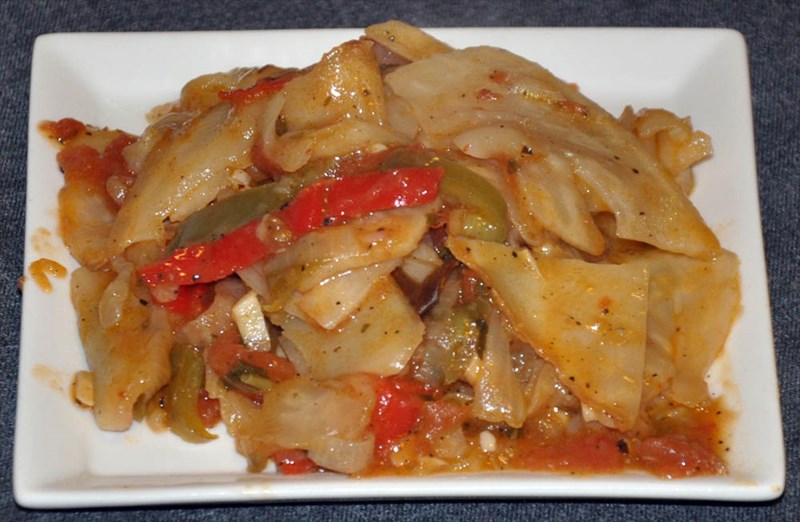 This vegan casserole is built upon the classic tomato/bell pepper/onion/garlic foundation characterisic of the Basque cuisine. Here these ingredients are baked with thinly sliced celeriac root to make an exquisite casserole. The following is adapted from a recipe appearing in Marian Morash's 1982 The Victory Garden Cookbook(ISBN 978-0394707808).
¼ cup olive oil
1 large onion, coarsely chopped
1 large green bell pepper, seeded and cut into strips
1 large red bell pepper, seeded and cut into strips
2 cups tomatoes, peeled, seeded and coarsely chopped
¼ cup garlic, minced
1 teaspoon dry basil (or 2 tablespoons fresh)
2 pounds celeriac, peeled and cut into ¼ inch slices
1 tablespoon flour
1 cup stock
salt and freshly ground black pepper to taste
Preheat oven to 375° F.
Place oil in a large pan over medium-high heat. When hot, reduce heat to medium and add in the onions. Sauté for 5 minutes until they are translucent and beginning to soften. Add in the green and red bell pepper strips and continue sautéing until the onion begins to turn golden and the peppers are well cooked, about 10-15 minutes. Add in the tomatoes, garlic and basil. Cook until heated through, about 2 minutes more. Remove from heat and adjust seasoning with salt and pepper.
Toss celeriac slices with flour. Place 1/3 of celeriac into the bottom of a medium-size casserole. Layer 1/3 of the onion/garlic/pepper/tomato sauce on top. Repeat until all the celeriac and sauce is used. Cover and bake for 45 minutes, basting occasionally. If the celeriac is still not coked and softened after this time, continue baking until it is ready. When done, remove cover and continue baking another 15 minutes to brown the top.
Serve warm.
Coca Mallorquina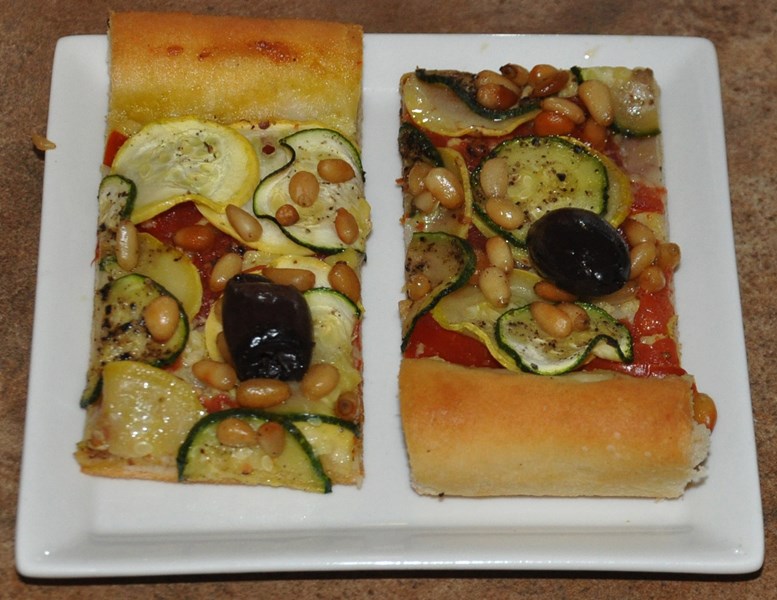 Coca are seasoned flatbreads served throughout Catalonia, the remaining Spanish Mediterranean coast, and Balearic Islands just offshore. Although the name for this dish may make one think of chocolates, it actually derives from "kaka" the Germanic / Scandinavian word for "cake." This term was introduced into Catalonia during the reign of Charlemagne, where it eventually evolved into 'coca.' As would be expected from this history, coca are just as likely to be sweet as savory, with typical toppings varying from vegetables to cheese, fish and other meats, nuts and fruit. Moorish-inspired coca may even combine both savory and sweet toppings, such as ground meat or cheese with dried fruit and nuts. No matter the topping, however, cocas typically resemble a tart made from a yeasted – rather than short – dough. Very similar flatbreads are found across the Mediterranean rim, in particular Italy's pizza and the Provençal pissaladière.
Coca are a common component of many tapas selections, especially in the south of Spain. The recipe we share is typical of Mallorca, the largest island in the Balearic Archipelago. These are characteristically made in late summer when an abundance of just-picked vegetables are available. While we used a mix of tomatoes and summer squash in the following version, any number of other types can be used, including eggplant, variously colored sweet peppers or sautéed leafy greens.
Crust
2½ cups bread flour
1 tablespoon dry yeast
1 teaspoon salt
1 tablespoon olive oil
1 tablespoon dry white wine
1 cup water
Place flour, yeast, and salt in a mixing bowl. Make a well in the center of the flour and pour in the water, olive oil, and wine. Mix the liquids into the flour from the well outwards. When all the flour has been incorporated in to the liquids, knead the dough for 5 minutes until smooth. Put into an oiled bowl, cover, and let rise in a warm place until doubled.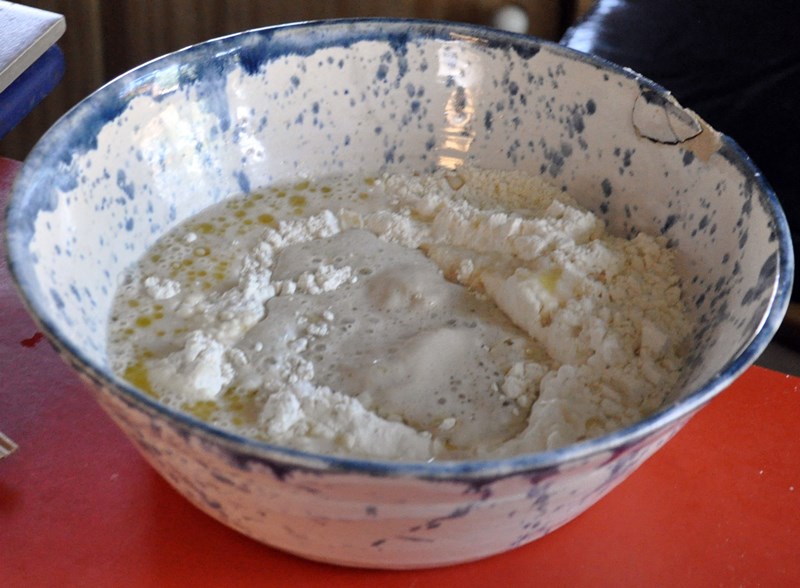 Topping
3 garlic cloves
¼ teaspoon salt
¼ cup olive oil
4 medium tomatoes, cored and thinly sliced
1 yellow crookneck squash, thinly sliced
1 zucchini, thinly sliced
¼ cup pine nuts
2 tablespoons olive oil
salt and freshly ground black pepper to taste
additional olive oil as a garnish
20 pitted black olives
Preheat oven to 425° F.
With a mortar and pestle crush together the garlic and salt, and then slowly add in the olive oil until a thick, smooth paste is formed.
Divide dough in half. Roll each into an 8x12" rectangle. Transfer to one side of an oiled 12x18" baking sheet. Fold all four edges to make a border. Repeat with the other half of the dough, placing this rectangle onto the other half of the baking sheet.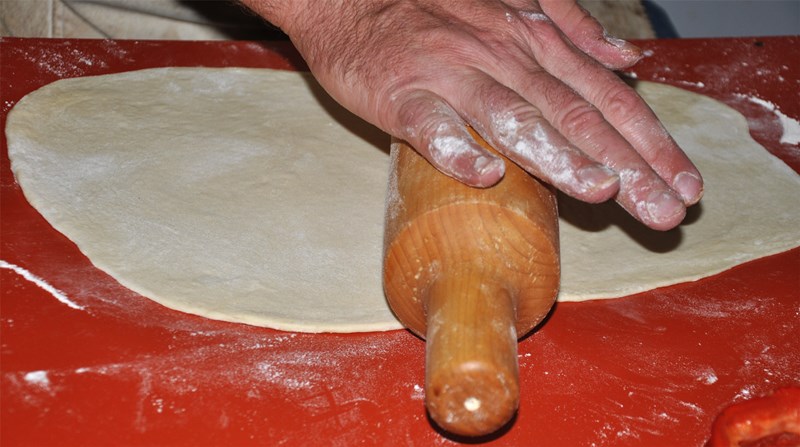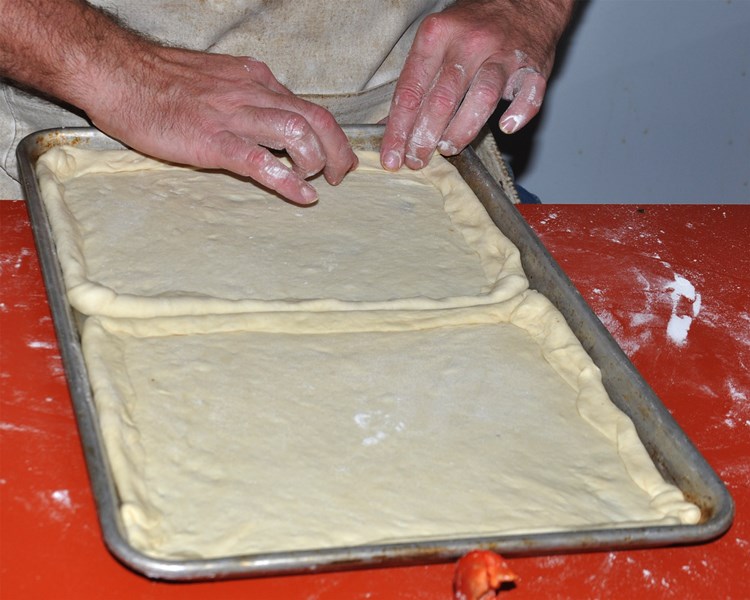 Smear half of the garlic paste onto each of the breads. Then arrange the tomato, yellow crookneck, and zucchini slices evenly over each. Sprinkle with pine nuts, salt, and pepper, and drizzle over with olive oil.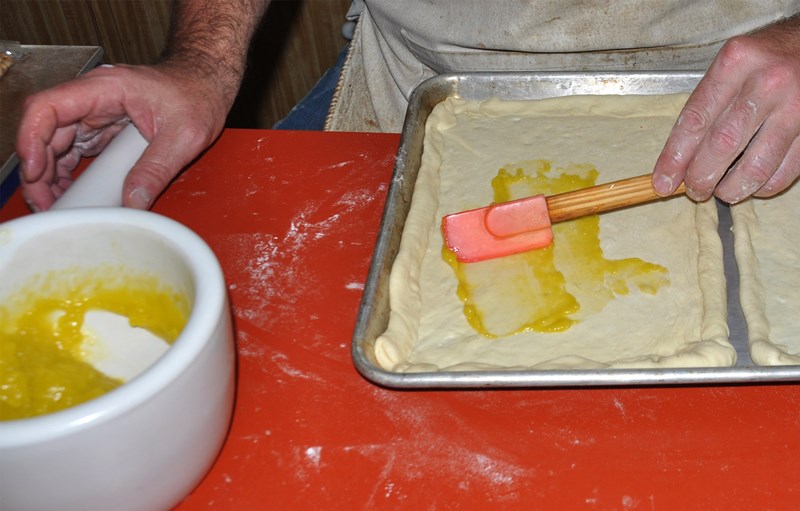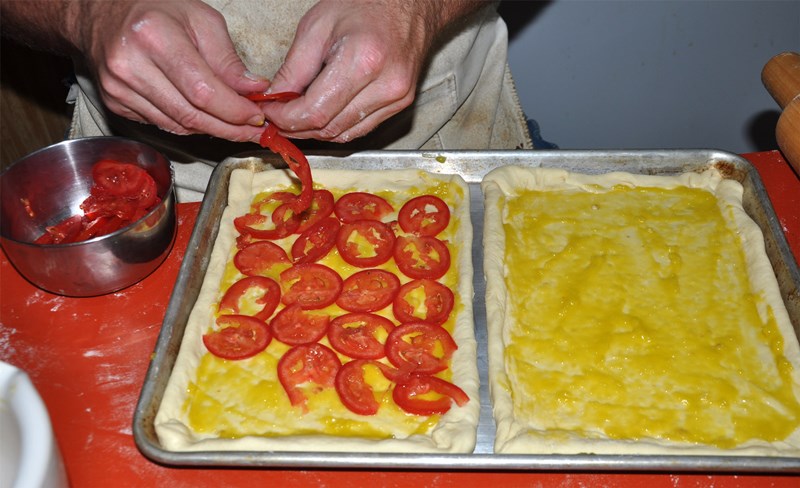 Let the breads rest for 5 minutes, and then bake for 10 minutes. Remove from oven and arrange the olives equally across both breads. Return to oven and continue baking until golden, another 5-8 minutes.
Remove from oven and cool. Serve at room temperature.
Fattoush
Bread has a long and sacred presence among the peoples of the Mediterranean, where it is just as much the staff of life as rice is to the peoples of southeast Asia or maize is to the peoples of central America. Made in the traditional way with nothing but flour, water, salt, wild-yeast leavening, and sometimes oil, bread has a rather short shelf life, particularly in Mediterranean climates where it will start to dry out within a day or two of baking. Thus, a considerable cooking focus has been placed on creative uses of day-old bread.
Among these recipes are bread salads, in which dry bread is soaked and softened in some type of dressing and then mixed with various fresh vegetables and leafy greens. Some of the most famous bread salads come from Italy – for instance Tuscany's panzanella in which stale bread cubes are tossed with tomatoes and onions and dressed with a basil-garlic vinaigrette.
Fattoush is the bread salad of the Levant, whereby old, dry loaves of khoubz are turned into a tasty dish and nutritious dish. As you'll see it differs from its more famous Tuscan cousin by the addition of cucumber, bell peppers, and mint, and is tossed instead with an olive oil and lemon juice dressing.
Be forewarned, however, that fattoush - like all bread salads - keeps rather poorly as after 12 hours or so the bread becomes mushy and looses its chewiness. Thus, if you want to eat this salad a few days in a row but don't want to make it from scratch each time, it is best to prepare all the vegetables and the dressing ahead, and then toss together just the amount you'll need for that meal about 10-15 minutes before serving. Serves 4-6.
2 dry khoubz
8 leaves of romaine lettuce
1 small Armenian cucumber
2 medium tomatoes
5 or 6 green onions
½ cup chopped parsley
¼ chopped fresh spearmint
1/3 cup chopped green bell pepper
1/3 cup red bell pepper
1/3 cup yellow bell pepper
Toast the khoubz until golden brown and then break into pieces. Shred the lettuce and dice the cucumber, tomato and peppers. Finely chop green onion, parsley and mint
Dressing
½ cup lemon juice
½ cup olive oil
1 clove of pressed garlic
1 teaspoon of salt
freshly ground black pepper to taste
Place all ingredients into a mason jar, cap it, and shake vigorously until well integrated.
Toss salad ingredients with dressing. Let sit 10-15 minutes and serve.

Be sure to use a mild sweet spearmint in your salad rather than an aggressive menthol-laden peppermint which will make your salad taste like toothpaste! One of our favorite spearmints is Kentucky Colonel. This can be grown only from cuttings or divisions as seeds will not breed true.
Vegetable Soup - Fransozensuppe
(from the Fall 2014 Heirloom Gardener)
Soups were a vital part of the communal kitchen repertoire, as they were able to feed a large number of people simply, and typically with ingredients that were always on hand. Not a day went by when some soup was not served, especially for the noon meal. In late summer, one of the most commonly served was Fransozensuppe, or "French Soup" in the Amana German dialect, which was made from a variety of fresh vegetables harvested from the kitchen garden, and is in many ways a Germanic-version of minestrone. The following recipe should be seen as a suggestion for Fransozensuppe, and you should make yours based on the produce available in your garden: celery, green beans, fresh lima beans, turnips, or most other produce will also work well. The only things that should always be present are the tomatoes, cabbage, and onion. While this recipe makes 12 servings at least, it keeps well in the refrigerator and freezer, so there is no reason to not make a large batch and then be able to enjoy a simple dinner at some point in the future from the leftovers.
2 quarts vegetable stock
1 quart seeded and chopped tomatoes
2 quarts shredded cabbage
3 medium onions, cut into medium dice
3 medium carrots, cut into small dice
4 medium waxy, red potatoes, cut into large dice
1 tablespoon celery seed
1 tablespoon salt
freshly ground black pepper to taste
Bring stock to a gentle boil. Add in the vegetables and simmer until tender. Add in salt and pepper, taste, and adjust by adding more if necessary. While not at all traditional, we also like to add a few drops of hot pepper sauce to our bowl of Fransozensuppe.
Gazpacho
We tend to think of gazpacho as a cold soup made with fresh tomatoes, bell peppers, cucumber, garlic, sometimes bread crumbs, and seasoned with vinegar. But, the two main ingredients of this "liquid salad" – tomatoes and bell peppers – were unavailable in Spain until after contact with the New World. It turns out that this dish is not a recent invention. Rather it extends much farther back into history, with some more ancient progenitors (for instance Ajo Blanco Gazpacho from Malaga) being made from garlic, almonds, bread, olive oil, vinegar, and salt) lacking these new ingredients.
While some point to a Moorish origin for gazpacho, food historian Raymond Sokolov suggests that this dish may actually date back to the Roman Empire. He notes that Romans enjoyed eating bread soaked in vinegar, and suggests that an ancient version of this dish may be described in the Book of Ruth: ''Come thou hither, and eat of the bread, and dip thy morsel in the vinegar.'' It should not be surprising that the word 'gazpacho' itself appears quite complex, and is likely a Spanish transliteration of an Arabic transliteration of the Greek 'Γαζοφυλάκιον' which refers to offerings put into the alms box in a church – in other words a large mix of a small items.
Soon after contact with the New World, older versions of gazpacho were adapted to include new vegetables such as tomatoes and peppers and it soon evolved into the crushed cold tomato soup / salad that we now associate with this name. Yet, until relatively recently this dish was hardly known outside of Andalusia in the south of Spain. Spanish cookbook authors Alicia Rios and Lourdes March point to Eugenia de Montijo, the nineteenth century wife of the French Emperor Napoleon III, as one of the people who helped spread this dish into the larger Spanish culture. By the 1960s gazpacho had spread into the USA, where it briefly achieved fad status.
We have elected to forgo use of dry bread crumbs in the following gazpacho, as we are not convinced that it is necessary. Rather, we feel the essential components are dead-ripe vegetables just gathered from the garden which are pureed with a good quality sherry vinegar. Remember that the soup will taste much better once the individual flavors have melded – at least 4-6 hours. Serves 6
2 pounds ripe tomatoes, skinned, seeded, and quartered
1 ½ cups tomato juice
2 garlic cloves, crushed
1 large red bell pepper, seeded and coarsely chopped
3 green onions, coarsely chopped
1 small to medium cucumber, peeled and coarsely chopped
2 tablespoons parsley, minced
2 tablespoons sherry vinegar
salt and freshly ground black pepper to taste
Put tomatoes in food processor or blender and process until smooth. Add in remaining vegetables and process until smooth. Put vegetable puree into a pitcher or bowl and mix in the vinegar, salt and pepper. Adjust seasonings. Cover and let chill overnight in the refrigerator. Ladle into chilled bowls and serve cold. If your food processor or blender is not large enough for the full batch, divide the ingredients into two equal lots, and process separately.
Green Tomato Mincemeat
It is such a waste to simply pitch the green tomatoes at season's end into the compost that frugal gardeners for generations have come up with enticing ways to use them. One of the more common ways a generation or two ago was by turning them into a meat-free mincemeat. We share below an excellent recipe for this wonderful condiment presented in Beatrice Vaughan's 1963 Yankee Hill Country Cooking. This will make 5 quarts, and we can it up for use throughout the year.
4 pounds green tomatoes, finely chopped
3 oranges
4 pounds apples, peeled, cored, finely chopped
3 cups raisins
1 tablespoon salt
4 pounds light brown sugar
½ pound butter
1 cup apple cider vinegar
1 tablespoon ground cinnamon
½ tablespoons freshly ground nutmeg
½ tablespoons freshly ground cloves
Cover chopped tomatoes with boiling water. Let rest for a minute and drain. Repeat and drain well. Place drained tomatoes into a heavy 2-gallon pot. Add grated rind of one orange and juice of all three. Add remaining ingredients. Simmer over very low heat until thick and dark, approximately 1 hour. Place into canning jars, seal with lids, and process in a boiling water bath for 10 minutes.
We particularly enjoy using this as the filling for small tarts.
Middle Eastern Bean Salad
With its fresh tomato, garlic, parsley, and sautéed onion slices this simple bean salad is one of our favorites. To get the most out of this recipe, be sure to track down small beans or field peas as these have a higher surface area to volume ratio, and thus are able to be coated in more dressing as compared to larger pulses such as pintos or garbanzos. Although we've never tried it, we suspect that this recipe would work wonderfully using brown lentils. Serves 4.
1 cup dried small beans or cowpeas cooked until tender and drained
1 medium tomato, seeded and chopped
2 cloves of garlic, minced or pressed
¼ cup chopped parsley
1 medium yellow onion peeled and thinly sliced
Sauté onion slices in a tablespoon of olive oil until transparent
Dressing
½ cup olive oil
1/3 cup of lemon juice
salt and freshly ground black pepper to taste.
Combine ingredients in a quart jar, cap, and shake vigorously to combine.
Mix all prepared ingredients with the dressing. Let sit for an hour to allow the flavors to meld and serve at room temperature.
You'll want to use a sweet onion, flatleaf parsley, and a pungent but nutty Middle Eastern garlic like Himalayan Red. Any home grown, ripened on the vine tomato will work well. This recipe is a fine excuse to try various types of cowpeas or any other small pulse, like tepary beans. Each of will give the salad a different appearance and taste -- all of them good. We used Garnet Rice Beans to make the salad illustrated above.
Yellow Pico de Gallo
Pico de Gallo means "Rooster's Beak" in Spanish, and probably refers to its hot flavor that attacks you much like a chicken peck would. This simple, uncooked salsa cruda can be assembled in minutes. While you can use any tomato, we like using yellow tomatoes because of its sunny color and fresh flavor. You might also want to try using other colors of tomatoes as well, such as white, orange, or black. The following was loosely inspired from a recipe presented in Cheryl Alters & Bill Jamison's 1995 The Border Cookbook.
1 pound small yellow tomatoes, seeded and chopped
4 fresh hot peppers, seeded and minced
1 clove garlic, pressed
¼ cup white onion, chopped
¼ cup cilantro, minced
2 tablespoons lime juice
Salt to taste
Mix all ingredients and refrigerate for at least 30 minutes before serving.
Pisto Manchego
Throughout the Mediterranean one can find vegetable stew recipes built upon the abundance of late-summer gardens. These inexpensive but satisfying dishes were initially simple peasant food, but eventually migrated into restaurants, courts, and the kitchens of the wealthy. While perhaps the most well known is the Provençalratatouille, similar dishes are found east into Italy (the related ciambotta is made with spring vegetables), central Europe, the Middle East, and Caucasus. One of our favorite versions, termed gvetch, comes from Moldova and also includes diced apple.
This dish is also found throughout Spain: the Catalans refer to it as samfaina while the Majorcans call it tombet and in southern Spain it is referred to as alboronia. Throughout the Spanish heartland, it is called pisto manchego (or simply pisto), referring to the La Mancha region made famous by the Cervantes stories about Don Quixote, Sancho Panza, and the lovely Dulcinea.
While pisto manchengo is generally thought to have originated in Spain with the Moors, tomatoes, peppers and summer squash were not available until after contact with the New World. Thus modern versions of pisto must trace back to no earlier than the 1500s – after the Moors had been expelled from Spain. The ancestral version of this dish must have been based on stewed eggplant, onions and garlic, augmented by other Old World vegetables like cabbage and carrots. Given that these ingredients are all indigenous to the original homeland of the Romany in northern Indian and Pakistan, to us it seems likely that this family of dishes was actually brought to Europe via Gypsy caravans over 1000 years ago, being embraced by the many and varied cultures that they came into contact with along the way.
Pisto machengo is often served as an accompaniment to other dishes. For tapas, it is often served on toasted bread slices, much like bruschetta. It can also be used as empanada filling. We used the leftovers to make our tapas lasagna, discussed in the roasted red pepper entry.
2/3 cup olive oil
2 large onions, cut into ½ inch dice
6 garlic cloves, minced
½ teaspoon cumin seed
2 medium eggplant, cut into ½ inch dice
6 tomatoes, peeled, seeded, and roughly chopped
¾ pound summer squash, cut into ½ inch dice
3 roasted bell peppers, cut into ½ inch dice
1 tablespoon oregano
1 tablespoon sherry vinegar
salt and freshly ground black pepper to taste
Heat half of the oil in a heavy skillet, add in the onion and garlic, and sauté over medium heat for 7-10 minutes until soft. Remove to a bowl.
Add remaining oil to the skillet and heat to medium-high. Add in the cumin, and sauté for 15-20 seconds until seeds have begun to brown. Now add the cubed eggplant and stir while they absorb the oil, cook a bit, and then begin to release oil. Add in chopped tomatoes and simmer for 10-15 minutes. Stir in summer squash, bell peppers and oregano and continue to gently simmer until all of the vegetables are cooked. Remove from heat and add vinegar, adjusting flavor with salt and pepper. May be served hot, cold, or at room temperature.
Use the above recipe as a suggestion only and base yours on whatever fresh produce is available in your garden.
Rice Stuffed Baked Tomatoes
Stuffing tomatoes look like bell peppers on the outside and are also hollow inside. It is simplicity itself to remove the central seed core and to stuff them with any number of ingredients. Bcause they have a shorter growing season and are much more productive, they produce far more food per plant than a bell pepper, and are really worth a try in your garden. Here we showcase an excellent use of this type of tomato, filling them with a simple but savory rice stuffing. While we used purple basil for color contrast, you can of course use normal green basil as well. This recipe is very loosely adapted from a stuffed squash recipe presented in Georgeanne Brennan's 1995 France: The Vegetarian Table (ISBN 978-0811804745).
2 tablespoons olive oil
1/3 cup yellow onion, minced
2 cloves garlic, minced
¾ cup long-grain white rice
1½ cups water
¾ teaspoon salt
1/3 cup flat leaf Italian parsley, minced
1/3 cup fresh purple basil, chopped
8 stuffing tomatoes, seeded
¼ cup grated gruyere
Heat olive oil over medium. Add in onion and sauté until translucent, about 5-8 minutes. Now add the garlic, stir for 20-30 seconds. Add rice and sauté 2-3 minutes until the grains become chalky. Add water, salt, parsley and half the basil and bring to a boil. Cover, reduce heat to low, and simmer until the rice is cooked and all the water is absorbed, about 15-20 minutes. Remove from heat and stir in the remaining basil. Cover and set aside.
Preheat oven to 375º F. Fill tomatoes with rice mixture and top with the grated gruyere. Place filled tomatoes into an oiled casserole and cover. Bake for 15 minutes. Uncover and bake for another 10 minutes until the cheese topping has begun to brown.
Remove from oven and let cool for 10-15 minutes before serving.
Rice Stuffed Tomatoes
Stuffed vegetables likely came into Spain a millennium ago from the Middle East via the Moors. Such dishes remain an important part of the Middle Eastern diet, where any number of vegetables – including eggplant, squash, bell peppers, cabbage and grape leaves – are filled with any number of other vegetables, grains, and meat. As before, we find in the following recipe a fusion between the new and old worlds, with American tomatoes being filled with a savory old-world stuffing of rice, olives, and parsley. This dish is especially frugal as it uses the removed tomato cores.
It is important that you use the correct rice and cook it in the correct way for this dish to succeed. First, make sure that you use a long-grain rice (like Basmati) that cooks fluffy and dry. Second, you should slightly undercook the rice grains so they remain whole and remain toothsome when eaten. Remember that the rice will continue to absorb liquid and soften while it marinates for 4-6 hours with the chopped tomato cores, parsley, olives, and olive oil. Also, if you are using regular tomatoes, be sure to let them drain and dry for at least an hour to make sure that they are not too wet.
This recipe is an excellent way to try stuffing tomatoes, which have mostly hollow interiors and greatly resemble bell peppers in shape. If you use this type of tomato, you can stuff them immediately. However, because there will be little tomato core to chop and add into the rice stuffing, if you use them you should consider adding an extra chopped tomato (or two) to the rice.
2 cups water
¾ cup long-grain rice (Basmati works well)
5 medium tomatoes
¾ cup black olives, pitted and chopped
¼ cup parsley, minced
¼ cup olive oil
salt and freshly ground black pepper to taste
Bring salted water to a boil and add in rice. Cook for 10 minutes until just barely tender. Pour into a colander, rinse with cold water, and drain. Let sit in the colander for an hour to dry.
Slice tomatoes in half. Remove seeds. Remove cores and chop these into ½ inch dice. Season the inside of the halved and cored tomatoes with salt, turn them upside down, and let drain for an hour. Refrigerate.
Mix together the rice, chopped olives, tomato, minced parsley, and olive oil. Let rest in a covered bowl for 4-6 hours.
Pat the insides of the tomatoes dry and fill with the rice mixture. Serve at room temperature.
While you can use any garden-fresh tomato for this dish, you should really consider trying one of the many types of stuffing tomatoes as this will greatly simplify assembly. Possible varieties include the red Courson Roy's or Liberty Bell, Orange Stuffing, Yellow Stuffer, Brown Derby, Green and Yellow, and the red with orange-striped Schmmeig Striped Hollow or Striped Cavern.
Sardines at Sea
What a fun name for this vegan dish! As Faith Willinger relates in her 1996 Red White & Greens, the sardines do remain at sea as they are never caught and brought to shore. Rather, fennel greens and various other vegetables, fruits, and nuts are used instead to make for this very traditional and tasty rural Sicilian pasta sauce characteristic of "cucina povera", or poverty cuisine, in which excellent food was made from the most simple and inexpensive of ingredients. Often these were harvested free from the surrounding landscape as is the case with the fennel greens which grow wild throughout the Mediterranean. .
6 quarts water
2 tablespoons sea salt
½ pound fennel greens, tough stalks removed
1 large onion, chopped
3 tablespoons extra virgin olive oil
2 cups tomato, peeled, seeded and chopped
¼ cup pine nuts
¼ cup small raisins
1/8 teaspoon freshly grated nutmeg
1/8 teaspoon saffron, crushed and dissolved in 2 tablespoons of hot water
Salt and freshly ground black pepper to taste
Add salt to the water and bring to a rolling boil. Add in the fennel greens and cook until tender, about 6-8 minutes. Drain fennel, reserving the cooking water. Refresh fennel under cold water, drain, and coarsely chop.
Heat olive oil over medium heat in a large pan. Saute onion for about 10 minutes until soft. Add in the tomato, pine nuts, raisins, nutmeg, and chopped fennel leaves. Cook over medium-low heat until the sauce thickens, about 15-20 minutes.
Add in saffron and its soaking water along with ½ cup of the water used to cook the fennel leaves. Cook sauce over medium-high heat for 3-5 minutes until it thickens. If the sauce becomes too thick, add more of the fennel water. Adjust seasonings with salt and pepper.
Serve over linguini, spaghetti or some other long but narrow pasta which has been cooked in the fennel water. Garnish with freshly shaved parmesan cheese.
Seven Vegetable Tagine
We've taken a chicken tagine from Jeff Smith's 1990 The Frugal Gourmet on our Immigrant Ancestors (ISBN 978-0688075903) and converted it to a vegan delicacy. Besides turnips it also features onion, garlic, bell peppers, eggplant, zucchini, carrot, and tomato – all things that you will have in your garden. We've substituted the meat with spiced chickpea flour and bulgur fritters, and you'll want to add these in right before serving so that they do not dissolve into the stew.
½ cup fine bulgur, covered in cold water
¼ cup flat leaf parsley, minced, in all
2 tablespoons cilantro, minced, in all
1½ teaspoons freshly ground cumin, in all
1½ cups onion, chopped, in all
5 cloves garlic, minced, in all
¼ teaspoon cayenne pepper
½ teaspoon salt
¾ cup besan (gram) flour, mixed into a paste with ½ cup water
¼ cup olive oil, in all
1 pound eggplant, cut into 1" dice
3 cups stock
3 inches stick cinnamon
1 teaspoon Ral el Hanout or curry powder
¼ teaspoon ground turmeric
¼ teaspoon freshly ground black pepper
1 large carrot, peeled and cut into ½" dice
1 medium zucchini, cut into ½" dice
1 medium turnip, peeled and cut into ½" dice
1 medium red bell pepper, seesed and cut into ½" dice
2 cups tomato, peeled, seeded, and coarsely chopped
½ cup golden raisins
Let bulgur soak for 20-30 minutes until tender. Drain though a colander, pressing to extract as much water as possible. Place 2 tablespoons parsley, 1 tablespoon cilantro, ½ cup onion, 2 garlic cloves, ½ teaspoon cumin, ¼ teaspoon cayenne and ½ teaspoon salt into a blender. Process to make a smooth-ish paste. Add in the bulgur and besan flour paste.
Heat olive oil in a heavy pan over medium. When the oil comes to temperature, drop in 1 tablespoon balls of the spiced bulgur mixture. Allow to pan fry until golden brown on one side, about 5-8 minutes. Flip over the balls and cook on the other side until they are also golden brown. Remove from oil and reserve.
Pour remaining oil into a 6-8 quart casserole. Heat to medium, and add in the remaining onion, garlic, and eggplant. Sauté until the onion is tender, about 10 minutes. Add in stock, cinnamon sticks, ras el hanout / curry powder, turmeric, black pepper, and remaining cumin. Bring to a boil, reduce heat and simmer for 10 minutes. Add in the carrot, zucchini, turnip, and bell pepper. Allow to come back to a simmer and cook another 10 minutes. Add in the tomato, raisins and simmer for another 10 minutes. Add in the remaining parsley, cilantro, and the fried bulgur patties, and heat through.
Serve hot over couscous.
String Beans with Herb Sauce – Bohnen mit Sosse
(from the Fall 2014 Heirloom Gardener)
String beans were one of the most intensively grown crops in Amana Colonies kitchen gardens. Both green and yellow varieties were grown, with the yellow being the only type used for Katerbohen -- Pickled Dill Beans. However they were also used for fresh eating. Here both colors are steamed tender and served with a simple but tasty herbed tomato sauce
3/4 pound green beans
3/4 pound yellow beans
2 tablespoons minced green bell pepper
2 tablespoons minced celery
¼ cup minced onion
¼ cup Canola oil
2 pounds tomatoes, seeded and chopped
2 tablespoons white wine vinegar
2 cloves garlic, pressed
1 teaspoon salt
¼ teaspoon freshly ground black pepper
1 teaspoon dry marjoram
Steam beans until tender.
Saute pepper, celery, onion in oil for 5 minutes. Add tomato, vinegar, garlic, salt, black pepper, and marjoram. Simmer another 10 minutes. Pour over beans. Serves 6.
Stuffed Broccoli Pizza
Chicago is known, among other things, for its deep dish pizza. In the late 1970s Edward Jacobson began making a stuffed deep dish pizza in his pizzeria (Edwardo's) in Rogers Park on the far north side of Chicago . These pies differed from typical Chicago deep dish pizzas by not only having a top crust, but by also using a typical Sicilian dough that does not include cornmeal. Edwardo's became best known for their soufflé-stuffed pizza in which a vegetable was sautéed in olive oil, garlic and red pepper and then mixed with grated fresh mozzarella before being put into the pie. While the most famous of these was made with chopped fresh spinach, other vegetables were also used, including broccoli. Ed shared his recipes for both his broccoli and spinach stuffed pizzas with Evelyne Slomon, and they appeared in her classic 1984 The Pizza Book (ISBN: 978-0812911138). As a result we have made many a soufflé-stuffed pizza. Our primary alteration to the original has been to use chopped tomatoes on the top crust, as this makes for a lighter pie that allows the flavor of the filling to come forward.
1½ cups water
2 tablespoons dry yeast
4½ cups flour
½ cup olive oil
2 teaspoon salt
Combine yeast with ½ cup water; let rest until foamy. Pour activated yeast and remaining water into a medium bowl and add in olive oil and 2 cups flour. Mix thoroughly with a spatula or wooded spoon. Mix in a third cup of flour, and as the dough begins to pull away from the sides of the bowl knead in the remaining flour a bit at a time. Knead until the dough no longer feels sticky. Place in a lightly oiled large bowl, cover securely, and let rise in a warm place until doubled in bulk.
1 tablespoon extra virgin olive oil
2 pounds broccoli, coarsely chopped
6 garlic cloves, peeled and minced
1 teaspoon crushed red pepper
1 pound mozzarella, shredded
salt and freshly ground black pepper to taste
2 cups diced tomatoes, drained
2 tablespoons shredded fresh basil
¼ cup grated parmesan cheese
Preheat oven to 500º F. Heat olive oil in a large pan over high heat. Add in broccoli, garlic, and red pepper and saute, stirring constantly, until the broccoli is just tender. Remove from heat and adjust seasonings with salt and black pepper. Allow mixture to cool to just above body temperature and stir in shredded mozzarella. Set aside.
Punch down risen dough and remove 1/3; set this small piece aside. Lightly oil a 15-inch deep dish pizza pan. Take the larger piece of dough and roll into a 16" diameter circle and place into the pizza pan. Fill with the broccoli-cheese mixture.
Roll out the remaining smaller piece of dough into a 14" circle and place on top of the filling. Crimp and seal the edges of the pie. Cut a few small holes in the upper crust to allow steam to escape. Let pie rise for 15 minutes.
Bake at 500º F. for 15 minutes. Lower oven temperature to 400º F. and continue baking another 10 minutes. Remove pie from oven and top with tomatoes, basil, and parmesan. Return to oven and continue baking a final 10 minutes. When done the crust will be golden-brown on the bottom.
Remove from oven and let rest 10-15 minutes before cutting and serving.
Tomato Fennel Soup
Here's a good and simple way to use fresh tomatoes and fennel from your late summer garden. This recipe is adapted from one presented by Julee Rosso & Shelia Lukins in their 1984 Silver Palette Good Times Cookbook (ISBN 978-0894808319). Note that you will want to steep the aniseed in vodka overnight before using the infused liqueur, so do plan ahead.
Also, note that while not only is this soup wonderful on its own, it also makes a terrific pasta sauce. In fact, we used the leftovers to make perhaps the tastiest batch of vegetarian lasagna that we've ever assembled. If you have an abundance of fennel and tomatoes in your garden you may want to consider doubling or tripling the batch and canning up the extra for future use.
1 tablespoon anise seed
½ cup vodka
3 fennel bulbs (about 2 pounds)
2/3 cup olive oil
1 large onion, minced
¼ cup garlic, minced
2½ pounds tomatoes, peeled, seeded and chopped
2 cups stock
salt and freshly ground black pepper to taste
The night before cooking place anise seed and vodka in a small jar. Screw on cap and let sit. Before using strain out the seeds using a fine tea strainer.
Remove the leafy tops from the fennel bulbs, chop, and reserve.
Coarsely chop two of the fennel bulbs. Heat olive oil in a large pan over medium. Add in the fennel, onion, and 3 tablespoons of garlic and sauté until the vegetables are soft, about 10 minutes. Add in tomatoes and simmer uncovered for 30 minutes. Puree the mixture until smooth and return to the pan.
Finely chop the remaining fennel bulb. Heat the remaining olive oil over medium and sauté the remaining fennel and garlic for 5 minutes. Add to the fennel-tomato puree along with the anise-infused vodka, chopped fennel tops, and stock. Simmer until heated through. Season with salt and pepper to taste.
Vegetarian Chili
We have often been disappointed with vegetarian chilies as they usually do not have the depth of flavor or complexity to compete with meat versions. In fact, they usually seemed little more than the tomato-bean soups that pass as 'chili' in the Upper Midwest. Jeff knew there must be a way to make a vegetarian version that could stand up. Starting from a winning recipe from the Terlingua International Championship Chili Cookoff that called for four pounds of meat (and no beans), the following vegetarian version took years to perfect. Success was eventually achieved by adding in a number of Mediterranean ingredients such as basil, thyme, balsamic vinegar, and a rich olive oil into the mix. In the end it unintentionally became a distant southwestern cousin of ratatouille. But, the end result does really taste like a 'bowl of red'; in fact, this version won a chili cookoff in Chapel Hill, North Carolina, even though it was competing with regular meat chili. Note that this recipe makes 2 gallons; we usually put up half or more for later enjoyment.
2 lbs dry black beans
½ cup extra virgin olive oil
1 large eggplant, cut into ¾" dice
4 carrots, cut into ¼" dice
4 celery stalks, chopped
4 cups onion, chopped
3 leeks, cleaned, cut into 3" sections and shredded
6 cloves garlic, chopped
2 green bell peppers, seeded and chopped
1 habenaro chili, seeded and finely chopped
3 medium zucchini, chopped
4 cups of tomato, seeded and chopped
2 cups tomato sauce
12 oz. tomato paste
½ cup chili powder
3 bay leaves, crumbled
2 tablespoons vegetarian soup base
2 tablespoons dry basil
1 tablespoon cumin, ground
1 tablespoon Mexican oregano
1 tablespoon Caribbean hot sauce
1 tablespoon balsamic vinegar
1 teaspoon salt
1 teaspoon dry rosemary leaves, crumbled
1 teaspoon dry thyme leaves
1 teaspoon freshly ground black pepper
½ teaspoon cayenne
2 tablespoons honey
¼ cup lemon juice
2 cups beer (a Nut Brown Ale works wonderfully)
Wash and pick over beans, removing any dirt clods, stones, or other foreign material. Cover with water and let soak overnight. Drain, cover again with water, and heat to boiling. Simmer for at least an hour or until tender. Drain and set aside.
Over high heat and in a heavy soup pot, bring olive oil up in temperature until almost smoking. Add in the eggplant. Sauté until it begins to soften and release the olive oil that it initially absorbed. Now add in the carrots and celery and sauté for another 3 minutes. Then add in the onion, leeks, and garlic and sauté for another 4 minutes. Next add in the bell pepper, habanero and zucchini and sauté until all the vegetables are tender – another 5-10 minutes.
Turn heat down to medium and add in tomatoes, tomato sauce, and tomato paste. Then add in the remaining spices. Last, add in the honey, lemon juice, beer, and reserved black beans. As this mixture will be quite thick, add in water (no more than 4 cups) to dilute to the desired consistency.
Bring to a boil, reduce heat, and simmer uncovered for at least 2 hours to allow the flavors to meld. This chili will taste even better the second day.
We usually can the chili. If you plan to do this, you can skip the 2 hour simmer and simply fill jars with the diluted sauté. Remember that this is a low acid food and will require pressure canning for at least 90 minutes at 10-15 pounds of pressure depending upon elevation. Check with your local extension office to determine the correct pressure and cooking time for your area.
Needless to say this recipe makes full use of your late summer garden. If you can, please track down Mexican oregano at your local Hispanic market. It has a different flavor profile from typical Italian/Greek oregano, and works better with Tex-Mex dishes. And last, do try and locate an authentic Caribbean hot sauce made with Scotch Bonnet peppers, such as Matouk's.
Vegetarian Harira
Until now all of the recipes we've shared for this feast have originated in the Levant – the region of the eastern Mediterranean coast between Egypt and Turkey. We'll now break this pattern for Harira, one of our favorite soups. This stew is the traditional way in which the peoples of the Maghreb, the region along southern Mediterranean coast from Lybia to Morocco, break the daily Ramadan fast. True harira is made with not only a variety of pulses and vegetables but also meat. In this version, we have replaced the traditional lamb with small, dark-brown desi chickpeas, which have a meatier flavor than typical kabuli chickpeas. Both types of chickpeas occur in this recipe.
There is also one rather exotic ingredient that we're using: ras el hanout. This Arabic name translates to "head of the shop", referring to the fact that the spice merchant is making it from a mixture of all the best and most expensive spices in the store. There are probably as many ras el hanout recipes as there are spice merchants in Morocco. The number of ingredients often tops two dozen and may contain such exotic fare as saffron, rose petals, alligator pepper, grains of paradise, cubeb, long pepper, and orris root. Because ras el hanout recipes tend to be closely guarded secrets, Paula Wolfert in her classic 'Couscous and Other Good Food from Morocco'had to assemble hers through a chemical analysis of some she purchased in a Fez souq. We combined her recipe with various others to make our own version, and a colleague of Linda's who lived for a while in Morocco proclaimed it authentic. However, we'll not share directions here, as it means tracking down all sorts of obscure spices and we doubt there are more than a few of you out there who would be that committed. Rather, until someone contracts us to write our own cookbook, we'll suggest you buy yours from a reputable dealer like the Spanish Table. You can also substitute a mild curry powder. Even though these two spice mixes are really not that interchangeable, no one other than a Moroccan or someone who has lived there will likely know the difference. This recipe makes at least 8 servings:
1 cup small brown (desi) chickpeas soaked overnight
1 cup yellow (kabuli) chickpeas soaked overnight
2 tablespoons olive oil
2 large onions, chopped
1 cup of chopped celery
1 cup of chopped parsley
2 cups diced carrots
2 tablespoons minced garlic
½ teaspoon freshly ground black pepper
1 teaspoon of turmeric
1 teaspoon of cinnamon
¼ teaspoon ground ginger
1 tablespoon of ras el hanout
2 pound can of tomatoes or 4 cups of chopped and peeled tomatoes
¼ cup dry orzo pasta
¼ cup chopped fresh cilantro
¼ cup lemon juice or more, to taste
Salt and pepper, to taste
Cook the two chickpeas until tender and drain; for convenience we simmer both together in the same pot.
Heat olive oil in a soup kettle and sauté the onion, celery, parsley, and carrot until the onions are translucent. Add in the spices. Sauté another 15 minutes until the vegetables begin to brown. Add the cooked chickpeas, tomatoes and 8 cups of water. Bring to a simmer and cook for an hour and a half until all the vegetables are tender. Add in the orzo and cook until tender, another 15-20 minutes. Add in the chopped cilantro and lemon juice, and correct seasoning with salt and pepper.
If you leave out the orzo pasta, the harira will freeze and reheat beautifully. In this case, you'll want to cook the orzo separately and then add it in as a topping when serving the reheated soup.