Ailazan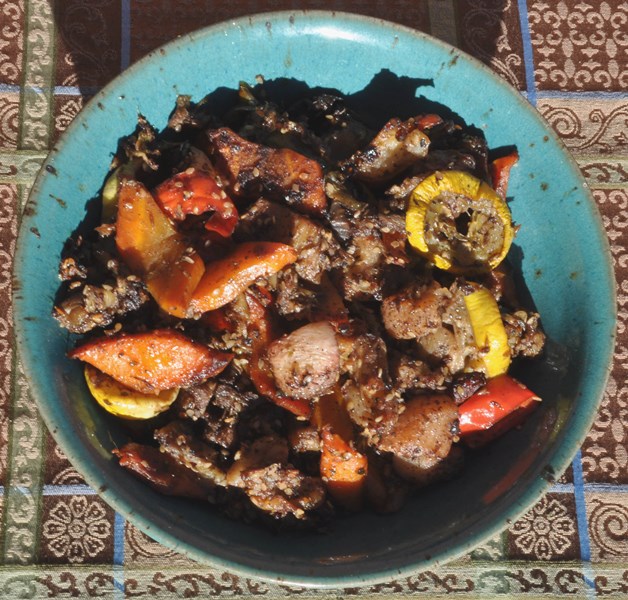 While we looked west to the Maghreb for our iftar soup, we now look east for the following roasted vegetable dish which originated in the Caucasus. The cuisines of the Caucasus peoples – in particular the Armenians and Georgians – represent a unique combination of both savory and sweet flavors. In the case of this recipe its eastern origins are suggested by the use of sweet flavorings like spearmint, cinnamon, and cardamom in combination with more savory ingredients like cumin and olive oil, the nuttiness of sesame seeds, and the sweet/sour/peppery contribution of sumac. While you'll want to keep the spice mix the same, you should not feel obliged to use the exact vegetables listed below, as they simply represent what was fresh and available in Albuquerque when we trailed the recipe in mid-June. So, head out to your garden or local farmer's market and choose a nice mélange of roasting vegetables. As long as they are fresh and harvested at their peak of flavor you can't go wrong. Serves 4-6:
2 medium eggplants cut into ½ inch slices, and then into 2 inch wide planks
4 carrots cut into ¼ inch thick diamond shapes
1 summer squash cut into ½ inch thick rounds
12 cipollini onions, skinned but left whole
½ each of a red, yellow and green pepper, cut into ½ inch wide strips
6-8 small turnips, peeled and quartered
1/3 cup olive oil
1 tablespoon dried spearmint
1 tablespoon dried sumac
½ teaspoon ground cinnamon
1 teaspoon ground cardamom
1 teaspoon ground cumin
¼ cup sesame seeds
salt and ground pepper to taste
Preheat oven to 450° F. Toss prepared vegetables with spice mix, sesame and olive oil. Place in a single layer on a large oiled pan. Roast for 10 minutes, stir vegetables and seasonings and cover pan. Return to oven and reduce heat to 350° F. Bake for another hour, allowing vegetables to steam. Uncover pan, stir vegetables and seasonings, and continue roasting uncovered until the vegetables are well browned, about 30 minutes.
The vegetables may be served either hot or cooled to room temperature. While they are wonderful eaten on their own, they are especially nice when stuffed into a splitkhoubz loaf and topped with laban sauce.
You'll need to find a Middle Eastern market for ground sumac, which is related to but different tasting than the various types of wild sumac found throughout North America. This spice is also available from on-line vendors. Just be sure you are using freshly ground sumac as its vibrant flavor will fade within a few years. Also be sure to use spearmint which is much sweeter than toothpaste-flavored peppermint.
Sauerrüben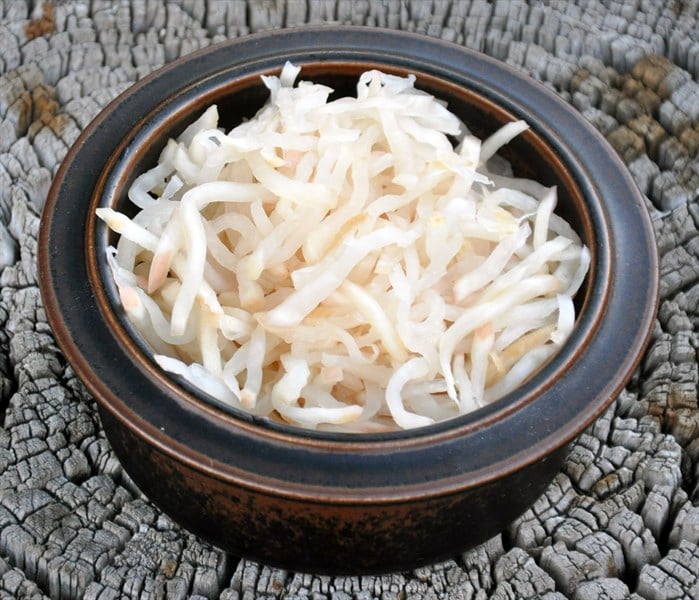 This spontaneous ferment of slivered turnip is made just like sauerkraut. It differs by having a firmer texture and in also having a more horseradish-like taste. It makes a great accompaniment to many dishes (especially sandwiches), and is a great way to use your home-grown turnips. Note that the flavor will be aided by leaving on the turnip skins. Just make sure you scrub them very well. The basic directions were provided by Sandor Katz's Wild Fermentation.
5 pounds turnips, washed and unpeeled
3 tablespoon sea salt
Cut turnips into matchstick-sized strips. We used a mandolin.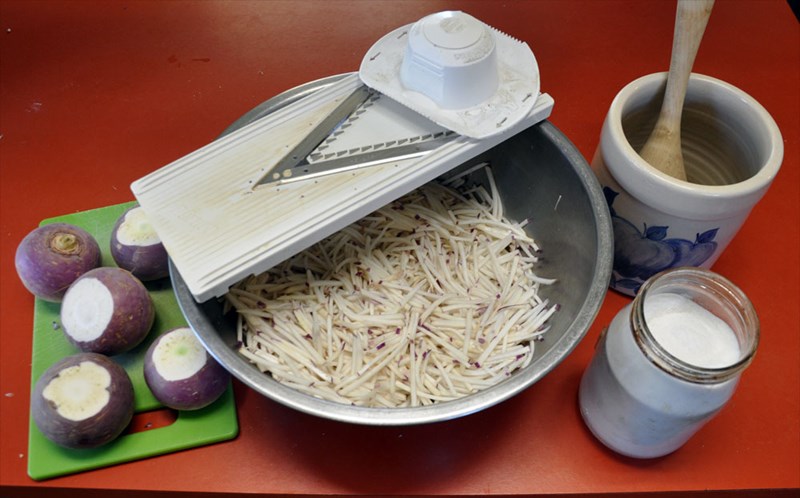 Pack about a cup of the turnip strips into a ½ gallon crock. Sprinkle some salt on top and pack down tight with a pestle. Repeat the process until all of the turnip has been used. Don't fret if it looks like you'll never get all the turnip into the crock, as it will fit. By the time you have finished, you'll note that when you press the turnip strips down they will be covered in brine. Cover the crock with a small plate and weight down to keep the turnips submerged. Cover with a plastic bag to keep out insects and to retard evaporation. Let sit at room temperature.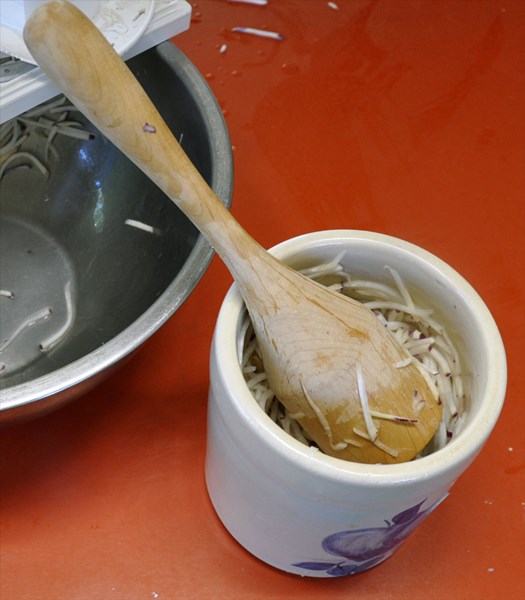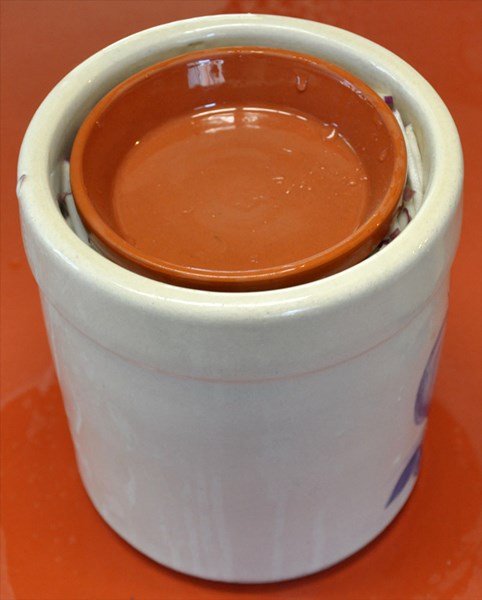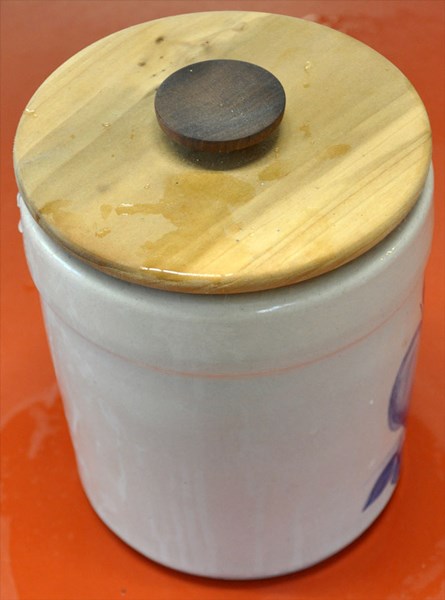 Check the crock every few days, wiping away any surface mold. You may need to occasionally top off the brine if you live in a dry place.
When the sauerrüben has reached your desired tartness, remove from crock into a clean container and refrigerate, or can using a boiling water bath for 10 minutes.
Seven Vegetable Tagine
We've taken a chicken tagine from Jeff Smith's 1990 The Frugal Gourmet on our Immigrant Ancestors (ISBN 978-0688075903) and converted it to a vegan delicacy. Besides turnips it also features onion, garlic, bell peppers, eggplant, zucchini, carrot, and tomato – all things that you will have in your garden. We've substituted the meat with spiced chickpea flour and bulgur fritters, and you'll want to add these in right before serving so that they do not dissolve into the stew.
½ cup fine bulgur, covered in cold water
¼ cup flat leaf parsley, minced, in all
2 tablespoons cilantro, minced, in all
1½ teaspoons freshly ground cumin, in all
1½ cups onion, chopped, in all
5 cloves garlic, minced, in all
¼ teaspoon cayenne pepper
½ teaspoon salt
¾ cup besan (gram) flour, mixed into a paste with ½ cup water
¼ cup olive oil, in all
1 pound eggplant, cut into 1" dice
3 cups stock
3 inches stick cinnamon
1 teaspoon Ral el Hanout or curry powder
¼ teaspoon ground turmeric
¼ teaspoon freshly ground black pepper
1 large carrot, peeled and cut into ½" dice
1 medium zucchini, cut into ½" dice
1 medium turnip, peeled and cut into ½" dice
1 medium red bell pepper, seesed and cut into ½" dice
2 cups tomato, peeled, seeded, and coarsely chopped
½ cup golden raisins
Let bulgur soak for 20-30 minutes until tender. Drain though a colander, pressing to extract as much water as possible. Place 2 tablespoons parsley, 1 tablespoon cilantro, ½ cup onion, 2 garlic cloves, ½ teaspoon cumin, ¼ teaspoon cayenne and ½ teaspoon salt into a blender. Process to make a smooth-ish paste. Add in the bulgur and besan flour paste.
Heat olive oil in a heavy pan over medium. When the oil comes to temperature, drop in 1 tablespoon balls of the spiced bulgur mixture. Allow to pan fry until golden brown on one side, about 5-8 minutes. Flip over the balls and cook on the other side until they are also golden brown. Remove from oil and reserve.
Pour remaining oil into a 6-8 quart casserole. Heat to medium, and add in the remaining onion, garlic, and eggplant. Sauté until the onion is tender, about 10 minutes. Add in stock, cinnamon sticks, ras el hanout / curry powder, turmeric, black pepper, and remaining cumin. Bring to a boil, reduce heat and simmer for 10 minutes. Add in the carrot, zucchini, turnip, and bell pepper. Allow to come back to a simmer and cook another 10 minutes. Add in the tomato, raisins and simmer for another 10 minutes. Add in the remaining parsley, cilantro, and the fried bulgur patties, and heat through.
Serve hot over couscous.
Turnip – Sweet Potato Soup
This very satisfying autumn soup, filled with just-harvested root vegetables and fresh spinach was inspired by a recipe presented in Alice Waters' 1996 Chez Panisse Vegetables. It is easy to make, and reheats wonderfully. Please serve with a crusty baguette.
½ pound spinach, washed and shredded
1 tablespoon olive oil
2 leeks, trimmed, washed, and diced
1 medium onion, diced
4 tablespoons butter
Salt and freshly ground black pepper, to taste
2-3 pounds small turnips, trimmed and washed
2 russet potatoes, peeled and cut into 1" dice
1 small sweet potato, peeled and cut into 1" dice
2 quarts stock
Sauté shredded spinach in olive oil over medium heat until they have collapsed. Set aside.
Sauté leeks and onion in butter over medium heat until soft, 5-10 minutes. Season with salt and pepper. Add in the prepared turnips, russet and sweet potatoes, and sauté for 10 minutes, stirring occasionally. Add stock, bring to a boil, reduce heat, and simmer 20-30 minutes until the root vegetables are soft. Puree smooth. Mix in the cooked spinach and adjust seasoning with salt and pepper, and serve immediately.
Winter Squash and Greens Couscous -- Djerba, Tunisia
The peoples along the southern shore of the Mediterranian are also great devotees of spring greens, and in this recipe these greens are used in a wonderful couscous. We've adapted the version presented below from a meat-based recipe appearing inPaula Wolfert's Mediterranian Grains and Greens. In this case we've just left out the fish and replaced it with marinated potato chunks. This is a very frugal meal, as you steam the couscous and vegetables over the spiced tomato broth (served along side as a sauce), giving them a wonderful, subtle flavor of tomato, garlic and spices. Whatever broth is left over can be easily made into a wonderful salad dressing by adding 2 parts broth to 2 parts olive oil to 1 part wine vinegar.
You'll note that the recipe calls for harissa, a spiced chile paste characteristic of north Africa. While it is easy to make, showing you how to do this now is beyond the scope of this month's recipes. We promise to do this at some point in the future. If you'd like to make your own, track down the recipe from Elisabeth Luard'scookbook, Saffron & Sunshine. Or, you can buy harissa from most Middle Eastern groceries. One one-line source is at the Spanish Table. Serves 8
1/3 cup extra virgin olive oil
½ cup minced onion
1 tablespoon crushed garlic
1 tablespoon ground cumin
1 teaspoon salt
½ cup tomato paste
2-inch cinnamon stick
½ teaspoon dried mint
2 teaspoons harissa
1 green bell pepper, cored, seeded, and finely diced
8 cups stock
In the bottom of your steamer pot, sauté the onion in olive oil over low heat until light yellow. Add in garlic, cumin, salt and tomato paste and stir over heat for 1-2 minutes. Add cinnamon, mint, harissa, green pepper and 1 cup stock. Cook until the peppers are soft. Add the remaining stock and simmer over medium heat for 10 minutes.
1 pound medium or small couscous
1 tablespoon crushed garlic
2 tablespoons harissa
¼ cup tomato paste
1 cup sliced onion
2 tablespoons olive oil
2 pounds waxy boiling potatoes, peeled and cut into 2" cubes
1 pound carrots, peeled, and cut into 2" pieces
1 pound small turnips, peeled and quartered
1 pound of peeled and cored winter squash cut into 2" cubes
1 pound spinach, cut into thin shreds
2 bunches flat leaf parsley, finely chopped
Rinse couscous under running water, and let sit until grains swell, about 10 minutes.
Toss the cubed potatoes with garlic, harissa, tomato paste, onion, and olive oil and set aside.
Line a steamer basket with a tea towel, and pour in the soaked couscous. Break up any lumps with your fingers, and wrap with the edges of the tea towel. Place the basket over the simmering tomato broth, cover, and let steam for 20 minutes.
Move couscous into a wide bowl. Break up any lumps while mixing in 1 cup of tomato broth removed from the simmering pot plus 1 teaspoon salt.
Place carrots and turnips into the remaining simmering tomato broth and bring back to a boil. Place a steamer tray on top of the simmering broth, and add in the marinated potatoes and squash. Place a second tray on top of the first, lay a tea towel in the bottom, and fill with the couscous, Cover and steam for 10 minutes. Remove the couscous tray and place shredded spinach and chopped parsley over the potatoes and squash. Return the couscous tray and continue steaming for another 15 minutes or until the potatoes and squash are tender.
Move the couscous into a wide serving dish and fluff with a fork. Adjust the seasoning for the tomato broth with salt and pepper, and then gradually moisten the couscous with 2 cups of the tomato broth. Mix well, cover, and let stand 15 minutes. Remove carrot and turnip chunks from the tomato broth and place over the couscous. Remove the cinnamon stick and discard. Arrange potatoes, squash, and greens over the couscous as well. Pour remaining tomato broth into a tureen, and serve with the couscous.
Root Vegetable Ragout
This excellent vegan winter root vegetable ragout is adapted from a recipe presented in Georgeanne Brennan's 1995 France: The Vegetarian Table (ISBN 978-0811804745). While her original recipe was flavored to suggest a North African couscous, we have tried to pull it back into a more classic Provencal style through use of Herbs de Provence and dried tomatoes. We are also quite fond of this recipe as it provides a glimpse of the type of vegetable cooking that was common in Europe prior to the advent of New World potatoes; in fact everything in this recipe – save for the dried tomatoes – would have been present in Provence back to at least the Middle Ages.
12 shallots
2 pounds parsnips, washed and cut into 2" chunks
1 pound turnips, washed and quartered
1 pound rutabaga, washed and cut into eights
1 pound carrots, washed and cut into 2" lengths
¼ cup olive oil, in all
2 tablespoons flour
½ teaspoon salt
½ teaspoon freshly ground black pepper
2 tablespoons Herbs de Provence
½ cup dry white wine
2 cups stock
1 cup water
4 bay leaves
½ cup sun-dried tomatoes, cut into ½" strips
1 pound chard leaves, washed, destemmed, and cut into 1/2" wide ribbons
Parboil shallots for 5 minutes in boiling water. Drain and peel away the skin from the top downward. Cut off the skin by cutting through the root plate at the bottom. Be sure to leave some of this place as otherwise the shallots will fall apart upon cooking. Heat a tablespoon of the olive oil in a heavy skillet and saute the peeled shallots over medium-high heat for 10-15 minutes until their outsides have caramelized. Remove from heat and set aside.
Preheat oven to 350° F.
In a large, heat-proof casserole warm remaining olive oil over medium heat. When hot add in the parsnips, turnips, rutabagas, and carrots and saute for until well coated in the oil and somewhat softened, about 10 minutes.
Mix together the flour, salt, pepper, and Herbes de Provence and sprinkle over the vegetables. Continue cooking, stirring frequently, until the flour begins to stick and turn brown on the casserole bottom. Add the wine and deglaze the casserole. After a minute or two add in the stock, water, bay leaves, dry tomato strips, half of the chard, and reserved carmelized shallots. Cover casserole and bake until the vegetables are tender, about 45 minutes. Remove cover, stir in the remaining chard, and continue baking for another to reduce the sauce and brown the vegetables slightly. Serve warm, preferably with a fresh, crusty baguette..