Ukrainian Christmas Eve Borscht Part 2
Jeff and Linda's Kitchen of Diversity
Vegetarian Borscht with Little Dumplings
Part II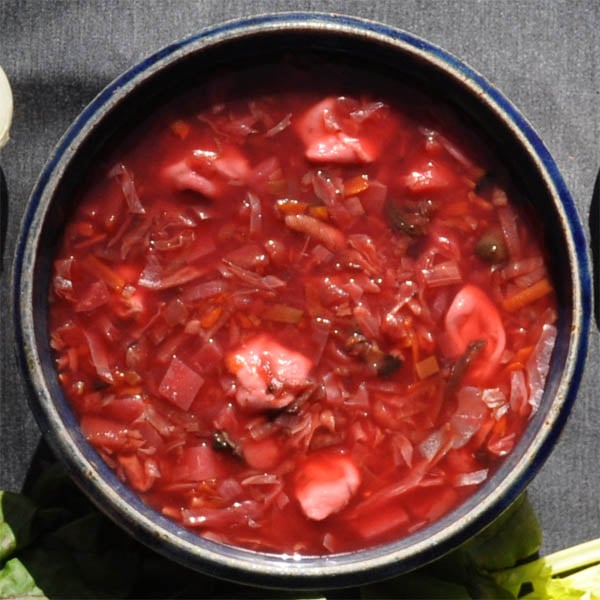 After making the tiny dumplings in Part 1, we'll now assemble the borscht. Remember that the flavor will improve with time and that you should let the borscht sit for at least 3 hours before reheating and serving. Better yet, let it rest in the refrigerator over night.
Serves at least 8
1/3 cup olive oil
1½ pounds sliced mushrooms
2 large onions, finely chopped
2 large carrots, grated
2 parsnips, thinly sliced
2 leeks, cleaned and finely chopped
3 celery stalks cut into ¼-inch dice
7 medium beets, peeled and grated
1 pound cabbage, shredded
5 potatoes, peeled and cut into ½ inch dice
1 tart apple, peeled and cut into 1 inch dice
6 garlic cloves, coarsely chopped
8 oz tomato paste
3 quarts vegetable stock
2 bay leaves
Tiny mushroom-filled dumplings (optional, though traditionally part of Christmas Eve borscht)
1 tablespoon sweet paprika
2 tablespoon lemon juice (or more to taste)
1 teaspoon sugar or more to taste
salt and pepper (to taste)
2 tablespoons parsley
2 tablespoons dill leaf
Heat oil in a large kettle over medium heat. Add in mushrooms, onions, carrots, parsnips, and leeks and sauté until slightly softened – about 7 minutes. Then add in celery, beet, and cabbage, and continue cooking another 10-15 minutes. Now add the potatoes, apple, garlic, tomato paste and stock. Bring to a boil, reduce to a simmer, add in tiny dumplings (Vuška), and cook (covered) for another 20 minutes.
Add the paprika, sugar, lemon juice, and adjust flavors with salt and pepper.
Let stand at least 2-3 hours (preferably overnight) to let the flavors meld. Reheat and garnish with parsley and dill.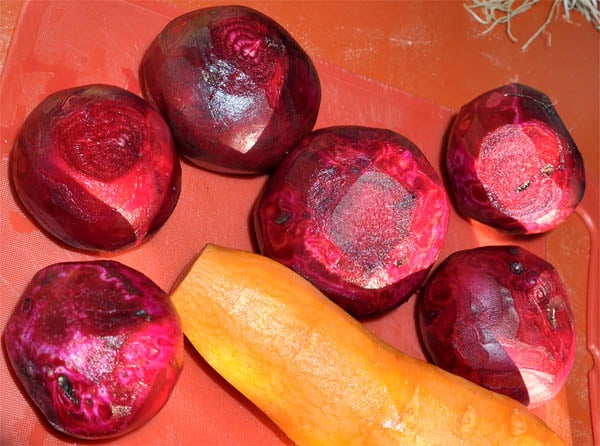 This dish makes wide use of your garden's bounty. We recommend you use Chantenay carrots and Hollow Crown parsnips as both will be quite sweet by late December. Any onion will work well, though you may want to consider trying a pungent long-storing yellow type such as Stuttgarter. Bulls Blood beets will give you lots of beet flavor and dark red coloring. Why not try the Giant Red Re-Selection Celery to make your borscht even redder? Use an Eastern European leek variety like Bulgarian Giant Leek. While green cabbage is usually used (we'd recommend using the interiors left over after harvesting the larger outer leaves for stuffed cabbage), you could use a red cabbage like Red Express or Tete Noire. For the garlic, use an assertive eastern European marbled-purple-stripe variety like Bogatyr or Siberian.