Ukrainian Christmas Eve Cake
Jeff & Linda's Kitchen of Diversity
Ukrainian Christmas Cake
Half of the 12 dishes that make up a traditional Svyata Vechera are sweets, including cakes, compotes, and cookies. This is not terribly surprising, given the eastern European love of desserts. We've chosen our favorite to share with you: the Christmas Cake. Unlike typical western cakes, this one is made from a yeasted dough, and is perhaps best thought of as a sweet, rich, luscious filled bread.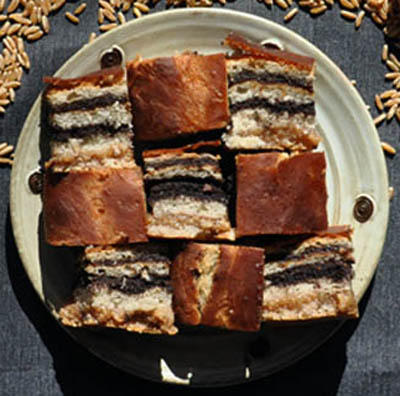 There are three different fillings that are layered into the cake. We recommend that you make them ahead of time.
Poppy Seed Filling
1 cup fresh ground poppy seed
½ cup water
¼ cup ground almonds
2 tablespoons sugar
2 tablespoons honey
1 teaspoon allspice
Add water to the ground poppy seed paste (fresh-grind your own using a poppy seed mill, as discussed in the Kutia recipe), and bring to a boil in a small saucepan. Cook, stirring frequently, for about 5 minutes, or until it becomes thick. Add in the ground almonds, sugar, and honey and cook for another 2 minutes. Take off heat and mix in allspice. Let cool.
Date Filling
1 pound of date puree
1½ cups of apricot preserves
Stir together in a medium sized bowl.
We use compressed date puree that can be bought in little plastic-wrapped bricks at most Middle Eastern groceries.
Walnut Filling
¾ cup sugar
1 teaspoon vanilla extract
½ pound walnuts, finely chopped
¼ cup honey
Stir together walnuts, sugar and vanilla. Add honey and mix well.
Once you have made the three fillings and have allowed them to cool completely, it is time to make the:
Sweet Yeast Dough
1½ cups warm water
2 packages of dry yeast
¾ cup + 1 tablespoon of sugar
½ teaspoon of salt
2/3 cup canola oil
zest of 1 lemon
4 ½ to 5 cups of flour
In a large bowl combine the water and 1 tablespoon sugar. Allow sugar to dissolve, and then add in the dry yeast. Let stand until foamy, about 10-15 minutes.
Add in the oil, sugar, and lemon zest and salt and mix well, either with an electric mixer or by hand with a whisk. Add the flour one cup at a time and mix with a wooden spoon until a loose dough is formed. Place dough on a floured surface and knead until smooth and elastic, about 10 minutes. Keep the kneading surface lightly floured to keep the dough from sticking. Place dough into a lightly oiled bowl, and turn dough to coat fully. Cover and let rise in a warm, draft-free place about 2 hours or until doubled.
Punch down dough. Divide into 4 equal pieces, and cover. Using a floured rolling pin, take out a single piece of dough and roll into a 9 x 13 inch rectangle. Transfer to a large baking sheet covered with baking parchment. Spread the walnut filling over the dough, leaving a ½ inch border on all 4 sides. Roll out a second piece of dough as before and place on top of the walnut filling. As before. spread the apricot and date filling over the second layer of dough. Roll out the third piece of dough, and as before place it on top of the apricot and date filling. Spread this third layer of dough with the poppy seed filling. Roll out the last piece of dough 1 inch larger on all sides than the previous layers, and place on top of the poppy seed filling. Bend the edges down and press into the border of the lower three layers. Starting on one side, roll the sealed border of dough over on itself, working around all four edges. When finished, crimp the crust border around all four edges.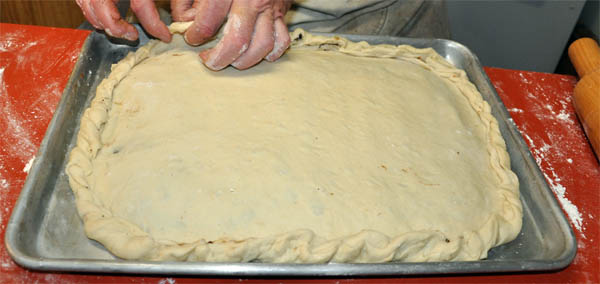 Cover the cake, and let rise for about 30-45 minutes, or until it just begins to look puffy. Prick the top crust with a fork in a few places to allow steam to escape, and place the cake into a 350o F oven for 50-60 minutes. Remove when the crust is well browned and sounds hollow when tapped. Cool on a rack.
The cake will taste better if allowed to rest for a day in a refrigerator or other cool place. Cut into squares and serve.
Grow your own poppy seeds by planting the Hungarian Blue Breadseed Poppy.