Ukrainian Christmas Eve Holubtsi
Jeff & Linda's Kitchen of Diversity
Stuffed Cabbage (Holubtsi)
with Buckwheat and Mushroom Filling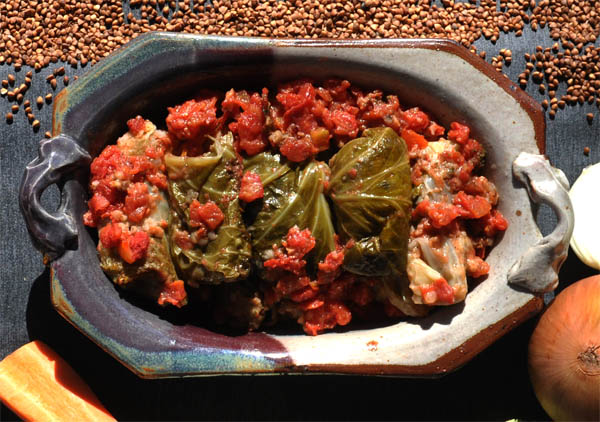 Stuffed vegetables of many sorts are well loved throughout the Slavic countries. One of the most common made is from blanched, stuffed cabbage leaves rolled up like a spring roll and then baked in the oven covered with some type of sauce. While rice-based fillings are perhaps the most widespread, it is also not unusual for them to be made with barley or buckwheat groats. The dark, earthy flavor of buckwheat marries well with mushrooms and is also perfect for our Christmas Eve feast which celebrates the richness of the land.
Buckwheat and Mushroom Filling
¼ cup olive oil, in all
1 cup whole buckwheat groats
2½ cups vegetable stock
2 large onions, finely diced
10 ounces mushrooms, cleaned and finely diced
1 medium carrot, finely diced
salt and pepper to taste
Heat 2 tablespoons olive oil in a medium-sized casserole over medium heat. When the oil is hot, add in the buckwheat groats and sauté for 4-5 minutes until the buckwheat begins to toast and darken. Add the vegetable stock, salt and pepper, and heat until boiling. Reduce heat, cover, and simmer for 15-20 minutes until all the liquid is absorbed and the buckwheat is expanded and soft.
While the buckwheat is cooking, heat the remaining 2 tablespoons of olive oil in a large skillet over medium heat. Add the onions and sauté until translucent, about 5 minutes. Next add the mushrooms, and continue sautéing for another 10 minutes until the mushrooms have stopped releasing water. Then add in the carrots, and continue cooking for another 10 minutes.
Stir the onion-mushroom-carrot mixture into the cooked buckwheat and bake in a 375o F oven until top is lightly browned, about 20 minutes.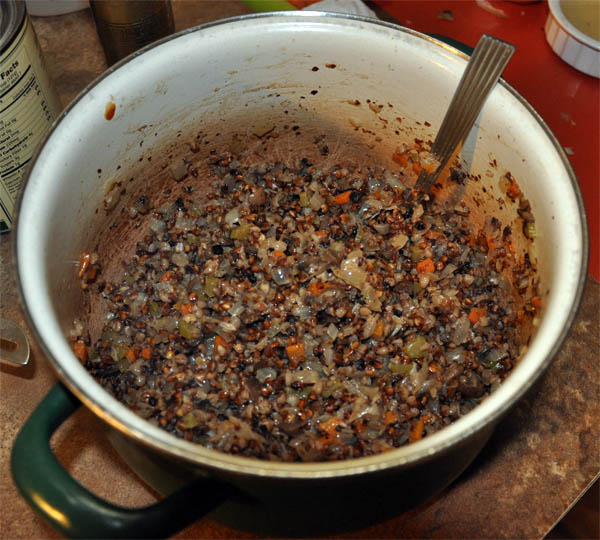 Remove from oven and cool.
Making the Holubtsi
12-18 medium-sized cabbage leaves
3 tablespoons canola oil
¼ cup flour
2 tablespoons olive oil
1 cup vegetable stock
28 oz can crushed tomatoes, with liquid
2 tablespoons apple cider vinegar
1 teaspoon sugar
1 teaspoon dill leaf
1 tablespoon finely chopped parsley
1 bay leaf
salt and pepper to taste
Blanch cabbage leaves in boiling, salted water for about 5 minutes until they have become soft and pliable. Drain and pat dry. With a sharp knife, remove the tough central rib from each leaf.
Divide the stuffing equally among the leaves, placing it in bottom half of each leaf. Fold over both sides, and roll from the bottom up, keeping the ends pressed in firmly as you go.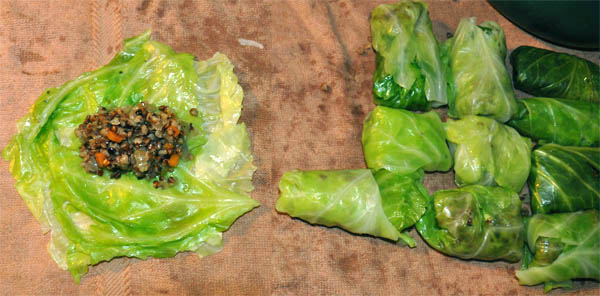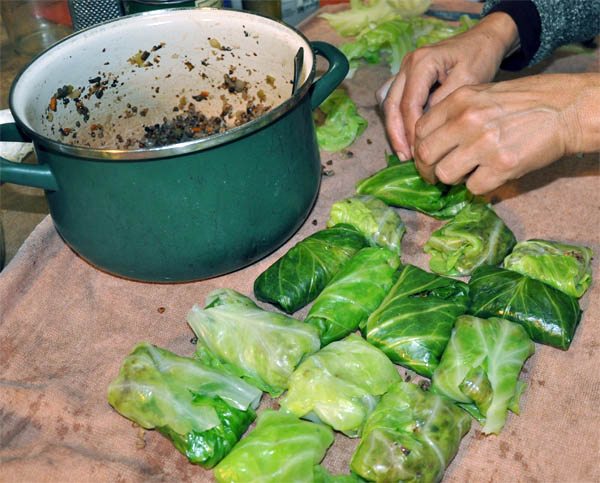 Heat oil in a large ovenproof skillet or casserole. Toss cabbage rolls in flour and fry cook in hot oil over medium heat in skillet for about 15 minutes, until browned. Add stock and tomatoes and bring to a boil. Stir in remaining ingredients and bake uncovered in a 350o F. oven for about 40 minutes.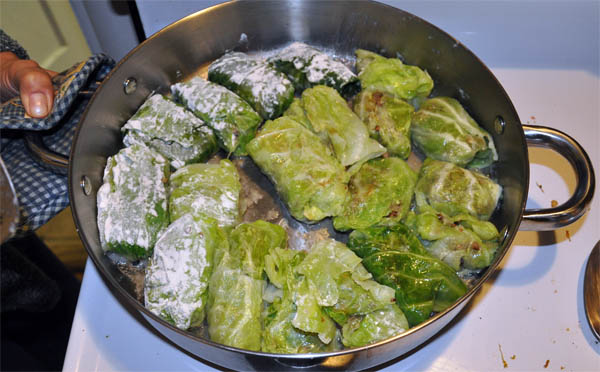 For the filling, use a sweet storage carrot -- like the Chantenay, and a pungent storage onion -- like the Australian Brown or Stuttgarter. You can also grow your own buckwheat.
The best type of cabbage for holubtsi is a variety that does not have too tight of a head, making it easier to remove the cabbage leaves in one piece. As a result, try one of the cone-head cabbages, such as Bacalan De Rennes, Couer De Boeuf Des Vertus, Cour Di Bue, Early Jersey Wakefield, or Henderson's Charleston Wakefield.