Ukrainian Christmas Eve Vareniki
Jeff & Linda's Kitchen of Diversity
Vareniki with Sauerkraut filling
"Patsuk opened his mouth, stared at the vareniki, and opened his mouth wider still. At that moment, a varenik jumped out of the bowl, splashed into the cream, flipped over and leapt straight up into his mouth. Patsuk opened his mouth again, and another varenik went through the same performance. The only trouble he took was to munch it up and swallow it."
--- Nikolai Gogol, Christmas Eve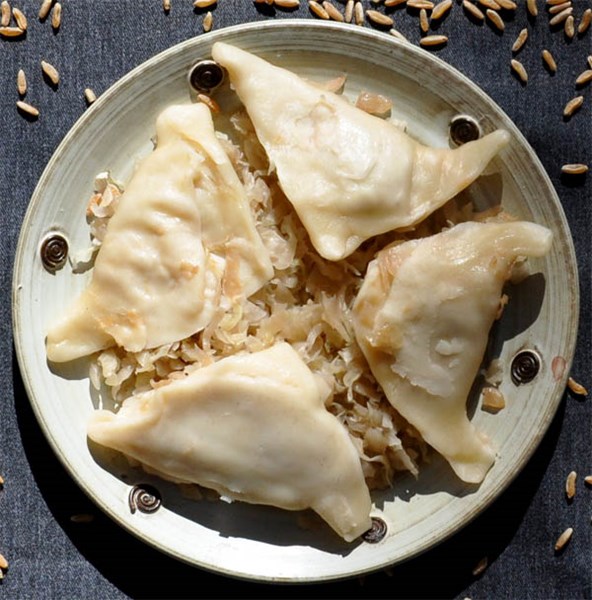 Stuffed dumplings, even the mundane kinds that you must physically put into your mouth, are a passion among Ukrainians. This love is shared by almost all their neighbors, with almost identical foods being made by the Poles (perogi), Siberians (pelmeni), Afghans (aush), and Armenians and Uzbeks (mante). Although there are a wide range of possible fillings, ranging from vegetables to ground meat to fruit, one of the most classic is made with sauerkraut.
Sauerkraut Filling
2 tablespoons olive oil
1 large onion, finely diced
4 ounces chopped mushrooms
3½ cups bagged or fresh (not canned!) sauerkraut, rinsed and squeezed dry
1½ tablespoons tomato paste
2 teaspoons sugar
1/3 cup vegetable stock
Heat oil in a large skillet, and when hot add the onion, and sauté over medium heat for about 15 minutes or until browned. Add the mushrooms and cook until all of their water has been released and cooked away. Turn heat up to medium-high, add sauerkraut, and sauté another 15 minutes, stirring frequently. Add tomato paste, sugar, and stock, reduce heat to low, and simmer for 20 minutes. Remove from heat and cool before using to fill the vareniki.
Vareniki Dough
2 cups unbleached all-purpose flour
½ teaspoon salt
¼ cup canola oil
½ cup water
2 tablespoons olive oil
Mix flour and salt together in a medium-sized bowl. Make a well in the middle of the flour and add in the oil and water, and mix into the flour with a sturdy spoon, working from the center out. If there is not quite enough water to bind up all the four, add in a little more a tablespoon at a time. Once you have a ball of dough, transfer to a floured surface and knead until smooth, about 2 minutes. Cover and let rest for 30 minutes.
Vareniki Assembly
Divide dough in half and shape into two balls. Keeping one covered with a damp towel, roll the other into a very thin (1/16 inch) sheet on a floured surface. Cut into 3-inch squares.
Place a tablespoon of filling in the lower middle of each square, moisten the outer margins with water, and fold along the long axis to make a triangle. Seal the edges carefully so that the filling will not leak out. Place finished vareniki onto a lightly floured sheet. Continue until all the dough has been used up (approximately 50-60 vareniki).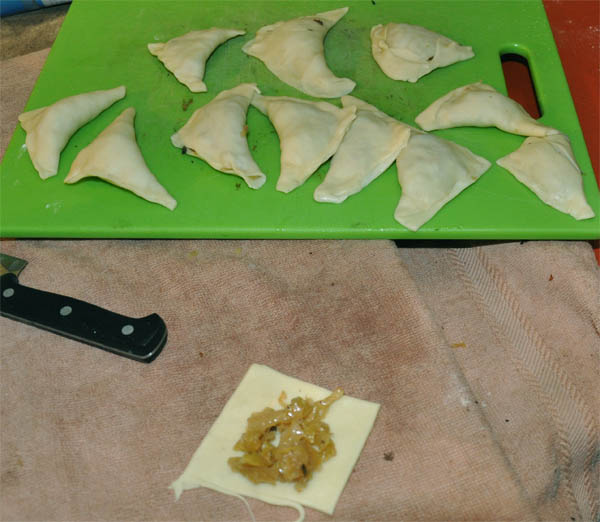 Bring 6 quarts of salted water to a boil, and then reduce heat to medium so that the water is simmering. Carefully place 15-20 vareniki into the water and stir occasionally (and carefully) with a wooden spoon to prevent sticking. The vareniki will rise to the surface when cooked. Carefully remove the cooked vareniki with a slotted spoon and place in a colander to thoroughly drain. Transfer to a deep bowl and toss with olive oil. Repeat until all vareniki are cooked.
Consider using a pungent storage onion like the Australian Brown or Stuttgarter. You can (and should) make your own sauerkraut -- it is easy to do, and tastes so much better than anything you can buy. We'll tell you how to do this during the next harvest season. If you want to plan ahead, you should obtain seeds for a tightly-packed round green cabbage like Brunswick, Glory of Enkhuizen, or Premium Late Flat Dutch.